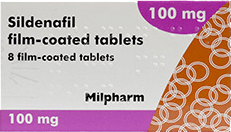 Estimated Delivery
Expected delivery date:
Tuesday, 10 May 2022
If you order within:
12h 36m 20s
*Your cart must meet the minimum requiretments for next day delivery
Fast
Delivery
Quick
Assessment
UK Registered
Pharmacy
Discreet &
Confidential
Overview
FAQ
Side Effects
Information leaflet
Reviews
What is Sildenafil
Used in the treatment of erectile dysfunction (ED), Sildenafil belongs to a group of medicines called PDE5 inhibitors. These drugs prevent an enzyme called phosphodiesterase type-5 from working too fast. In turn, this makes it easier to get and maintain an erection during sexual stimulation. Note that any patients suffering from cardiovascular disease should consult a physician before using this treatment or related medicines.
Can I buy Sildenafil online?
You can purchase Sildenafil with a prescription which you can get from our doctors at Click Pharmacy after filling in a short questionnaire via our website. Our experts can assess your answers to ensure that this choice of medication will be appropriate for your current health situation, for example other treatments you may be taking and how it may affect any potential medical issues your suffer with, such as heart problems and diabetes.
Once you have a prescription you can purchase your medication online via the Click Pharmacy website and you will not need to redo the questionnaire. The treatment will then be sent to your house by next day delivery where possible.
Why choose Sildenafil?
ED can be a distressing problem and it may have a negative impact on your self-esteem and your relationships and Sildenafil offers reliable and effective treatment. It contains the same active ingredient as Viagra (sildenafil citrate), but it is a cheaper alternative. The drug is effective within one hour and its positive effects can last for up to six hours.
How effective is Sildenafil
The dose used in each patient's situation can ensure greater or less effectiveness depending on what someone desires to achieve from their treatment. For example, some may prefer to be able to use one tablet daily whereas others may prefer or require a lower dose, such as those having more side effects from the treatment or an older patient or those with poor underlying health issues. Whatever your require, there are different doses of the product which can be used to benefit your personal situation.
It has been clearly shown to be effective for patients with severe ED and as such it also appears from studies that Sildenafil also improves the quality of the patient's relationship with their sexual partner overall.
What dose should I choose?
The treatment comes in tablet form and you should never take more than one within a 24-hour period.
There are three available dosages, 25mg, 50mg and 100mg, and whilst the higher dose can increase the effectiveness of the treatment, the lower dose can incur fewer side effects.
For further information on dosages, you can speak to your doctor or consult one of our knowledgeable healthcare professionals at Click Pharmacy.
How should I take Sildenafil?
The drug usually works best when taken an hour before sexual activity though it can be taken anywhere between 4 hours and 30 minutes before intercourse. It is most effective when consumed on an empty stomach and without alcohol, and certainly, if you do eat prior to taking it then bear in mind that a high-fat meal will negatively affect its ability to work. Once taken, it can carry on working for between four and six hours.
What is the difference between Sildenafil & Viagra
Sildenafil and Viagra are the same treatment at their core, with Sildenafil being the active ingredient in both and Viagra being only the branded name for it rather than the generic name. The other main difference between them physically is that Viagra is a blue, diamond-shaped pill and Sildenafil is a blue or white oval shaped pill.
Why is Sildenafil Cheaper than Viagra
After Viagra lost its UK patent in 2013, other generic versions were able to be created and launched; Sildenafil was one of them. Being a generic product means that Sildenafil is substantially cheaper even though it contains the same ingredients as its branded counterpart.
How does Sildenafil work?
The medicine works by relaxing the muscles in the veins that carry blood to the penis by preventing the action of a certain natural chemical called phosphodiesterase type-5. By doing this, it promotes increased blood flow, making it possible to get an erection during sexual activity. Contrary to popular belief, the treatment does not cause spontaneous erections or have any effect on your sexual desire; instead you must be sexually aroused to get an erection using Sildenafil.
It is important to be aware that PDE5 inhibitors do not treat the underlying causes of ED, which can include physical problems such as diabetes and high blood pressure, and psychological issues like anxiety and depression. Because of this, it is important to seek medical advice to find out why you are experiencing ED.
Can I take other ED medications with Sildenafil
It is important to tell your GP or Click Pharmacy doctor if you are taking any other prescription or non-prescription medications including vitamins, supplements and herbal products such as St John's Wart. This is because certain drugs can interact with Sildenafil making it either ineffective or dangerous to your health.
Can you drink Alcohol with Sildenafil?
Alcohol decreases the amount of blood which will remain in your penis making it more difficult for you to achieve an erection. It can also be dangerous to take Sildenafil and alcohol as both products lower your blood pressure meaning that you could end up feeling dizzy and faint. As such, if you are taking Sildenafil for ED then it is best to avoid alcohol as it will not help to improve your sexual performance.
What are the side effects of Sildenafil?
As with all medicines there are potential side effects to consider. The most common include headaches, heartburn, flushed skin, nasal congestion, indigestion, nausea, vomiting and diarrhoea. Also note that the treatment should never be taken with nitrates because it can cause a serious and potentially fatal drop in blood pressure.
Taking too much and overdosing can be highly dangerous and will not increase the desired effects of the treatment. But it can result in side effects such as chest pains, an irregular heart rate, nausea and priapism which is an erection which cannot subside. If left untreated, priapism can lead to permanent damage and future issues with achieving an erection. If this occurs, seek medical support right away.
For further information on these issues or if your treatment does not work satisfactorily contact your GP or consult our specialists.
What does Sildenafil contain?
The active ingredient is Sildenafil citrate in doses of 25mg, 50mg and 100mg per tablet.
The inactive ingredients are:
microcrystalline cellulose
anhydrous dibasic calcium phosphate
croscarmellose sodium
magnesium stearate
hypromellose
titanium dioxide
lactose monohydrate
triacetin
How does Sildenafil work?
The drug increases blood flow to aid men in getting an erection.
How do I store Sildenafil tablets?
They should be stored in a closed container at room temperature in a safe place, away from direct exposure to sunlight or extreme temperatures.
When do I take Sildenafil Tablets?
For erectile dysfunction, these tablets normally take 30 to 60 minutes to work. However they can be taken up to 4 hours prior to sexual intercourse.
Can I take Sildenafil Tablets if I take nitrates?
Medicines known as nitrate (often prescribed for chest infections and pains) can be dangerous if combined with Sildenafil Tablets. The combination often results in blood pressure levels to drastically drop.
If you take nitrates, you should avoid taking Sildenafil Tablets.
Who can take Sildenafil?
Sildenafil is a drug formulated for males over the age of 18 for erectile dysfunction. It is not suitable for females, or anyone aged under 18 years old.
Can females take Sildenafil?
Sildenafil is not suitable for female use.
Can I take Sildenafil if I have a low blood pressure?
Sildenafil is not safe to take if you experience low blood pressure, have recently had a stroke or heart attack and have a serious heart or liver problem.
Can I take Sildenafil if I have Retinitis Pigmentosa?
Retinitis Pigmentosa is a rare inherited eye disease. If you have this disease you should avoid taking sildenafil tablets at all costs.
Can I drink alcohol while taking Sildenafil?
Drinking alcohol should be avoided as both alcohol and sildenafil lower blood pressure which could lead to extreme dizziness and feeling faint.
What is the difference between Sildenafil and Viagra?
Sildenafil and Viagra are both effectively the same treatment and work in the same way. The main difference is that Viagra is the brand name, whereas Sildenafil is an active ingredient in Viagra.
What dosage should I take?
It is advised to take one 50 mg dose a day. However men that experience side effects are advised to take one 25 mg dose a day. Men that experience no or only mild side effects can take up to a 100 mg dose a day.
Why is Sildenafil cheaper than Viagra?
In 2013 Viagra lost its UK patent, meaning new and similar drugs were formulated. Sildenafil was one of the new drugs, so it is considerably cheaper despite it containing the same ingredients.
How do I take the tablets?
As Sildenafil can take longer to work if consumed with food, it is advised to take it on an empty stomach. It can be swallowed with water or juice, however one should avoid taking it with grapefruit juice.
Although most men have no or only mild side effects, more common side effects can include headaches, short term sickness and dizziness.
Less common side effects can include bladder pain, cloudy or bloody urine, pain on urination and tenderness in the stomach area.
Overdosing on Sildenafil is not recommended as it can lead to serious side effects such as an inconsistent heart rate and chest pains.
Always read the patient information leaflet before starting your treatment. The patient information can be found here.
Authored by Jana Abelovska
Last reviewed 20 April 2021
How to order
Order your medication in a few clicks. Our process is easy, fast and secure.
Step 1
Quick Health Check
Fill out a questionnaire so our prescriber can assess if the treatment is suitable for you.
Step 2
Select a Treatment
Choose the medication you require from the range offered by our online pharmacy.
Step 3
Next Delivery
Add delivery details and complete payment process.
What do our customers say?
Jane C
January 29, 2022
Fabulous service, quick and assertive, nice to be able to have an alternative service whilst the nhs are struggling!
Kristin W
January 2, 2022
Happy with how quick they reply to me and the
Delivery was quick as well would definitely use them again in the future.
Robert F
December 9, 2021
Glad to have you there. Efficient, professional service. The next day delivery is always delivered on time as promised.
Medical News and Blogs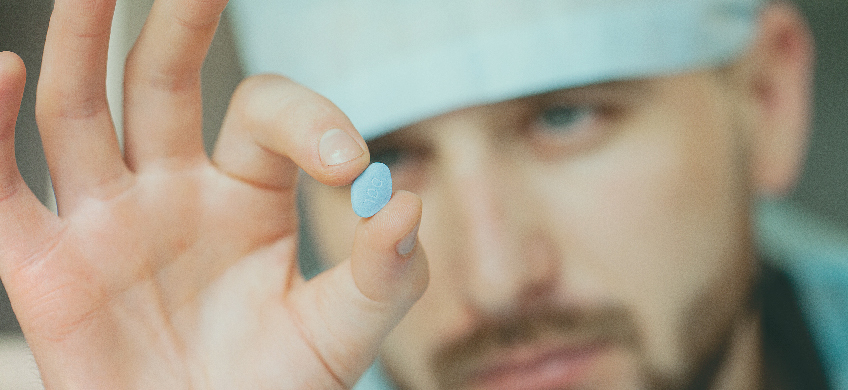 How The Little Blue Pill Revolutionized Relationships
It all began in 1998 when one of the greatest modern medical marvels was approved for sale in the world. Viagra, also affectionately called 'The Little Blue Pill', was originally meant....
Read