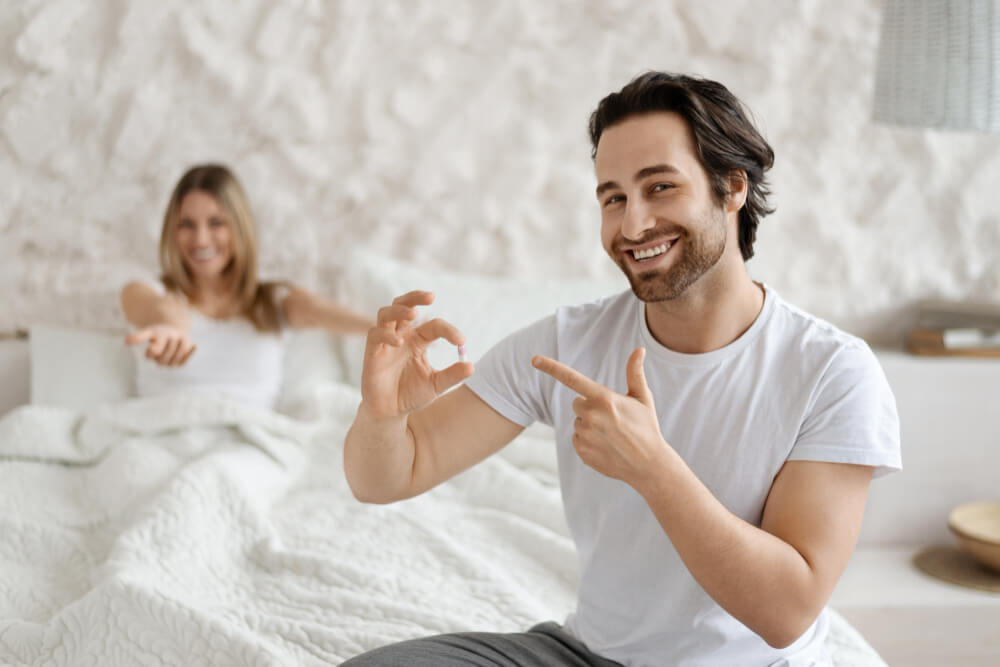 Viagra has been helping men worldwide achieve and maintain erections since it was introduced to the market in 1998. Whether you are experiencing challenges with erectile dysfunction or want to ensure your performance is at its peak, you may wonder how exactly long it takes Viagra to work. This blog post will answer that question while offering tips on getting the most benefit from this incredible medicine. Read on as we look at one of the best-known medications available today.
What is Viagra and How Does it Work?
Viagra is a medication used to treat erectile dysfunction in men. This condition occurs when a man is unable to achieve or maintain an erection that is sufficient for sexual activity. The active ingredient in Viagra is called sildenafil, which works by increasing blood flow to the penis. This increased blood flow allows the penis to become erect and stay firm during sexual activity. It is important to note that Viagra does not increase sexual desire or libido but helps improve the physical aspects of sexual performance. While Viagra has been a game-changer for many men, consulting with a healthcare professional before taking any medication is essential to ensure it is safe and appropriate.
The Science Behind Viagra's Efficacy
Viagra is a widely known medication used to treat erectile dysfunction in men. But have you ever wondered what the science is behind its effectiveness? The active ingredient in Viagra is sildenafil, which tends to work by relaxing the blood vessels in the penis, allowing for more blood flow and ultimately resulting in an erection. This happens because sildenafil inhibits an enzyme called phosphodiesterase type 5 (PDE5), which usually breaks down a chemical called cyclic guanosine monophosphate (cGMP). By inhibiting PDE5, cGMP levels increase, and blood vessels dilate, improving erectile function. In addition, studies have shown that Viagra can also improve blood flow to other parts of the body, making it a potential treatment for a range of medical conditions. The science behind Viagra's efficacy is fascinating and has improved sexual health for millions of men worldwide.
How long does it take to work?
For those using Viagra, the biggest question is when they can expect to feel its effects. The answer to this question is not immediate, as the time it takes for Viagra to work varies from person to person. Typically, the drug takes about 30 minutes to reach maximum levels in the bloodstream. Some people may notice effects within 15 minutes of taking the drug, while others can take up to an hour. It is worth noting that Viagra is not an instant solution, and sexual stimulation is still required for it to work effectively. Understanding the timing of Viagra's effects can help users plan their sexual experiences and enhance their enjoyment.
How long does Viagra last?
For those curious about how long Viagra lasts, the answer can vary depending on a few factors. Typically, the effects of Viagra can be felt for up to four hours after taking the medication. However, age, dosage, and individual metabolism can all impact how the drug interacts with the body. In addition, it's important to note that taking Viagra does not automatically result in an erection - sexual stimulation is still needed for it to work. If you have concerns about taking Viagra or wonder if it's right for you, it's always best to consult a healthcare provider.
How effective is Viagra?
As one of the most well-known medications on the market, Viagra has been used for over two decades to treat erectile dysfunction in men. It works by relaxing the blood vessels in the penis, allowing for increased blood flow, which can lead to an erection. Studies have shown that Viagra effectively treats erectile dysfunction in up to 80% of men who use it. However, it's important to note that, like any medication, it may not work for everyone and can have potential side effects. As with any medical treatment, it's recommended to consult with a healthcare expert to determine if Viagra is a safe and effective option for you.
What factors impact Viagra's effectiveness?
Viagra is a popular medication used to treat erectile dysfunction in men. However, several factors can impact its effectiveness. Some of them are as follows:
Food
Certain types of food can affect how quickly and effectively Viagra works. Foods that are high in fat can delay the absorption of Viagra, making it take longer to work. Additionally, grapefruit and grapefruit juice can increase the levels of Viagra in the bloodstream, potentially leading to an overdose. It is recommended to avoid eating a high-fat meal or consuming grapefruit products for a few hours before taking Viagra to ensure its optimal effectiveness.
Alcohol
Consuming alcohol while taking Viagra can worsen the drug's side effects and decrease its effectiveness. Alcohol can cause blood vessels to dilate, just like Viagra, and it can also lower blood pressure. When taken together, Viagra and alcohol can further decrease blood pressure, leading to dizziness, fainting, and headaches. Additionally, alcohol can impair sexual function on its own, making it even more challenging to maintain an erection while using Viagra. As a result, it is recommended to limit or avoid alcohol consumption when taking Viagra.
Sexual stimulation
Viagra tends to work by increasing blood flow to the penis, but it requires sexual stimulation to be effective. Sexual stimulation causes the release of nitric oxide, a chemical that helps to relax and expand blood vessels in the penis. Once blood vessels are relaxed and blood flow increases, Viagra can help to maintain an erection. Therefore, sexual stimulation is necessary for Viagra to be fully effective. Without sexual stimulation, Viagra is unlikely to produce the desired results.
Guidelines for Taking Viagra
Here are some general guidelines for taking Viagra:
Take the medication as prescribed by a healthcare professional
Follow the instructions on the prescription label carefully
Take Viagra at least 30 minutes to 1 hour before sexual activity
Do not take Viagra with a high-fat meal, as it can delay the drug's absorption
Do not consume grapefruit or grapefruit juice while taking Viagra
Limit or avoid alcohol consumption while taking Viagra
Do not take more than the prescribed amount of Viagra
If an erection lasts for more than 4 hours, seek medical attention immediately
Contact a healthcare professional if you experience any side effects, such as a headache or dizziness.
Typical Timeframe for Viagra to Take Effect
For those who have taken Viagra or are considering it, one of the most critical questions is how long it will take to kick in. The typical timeframe for Viagra to take effect is about 30 minutes to an hour after taking the pill – but this can vary from person to person. Age, weight, and underlying health conditions can all impact how quickly Viagra works. It's also important to note that Viagra should be taken on an empty stomach for maximum effectiveness, as consuming a heavy meal beforehand can delay the onset of its effects. Nonetheless, with a bit of patience – and following the correct dosage and consumption guidelines – Viagra can be a powerful tool in helping those with erectile dysfunction regain their confidence and enjoy a healthy sex life again.
Tips for Making Viagra More Effective
Here are some tips that may help to make Viagra more effective:
Take Viagra on an empty stomach or after eating a low-fat meal to administer the medication and be absorbed more quickly.
Engage in sexual stimulation to help the medication work as intended.
Avoid alcohol consumption, as it can worsen side effects and decrease effectiveness.
Stay hydrated to help the medication be absorbed effectively.
Make sure to obtain the medication from a reputable source.
Talk to a doctor about adjusting the dosage or trying alternative treatments if Viagra is not working effectively.
What are the alternatives to Viagra?
Viagra has been a popular medication for the treatment of erectile dysfunction for many years. However, there are alternatives for those who are seeking other options, such as:
Vacuum pumps and constriction rings
Vacuum pumps and constriction rings are non-invasive treatments for erectile dysfunction and can be used as an alternative to Viagra. Vacuum pumps create a vacuum around the penis, which draws blood into the penile tissue and makes an erection. Once an erection is achieved, a constriction ring can be placed at the base of the penis to maintain the erection during sexual activity.
While vacuum pumps and constriction rings can be effective, they may not be for everyone and can cause side effects such as numbness, bruising, or difficulty ejaculating. They may also be unsuitable for men with particular medical conditions such as sickle cell anaemia or bleeding disorders.
It's essential to discuss with your healthcare professional before trying any treatment for erectile dysfunction. They can help you determine the best treatment based on your medical history, current health, and other factors.
Psychological treatment
Psychological treatments can also be an alternative to Viagra for erectile dysfunction. Some common psychological treatments include:
Cognitive-behavioural therapy (CBT) can help identify and address negative thoughts and beliefs contributing to erectile dysfunction. CBT can also help improve communication with sexual partners and reduce anxiety related to sexual performance.
Sex therapy: Sex therapy focuses specifically on treating sexual dysfunction and can involve exercises to improve sexual function or help couples overcome sexual difficulties.
Mindfulness-based interventions: Mindfulness techniques, such as meditation or yoga, have been found to help improve sexual function. These techniques can help reduce stress and increase relaxation.
It's important to note that psychological treatments may take longer to achieve results than medications like Viagra, but they can be effective in the long term. It's best to discuss treatment options with a healthcare professional to determine the most appropriate approach for your situation.
Physical treatment
In addition to psychological treatments, various physical treatments can be used as an alternative to Viagra for erectile dysfunction, including:
Penile injections: As mentioned earlier, penile injections involve injecting medication directly into the penis to promote an erection. The medicine usually includes a combination of alprostadil, phentolamine, and papaverine.
Penile implants: Penile implants are surgically inserted devices that can be inflated to produce an erection.
Vascular surgery: Vascular surgery involving the repair or bypassing of arteries can sometimes improve blood flow to the penis and help address erectile dysfunction.
Hormone replacement therapy: Testosterone replacement therapy can help men regain their sexual function if their erectile dysfunction is associated with low testosterone levels.
It's important to discuss all treatment options with a healthcare expert to determine the best course of action for treating your erectile dysfunction.
Conclusion
Viagra is an effective medication for men struggling with erectile dysfunction, and various factors can determine how well it works. While the typical timeframe for Viagra to take effect is usually between 30 minutes and an hour, this timeline can vary depending on individual circumstances, such as the amount of food or alcohol in the system. Also, it's important to note that some people find that Viagra does not work. Therefore, they should consider other options, such as vacuum pumps, constriction rings, and psychological or physical treatments. Ultimately, suppose you or someone you know is considering using Viagra to combat erectile dysfunction. In that case, it's essential to speak with a doctor beforehand to discuss dosages and possible side effects.