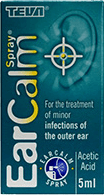 Estimated Delivery
Expected delivery date:
Tuesday, 24 May 2022
If you order within:
12h 36m 20s
*Your cart must meet the minimum requiretments for next day delivery
Fast
Delivery
Quick
Assessment
UK Registered
Pharmacy
Discreet &
Confidential
Overview
FAQ
Side Effects
Information leaflet
Reviews
What is EarCalm Spray (5ml)
Ear calm is one of the most accessible products to get as you can easily order it online without prescription
Ear calm contains acetic acid as its active ingredient and it is suitable to treat minor ear infections.
What dose should I choose?
To get maximum results, you must follow the recommended dosage when taking any medication. Ear calm should only be used by adults and adolescents above 12 years old. You should use one metered dose directly into every infected ear at least three times daily. However, you can also use this medication after every 2-3 hours if your infection is severe.
It would be best if you continued administering your dosage two more days after the infection has been treated. Also, you must avoid using this product 7 days consecutively. Why? Doing so can cause some side effects, or make the infection heal slowly than expected. If you skip one dose of this spray, then do not worry. You can take the next dose as recommended, then continue from there. However, do not administer a double dose to make up for the missed, one as that can cause side effects.
You can also combine using this medication with other home remedies such as always drying your head and ears after swimming or bathing. Doing that helps ensure that your ears stay in their best condition, thus increasing the chances of treating the infection faster and effectively.
How should I take ear calm?
Follow these instructions when using Ear calm to ensure maximum benefits and avoid experiencing any side effects:
Shake your Ear calm before using

If it's the first time you're using the product, you have to prime it by pressing the pump down for about 6 to 10 times, until it produces a fine spray. Make sure you point your spray away from you and any other people around when doing this.

To administer the medication, place the nozzle tip carefully into your ear, and press the pump down once to deliver the content

Avoid touching your ear (s) after administering the medication to allow it to work on the infection

If you haven't used your Ear calm for some time, then you must press the pump down several times, until a fine spray is produced before you can use it again. Also, remember to dispose of this product one month after use.
How effective is Ear calm?
Ear calm is the best treatment that you can use for your outer infection so far. This medication contains acetic acid, which is among the most effective antibacterial agents. The rich acetic acid content in Ear calm, allows it to relieve your infection fast and without causing any severe side effects, which is what makes it the best treatment.
Scientists have done lots of research revolving around this active ingredient-acetic acid. All their studies, which even involved hundreds of people with outer ear infections, show that using Ear calm can help treat this condition effectively, compared to other alternatives. Also, Ear calm is a licensed medication. So, you can trust it to deliver what it promises, as it has been verified by significant health regulatory bodies around the world.
Can I buy ear calm online?
Ear calm is one of the most accessible products to get as you can easily order it online without prescription, including, Click Pharmacy with Next Day delivery.
A professional seller should have great reviews online, and always promise to deliver your Ear calm the following day. If you want to deal with an experienced and professional seller, then Click Pharmacy is the place to be. We only sell high-quality ear calm and deliver it the next day as promised.
How does ear calm work?
Ear calm contains acetic acid as its active ingredient. Acetic acid is an antibacterial agent. So, using Ear calm helps fight the bacteria causing your outer ear infection. Doing that helps to effectively treat your infection at its source without causing severe side effects. Also, wetness in your ear canal can help bacteria to grow hence worsening the condition. Ear calm contains some drying agents such as alcohol and glycerine. Therefore, using it enables you to dry the ear canal, thus treating the condition.
How long do I take ear calm for before I notice a difference?
Ear calm acts fast. So, you can even start experiencing its benefits immediately after spraying into the affected ears. However, it might take a few days to treat the infection completely. So, you can expect some changes after you spray it for the first time and even more benefits as you continue using.
What are the side effects of Ear calm?
Like most medications, Ear calm also causes some side effects, but not every user gets them. Some of the most common ones are:
Allergy or sensitivity

A burning sensation or temporary stinging during the first few days of using
If you experience any other side effects apart from the above or suspect that you might be allergic to any ingredient, then you must report to your doctor. Doing so will help you get proper advice on how to reduce the side effects, or get an alternative.
When shouldn't I use ear calm?
You should not use this spray if you have a perforated eardrum to avoid causing any harm. Also, it is imperative you don't use this medication past its expiry date as that can increase the chances of experiencing more side effects.
What is the difference between Ear calm, and other similar products like Earol Olive Oil Spray and Exterol Ear Drops with Urea Hydrogen Peroxide?
The main difference between these products is their efficacy and safety. Ear calm is more effective and safer to use as it contains natural ingredients, hence enabling it to treat your infections effectively, and without causing severe side effects, compared to the two.
What is EarCalm Spray used to treat?
EarCalm Spray is used to treat minor ear infections.
What is the active ingredient in EarCalm Spray?
The active ingredient in EarCalm Spray is acetic acid. This is a very effective antibacterial agent, allowing it to treat ear infections.
Do I need a prescription to purchase EarCalm Spray?
No, you do not require a prescription to purchase EarCalm Spray. If you are unsure whether EarCalm Spray is suitable for you, you are welcome to book a free consultation with one of our medicine experts.
How does earCalm Spray treat ear infections?
The active ingredient, acetic acid, creates an acidic atmosphere in the ear canal. This makes it difficult for bacteria to survive, clearing up the bacterial infection.
Can children use EarCalm Spray?
EarCalm Spray is not suitable for children under the age of 12 years old.
How often should I use EarCalm Spray?
For minor ear infections it is advised to use one metered dose at least 3 times a day.
For more severe ear infections, it is advised to use one metered dose every 2-3 hours.
How long can I use EarCalm Spray for?
You should not use EarCalm Spray for more than 7 consecutive days.
Can pregnant or breastfeeding women use EarCalm Spray?
Yes, EarCalm Spray is safe to use for pregnant and breastfeeding women. However it is advised to consult a GP or pharmacist before using EarCalm Spray.
Does using EarCalm Spray affect my fertility?
There is no evidence to suggest that using EarCalm Spray affects one's fertility.
Can I drive or operate machinery safely while using EarCalm Spray?
Using EarCalm Spray does not affect one's ability to drive or operate machinery.
What if I accidentally swallow EarCalm Spray?
If you accidentally swallow EarCalm Spray it is advised to immediately drink milk or water. This is to neutralise the spray in your body. After doing so you should seek medical advice as soon as possible.
How long is the shelf life of EarCalm Spray?
For an unopened product the shelf life is usually up to 24 months from the date of manufacture.
For an opened product, the spray should not be used after a month of opening.
How should I store EarCalm Spray?
You should store EarCalm Spray in a cool dry place, out of reach from children, at no more than room temperature. The spray should not be exposed to extreme temperatures or direct sunlight.
What if I get EarCalm Spray into my eyes?
If you get Earcalm Spray into your eyes, you should wash them immediately with lukewarm water. If irritation occurs you should seek medical advice as soon as possible.
Can I use EarCalm Spray if I have a perforated eardrum?
You should refrain from using EarCalm Spray if you have a perforated eardrum.
After using EarCalm Spray you may experience a burning and stinging sensation. This symptom should disappear after a few uses as you get used to the spray. If side effects worsen you should stop using EarCalm Spray immediately and seek medical advice as soon as possible.
Always read the patient information leaflet before starting your treatment. The patient information can be found here.
Authored by Jana Abelovska
Last reviewed 20 April 2021
How to order
Order your medication in a few clicks. Our process is easy, fast and secure.
Step 1
Quick Health Check
Fill out a questionnaire so our prescriber can assess if the treatment is suitable for you.
Step 2
Select a Treatment
Choose the medication you require from the range offered by our online pharmacy.
Step 3
Next Delivery
Add delivery details and complete payment process.
What do our customers say?
Jane Cooper
January 29, 2022
Fabulous service, quick and assertive, nice to be able to have an alternative service whilst the nhs are struggling!
Kristin Watson
January 2, 2022
Happy with how quick they reply to me and the
Delivery was quick as well would definitely use them again in the future.
Robert Fox
December 9, 2021
Glad to have you there. Efficient, professional service. The next day delivery is always delivered on time as promised.
Medical News and Blogs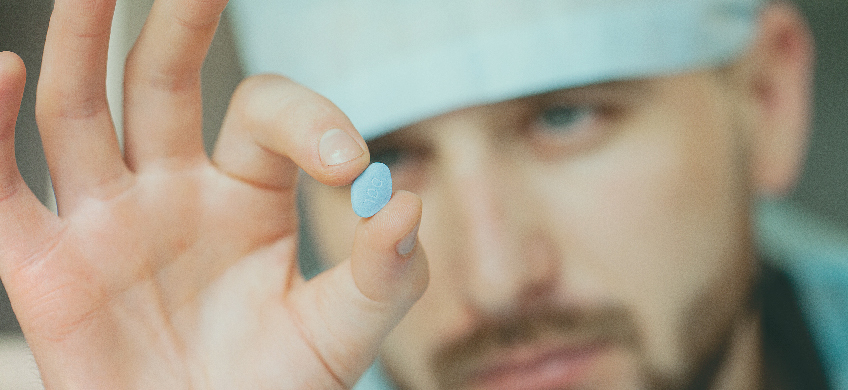 How The Little Blue Pill Revolutionized Relationships
It all began in 1998 when one of the greatest modern medical marvels was approved for sale in the world. Viagra, also affectionately called 'The Little Blue Pill', was originally meant....
Read