Estimated Delivery
Expected delivery date:
Tuesday, 10 May 2022
If you order within:
12h 36m 20s
*Your cart must meet the minimum requiretments for next day delivery
Fast
Delivery
Quick
Assessment
UK Registered
Pharmacy
Discreet &
Confidential
Overview
FAQ
Side Effects
Information leaflet
Reviews
What is Propecia
Finasteride, which is sold under the brand name Propecia, is a treatment for male pattern baldness. This is a genetic condition that causes testosterone to be converted into another hormone called dihydrotestosterone, or DHT, which has a damaging effect on follicles and it can slow or stop the production of hair.
Propecia works by preventing this conversion of testosterone into DHT, helping to stop or reverse the balding process though it is most effective in men with mild to moderate hair loss.
Why choose Propecia?
Research shows that Propecia is effective in 9 out of 10 men who have mild to moderate male pattern baldness and it can show positive effects as early as 3 months after treatment has commenced. In addition, it is shown to provide a 47% improvement in counts of anagen hair, which is hair in its growth phase, within 48 weeks.
Can I buy Propecia online?
Propecia can be bought online after an assessment with one of our doctors or with a prescription from your own GP. It comes in a 1mg tablet form and can be purchased in the following amounts:
28 tablets (1 month supply)
56 tablets (2 month supply)
84 tablets (3 month supply)
168 tablets (6 month supply)
How Effective Is Propecia?
For anyone genetically prone to male pattern baldness, Propecia can be very effective in putting an end to your thinning hair as long as it is taken every day. One study showed that the active ingredient in Propecia, known as Finasteride, blocks up to 64% of the DHT conversion which is more than enough to slow down or stop hair loss significantly.
What dose should I choose?
This treatment is taken in the form of a single 1mg tablet, taken with a large glass of water, at the same time each day so as to keep a level amount of the drug in your system. It can be taken with or without food.
Consult your doctor or speak to our specialists at Click Pharmacy if you would like further information.
Will Propecia restore hair to an area of complete baldness?
Propecia is most known for stopping or slowing the balding process rather than restoring completely lost hair. This is due to the fact that whilst the hair follicle is still growing hair, the drug can help to create a healthier environment for it which will, in turn, kickstart it back into a hair growth cycle.
However, if there is a hair follicle still in place, even one with little or no hair growing from it, Propecia could help to restore its ability to grow hair.
How long does it take for Propecia to work?
You can expect to notice a difference to your hair density within 3 months of taking Propecia. Due to the miniaturised nature of the hair found in male pattern baldness, it may take longer than this to see more obvious results but not be discouraged if this is the case. Simply continue taking the medication as in some cases it can take up to 12 months before full effects are seen.
If after 12 months you have not noticed a difference, go back to your GP or book an appointment with the doctors here at Click Pharmacy to discuss your options.
Can I use Propecia with other hair loss treatments?
Combined therapy can be beneficial for many men suffering from male pattern baldness. It involves taking 1mg of Finasteride in the form of a daily Propecia tablet, along with minoxidil which is a topical treatment found in the product Rogaine which can be applied twice a day.
Some men also choose to use a third treatment such as caffeine shampoo or hair supplements though it is recommended you speak to a health professional before starting any other regular supplements.
You can book a free appointment with the doctors at Click Pharmacy to discuss your options and how a combined hair loss treatment can best work for you.
How does Propecia work?
Men suffering from male pattern baldness will find that their body is converting their testosterone into a hormone called DHT. This hormone blocks vital nutrients from reaching the hair causing hair loss over time.
The active ingredient in Propecia, known as Finasteride, works by blocking this process which in turn slows down and even reverses male pattern baldness.
What is the difference between Propecia & Finasteride?
Finasteride is the generic version of Propecia and as such, Finasteride is cheaper to purchase than Propecia.
The only other difference between Propecia and Finasteride is the inactive binding ingredients which hold the drug together in pill form.
Will the effect of Propecia wear off after I stop taking them?
Propecia has a half-life of 5 to 6 hours which means that to keep the benefits of the medication going you must continue taking the tablets every day. Once you stop taking Propecia, your testosterone will begin converting into DHT once again as before as it will no longer be blocked from doing so by the drug. The hair loss process usually resumes within 6 to 12 months once treatment is discontinued.
What are the side effects of Propecia?
The side effects associated with this treatment can include reduced sex drive, erectile dysfunction, nipple tenderness and abnormal ejaculation. In a small minority of cases, more serious side effects may be experienced but contact your doctor right away in case of experiencing any side effects.
To find out more about the potential side effects, read the patient information leaflet provided with the treatment. If you are unsure of anything or you have any questions, simply contact your doctor or get in touch with our expert team by phone or email.
What are Propecia Tablets used for?
Propecia Tablets are used for the treatment of hair loss in men.
What is the active ingredient in Propecia Tablets?
The active ingredient in Propecia Tablets is Finasteride. This ingredient is effective at treating hair loss in men.
What causes male pattern baldness?
Male pattern baldness is caused by testosterone turning into a hormone called dihydrotestosterone also known as DHT. This has a damaging effect on follicles and can prevent hair growth.
How do Propecia Tablets treat male pattern baldness?
The active ingredient, Finasteride, stops testosterone from turning into dihydrotestosterone. This stops hair loss and allows for the balding process to be reversed, regenerating lost hair.
What amount of Propecia Tablets can I purchase?
You purchase Propecia Tablets based on a monthly supply. At Click Pharmacy you can purchase the following amounts of Propecia Tablets:
1 months supply: 28 tablets
2 months supply; 56 tablets
3 months supply: 84 tablets
6 months supply: 168 tablets
How often should I take Propecia Tablets?
For maximum effectiveness it is advised to take one capsule of Propecia Tablets daily at the same time everyday.
Can I take Propecia Tablets on an empty stomach?
You can take Propecia Tablets with or without a meal. However to prevent any nausea like side effects it is advised to take Propecia Tablets after a well balanced and healthy meal.
What is the difference between Finasteride Tablets and Propecia Tablets?
While both Finasteride Tablets and Propecia Tablets are used to treat hair loss, the main difference is branding. Propecia Tablets are the branded version of Finasteride Tablets, while finasteride is the active ingredient in both of these drugs.
Can I combine other hair loss medication with Propecia Tablets?
Although it is normally safe to combine other hair loss medicines with Propecia Tablets it is advised to consult with a GP or pharmacist before doing so.
Do I need a prescription to purchase Propecia Tablets?
Yes, you require a prescription to purchase Propecia Tablets. After completing a short online questionnaire on our website you will be provided with a prescription, allowing you to purchase Propecia Tablets.
How long does it take for Propecia Tablets to begin working?
Studies suggest that Propecia Tablets usually show improvement of hair loss within 3 months of application. However depending on the severity of your case, it can take up to 12 months to notice any significant improvements.
Can I drink alcohol while using Propecia Tablets?
It is advised to avoid drinking alcohol while using Propecia Tablets. This is because heavy drinking can increase the chances of harmful side effects.
What is the difference between Rogaine and Propeica?
While they are both effectively used for the treatment of hair loss, studies suggest Rogaine is not as effective as Propeica.
Like all medicines, after using Propecia Tablets you may experience a number of side effects. These side effects are often mild and should wear off over time. Common side effects include:
Abnormal ejaculation
Feeling dizzy
Weakness
Loss of interest in sex
nausea/feeling sick
Tiredness
Difficulty having an orgasm
Always read the patient information leaflet before starting your treatment. The patient information can be found here.
Authored by Jana Abelovska
Last reviewed 20 April 2021
How to order
Order your medication in a few clicks. Our process is easy, fast and secure.
Step 1
Quick Health Check
Fill out a questionnaire so our prescriber can assess if the treatment is suitable for you.
Step 2
Select a Treatment
Choose the medication you require from the range offered by our online pharmacy.
Step 3
Next Delivery
Add delivery details and complete payment process.
What do our customers say?
Jane C
January 29, 2022
Fabulous service, quick and assertive, nice to be able to have an alternative service whilst the nhs are struggling!
Kristin W
January 2, 2022
Happy with how quick they reply to me and the
Delivery was quick as well would definitely use them again in the future.
Robert F
December 9, 2021
Glad to have you there. Efficient, professional service. The next day delivery is always delivered on time as promised.
Medical News and Blogs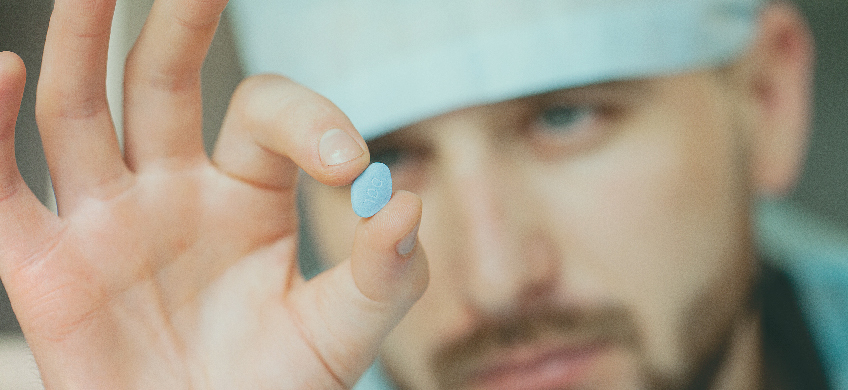 How The Little Blue Pill Revolutionized Relationships
It all began in 1998 when one of the greatest modern medical marvels was approved for sale in the world. Viagra, also affectionately called 'The Little Blue Pill', was originally meant....
Read