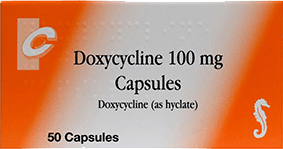 Estimated Delivery
Expected delivery date:
Tuesday, 24 May 2022
If you order within:
12h 36m 20s
*Your cart must meet the minimum requiretments for next day delivery
Fast
Delivery
Quick
Assessment
UK Registered
Pharmacy
Discreet &
Confidential
Overview
FAQ
Side Effects
Information leaflet
Reviews
What is Doxycycline
Doxycycline is a second-generation tetracycline. It is incredibly effective in fighting bacterial infections found in various parts of the body. It has been available worldwide for nearly half a century. Doxycycline, in essence, is a tetracycline antibiotic. It can not cure viral infections. As it is an antibacterial drug, it is most commonly used to treat as well as manage bacterial and parasitic infections.
Bacterial infections include STIs (sexually transmitted infections) like urinary tract infections, gonorrhoea, chlamydia, syphilis and others. In addition to this, infections can also be treated using doxycycline capsules, including intestinal infections, respiratory infections, eye infections, and more.
However, before using this medication, it is crucial to consult your doctor to ensure you are not allergic to doxycycline or any other kind of tetracycline antibiotic. If you and your partner both experience the same symptoms of the infection, you both must take the treatment as soon as possible.
How Effective Is Doxycycline?
While doxycycline is quite effective in treating as well as managing several infections, it is known as one of the most efficacious medications to take to treat chlamydia.
Certain medicines and supplements influence the effectiveness of doxycycline. Therefore, it is best to take the capsules with food and avoid any other medication unless your doctor advises you otherwise. Medication to avoid includes iron supplements, multivitamins, supplements containing calcium, antacids, or even laxatives within two to three hours before or after taking doxycycline. Any medication or supplements that contain calcium, magnesium, aluminium and lastly, iron influence the effectiveness of doxycycline.
What Does Doxycycline Contain?
Each doxycycline capsule contains either a 50mg or 100mg base of doxycycline. Other ingredients present in doxycycline include:
Gelatin
Magnesium Stearate
Shellac Glaze
Sodium Lauryl Sulfate
Starch
What Dose Should I Choose?
It is advised to take doxycycline regularly since it is usually intended for short term use. You can easily contact your general practitioner or our specialists at Click Pharmacy through the website, email, or telephone for guidance. Heed the consultations of the experts, so you become aware of the ideal dose for your treatment.
Ordinarily, for people with unchallenging genital chlamydia, it is suggested to take doxycycline 100 mg by oral means twice a day for 7 days. However, the dosage depends on your condition.
How Should I Take Doxycycline?
It is necessary to take doxycycline at the same hour every day for as long as prescribed. The quantity should not be increased or decreased unless advised otherwise. For an STI like chlamydia, it is essential to understand and follow the treatment plan to the dot. It is to make sure that the infection is entirely eradicated and you are protected as well.
Once again, you should always follow your doctor's advice before moving forward with a course of treatment. However, in general, the capsule should be taken twice a day. It is recommended that the capsules are taken while standing. It is better to take the capsule with food and water to avoid nausea. Also, if you forget to take a dose, try to take it as soon as possible. And, do not double the dosage if you miss a dose.
What Are The Side Effects Of Doxycycline?
Doxycycline does not have any common severe side effects. It is highly unusual to experience side effects when you are on doxycycline; however, some patients may experience nausea, vomiting or diarrhoea. Furthermore, you can experience a loss of appetite, an itchy rectum or vagina, a sore throat and swollen tongue, as well as dry mouth. You may even experience some anxiety and back pain.
In some cases, side effects may include sensitivity to sunlight. Precautionary measures must be taken, such as wearing sunscreen (SPF 30 or higher) on all exposed parts of your body when you are outside, as sunburns might occur. Try wearing long-sleeved clothing as well as hats and sunglasses when you are taking this medication. Avoid tanning beds.
It is advised to contact your general practitioner immediately and to seek medical aid if you experience:
Excruciating stomach pain, diarrhoea that contains water or is bloody.
Irritation in the throat, hard time swallowing.
Pain in throat, abnormal heart rhythm, feeling shortness of breath.
Decreased or no urination.
Low white blood cell counts - fever, chilliness, swollen organs, body pains, dizziness, pale skin, bruising or bleeding.
Constant headaches, ringing in your ears, queasiness, vision problems, discomfort behind your eyes.
Complete loss of appetite, pain in the upper stomach (that might spread to your back), fatigue, vomiting, racing heart rate, darkened urine, jaundice (yellowing of the skin or eyes or gums).
Get emergency medical help if you experience any symptoms of an allergic reaction to doxycycline. Symptoms may include: hives, laboured breathing, increasing swelling in your face or throat or a severe skin reaction (fever, raw throat, burning in your eyes, pain on skin, red or purplish skin rash that spreads around and causes painful blistering and peeling).
Note: Do not take doxycycline if you are pregnant or lactating. It is not recommended for children under the age of eight.
Why Choose Doxycycline?
Doxycycline is not only an affordable option for those with chlamydia, but it is also extremely effective. Most people report their symptoms completely disappear after 5 days of treatment. Additionally, doxycycline appears to be an appealing choice compared with other available antibiotics for treating and managing a handful of STIs.
Besides treating certain sorts of infections, chlamydia is one of the leading causes of curable blindness. This comes with separate long-term and short-term health issues that include hereditary harm to sperm, resulting in infertility and pelvic inflammatory diseases in women.
Considering the restored interest in doxycycline in STI treatment, it is important to note that doxycycline in a standard dose is relatively better for appearance - due to it being able to treat acne - and chlamydia.
Can I Buy Doxycycline Capsules Online?
You can buy doxycycline online with a valid prescription from your General Practitioner or one of the verified doctors available at Click Pharmacy. You will be informed about the perfect dosage your condition requires to complete the appropriate treatment.
The process for getting a prescription from a doctor at Click Pharmacy is simple. You can purchase doxycycline online once you have successfully completed a quick medical questionnaire. These answers will be sent to our expert doctors at Click Pharmacy, who will assess whether the need for this medication is safe and appropriate for you to use.
Moreover, once you have a prescription, you can order your required medication online without having to fill in the health questionnaire again.
You will be prescribed doxycycline for chlamydia treatment in packs of 100mg tablets in the following amounts:
7 Days (14 capsules)
14 Days (28 capsules)
What Are The Advantages of Taking Doxycycline?
Doxycycline is one of the most effective options available for treating chlamydia. In addition to chlamydia, it treats eye infections or genitourinary infections prompted by certain chlamydia species. It may even be used for treating severe acne. It is one of the best alternatives for penicillin when penicillin is contraindicated. Besides, doxycycline has zero to no psychological connotations, and it is one of the most affordable forms of curing chlamydia.
How Does Doxycycline Work?
As mentioned above, doxycycline is an antibiotic used to treat a wide array of infections. Doxycycline works by repressing bacterial protein synthesis by fastening to a ribosomal subunit. This further prevents amino acids from staying linked together. Furthermore, without any proteins available, bacteria in your body will be unable to function. Note that doxycycline is bacteriostatic. In simple words, it prevents the bacteria from reproducing but does not necessarily eradicate them.
Always read the patient information leaflet before starting your treatment. The patient information can be found here.
Authored by Jana Abelovska
Last reviewed 20 April 2021
How to order
Order your medication in a few clicks. Our process is easy, fast and secure.
Step 1
Quick Health Check
Fill out a questionnaire so our prescriber can assess if the treatment is suitable for you.
Step 2
Select a Treatment
Choose the medication you require from the range offered by our online pharmacy.
Step 3
Next Delivery
Add delivery details and complete payment process.
What do our customers say?
Jane Cooper
January 29, 2022
Fabulous service, quick and assertive, nice to be able to have an alternative service whilst the nhs are struggling!
Kristin Watson
January 2, 2022
Happy with how quick they reply to me and the
Delivery was quick as well would definitely use them again in the future.
Robert Fox
December 9, 2021
Glad to have you there. Efficient, professional service. The next day delivery is always delivered on time as promised.
Medical News and Blogs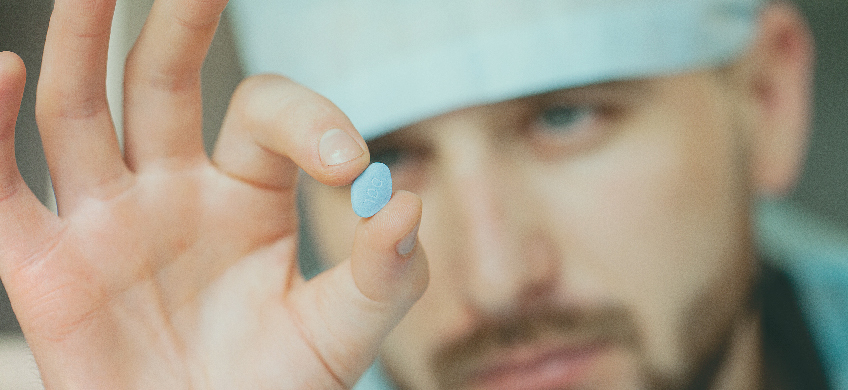 How The Little Blue Pill Revolutionized Relationships
It all began in 1998 when one of the greatest modern medical marvels was approved for sale in the world. Viagra, also affectionately called 'The Little Blue Pill', was originally meant....
Read