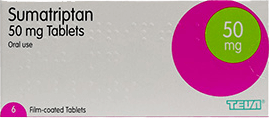 Estimated Delivery
Expected delivery date:
Tuesday, 10 May 2022
If you order within:
12h 36m 20s
*Your cart must meet the minimum requiretments for next day delivery
Fast
Delivery
Quick
Assessment
UK Registered
Pharmacy
Discreet &
Confidential
Overview
FAQ
Side Effects
Information leaflet
Reviews
What is Sumatriptan
Sumatriptan is a prescription medication that is used to treat migraines which are commonly described as a moderate to severe throbbing pain on one side of the head. As well as relieving headache pain, it has proven to be effective when tackling other symptoms of migraines which can include nausea, vomiting and sensitivity to sound and light. Some migraines also come with an aura which sufferers describe as a being bright lights, blind spots or zigzags in their vision.
Sumatriptan belongs to a class of drugs known as triptans, also known as 5-HT1 receptor agonists. The triptans bind to receptors and reduce the swelling of blood vessels in the brain which is thought to be the trigger for a migraine.
Can I buy Sumatriptan online?
Sumatriptan can be purchased online once you have completed a short questionnaire. Your answers will be assessed by one of our doctors to ensure the medication is right for you. Once you have successfully completed the assessment form and received your prescription you can purchase repeat orders of your medication online too.
Why choose Sumatriptan?
Sumatriptan can promptly relieve the pain associated with migraine attacks, as well as other symptoms. The medication is often prescribed when painkillers, such as paracetamol, have failed to work. Many people have found that their migraines go away completely after using this medication, or else the pain is significantly reduced enough so that they are able to return to normal everyday activities.
The treatment is the generic version of Imigran and though medically equivalent to this branded drug, it is also more affordable due to being an unbranded version.
How Effective Is Sumatriptan?
There have been extensive, clinical trials done on Sumatriptan which show that it is highly effective at providing rapid relief from migraine pain and its other symptoms such as nausea.
Results showed that relief from a severe attack was demonstrated within 30 minutes of taking a 100mg treatment both with and without an aura present.
Sumatriptan has been shown to be an effective and safe long-term option to treat acute migraines, though it is crucial you speak to a medical professional to get clarification that it is the appropriate treatment for your situation.
What dose should I choose?
Sumatriptan comes in either a 50mg or 100mg tablet form which provides a dose of the active ingredient Sumatriptan.
The dose usually offered at first is the 50mg version but in some cases, a patient may require a 100mg dose.
To find out more about dosages, check the prescription label or the patient instructions that come with your medication. You can also speak to your GP or one of our healthcare specialists here at Click Pharmacy for more information.
How should I take Sumatriptan?
You should not take the medication before you notice the signs of an attack. Instead, as soon as you start to experience the symptoms of a migraine, swallow one tablet with a glass of water. It can be taken with food or without it and it should be swallowed whole. It can also safely and effectively be taken after an attack has started.
How does Sumatriptan work?
It is not clear why people develop migraines, though it is believed that they are triggered by the swelling of blood vessels around the brain. During an attack, certain chemicals in the brain are released resulting in an increase in brain activity, the result of which can be the disruptive symptoms aside from the pain, such as visual disturbances and sickness.
Though the treatment is not designed to prevent future migraines and is only beneficial during the course of an attack, Sumatriptan works by countering the effects of these enlarged blood vessels and chemical releases and reduces pain and other symptoms.
What are the side effects of Sumatriptan?
Like any medication, there are some temporary side effects associated with Sumatriptan. The most common include dizziness, drowsiness, hot flushes, nausea, muscle pain and stiffness, and weakness. If these side effects do not subside, seek medical attention immediately. The medication can also cause some more serious side effects, although they are very rare and only occur in a small number of cases.
For further details, read the patient information leaflet that comes with your prescription. You can also contact our healthcare experts for advice.
Is it safe to use Sumatriptan whilst pregnant or breastfeeding?
There have been a larger number of studies done on the use of Sumatriptan in pregnant and breastfeeding women than other similar drugs and as such, it has the largest amount of data available on its safety. With that in mind, studies have shown that Sumatriptan is suggested to be safe in pregnant women and also safe whilst breastfeeding as only very minimal amounts (below 10% of the mother's dosage) is secreted into the milk.
In any case, speak with your GP or doctor at Click Pharmacy before taking Sumatriptan whilst pregnant or breastfeeding and for ease you can arrange a free, online appointment with a Click Pharmacy health specialist.
Is it safe to use Sumatriptan whilst taking other medication
It is recommended that you discuss any other medications you are taking, including herbal supplements, non-prescription drugs and vitamins, with your GP before getting a prescription for Sumatriptan.
Specific medications to mention include:
Monoamine oxidase-A inhibitors (MAOIs), such as phenelzine, isocarboxazid, or tranylcypromine.
Ergot-containing drugs, such as dihydroergotamine or methysergide
Other triptan-containing medicine for example zolmitriptan, almotriptan, eletriptan, frovatriptan, rizatriptan and naratriptan.
Is it safe to drive or operate machinery after taking Sumatriptan
If you find that you suffer from one of the potential side effects such as dizziness, drowsiness or sickness then it is important not to drive or operate machinery during this time and wait for the sensations to pass.
When should I take Sumatriptan Tablets?
These tablets should be taken as soon as you begin to experience a migraine or any cluster headaches.
How long does it take for Sumatriptan Tablets to work?
The tablets usually begin working in between 30 minutes to 60 minutes.
Can children take Sumatriptan Tablets?
Sumatriptan has not been approved for child use. However in some cases it has been prescribed for children over the age of 6 to tackle migraines.
Can I take Sumatriptan Tablets while pregnant?
Sumatriptan Tablets are not suitable for use throughout pregnancy. Anyone who is breastfeeding or trying to get pregnant should avoid taking Sumatriptan Tablets.
Can I take Sumatriptan Tablets if I have a history of heart problems?
Sumatriptan Tablets are not suitable for people who have any history of heart problems such as chest pain, stroke, coronary heart disease or have previously had a heart attack.
Can I take Sumatriptan Tablets if I smoke?
It is advised that you do not take Sumatriptan Tablets if you are a heavy smoker and if you are using nicotine replacement therapy.
Can I take Sumatriptan Tablets if I have a high blood pressure?
Sumatriptan Tablets cause the blood vessels which cause migraines and headaches to narrow, increasing blood pressure. If you already have a high blood pressure you should avoid taking Sumatriptan Tablets.
What if I struggle to swallow tablets?
If you struggle to swallow the tablets, you can separate them into halves by carefully cutting along the middle.
Who should avoid taking Sumatriptan Tablets?
You should avoid taking Sumatriptan Tablets if you have seizures and fits, have circulation problems in your legs and have any heart or liver related problems.
Can I take Sumatriptan Tablets to treat normal headaches?
Sumatriptan is not a pain killer, it should not be used to treat normal headaches.
How do Sumatriptan Tablets work?
Sumatriptan Tablets treat migraines and similar cluster headaches. They do not in any way prevent these conditions from occurring.
Can I drive after taking Sumatriptan Tablets?
If you experience common side effects such as dizziness, you should avoid driving and using machinery until you feel better.
How should I have Sumatriptan Tablets?
You should swallow your Sumatriptan Tablets with a glass of water. You should not try to crush or chew these tablets in any way.
Can I take a Sumatriptan Tablet if I have previously had an allergic reaction from them?
You should avoid taking Sumatriptan Tablets if you have any history of allergic reactions to this drug.
Can I take multiple migraine treatments at once?
You should not combine any other migraine treatment with Sumatriptan Tablets.
Is Imigran the same as Sumatriptan?
Effectively they both contain the same active ingredients, meaning they are medically the same. The main difference is price and branding. Imigran costs more as it is a branded version of Sumatriptan.
Common side effects include tiredness, dizziness, drowsiness and feeling tired.
If you experience a severe allergic reaction to this drug, such as a rash, swelling, itching and difficulty breathing, seek medical assistance immediately.
Avoid taking any more Sumatriptan if you experience unexpected feelings of warmth or coldness, heaviness in the face or chest and tightness in legs and arms.
An overdose of Sumatriptan Tablets can result in loss of bladder and bowel control, a slower heart rate, feeling faint and sickness.
Always read the patient information leaflet before starting your treatment. The patient information can be found here.
Authored by Jana Abelovska
Last reviewed 20 April 2021
How to order
Order your medication in a few clicks. Our process is easy, fast and secure.
Step 1
Quick Health Check
Fill out a questionnaire so our prescriber can assess if the treatment is suitable for you.
Step 2
Select a Treatment
Choose the medication you require from the range offered by our online pharmacy.
Step 3
Next Delivery
Add delivery details and complete payment process.
What do our customers say?
Jane C
January 29, 2022
Fabulous service, quick and assertive, nice to be able to have an alternative service whilst the nhs are struggling!
Kristin W
January 2, 2022
Happy with how quick they reply to me and the
Delivery was quick as well would definitely use them again in the future.
Robert F
December 9, 2021
Glad to have you there. Efficient, professional service. The next day delivery is always delivered on time as promised.
Medical News and Blogs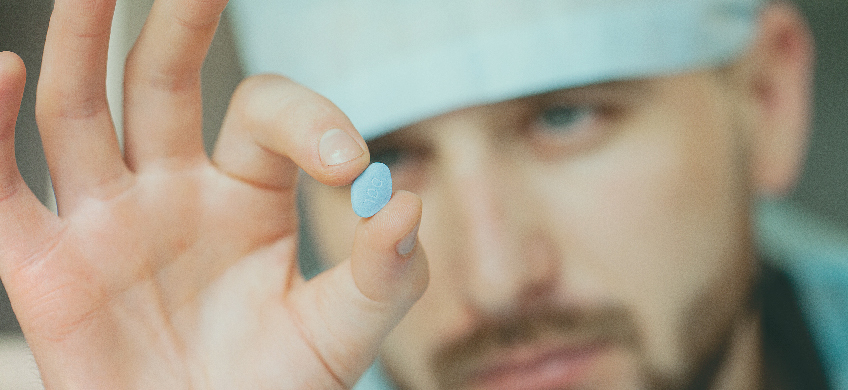 How The Little Blue Pill Revolutionized Relationships
It all began in 1998 when one of the greatest modern medical marvels was approved for sale in the world. Viagra, also affectionately called 'The Little Blue Pill', was originally meant....
Read