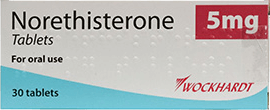 Estimated Delivery
Expected delivery date:
Tuesday, 10 May 2022
If you order within:
12h 36m 20s
*Your cart must meet the minimum requiretments for next day delivery
Fast
Delivery
Quick
Assessment
UK Registered
Pharmacy
Discreet &
Confidential
Overview
FAQ
Side Effects
Information leaflet
Reviews
Read up
What is Norethisterone
Norethisterone is designed to give you more control over menstruation. It is a hormonal medication which contains a form of progesterone which allows you to delay your period for up to 17 days. The drug can also be used to help prevent or lessen the effects of a range of menstrual cycle disorders including pain or abnormally heavy bleeding, and it can be used in the treatment of menopausal syndrome and breast cancer.
How does Norethisterone work?
Norethisterone acts on receptors in the body with the purpose of exaggerating or mimicking the effects of the natural hormone progesterone. When taken to delay periods, it causes the womb lining to be sustained until the treatment is interrupted or stopped.
It is important to note that the drug is not a contraceptive, so if you are sexually active and do not want to get pregnant, alternative methods of contraception must be used.
What are the side effects of Norethisterone?
As with any medication, there can be side effects to consider which vary in severity. Side effects associated with Norethisterone include headaches, dizziness, rashes, itching, nausea, acne, libido changes and depression. If you would like further details on the possible symptoms, don't hesitate to get in touch by email or phone. Our experts will be on hand to answer any queries you may have.
Why choose Norethisterone?
This medication offers a safe and effective way to delay periods for women who do not take the contraceptive pill, and it has a range of other uses too. You can take it to:
Delay or stop your periods for a while
Have easier and more regulated menstrual cycles
Lessen the effects of the menopausal syndrome
Can I buy Norethisterone 5mg online?
Norethisterone can be purchased online via Click Pharmacy. To buy Norethisterone, please arrange a prescription from your GP or book a free and confidential appointment with one of the doctors at Click Pharmacy. They will ask you to fill in a questionnaire which will be used to assess whether this medication is right for you after which you will be prescribed the quantity you require.
Our service is quick, easy and discreet and your medication will be with you the next working day.
How should I take Norethisterone?
When using Norethisterone to delay menstruation, you will need to start treatment three days before your period is due, ingesting one pill three times a day. You can take it for up to 17 days and menstruation should start two to three days after you stop having the tablets. If you are using the medication for another purpose, seek advice from your doctor or our specialists.
What dose should I choose?
The dosage you need to take will depend on your reason for using the treatment. To delay your period as a one-off you should take one 5mg pill three times a day starting at least 3 days prior to your period due date. Detailed instructions are provided with the medication and you can get more information from your doctor or by contacting our expert team at Click Pharmacy.
How long can I take Norethisterone for?
Norethisterone is not designed to be taken on a regular, monthly basis (unless otherwise prescribed) and as such you will be advised by your GP or the doctor at Click pharmacy to only take the tablets for the prescribed amount of time based on which dosage you buy. The 7 day delay pack contains 30 tablets and the 17 day delay pack contains 60 so the choice is yours based on how long you want to remain period free for and the reason behind you taking it.
Alternatively, if you are prescribed Norethisterone for:
premenstrual tension - you will usually take a 5mg tablet for 10 days starting 16 days after your last period.
endometriosis - you will usually take one 15mg tablet 3 times a day for a minimum of 6 months and if you experience irregular bleeding or spotting during this time your GP may increase this to 4 or 5 tablets of 20-25mg.
breast cancer - you will usually be prescribed 8 40g tablets a day increasing to 12 60mg tablets if necessary.
Other warnings to consider
When speaking to your doctor at Click Pharmacy or GP's surgery it is important you let them know if certain health issues run in the family or if you yourself suffer from any of the following:
Epilepsy
Migraine headaches
Asthma
Heart problems
Kidney problems.
Although anyone can develop a clot in their veins during their lifetime, taking hormone medication such as Norethisterone can ever so slightly raise this risk especially if you:
are overweight
suffer from lupus
have suffered from clots previously or it runs in the family
are unable to move for long periods of time such as post-operation
have a history of repeated miscarriage
If you are pregnant the hormone could cause damage to the development of the baby. As such it is important to do a test prior to taking the medication if there is a chance you could be
If you are diabetic then you must inform a GP or doctor at Click Pharmacy of this fact as Norethisterone can affect your metabolism leading to an alteration of blood sugar levels and increased levels of insulin between meals.
Due to the reasons outlined above, it is very important to inform your medical professional if any of them apply to your situation so that they can safely prescribe this medication to you or help you find one that is appropriate.
Read the leaflet for a complete list of potential side effects and if you notice you feel unwell in any way stop taking the tablets and speak to a doctor right away.
What are Norethisterone Tablets used for?
Norethisterone Tablets are used for a number of reasons, they result in a delayed period.
What is the active ingredient in Norethisterone Tablets?
The active ingredient in Norethisterone Tablets is norethisterone. This ingredient is effective at delaying periods.
Do I need a prescription to purchase Norethisterone Tablets?
Yes, you require a prescription to purchase Norethisterone Tablets. After completing a short online questionnaire on our website you will be provided with a prescription, allowing you to purchase Norethisterone Tablets.
How do Norethisterone Tablets delay periods?
The active ingredient, norethisterone, is a man made version of the naturally occurring hormone progesterone. Periods are caused by the level of progesterone in your body dropping, these tablets keep the levels of progesterone high ensuring you do not get a period.
Can men use Norethisterone Tablets?
Norethisterone Tablets are used to delay periods in females only.
How long can I take Norethisterone Tablets for?
Norethisterone Tablets are effective at delaying periods for up to 14 days. They are not suitable for long term use.
How often should I take Norethisterone Tablets?
To delay your period for up to 14 days you should take one 5mg tablet three times a day everyday.
When should I begin taking Norethisterone Tablets to delay my period?
To effectively delay your period, it is advised to begin taking Norethisterone Tablets 3 days prior to the day you want to delay your period.
After using Norethisterone Tablets how long does it take to return to my normal menstrual cycle?
After completing your treatment you may experience irregular periods. It should take around 2 months for your menstrual cycle to return to normal.
Can pregnant women use Norethisterone Tablets?
You should not take Norethisterone Tablets if you are pregnant.
Are Norethisterone Tablets safe to be used by breastfeeding mothers?
Although Norethisterone Tablets generally cause no harm to the baby, you should consult a GP, pharmacist, or midwife before starting your treatment.
Can I take Norethisterone Tablets on an empty stomach?
It is safe to take Norethisterone Tablets on an empty stomach, however to prevent any nausea like feeling it is advised to take them after a well balanced and healthy meal.
Will Norethisterone Tablets make my future periods painful?
There is evidence to suggest that you may experience painful periods after completing your treatment. However this should only last for 1-2 months, after that your menstrual cycle should return to normal.
Will using Norethisterone Tablets affect my ability to drive or operate machinery safely?
There is no evidence to suggest that using Norethisterone Tablets can affect someone's ability to drive or operate machinery safely.
Will Norethisterone Tablets affect my contraception?
Norethisterone Tablets generally do not affect any form of contraception. If you are worried about this it is recommended to speak to a GP or pharmacist prior to beginning your treatment.
Like all medicines, you will experience a number of side effects from using Norethisterone Tablets. It is important to note that not everyone will experience the same side effects, this may depend on your hormones. Common side effects include:
Painful future periods
Irregular periods
nausea/feeling sick
Dizziness
Tiredness
Headaches
Breakthrough bleeding
Always read the patient information leaflet before starting your treatment. The patient information can be found here.
Authored by Jana Abelovska
Last reviewed 20 April 2021
How to order
Order your medication in a few clicks. Our process is easy, fast and secure.
Step 1
Quick Health Check
Fill out a questionnaire so our prescriber can assess if the treatment is suitable for you.
Step 2
Select a Treatment
Choose the medication you require from the range offered by our online pharmacy.
Step 3
Next Delivery
Add delivery details and complete payment process.
What do our customers say?
Jane C
January 29, 2022
Fabulous service, quick and assertive, nice to be able to have an alternative service whilst the nhs are struggling!
Kristin W
January 2, 2022
Happy with how quick they reply to me and the
Delivery was quick as well would definitely use them again in the future.
Robert F
December 9, 2021
Glad to have you there. Efficient, professional service. The next day delivery is always delivered on time as promised.
Medical News and Blogs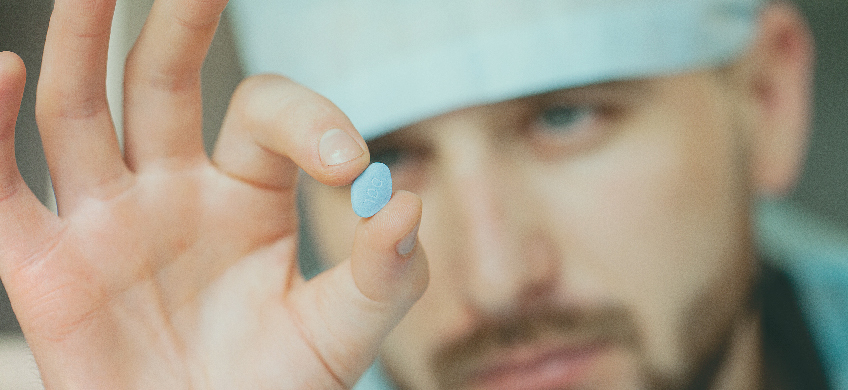 How The Little Blue Pill Revolutionized Relationships
It all began in 1998 when one of the greatest modern medical marvels was approved for sale in the world. Viagra, also affectionately called 'The Little Blue Pill', was originally meant....
Read