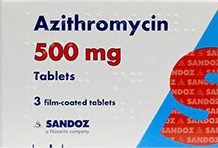 Estimated Delivery
Expected delivery date:
Tuesday, 24 May 2022
If you order within:
12h 36m 20s
*Your cart must meet the minimum requiretments for next day delivery
Fast
Delivery
Quick
Assessment
UK Registered
Pharmacy
Discreet &
Confidential
Overview
FAQ
Side Effects
Information leaflet
Reviews
What is Azithromycin Tablets
Azithromycin is one of the most common medications prescribed to treat the sexually transmitted infection (STI) chlamydia trachomatis bacteria, also known as chlamydia. In trials, this particular medication was found to be safe and effective in nearly 98% of patients, making it a popular choice with doctors when looking to treat the infection and it is available with a prescription from Click Pharmacy.
Chlamydia is very easy to transmit through any form of unprotected sexual contact with a carrier; as such it is the most common sexually transmitted infection in the UK, with Public Health England declaring it as accounting for almost half of all STI diagnoses each year. Depending on where the infection initially enters the body, the bacteria will invade the mucosal tissues of areas including the vagina, cervix, urethra and rectum, as well as the throat in the case of oral sex.
How effective is Azithromycin?
The medication is from a family of drugs known as macrolides. They are designed to destroy the infection-causing bacteria which invades the mucosal surface of the areas it comes into contact with such as the vagina.
Usually delivered via a 7-day course of treatment, Azithromycin has shown that, when taken correctly and as directed, is it a highly effective choice for men and women suffering from uncomplicated chlamydial genital infection when compared with other medications.
What is contained in Azithromycin?
The active ingredient is azithromycin at the required dose.
The inactive ingredient are:
Microcrystalline cellulose
Pregelatinised maize starch
Sodium starch glycolate Type A
Colloidal anhydrous silica
Sodium laurilsulfate
Magnesium stearate
The tablets contain 0.36 mg of soya lecithin. As such, if you have a soy allergy, please make your doctor aware of this.
How does Azithromycin work?
Bacteria such as chlamydia trachomatis requires certain proteins in order to grow and multiply. Without them, they cannot replicate and as such, they will decrease in numbers. Once this growth process is halted through the use of antibiotics such as Azithromycin, the bacteria will stop developing and the body's immune system will clear the remainder.
How long can I take Azithromycin for?
Azithromycin is usually prescribed for use in patients for between 1 and 10 days depending on the reason for the course of treatment. The dosage will also vary. As such, your doctor will be able to discuss the length of your treatment time.
Can I buy Azithromycin online?
Azithromycin can be purchased online once you have completed a quick medical questionnaire, the answers to which will be assessed by one of our doctors who will ensure that this medication is safe and appropriate.
Once you have a prescription you can order your medication online without filling in the health questions again, though you are welcome to book a free, online appointment with a Click Pharmacy doctor to discuss your health at any time.
Other risks to consider
The active ingredient can pass into breast milk so it is not recommended for use in women who are pregnant or breastfeeding.
As with any medication, one drug can interact negatively with another; therefore it is important you let your doctor know if you are taking anything else. Ensure you mention any other prescriptions you may have, as well as regular use of vitamins and/or complementary treatments during your consultation
Why choose Azithromycin?
Azithromycin has a similar antibacterial spectrum to penicillin, therefore for those who are penicillin-allergic Azithromycin is an excellent alternative option. Azithromycin has a long tissue 'half-life, meaning it continues working within the body, attacking the infection for a longer period of time than other medications. As such it usually only requires a single daily dose which for people who struggle to take tablets or remember to take medication at the same time each day, can help to make their treatment easier to stick to and see the full benefits of.
Alarmingly, the chlamydia bacteria is the leading cause of preventable blindness, as well as other long and short term health issues including genetic damage to sperm resulting in infertility, and pelvic inflammatory disease in women which affects the womb, ovaries and fallopian tubes. As such, ensuring you take a medication such as Azithromycin, which is proven to cure this silent infection, is crucial to your health.
How should I take Azithromycin?
This is a prescription-only medication meaning it cannot be bought over the counter without a doctor's recommendation. You can book an appointment with a Click Pharmacy doctor to discuss your symptoms or test results and they will be able to advise you on how to take Azithromycin.
You should always follow your doctor's advise before proceeding with a course of treatment, but generally, the tablet will be taken once a day, swallowed down with water and with or without a meal. If you find that you suffer from nausea after taking medication, you may find this is eased by taking the tablet with food.
If you and your partner both have the infection, it is crucial you both take the treatment
What are the side effects of Azithromycin?
There is a possibility of side effects inherent in the use of any medication. Common side effects of Azithromycin include:
If you experience any of these side effects, then feel free to contact your doctor at Click Pharmacy to discuss your options. If they persist or worsen, or you find you experience an allergic reaction such as swelling of the tongue or face, then stop taking the tablets and seek medical help right away.
There are also certain health conditions which can be negatively affected by the use of Azithromycin. These can include but are not limited to:
low potassium/magnesium levels in the blood
certain cardiovascular concerns including cardiac arrhythmia
What is Azithromycin used for?
Azithromycin Tablets are one of the most common antibiotics used to treat a sexually transmitted infection, chlamydia.
How effective is Azithromycin Tablets at treating chlamydia?
Studies suggest Azithromycin Tablets are up to 98% effective at treating chlamydia.
How long should I take Azithromycin Tablets for?
Azithromycin Tablets are usually prescribed for a 7 day course. As Azithromycin Tablets are greatly effective, after the 7 days most patients recover from this sexually transmitted infection.
Can I take Azithromycin Tablets if I have any allergies?
Azithromycin Tablets contain 0.36 mg of soya lecithin, meaning it is not suitable for anyone who has a soya allergy. Always consult with a GP or pharmacist before taking Azithromycin Tablets if you have any allergies to soya.
How should I take Azithromycin Tablets?
Typically Azithromycin Tablets should be taken once a day with a glass of water. They can be taken on an empty stomach however if you experience nausea like symptoms it is recommended to take these tablets 1-2 hours after eating a well balanced meal.
Can pregnant or breastfeeding women take Azithromycin Tablets?
The active ingredient in Azithromycin Tablets can easily be passed into breast milk. Meaning Azithromycin Tablets are not suitable for women who are pregnant, trying to get pregnant or breastfeeding.
What is the difference between Azithromycin and Zithromax?
Effectively they are both the same, with the same ingredients and same function. The main difference is price and branding. Azithromycin is the active ingredient found in these antibiotics, while Zithromax is the brand name used to prescribe these drugs. Due to the brand name Zithromax is often more expensive than Azithromycin.
Can I stop taking Azithromycin Tablets if I feel better?
You should always complete your course of antibiotics to ensure there are no strains of infection left in your body. By not completing your course you increase the chances of the infection returning to your body.
What if I forget to take my Azithromycin Tablets?
If you forget to take your daily dose of Azithromycin Tablets you should take them as soon as you remember. If it is nearly time for your next dose of Azithromycin Tablets you should leave out the missed dose and continue your course like normal.
What if taking Azithromycin Tablets gives you diarrhoea?
Diarrhoea is a common side effect caused by taking Azithromycin Tablets. To overcome this you should ensure you drink lots of water to prevent dehydration.
What if taking Azithromycin Tablets makes me feel dizzy?
Feeling dizzy and tired is a common side effect caused by taking Azithromycin Tablets. If you experience dizziness you should rest and drink lots of fluids to ensure you are not dehydrated. You should not drive or operate machinery until you are fit and feeling better.
Taking Azithromycin Tablets may cause several side effects. These side effects should begin to improve during the course of your medication. Common side effects include nausea, diarrhoea, headaches, dizziness and tiredness.
If you experience any serious side effects such as an irregular heartbeat, chest pains, temporary hearing loss, severe stomach pain or extremely pale skin you should seek medical assistance immediately.
Always read the patient information leaflet before starting your treatment. The patient information can be found here.
Authored by Jana Abelovska
Last reviewed 20 April 2021
How to order
Order your medication in a few clicks. Our process is easy, fast and secure.
Step 1
Quick Health Check
Fill out a questionnaire so our prescriber can assess if the treatment is suitable for you.
Step 2
Select a Treatment
Choose the medication you require from the range offered by our online pharmacy.
Step 3
Next Delivery
Add delivery details and complete payment process.
What do our customers say?
Jane Cooper
January 29, 2022
Fabulous service, quick and assertive, nice to be able to have an alternative service whilst the nhs are struggling!
Kristin Watson
January 2, 2022
Happy with how quick they reply to me and the
Delivery was quick as well would definitely use them again in the future.
Robert Fox
December 9, 2021
Glad to have you there. Efficient, professional service. The next day delivery is always delivered on time as promised.
Medical News and Blogs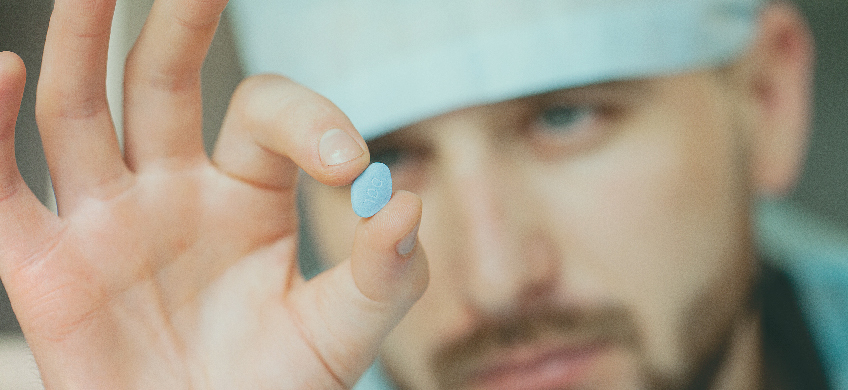 How The Little Blue Pill Revolutionized Relationships
It all began in 1998 when one of the greatest modern medical marvels was approved for sale in the world. Viagra, also affectionately called 'The Little Blue Pill', was originally meant....
Read