Estimated Delivery
Expected delivery date:
Tuesday, 10 May 2022
If you order within:
12h 36m 20s
*Your cart must meet the minimum requiretments for next day delivery
Fast
Delivery
Quick
Assessment
UK Registered
Pharmacy
Discreet &
Confidential
Overview
FAQ
Side Effects
Information leaflet
Reviews
What is Anusol Cream
Anusol cream is a medicinal cream used to relieve the itching, swelling, irritation of the anus, inner and external haemorrhoids and different minor rectal problems like fissures and itching.
What dose should I choose?
Anusol cream comes in tubes, and these come in amounts of 23g and 43g. The recommended dose depends on the individual and the severity of the symptoms. It should be applied responsibly until the symptoms as mentioned earlier have disappeared, in the case that they do not go, you should consult a doctor right away.
How effective is Anusol cream?
Anusol medicinal cream is used to treat and alleviate the pain that's brought by haemorrhoids.It is available for purchase without the need for a prescription and can be easily applied.
Can I buy Anusol cream online?
Anusol cream can be easily purchased online and can be bought from most online retailers that would typically supply it, and since you don't need a prescription for the medication, you can buy as soon as you need it.
How should I take Anusol cream?
Before any use, clean the affected area with soap and water and rinse very thoroughly, once the area is clean, pat dry with a clean towel.
To use this product as intended, apply it to the anus, with the dosage depending on your condition. Apply the medication 2 - 4 times a day, applying the cream before going to sleep is recommended and after each bowel movement.
To use this medicine for an external fissure, itch, or irritation, put a small amount of the cream to your finger and apply it to the affected area and with your finger, gently rub it in for a maximum effect. On the other hand, if you are being affected by an internal issue, take the nozzle supplied by the medication and follow the instructions on the product package. Very gently insert the tip of the nozzle into the anus, about ½ to 1 inch in and apply the cream in and around the anal opening. Be very careful. Do not insert your finger or another part of the medicinal tube into the anus and do not insert the nozzle more the 1 inch inside the anus. Do not use your finger to apply the medicinal cream inside the anus. If the package you purchased comes with single-use nozzles and tubes, please discard them after using them.
Immediately after use, wash your hands thoroughly to avoid any undesirable effects. Also, avoid getting the medication in your eyes, nose, ears, and mouth. If this does happen immediately rinse the area with water until the cream in completely gone.
If the Anusol cream does not improve your condition after 1 - 2 weeks, please consult your doctor.
How does Anusol cream work?
Anusol cream works its magic with its active ingredients: Zinc oxide, Balsam of Peru and Bismuth oxide. These ingredients have a mild antiseptic, protective and astringent properties. Balsam of Peru is also beneficial when it comes to the promotion of the growth of new skin cells. When applied in and around the anal area, the active ingredients take action by soothing the discomfort caused by the conditions mentioned. So you'll be sitting down without an issue in no time.
How long do I take Anusol cream?
This entirely depends on how the anal area is reacting to the medicinal cream and how severe the conditions were in the first place. If the symptoms haven't reduced or even worse, have deteriorated after 1-2 weeks of use, consult your doctor immediately as this means the conditions could be something more nefarious.
What are the side effects of Anusol cream?
The common sound effects when using Anusol cream include Application site reaction (rectal pain, burning, itching, irritation, dryness, and redness), Acne, Changes in menstrual periods, increased sweating, increased facial or body hair growth, inflammation of hair follicles, lightening of skin colour, allergic skin rash, secondary infection, and increased hunger.
The less common side effects of Anusol cream include a hormone disorder where the body produces high levels of Cortisol called Cushing syndrome, decreased function of the adrenal gland, and nausea.
The exponentially rarer side effects of Anusol cream include a condition where there is excess sugar in the urine, a disease with shrinking and weaker muscles called myopathy, a whole in the intestine, abnormal liver function tests, an enlarged liver, an ulcer from too much stomach acid, delirium, fluid in the lungs, Glaucoma, hallucinations, high blood pressure, high blood sugar, impaired wound healing, over excitement, paranoia, personality disorders, slow heartbeat, swelling in the abdomen, water retention, Euphoria, Depression, Dizziness and sleep disorder.
When shouldn't I take Anusol cream?
You shouldn't take Anusol cream if you are allergic to any of the active ingredients or even the secondary ingredients as these may cause hives, difficulty breathing, swelling on your face, lips, tongue or throat. Get emergency medical help if you are experiencing any of these symptoms. You should consult a doctor before using the medication if you are pregnant.
There is a risk of overdose should you should be extremely careful with the amount of cream you use when the condition is internal.
What is the difference between Anusol cream, Preparation H cream, lidocaine topical?
A primary difference between Anusol cream and Preparation H cream is that they use completely different ingredients, where preparation H cream has petrolatum, mineral oil, shark liver oil, and phenylephrine whereas Anusol uses Zinc oxide, Bismuth oxide, and Balsam of Peru.
A secondary difference between Anusol cream and Lidocaine topical is that Anusol tends to be much more useful than lidocaine topical in all areas it's designed to treat.
What does Anusol Cream do?
Anusol Cream provides relief from discomfort, irritation and itching of the anus.
Can children use Anusol Cream?
Anusol Cream is only suitable for adults aged 18 years and older. It should not be used by anyone under the age of 18 years old.
How do I use Anusol Cream?
You should generously apply Anusol Cream using a clean fingertip to the infected areas first thing in the morning, night and after every bowel movement.
How should I store Anusol Cream?
Anusol Cream should be stored in a safe, cool and dry place at room temperature. It should not be exposed to extreme temperatures.
Can pregnant women use Anusol Cream?
Anusol Cream is safe for the use of pregnant and breastfeeding women.
What are the active ingredients in Anusol Cream?
The active ingredients in Anusol Cream are zinc oxide, bismuth oxide and balsam peru.
Is Anusol Cream for external use?
Anusol Cream is for external use only.
Can I combine Anusol Cream with other medication?
Although it is usually safe to take Anusol Cream with other medications, you should avoid using Anusol Cream if you take any medication to treat constipation. Remember to always consult with a GP or pharmacist before combining different drugs and medication.
How long can I use Anusol Cream for?
You should not use Anusol Cream for more than 7 days.
What if I forget to use Anusol Cream?
If you forget to use Anusol Cream you can apply it as soon as you remember. If you do not remember until it is time for your next dose, you can skip the previous dose and continue your usual treatment routine.
Can I drink alcohol while using Anusol Cream?
Yes, it is safe to drink alcohol while using Anusol Cream.
Does using Anusol Cream affect my fertility?
There is no evidence to suggest that using Anusol Cream affects one's fertility in any way.
Does using Anusol Cream affect my contraception?
There is no evidence that suggests using Anusol Cream affects one's contraception.
How many times a day should I use Anusol Cream?
Anusol Cream can be used up to 6 times a day. However you may be directed by a GP or pharmacist to use Anusol Cream a specific amount of times a day.
How long does Anusol Cream take to work?
Usually Anusol Cream works within a week. Depending on your infection it may sometimes take longer.
Why does Anusol Cream sting when I use it?
Throughout the initial stages of the treatment Anusol Cream may sting, however over time your kin should adapt to it and no longer sting.
When using Anusol Cream you will usually experience side effects throughout the initial stages of the treatment. However over the course of using Anusol Cream your skin should develop resistance, meaning you no longer experience side effects. Common side effects can include stinging, redness, itching, and swelling. In rare cases some people have experienced changes in skin colour. If any of these side effects worsen, stop using Anusol Cream and seek medical advice as soon as possible.
Always read the patient information leaflet before starting your treatment. The patient information can be found here.
Authored by Jana Abelovska
Last reviewed 20 April 2021
How to order
Order your medication in a few clicks. Our process is easy, fast and secure.
Step 1
Quick Health Check
Fill out a questionnaire so our prescriber can assess if the treatment is suitable for you.
Step 2
Select a Treatment
Choose the medication you require from the range offered by our online pharmacy.
Step 3
Next Delivery
Add delivery details and complete payment process.
What do our customers say?
Jane C
January 29, 2022
Fabulous service, quick and assertive, nice to be able to have an alternative service whilst the nhs are struggling!
Kristin W
January 2, 2022
Happy with how quick they reply to me and the
Delivery was quick as well would definitely use them again in the future.
Robert F
December 9, 2021
Glad to have you there. Efficient, professional service. The next day delivery is always delivered on time as promised.
Medical News and Blogs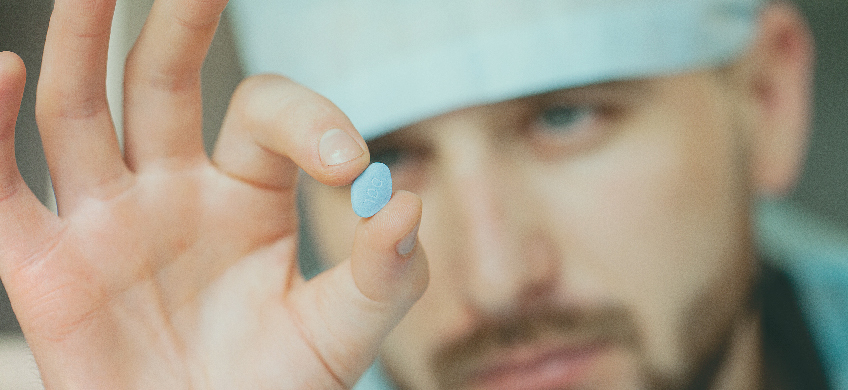 How The Little Blue Pill Revolutionized Relationships
It all began in 1998 when one of the greatest modern medical marvels was approved for sale in the world. Viagra, also affectionately called 'The Little Blue Pill', was originally meant....
Read