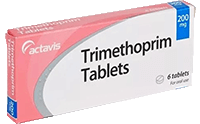 Estimated Delivery
Expected delivery date:
Tuesday, 24 May 2022
If you order within:
12h 36m 20s
*Your cart must meet the minimum requiretments for next day delivery
Fast
Delivery
Quick
Assessment
UK Registered
Pharmacy
Discreet &
Confidential
Overview
FAQ
Side Effects
Information leaflet
Reviews
Read up
What is Trimethoprim Tablets
Urinary tract infections can be uncomfortable and inconvenient. If left untreated, they can also be dangerous. Trimethoprim is a drug that is used in the prevention and cure of these infections. It is a type of a synthetic antibiotic and it has been included on the World Health Organisation's list of essential medicines.
Why choose Trimethoprim?
Trimethoprim is especially potent in targeting cystitis, which is a common type of bacterial infection that can cause a range of potentially distressing symptoms, including pain when you pass urine, a frequent need to urinate, dark and strong smelling urine, and pain during sexual intercourse. It can also leave you feeling generally achy, tired, sick and unwell. In addition, if left unchecked, there is a risk that cystitis can lead to a potentially serious kidney infections. It is therefore advisable to address these urinary tract infections quickly before they are able to develop. Trimethoprim is an effective and speedy treatment option that can help you to fight infections in this part of your body.
What dose should I choose?
The treatment comes in tablet form, and usually one tablet is taken twice a day. However, additional doses may sometimes be required. If you complete an online consultation on our website, our specialist medical team can recommend the best dosage for you. You can also get more information on this topic by contacting your doctor or speaking to one of our healthcare experts.
How should I take Trimethoprim?
You can take Trimethoprim on an empty stomach or with a meal. For the best results, you should aim to take the tablets at the same times each day.
How does Trimethoprim work?
The drug is referred to as a bacteriostatic antibiotic and it works by inhibiting the DNA synthesis of bacteria by reducing levels of tetrahydrofolic acid. This process serves to prevent the multiplication and spread of bacteria, eventually killing them off. The treatment should clear your infection up after a couple of days. If it doesn't, you may need to seek further medical advice.
What are the side effects of Trimethoprim?
There are a number of potential side effects connected with taking Trimethoprim. For example, it can lead to nausea, vomiting, diarrhoea, loss of appetite, abnormal taste, trouble sleeping and an allergic rash. If you're concerned about any of these possible ill-effects or you'd simply like further information on this antibiotic, don't hesitate to get in touch with our medical specialists by phone or email.
What are Trimethoprim Tablets used for?
Trimethoprim Tablets are an antibiotic used to treat urinary tract infections, also known as UTIs.
Do I need a prescription to purchase Trimethoprim Tablets?
Yes, you require a prescription to purchase Trimethoprim Tablets. After completing a short online questionnaire on our website, you will be provided with a prescription. This will allow you to purchase Trimethoprim Tablets from our website.
Can I drink alcohol while using Trimethoprim Tablets?
It is safe to drink alcohol while using Trimethoprim Tablets.
Can pregnant or breastfeeding women use Trimethoprim Tablets?
Trimethoprim Tablets are suitable for use by pregnant and breastfeeding women.
Can everyone use Trimethoprim Tablets?
Although Trimethoprim Tablets are generally safe to use, they are not suitable for use by everyone. You should not use Trimethoprim Tablets if you have any of the following:
Problems with your liver
Problems with your kidney
Anaemia
Porphyria
Pregnant or trying to get pregnant
How often should I take Trimethoprim Tablets?
Trimethoprim Tablets are usually prescribed to be taken twice a day, once in the morning and once in the evening.
Can I take Trimethoprim Tablets on an empty stomach?
Trimethoprim Tablets can be taken with or without food. However to prevent nausea like side effects it is advised to take Trimethoprim Tablets after consuming a well balanced and healthy meal.
How should I take Trimethoprim Tablets?
You should swallow one whole tablet of Trimethoprim Tablets with a drink of water. This tablet should not be broken, chewed or crushed.
How long should I take Trimethoprim Tablets for?
The length of your treatment usually varies depending on the severity of your condition. You should always complete the treatment depending on how long you are prescribed for.
What if I forget to take my dose of Trimethoprim Tablets?
If you forget to take your dose of Trimethoprim Tablets you should take them as soon as you remember, unless it is almost time for your next dose. If it is almost time for your next dose you should skip the dose you just missed and continue as normal. You should never take two doses at once, even if you are making up for a missed dose.
Can I combine other drugs with Trimethoprim Tablets?
There are a few drugs which you must not combine with Trimethoprim Tablets, they include the following:
Rifampicin
Repaglinide
Pioglitazone
Phenytoin
Digoxin
Warfarin
Does using Trimethoprim Tablets affect my fertility?
There is no evidence to suggest that using Trimethoprim Tablets affects one's fertility.
Does using Trimethoprim Tablets affect my contraception?
Using Trimethoprim Tablets doesn't directly affect one's contraception. However if after using Trimethoprim Tablets you experience diarrhoea, your combined pill may be ineffective.
Like all medicines, after using Trimethoprim Tablets you are likely to experience a number of different side effects. Common side effects and how to overcome them include the following:
Itching: use an antihistamine which will reduce the itching
Feeling sick: take Trimethoprim Tablets after consuming a well balanced meal
Diarrhoea: drink lots of water to prevent dehydration
Headaches: rest and drink lots of water to ensure you are hydrated
Always read the patient information leaflet before starting your treatment. The patient information can be found here.
Authored by Jana Abelovska
Last reviewed 20 April 2021
How to order
Order your medication in a few clicks. Our process is easy, fast and secure.
Step 1
Quick Health Check
Fill out a questionnaire so our prescriber can assess if the treatment is suitable for you.
Step 2
Select a Treatment
Choose the medication you require from the range offered by our online pharmacy.
Step 3
Next Delivery
Add delivery details and complete payment process.
What do our customers say?
Jane Cooper
January 29, 2022
Fabulous service, quick and assertive, nice to be able to have an alternative service whilst the nhs are struggling!
Kristin Watson
January 2, 2022
Happy with how quick they reply to me and the
Delivery was quick as well would definitely use them again in the future.
Robert Fox
December 9, 2021
Glad to have you there. Efficient, professional service. The next day delivery is always delivered on time as promised.
Medical News and Blogs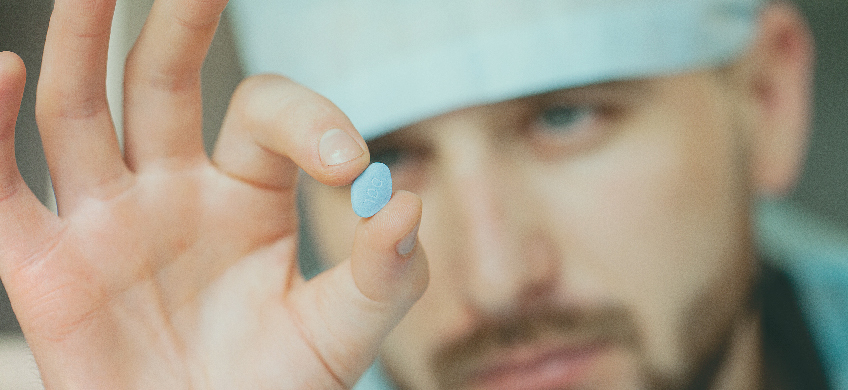 How The Little Blue Pill Revolutionized Relationships
It all began in 1998 when one of the greatest modern medical marvels was approved for sale in the world. Viagra, also affectionately called 'The Little Blue Pill', was originally meant....
Read