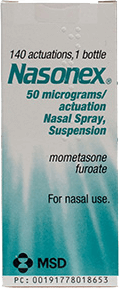 Estimated Delivery
Expected delivery date:
Tuesday, 10 May 2022
If you order within:
12h 36m 20s
*Your cart must meet the minimum requiretments for next day delivery
Fast
Delivery
Quick
Assessment
UK Registered
Pharmacy
Discreet &
Confidential
Overview
FAQ
Side Effects
Information leaflet
Reviews
What is Nasonex
Nasonex nasal spray is used to treat allergic rhinitis, which is an inflammation of the inside of the nose triggered by allergens like dust, pollen and mould. Nasal allergies are common affecting around one in five people in the UK and they can cause a blocked or runny nose, sneezing and itchiness. Nasonex nasal spray contains the active ingredient mometasone, which is a type of corticosteroid.
Can I buy Nasonex Nasal Spray Online?
Nasonex is a prescription medication so it can only be bought online with one via the Click Pharmacy website.
To purchase your medication online you simply select your treatment and fill out a short health questionnaire so that our in-house doctors can assess whether this is the right form of treatment for you and therefore issue you with a prescription so that the pharmacy team at click pharmacy can dispense your medication.
Why choose Nasonex Nasal Spray?
The symptoms of allergic rhinitis and hay fever can be irritating and in some cases distressing. Severe cases can interfere with people's everyday lives and cause disruption to their sleep patterns. Mometasone furoate is one of a group of medicines known as corticosteroids and nasal sprays which contain it, such as Nasonex, can offer effective relief from the symptoms of such allergies, helping you to get on with your life without suffering and discomfort.
What dose should I choose?
in adults and children over 12 years old the usual dose is one or two sprays into each nostril (as discussed with your doctor) once a day which equates to around a 200mcg dose. This should help to bring your symptoms back under control though your doctor may recommend you increase this to four sprays in each nostril if you do not find that you are feeling better.
For children between 3 and 11 years, the dose is one spray per nostril once a day, but this should be discussed with a doctor before going ahead to ensure that Nasonex will help ease the symptoms with which they are suffering.
Detailed dosage instructions are provided with the spray and you can find out more about how to use the treatment by contacting your doctor or getting in touch with our specialists at Click Pharmacy.
How effective is Nasonex Nasal Spray?
Nasonex is an effective treatment of allergic rhinitis and hay fever and helps to get the symptoms under control by reducing swelling within the nose. In turn, this relieves sneezing and blocked or runny noses.
In some cases, certain medications may reduce or heighten the effects of Nasonex and as such it is important to discuss any other medications and supplements with your doctor before starting to use it.
The effects of the medication should be noticed after around two days of use but the full effects of the drug may take anywhere up to 14 days to kick in. As such, if you are using Nasonex to help you with seasonal allergies then it may be recommended that you begin taking it between two and four weeks prior to pollen season.
How should I take Nasonex Nasal Spray?
Before using the spray for the first time, make sure you shake the container well. You should then actuate the pump around 10 times, or until a steady spray is achieved. Once you have prepared the spray, you can administer the correct dosage based on the instructions provided with the treatment.
Blow your nose before using the product. Close the nostril you will not be spraying with your finger and, tilting your head forward slightly, place the applicator into the open nostril and spray the desired number of pumps into it before repeating this process on the other side. Avoid re-blowing your nose for 15 minutes after application and if possible breathe through your nose gently.
Shake before each subsequent use and if the pump has not been used for two weeks or longer, make sure you re-prime it by actuating it a couple of times. Note that this medicine is intended for use in the nose. You must not administer it into your mouth and you should take care to avoid your eyes.
How does Nasonex Nasal Spray work?
Mometasone is a synthetic corticosteroid and it helps to control inflammatory responses. When sprayed into the nose, it is absorbed into the cells lining the nasal passage and it decreases inflammation. It can take a few days for the treatment to take full effect, so if you are aware that you are going to be exposed to allergens, it helps if you start using the treatment in advance.
Is it safe to use a nasal spray at the same time as oral antihistamines?
It depends on your symptoms and your GP or doctor at Click Pharmacy will advise you on the best route for you with regard to taking oral antihistamines alongside Nasonex. Generally, you may be advised to stop taking your oral medication once using Nasonex, but ensure you get this confirmed by a medical professional before going ahead.
What is contained in Nasonex Nasal Spray?
The active ingredient in Nasonex is Mometasone furoate monohydrate. It is part of the corticosteroid family which help to bring down inflammation and which, in the case of Nasonex, is in the nose.
The inactive ingredients which make up the aqueous spray are:
dispersible cellulose
citric acid monohydrate (anhydrous citric acid)
polysorbate 80
glycerol
sodium citrate
purified water
The preservatives in Nasonex is benzalkonium chloride which may cause nasal irritation.
What are the side effects of Nasonex Nasal Spray?
There is a range of possible side effects associated with Nasonex nasal spray, though not everyone will experience them and generally speaking most people only receive the benefits of the product. These side effects can include nosebleeds, throat irritation, headaches and an itching sensation in the nose.
Hypersensitivity, also known as an allergic reaction, to the product can also occur in which case you should stop using the product immediately and seek help. Results of an allergic reaction can include:
a swollen face, tongue or throat
hives
trouble breathing and/or swallowing
If you would like to find out more about the possible effects, speak to your GP or contact our specialists.
What is Nasonex Nasal Spray used to treat symptoms of?
Nasonex Nasal Spray is used to treat symptoms of allergies such as hay fever.
What is the difference between Nasonex Nasal Spray and Mometasone Nasal Spray?
While both nasal sprays are effectively used for relief from allergy symptoms, the main difference is branded. Nasonex is the branded version of mometasone.
Do I need a prescription to purchase Nasonex Nasal Spray?
Yes, you require a prescription to purchase Nasonex Nasal Spray. After completing a short online questionnaire on our website you will be provided with a prescription. This will allow you to purchase Nasonex Nasal Spray from the Click Pharmacy website.
Can children use Nasonex Nasal Spray?
Nasonex Nasal Spray can be used by children over the age of 3 years old for allergy relief from allergies such as hay fever.
Who should not use Nasonex Nasal Spray?
You should not use Nasonex Nasal Spray if you:
Are taking steroids
Have had TB
Have a nose infection
Have previously gotten nose surgery
Can pregnant or breastfeeding women use Nasonex Nasal Spray?
If you are pregnant or breastfeeding, you should consult with a GP, pharmacist or midwife before using Nasonex Nasal Spray.
How should I use Nasonex Nasal Spray?
After shaking the nasal spray well, you should spray once or twice in each nostril. Immediately after spraying you should breathe in through the nose and breath out through the mouth. This will ensure the nasal spray is well absorbed allowing it to treat symptoms.
What if I forget tot ake my dose of Nasonex Nasal Spray?
If you forget to take your dose of Nasonex Nasal Spray you should take it as soon as you remember, unless it is almost time for your next dose. If it is time for your next dose you should skip the dose you just missed and continue like normal. You should never take two doses at once even if you are making up for a missed dose.
Can I combine Nasonex Nasal Spray with other medication?
There are some medicines, when combined with Nasonex Nasal Spray, that affect the way the drugs work. You should avoid combining Nasonex Nasal Spray with the following medicines:
Antifungal medicines
Steroids
Medicines used to treat HIV
Can I drink alcohol while using Nasonex Nasal Spray?
Yes, it is generally safe to drink alcohol while using Nasonex Nasal Spray.
Will using Nasonex Nasal Spray affect my ability to drive or operate machinery safely?
Generally using Nasonex Nasal Spray does not affect one's ability to drive or operate machinery safely.
How often should I use Nasonex Nasal Spray?
You should spray each nostril once or twice daily. You should never exceed 2 sprays in each nostril in 24 hours.
Like all medicines, after using Nasonex Nasal Spray you may experience a number of side effects. Common side effects and how to overcome symptoms include:
Unusual smell: this side effect should wear off over time
Headaches: refrain from drinking too much alcohol, rest well and drink plenty of water to stay hydrated
Sneezing: once the nasal spray begins working this side effect should wear off
Nosebleeds: you should stop using Nasonex Nasal Spray immediately and speak to a GP or pharmacist.
If any of these side effects worsen you should stop using Nasonex Nasal Spray and seek medical advice as soon as possible.
Always read the patient information leaflet before starting your treatment. The patient information can be found here.
Authored by Jana Abelovska
Last reviewed 20 April 2021
How to order
Order your medication in a few clicks. Our process is easy, fast and secure.
Step 1
Quick Health Check
Fill out a questionnaire so our prescriber can assess if the treatment is suitable for you.
Step 2
Select a Treatment
Choose the medication you require from the range offered by our online pharmacy.
Step 3
Next Delivery
Add delivery details and complete payment process.
What do our customers say?
Jane C
January 29, 2022
Fabulous service, quick and assertive, nice to be able to have an alternative service whilst the nhs are struggling!
Kristin W
January 2, 2022
Happy with how quick they reply to me and the
Delivery was quick as well would definitely use them again in the future.
Robert F
December 9, 2021
Glad to have you there. Efficient, professional service. The next day delivery is always delivered on time as promised.
Medical News and Blogs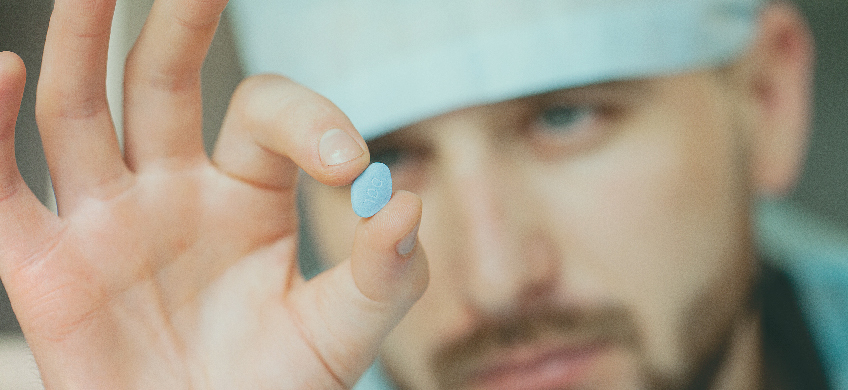 How The Little Blue Pill Revolutionized Relationships
It all began in 1998 when one of the greatest modern medical marvels was approved for sale in the world. Viagra, also affectionately called 'The Little Blue Pill', was originally meant....
Read