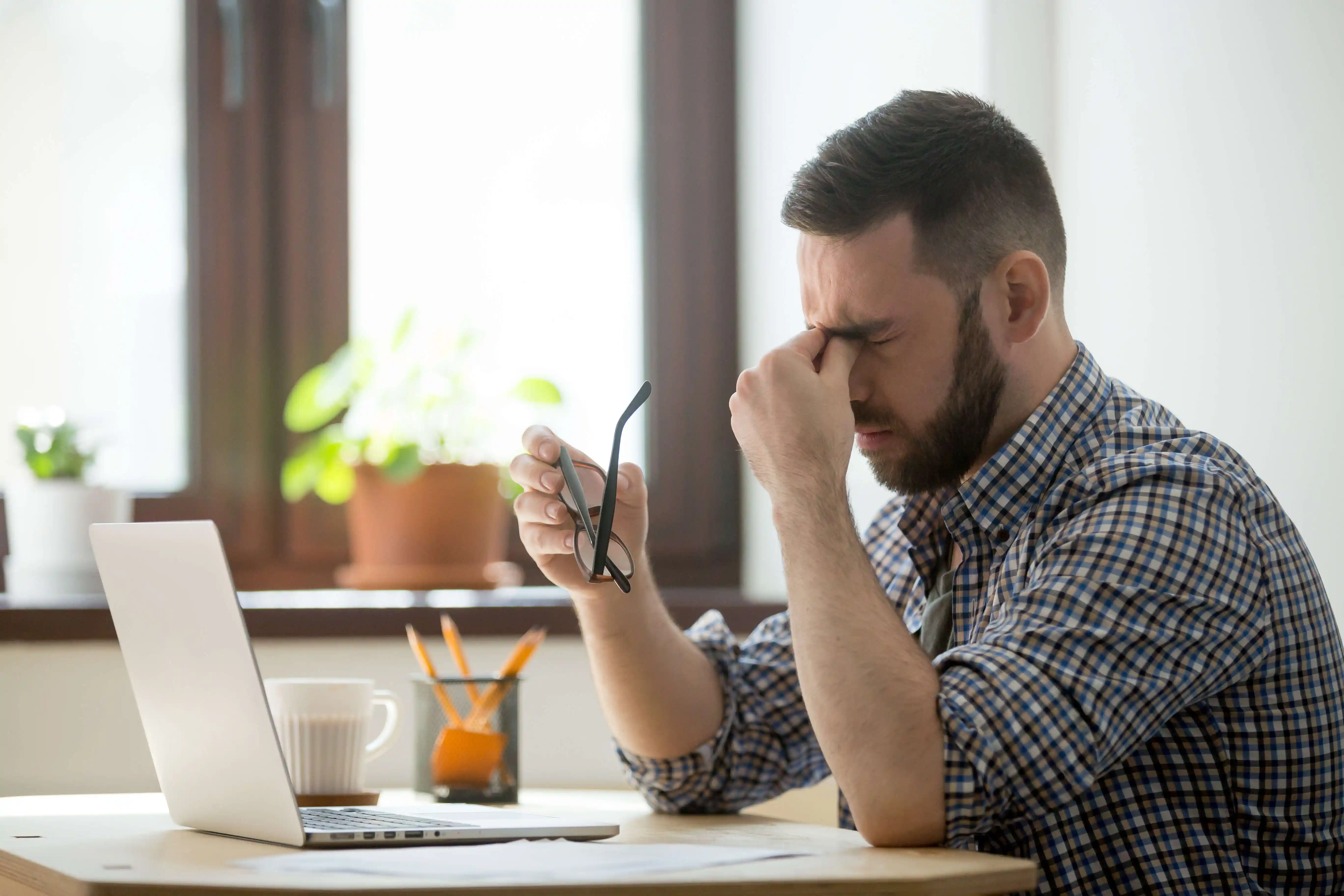 Modern life is stressful. It doesn't seem likely to transit soon. From the moment the alarm clock jolts you out of bed until you're finally done for the day, you will likely experience some stress. It may be anxiety, psychological issues, or physical stress, such as neck and eye distress from sitting at a computer. While a bit of stress is tolerable, too much can damage your health. Many symptoms can be attributed to our mental and physiological pressures. The symptoms may range from fatigue to stomach upset to sleeping disorders.
Stress and migraines are interlinked. The stress may cause a burst or flare once you have a migraine. Physical and mental stress may lead to flares and outbursts of migraine.
Stress in your everyday life can trigger a migraine. Chronic migraine pain can boost your stress. Migraines differ from headaches, and what causes them is still not determined. But there are known triggers, including stress. The life stressors may be a demanding job, an over-packed to-do list, a growing pile of bills, or personal issues; stress is a likely cause of migraine. Almost 80% of people who get migraines list stress as a common trigger. These people also have reported high-stress levels. The findings prove that stress-headache connection may be worse in women than men.
You're likely to have high-stress levels if you have chronic migraine headaches on at least 15 days of the month. The combination of headaches and stress can also lower your quality of life.
The first important thing you should know is what a migraine is.
What is a Migraine?
Migraine is a neurological disorder that involves nerve pathways and chemicals. It is a multiplex neurological disorder that produces symptoms beyond a headache. A migraine episode is likely to impact the entire nervous system. Therefore, you may experience symptoms in various parts of your body. A person might think these widespread symptoms are unrelated, but migraine could be the underlying cause.
A migraine headache typically jolts one side of the head, but some people experience pain on both sides. It causes throbbing and pulsing pain on one or both sides of the head. The pain occurs most often behind an eye or around the temples. Migraine may last anywhere from four to seventy-two hours.
The changes that disrupt brain activity affect blood in the brain and surrounding tissues, causing various symptoms. Headache is just one symptom of migraine and may differ in intensity. Migraine may cause intense, throbbing headaches that last anywhere from a few hours to several days.
Chronic Migraine and Stress
Severe or frequent stress may alter your brain's structure and functions. The changes will only get worse as the pressure continues. For example, if a person has chronic migraine, his brain may act distinctly than the brains of migraine-free healthy people. Even between headaches, the brain may be in an overexcited state. Therefore, changes in brain structure may result from frequent migraines.
Symptoms of Stress
You will likely first notice symptoms of stress before the symptoms of a migraine. Common symptoms of stress include:
Fatigue
Chest pain
Upset stomach
Irritability
Rapid heart rate
Sadness and depression
Rapid heart rate
Lack of sex drive
Symptoms of Migraine
In addition to intense head pain, migraine sufferers may experience some or all of the following symptoms:
Imbalance
Difficulty finding words
Ear and sinus pressure
Sleeping poorly
Feeling anxious
Nausea
Increased sensitivity to light, sound, or smells
Dizziness
Extreme fatigue
What Kind of Stress Triggers Migraines?
Many kinds of stress or stressful incidents can kick off a migraine. Unfortunately, stress can also result from happy occasions, like planning a wedding, having a baby, or buying a new home.
Research shows that everyday stressors like a long commute, high-pressure job, or raising kids are more likely to cause migraines than unusual stress. However, the daily stress can lead to chronic headaches.
Some people have a migraine when their everyday stress lets up. For example, after a tough week at work, one may think he is ready to relax and enjoy the weekend, but then he gets a migraine. That might be because his brain gets used to the consistent stress—a sudden change in routine triggers a migraine.
How Can You Manage Stress?
It is not good to let stress get out of control. So how do you manage the stress-migraine cycle? The following steps can help you avoid stressors that trigger headaches and manage your stress better:
Get some exercise
Incorporate relaxation exercises into your daily routines, such as yoga and meditation. Make time for a 30-minute daily walk. Exercise more days than not at all. It can lower stress levels and help prevent migraines after a period of stress.
Eat a healthy and balanced diet.
Ensuring your body gets all essential nutrients will help keep migraines at bay. Oh, and stay well-hydrated too! So eat a lot of veggies, fresh fruits, and whole grains.
Write out your stress.
Start writing a journal. Let your thoughts and emotions flow out so you may deal with them instead of letting stress build up.
Get enough sleep each night.
Get enough sleep, which may be achieved through staying consistent at bedtime each night. About 85% of people with migraine sleep poorly. Stress may keep you awake all night. When you sleep well, the mind and body are recharged for the next day. Set a bedtime routine and stick to it. Research shows that even a 20-minute 'power nap' may help you feel refreshed and re-energised.
Massage Therapy
Try massage therapy. A gentle massage can help prevent migraines, reduce cortisol levels, and decrease anxiety.
Talk to someone
Sigmund Freud called psychotherapy "the talking cure". The mere act of sharing your problems helps you feel less burdened. Whether you confide in a friend, family member, or therapist, many people believe that a problem shared is a problem halved.
Just smile
Do not underestimate the magic of a smile. Smiling triggers the release of endorphins in the body, lessening stress and letting us feel better. So, fake it until you make it!
Change Stressful Patterns
If stress is causing migraine, finding ways to reduce your stress levels may help prevent future attacks. Suppose you can identify regular stress and migraine triggers. Then you may be able to make changes to avoid the triggers or lower the impact.
Maybe your daily commute is rough. See if it is possible to take public transportation. For example, you may read a book or listen to music while someone else drives.
If that does not work out, ask your employer if you can change your work hours to avoid high traffic or telecommute on certain days.
Get Organised
If you feel more exhausted when things seem out of control, find ways to stay organised. Make a schedule to follow each day. Do some tasks ahead so you don't feel overwhelmed by large projects. Or maybe you think you have too much going on at once. Make a list of tasks that are most important to do now and those that can wait. Set your priorities first. Invest your energy in what means the most to you.
Plan to Relax
It's essential to take care of yourself and make time to relax. Plan a health regime and schedule time for a daily workout. Say no to unnecessary requests.
Yoga relieves stress for many people. Take a class to learn the process and ways to control breathing that helps you relax. Learn how to meditate to calm down your stress and manage pain.
Seek Help If You Need It
You may need counselling or medication if ongoing stress causes chronic migraines. First, look for a therapist who may guide you to deal with it better. Also, take migraine medications as your doctor recommends. Biofeedback and cognitive behavioural therapy are two techniques that can help you manage chronic stress and pain better. They may even help prevent headaches.
Conclusion
Migraine is a neurological disorder that involves nerve pathways and chemicals. It is a multiplex neurological disorder that produces symptoms beyond a headache. A migraine episode is likely to impact the entire nervous system. Therefore, you may experience symptoms in various parts of your body. In addition, stress and migraines are interlinked. Thus, the stress in your life may trigger a migraine.
If stress triggers migraine, work to lessen or eliminate the source of stress. Medications and self-care measures may also help you get relief from symptoms and prevent or reduce the frequency of your migraines.
You may experience the occasional tension headache, but managing stress might help lessen the frequency and severity of migraine attacks. Also, try an over-the-counter headache medication for a quick and effective way to eliminate a stress-migraine headache.
Taking control of your life may help to reduce stress. So, roll up your sleeves, organise the chaos and welcome the calm.