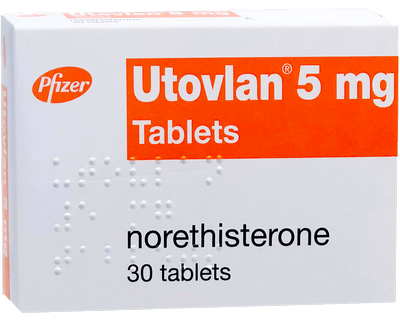 Estimated Delivery
Expected delivery date:
Tuesday, 24 May 2022
If you order within:
12h 36m 20s
*Your cart must meet the minimum requiretments for next day delivery
Fast
Delivery
Quick
Assessment
UK Registered
Pharmacy
Discreet &
Confidential
Overview
FAQ
Side Effects
Information leaflet
Reviews
What is Utovlan Tablets
Used for a variety of reasons including period delay, heavy, irregular or painful periods, or endometriosis and in some cases breast cancer, Utovlan is the branded version of norethisterone which is a synthetic form of the naturally occurring hormone progesterone.
Nearly 800,000 prescriptions are handed out for medications containing norethisterone, such as Utovlan, annually making it known as a popular 'lifestyle' therapy. So whether you want to delay your period for a holiday, your wedding night or before an operation, Utovlan is an ideal option.
Can I buy Utovlan Online?
Utovlan can be purchased online once approved by one of our doctors. You will be prompted to fill in a medical questionnaire, after which our experts will asses and approve you for it if possible. If it is felt that this medication is not appropriate or safe for any reason, you will be advised of an alternative and you can book a free, confidential appointment online with our doctors to discuss this further if you wish. Once you have been given a prescription for a treatment, you do not need to fill in the questionnaire again for this medication but it is recommended that you review your prescriptions regularly to ensure you have the correct dose for your requirements.
Once you have your prescription you can purchase your medication after which it will be sent to you quickly and discreetly by next day delivery where possible.
How effective is Utovlan?
Taking Utovlan keeps the lining of the womb in place to help delay your period but as with any medication it will work more effectively for some women than others but generally, it is considered by doctors to be a very effective method for delaying menstruation.
You will then continue without your period until you stop taking your Utovlan prescription after which your period should begin again.
Why choose Utovlan Pill?
For period delay for your wedding, holiday, festival or in preparation for an operation, you can use Utlovlan for around 14 days allowing users to have a worry-free break from their menstruation.
Utovlan is considered to be perfectly safe for most women to take occasionally for this purpose including women with a low risk of venous thromboembolism
What is contained in Utovlan?
The active ingredient is in Utovlan is norethisterone.
The inactive ingredients are lactose monohydrate, maize starch, polyvidone and magnesium stearate.
How should I take Utovlan?
You will be advised how best to use Utovlan by your doctor but generally speaking, for period delay the users would begin taking the tablets three days before their period is due and then one 5mg tablet 3 times daily for up to 14 days, or as long as they are prescribed. Once you stop taking the medication your period will begin again.
If you forget to take your tablet then you can take it when you remember as long as you are not too close to your next dose. Do not take two doses at once or too close together.
How long can I take Utovlan for?
It is not recommended to be taken for more than 14 days unless otherwise stated by your doctor. Period delay medications such as Utovlan can cause uncomfortable side effects such as cramps as the body comes out of its natural cycle. After you have used this treatment it may take a month or two to get back into a normal menstrual cycle so it is wise to use it for as minimal a time as possible.
Can I take Utovlan whilst pregnant or breastfeeding?
Hormonal medications can affect a developing baby so it is unlikely you would be prescribed this treatment during this time. If you think you may be pregnant you will likely be asked to perform a pregnancy test before being prescribed Utovlan.
Discuss using this treatment if you are breastfeeding. You may be recommended to use an alternative medication or method of feeding your baby whistle you use Utovlan.
What are the side effects of Utovlan?
Different medications can cause a variety of side effects depending on the patient using them. Whilst some people may experience very little, others may have severe allergic reactions or side effects.
The most common side effects from Utovlan are a change in your cycle, breakthrough bleeding, headaches and nausea.
Other possible issues linked to this medication are migraines, breast soreness, reactions of the skin such as acne, tiredness, dizziness, depression and increased blood pressure.
Other Warnings to consider
If you experience severe stabbing pains or swelling in one leg, pain when coughing and breathing, coughing up blood, chest pain, numbness or visual changes, then contact your doctor right away.
There are certain medications which, when taken alongside Utovlan, can lower its effectiveness. Such medicines, which include herbal supplements and vitamins, include griseofulvin, certain antibiotics and St John's Wort. Ensure you let your doctor know about any other medication you are presently using before beginning a prescription of Utovlan.
It is important to bear in mind that these types of medication cannot be used to stop pregnancy. As such, if you are planning on using Utovlan, you must also use some form of contraception as well.
How does Utovlan work?
Each month, as long as a woman is not pregnant, the level of a hormone known as progesterone lowers which triggers a reaction causing the womb to shed. This is experienced as the monthly period. If this hormone does not decrease, such as in the case of pregnancy or when a synthetic form of progesterone is administered into the body via a medication including Utovlan, the body does not trigger a period. Therefore when a woman uses Utovlan she can safely delay the menstruation period for up to 14 days.
What are Utovlan Tablets used for?
Utovlan Tablets are used for a number of reasons, they result in a delayed period.
What is the active ingredient in Utovlan Tablets?
The active ingredient in Utovlan Tablets is norethisterone. This ingredient is effective at delaying periods.
Do I need a prescription to purchase Utovlan Tablets?
Yes, you require a prescription to purchase Utovlan Tablets. After completing a short online questionnaire on our website you will be provided with a prescription, allowing you to purchase Utovlan Tablets.
How do Utovlan Tablets delay periods?
The active ingredient, norethisterone, is a man made version of the naturally occurring hormone progesterone. Periods are caused by the level of progesterone in your body dropping, these tablets keep the levels of progesterone high ensuring you do not get a period.
Can men use Utovlan Tablets?
Utovlan Tablets are used to delay periods in females only.
How long can I take Utovlan Tablets for?
Utovlan Tablets are effective at delaying periods for up to 14 days. They are not suitable for long term use.
How often should I take Utovlan Tablets?
To delay your period for up to 14 days you should take one 5mg tablet three times a day everyday.
When should I begin taking Utovlan Tablets to delay my period?
To effectively delay your period, it is advised to begin taking Utovlan Tablets 3 days prior to the day you want to delay your period.
After using Utovlan Tablets how long does it take to return to my normal menstrual cycle?
After completing your treatment you may experience irregular periods. It should take around 2 months for your menstrual cycle to return to normal.
Can pregnant women use Utovlan Tablets?
You should not take Utovlan Tablets if you are pregnant.
Are Utovlan Tablets safe to be used by breastfeeding mothers?
Although Utovlan Tablets generally cause no harm to the baby, you should consult a GP, pharmacist, or midwife before starting your treatment.
Can I take Utovlan Tablets on an empty stomach?
It is safe to take Utovlan Tablets on an empty stomach, however to prevent any nausea like feeling it is advised to take them after a well balanced and healthy meal.
Will Utovlan Tablets make my future periods painful?
There is evidence to suggest that you may experience painful periods after completing your treatment. However this should only last for 1-2 months, after that your menstrual cycle should return to normal.
Will using Utovlan Tablets affect my ability to drive or operate machinery safely?
There is no evidence to suggest that using Utovlan Tablets can affect someone's ability to drive or operate machinery safely.
Will Utovlan Tablets affect my contraception?
Utovlan Tablets generally do not affect any form of contraception. If you are worried about this it is recommended to speak to a GP or pharmacist prior to beginning your treatment.
Like all medicines, you will experience a number of side effects from using Utovlan Tablets. It is important to note that not everyone will experience the same side effects, this may depend on your hormones. Common side effects include:
Painful future periods
Irregular periods
nausea/feeling sick
Dizziness
Tiredness
Headaches
Breakthrough bleeding
Always read the patient information leaflet before starting your treatment. The patient information can be found here.
Authored by Jana Abelovska
Last reviewed 20 April 2021
How to order
Order your medication in a few clicks. Our process is easy, fast and secure.
Step 1
Quick Health Check
Fill out a questionnaire so our prescriber can assess if the treatment is suitable for you.
Step 2
Select a Treatment
Choose the medication you require from the range offered by our online pharmacy.
Step 3
Next Delivery
Add delivery details and complete payment process.
What do our customers say?
Jane Cooper
January 29, 2022
Fabulous service, quick and assertive, nice to be able to have an alternative service whilst the nhs are struggling!
Kristin Watson
January 2, 2022
Happy with how quick they reply to me and the
Delivery was quick as well would definitely use them again in the future.
Robert Fox
December 9, 2021
Glad to have you there. Efficient, professional service. The next day delivery is always delivered on time as promised.
Medical News and Blogs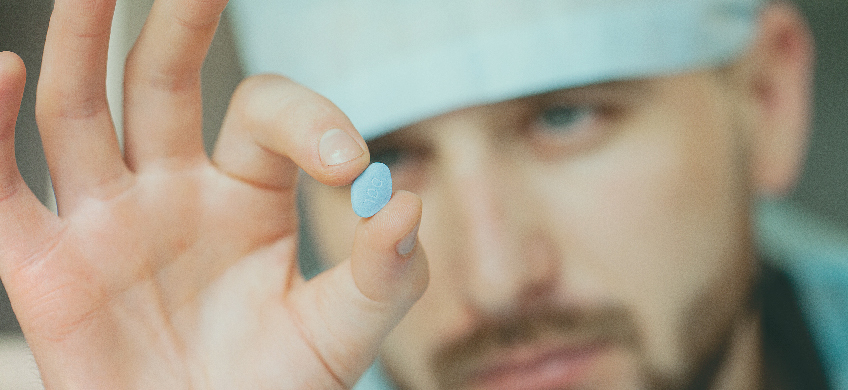 How The Little Blue Pill Revolutionized Relationships
It all began in 1998 when one of the greatest modern medical marvels was approved for sale in the world. Viagra, also affectionately called 'The Little Blue Pill', was originally meant....
Read