Estimated Delivery
Expected delivery date:
Tuesday, 10 May 2022
If you order within:
12h 36m 20s
*Your cart must meet the minimum requiretments for next day delivery
Fast
Delivery
Quick
Assessment
UK Registered
Pharmacy
Discreet &
Confidential
Overview
FAQ
Side Effects
Information leaflet
Reviews
Read up
What is Tamiflu (Oseltamivir)
Flu is caused by the influenza virus and it affects the respiratory passages. It is highly contagious and causes a variety of symptoms including aching, fever and a high temperature, a runny or blocked nose, fatigue and in some cases it can develop into more serious illnesses including pneumonia or bronchiolitis.
There are products on the market such as Tamiflu which are designed to treat these symptoms, making them more bearable whilst simultaneously shortening the length of the illness by up to two days. This same product can also prevent the flu from taking hold if you have been exposed to someone suffering with it or in cases where there is flu within a community such as a school, retirement home or workplace.
Why choose Tamiflu?
When you have been around someone with the flu or in an environment where the influenza virus is prevalent, Tamiflu has been shown to reduce the possibility of flu developing by more than 50% in anyone from the age of 2 weeks to 65 years after which it is less effective. This beneficial outcome of using Tamiflu makes it worth having a prescription if you will be visiting someone with the illness or you live/work in a community where flu is currently present.
Other Warnings to consider
Tamiflu cannot replace the benefits of an early, annual flu vaccine but can only support the body in fighting it once you have been infected and when taken within 2 days of infection.
Tamiflu cannot prevent or treat bacterial infections which may develop due to the primary influenza virus and you must not use it for this reason, nor give it to others who may be suffering from an infection due to the flu virus.
There are a number of medications which can interact negatively with Tamiflu either decreasing its effectiveness or causing it to react dangerously with other drugs. Speak to your doctor about any other medications you currently take before using Tamiflu including but not limited to:
entecavir
clopidogrel
warfarin
a live flu vaccine
What is contained in Tamiflu?
The active ingredient in Tamiflu is oseltamivir phosphate
The inactive ingredients are croscarmellose sodium, povidone K30, pregelatinized starch, sodium stearyl fumarate and talc.
How should I take Tamiflu?
Swallow the whole tablet with water with or without a meal although when taken with food it can stop the possibility of feeling nauseous or being sick.
Tamiflu works most effectively when the drug is kept at a constant level in the body. As such it is recommended you take the medication at evenly spaced intervals for as long as directed by your GP or Click Pharmacy doctor. Stopping the prescription early, even if you feel better, can cause a relapse with either the virus returning or else a lack of protection again the flu.
How long can I take Tamiflu for?
You will be advised as to which dosage you require and how long you should use the medication based on your age and whether you need it for prevention or treatment amongst other factors.
It is generally recommended that if you have the flu virus you must take Tamiflu twice a day for five days. If you are taking it for prevention then you are likely to be recommended to take it once a day for ten days, though it is crucial you follow your doctor's direction for using this treatment to get the full benefit.
For patients with weakened immunity, treatment can be prescribed for anywhere between six and twelve weeks.
How does Tamiflu work?
The influenza virus invades the cells of the body, replicating itself as it goes so that new virus cells begin to destroy healthy cells. Once a certain number of healthy cells have been affected, the patient begins to feel the effects of flu including aches and fatigue.
Tamiflu, if taken early enough can inhibit the influenza virus' ability to invade the cells of the body by binding to the surface of the virus, restricting its ability to destroy healthy cells and replicate itself and eventually enabling the body's own immunity to kill it.
If left too long before taking the medication, the number of cells which have been destroyed by the virus is too great for Tamiflu to help so taking it with 48 hours of infection is key.
What are the side effects of Tamiflu?
There may be some side effects similar to those which occur due to the flu itself such as dizziness and headaches, as well as stomachaches, nausea and vomiting or diarrhoea.
More serious side effects which require medical help can also occur, and though very rare they are more common in children. These include:
anaphylactic shock
sudden confusion or feelings of delirium
seizures
seeing things (hallucinations)
a change in mood or behaviour
self-harm
You should discontinue the product and seek medical help if any of these serious side effects occur or if you experience side effects which suggest an allergic reaction has occurred such as swelling of the tongue, lips or throat, or hives/rash.
How effective is Tamiflu?
Tamiflu is effective at speeding up your recovery from flu by up to 48 hours if taken within 2 days of the virus starting. If you are specifically suffering from influenza, Tamiflu is proven to lower the risk of developing more serious complications including pneumonia by over 40% and hospitalisation by over 60%, whereas, if you are suffering only with flu-like symptoms, the medication will not be effective as part of your recovery.
Once taken, the drug is detected in your blood within half an hour of an oral dose of the medication and levels are at peak concentration within 3 to 4 hours demonstrating how quickly it gets to work to fight the virus.
Can I buy Tamiflu Online?
Tamiflu is a prescription only product available to purchase from Click Pharmacy where you can buy your medication online before having it sent directly to your address via next day delivery.
To receive a prescription you will be prompted to fill in a brief medical form which will be assessed by our in-house doctors who will be able to approve you for the medication.
What strain of influenza are Tamiflu Tablets effective for?
Tamiflu Tablets are effective against both strains of influenza A and B.
Can I take Tamiflu Tablets on an empty stomach?
Tamiflu Tablets can be taken either with or without an empty stomach, although studies suggest that taking these capsules on a full stomach can reduce the chances of side effects.
What is the difference between Tamiflu and Oseltamivir?
Functionally Tamiflu and Oseltamivir are the same drug, the main difference is branding. Oseltamivir is sold under the brand Tamiflu.
Who should avoid taking Tamiflu Tablets?
Adults over the age of 65 years old should avoid taking Tamiflu Tablets. Anyone with a history of heart disease, asthma and diabetes should not take Tamiflu Tablets.
Can I stop taking Tamiflu Tablets after I feel better?
You should always complete your prescribed course for these tablets, even if you feel better before you complete your course.
When will Tamiflu Tablets work most effectively?
Tamiflu Tablets are substantially more effective if taken within 48 hours of the first symptom of influenza.
Can I still get a flu jab if I take Tamiflu Tablets?
You should refrain from taking Tamiflu Tablets if you have recently got the flu jab.
How long do Tamiflu Tablets take to start working?
Tamiflu Tablets shorten the symptoms of influenza within a day or two unlike antibiotics which quickly make you feel better.
Can pregnant women take Tamiflu Tablets?
Studies suggest Tamiflu Tablets are safe to use for pregnant and breastfeeding women.
How should I store Tamiflu Tablets?
These tablets should be stored safely in a closed container at room temperature, away from direct exposure to sunlight and extreme temperatures.
Do Tamiflu Tablets treat other viral infections?
Tamiflu Tablets are only effective at treating the influenza virus, not any other viral infections.
How do Tamiflu Tablets work against influenza?
The drug attacks the virus in your body and prevents it from multiplying, this results in reduced symptoms.
Can children take Tamiflu Tablets?
In 1999 Tamiflu Tablets were approved for use of ages 2 weeks and above. Although this may vary depending on other medical circumstances.
What dosage is right for me?
It is advised that anyone over the age of 13 should take a 75 mg capsule to treat influenza.
How should I swallow these tablets?
Tamiflu Tablets should be swallowed with a drink of water. The capsule can be opened and mixed with a sweetened liquid, such as a sweet fruit juice, when giving to children and young infants.
How often should I take these capsules?
In order to effectively treat influenza, it is recommended to take one 75 mg capsule once a day for the duration of 10 days.
Do Tamiflu Tablets prevent influenza?
Tamiflu Tablets are a treatment, not vaccination or immunisation, therefore they do not prevent the flu.
Tamiflu Tablets can cause common side effects such as vomiting, diarrhea, sickness, sudden confusion, unusual behaviour, nausea and even sometimes insomnia. However studies suggest these side effects are mild, resolve within 1-2 days, and do not interfere with the primary function of tamiflu.
Children may experience a variation of side effects such as uncontrolled tearing from eyes, swelling and pain around the eye and unexpected nose bleeds. If any of these side effects aggravate, seek medical assistance immediately.
Always read the patient information leaflet before starting your treatment. The patient information can be found here.
Authored by Jana Abelovska
Last reviewed 20 April 2021
How to order
Order your medication in a few clicks. Our process is easy, fast and secure.
Step 1
Quick Health Check
Fill out a questionnaire so our prescriber can assess if the treatment is suitable for you.
Step 2
Select a Treatment
Choose the medication you require from the range offered by our online pharmacy.
Step 3
Next Delivery
Add delivery details and complete payment process.
What do our customers say?
Jane C
January 29, 2022
Fabulous service, quick and assertive, nice to be able to have an alternative service whilst the nhs are struggling!
Kristin W
January 2, 2022
Happy with how quick they reply to me and the
Delivery was quick as well would definitely use them again in the future.
Robert F
December 9, 2021
Glad to have you there. Efficient, professional service. The next day delivery is always delivered on time as promised.
Medical News and Blogs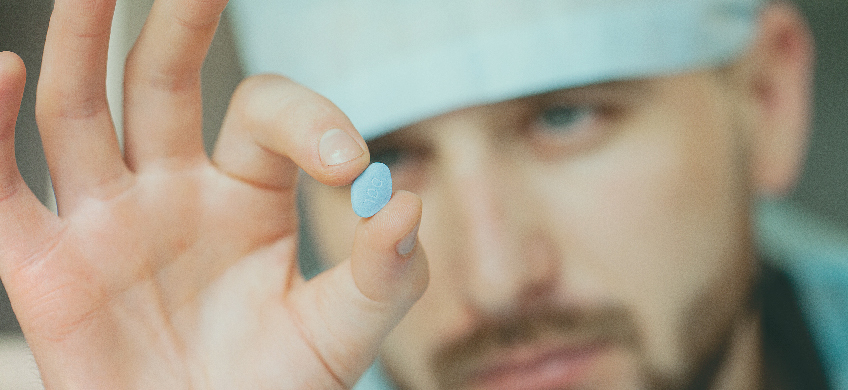 How The Little Blue Pill Revolutionized Relationships
It all began in 1998 when one of the greatest modern medical marvels was approved for sale in the world. Viagra, also affectionately called 'The Little Blue Pill', was originally meant....
Read