Estimated Delivery
Expected delivery date:
Tuesday, 24 May 2022
If you order within:
12h 36m 20s
*Your cart must meet the minimum requiretments for next day delivery
Fast
Delivery
Quick
Assessment
UK Registered
Pharmacy
Discreet &
Confidential
Overview
FAQ
Side Effects
Information leaflet
Reviews
What is Emla Cream
Eutectic Mixture of Local Anaesthetics (EMLA) is an oil-based cream containing the active ingredients lidocaine and prilocaine and is commonly used as a treatment for premature ejaculation (PE). When applied, the cream acts as an anaesthetic, reducing sensitivity at the tip of the penis meaning that the user can enjoy sexual intercourse for longer.
Why choose EMLA Cream?
PE is a common problem among men and can have a wide variety of causes; from stress and anxiety to relationship problems and medical illnesses. It has even been suggested by researchers that some men are naturally prone to premature ejaculation and that it can be part of their biological make-up.
In cases where PE is having a negative impact on the quality of a sufferers life and their relationships, or causing embarrassment which results in a loss of confidence, EMLA cream can have a positive impact. By gently numbing the surface of the skin for a short period of time with its mixture of local anaesthetics, it is effective in helping men to regain sexual and personal fulfilment.
Can I buy Emla Cream Online?
Emla can be bought online from Click Pharmacy after an assessment of your current medical situation, including any other medicines you take, both with or without a prescription. This is because EMLA has the potential to affect how well they work, and the medications or supplements themselves could affect the way EMLA works also. Once approved, the prescribers at Click Pharmacy can write a prescription for either the 5g or 30g tube as necessary and send out your treatment for next day delivery. They can also support you in how best to use this treatment to achieve the desired results.
When to apply EMLA Cream
Application of EMLA cream should be at least 10 minutes prior to intercourse to allow enough time for the effects of the cream to kick in. Although the cream can take a little longer to work on the penis shaft as the skin is slightly thicker here, you should experience a slight numbing effect all over within 30 minutes.
How to apply Emla Cream
Although you may need to test out various dosage levels to help with your specific level of PE, the initial recommended amount for someone new to using EMLA cream is usually pea-sized or one quarter of an inch. You can then change the dosage very slightly if you find that this amount makes you feel too numb or not yet numb enough.
It should be spread lightly over the penis though if you find you only want to delay the time it takes to ejaculate very slightly, then using the cream on the penis head alone can be enough.
What dose should I choose?
Studies have shown that the most effective dose of the local anaesthetics which are found in EMLA cream, lidocaine and prilocaine, is 5% applied 20 minutes before sexual contact.
It is important to use this medication sparingly though, as, if users apply too much, the penis may become too numb and lose its erection. To ensure you receive the maximum benefits, talk to your GP or our experts at Click Pharmacy for help and advice on how to use this product correctly.
How does EMLA cream affect contraception?
A small amount of EMLA cream should be applied to the head of the penis approximately 20 minutes before engaging in sexual intercourse. Any excess cream should be wiped away, and further product can be applied if you feel you're not receiving the desired effect. A condom can be used to protect your partner from the effects of the cream. However, it is important to be aware that this product can increase the likelihood of condoms splitting. To reduce this risk, you should ensure that any surplus cream has been wiped away from your penis before putting a condom on. If you are very worried, you might want to consider using two condoms or other contraceptive methods.
How will EMLA Cream affect sexual intercourse?
Lidocaine and prilocaine act as an anaesthetic and slightly numb the area which they are applied to, making the penis less sensitive. The result of this is that the neuro-signals, which are sent from the penis to the brain, are suppressed so that the penis receives less stimulation, postponing climax and increasing the time between developing an erection and ejaculation.
No longer being concerned about your ejaculation time will also have a positive effect on your sexual self-confidence which can enable you to begin to develop more intimacy with your partner.
What are the side effects of Emla Cream?
As EMLA is a cream that is applied directly to the skin's surface, the most common side effects relate to the skin. These include forms of reaction such as swelling, burning, redness and itching.
While extremely rare, there can be more serious side effects most notably occurring if a patient uses too much cream or does not apply it as recommended. These unusual side effects include breathing trouble, blurred vision, ringing in the ears, fainting and severe drowsiness.
It's important to seek medical help immediately should you experience any serious side effects when using this product.
When to avoid EMLA cream
Whilst EMLA cream can be highly beneficial for many men suffering from PE it is not advisable to be used in all cases.
These situations, though rare, will be discussed during your assessment with a GP or doctor at Click Pharmacy and can include:
allergies to lidocaine or prilocaine
certain rare blood disorders
What is Emla Cream used for?
Emla Cream is used for premature ejaculation. It reduces the sensitivity of the tip of the penis, making sexual intercourse easier and more enjoyable.
What is the active ingredient in Emla Cream?
Emla Cream contains the active ingredients, lidocaine and prilocaine. These ingredients are commonly used for the treatment of premature ejaculation.
Do I need a prescription to purchase Emla Cream?
Yes, you require a prescription to purchase Emla Cream. After completing a short online assessment on our website you will be provided with a prescription, allowing you to purchase Emla Cream.
How does Emla Cream treat premature ejaculation?
The active ingredients work as a local anaesthetic, numbing the tip of the penis resulting in easy intercourse.
When should I use Emla Cream?
For maximum effectiveness, you should use Emla Cream 10 minutes before having any form of sexual intercourse.
How should I use Emla Cream?
You should gently apply a pea-sized amount of Emla Cream all around the penis. It should be applied 10 minutes prior to having sexual intercourse.
Does using Emla Cream affect my contraception?
Although Emla Cream does not directly affect any form of contraception, using too much of Emla Cream may result in the condom splitting. Any excess cream should be gently wiped off.
Can women use Emla Cream?
Emla Cream is not suitable for use by women, it should only be used by men.
Who should not use Emla Cream?
You should not use Emla Cream if you have any rare inherited disorders such as methemoglobinemia.
What is the difference between Emla, LMX4 and Nulbia?
While all three products are effectively used for the treatment of premature ejaculation (PE), the main difference is branding. They are all different brand names selling the same product with the same active ingredient.
Can pregnant or breastfeeding women use Emla Cream?
Emla Cream is generally considered safe for pregnant and breastfeeding women to use. However it is advised to consult with a GP, pharmacist, or midwife before using it.
Can I drink alcohol while using Emla Cream?
Yes, alcohol does not affect the way Emla Cream works in any way.
Does using Emla Cream affect my fertility?
There is no evidence to suggest that using Emla Cream affects one's fertility.
Is there any food I should avoid while using Emla Cream?
No, there is no food or drink that you should avoid while using Emla Cream.
Does using Emla Cream affect my ability to drive or operate machinery safely?
No, using Emla cream does not affect one's ability to drive or operate machinery safely.
Emla Cream is a safe way to treat premature ejaculation. Most patients do not experience any side effects, however for the minority of patients who experience side effects symptoms are normally mild. Common side effects and how to overcome them include:
Itching and irritation around the penis: this side effect should disappear when you take the cream off.
Pale skin: a change in skin color should go back to normal after removing the cream
If any of these side effects do not disappear within 24 hours and begin to worsen, you should seek medical advice as soon as possible.
Always read the patient information leaflet before starting your treatment. The patient information can be found here.
Authored by Jana Abelovska
Last reviewed 20 April 2021
How to order
Order your medication in a few clicks. Our process is easy, fast and secure.
Step 1
Quick Health Check
Fill out a questionnaire so our prescriber can assess if the treatment is suitable for you.
Step 2
Select a Treatment
Choose the medication you require from the range offered by our online pharmacy.
Step 3
Next Delivery
Add delivery details and complete payment process.
What do our customers say?
Jane Cooper
January 29, 2022
Fabulous service, quick and assertive, nice to be able to have an alternative service whilst the nhs are struggling!
Kristin Watson
January 2, 2022
Happy with how quick they reply to me and the
Delivery was quick as well would definitely use them again in the future.
Robert Fox
December 9, 2021
Glad to have you there. Efficient, professional service. The next day delivery is always delivered on time as promised.
Medical News and Blogs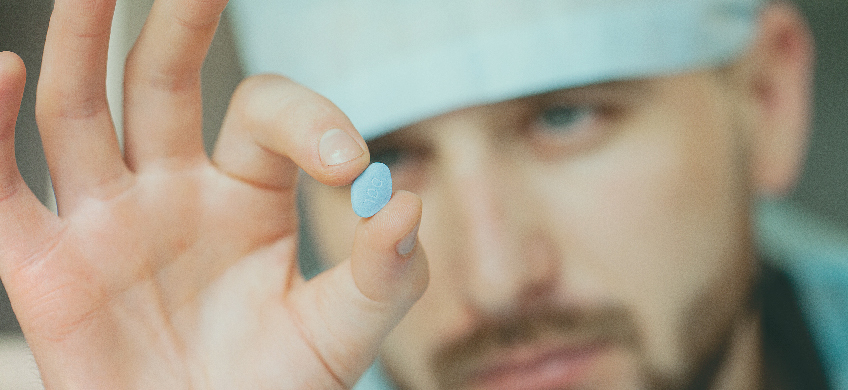 How The Little Blue Pill Revolutionized Relationships
It all began in 1998 when one of the greatest modern medical marvels was approved for sale in the world. Viagra, also affectionately called 'The Little Blue Pill', was originally meant....
Read