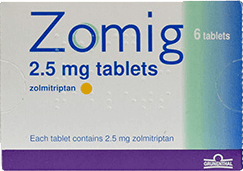 Estimated Delivery
Expected delivery date:
Tuesday, 10 May 2022
If you order within:
12h 36m 20s
*Your cart must meet the minimum requiretments for next day delivery
Fast
Delivery
Quick
Assessment
UK Registered
Pharmacy
Discreet &
Confidential
Overview
FAQ
Side Effects
Information leaflet
Reviews
What is Zomig
Zolmig, which contains the active ingredient zolmitriptan, is a prescription medication used in the treatment of migraines which are generally considered to be moderate to severe headaches often felt as a throbbing pain on one side of the head.
It is part of a group of medications called triptans which are used to reverse certain changes in the brain that are thought to trigger migraine attacks. The drug can be used to treat headaches with or without an aura which some sufferers report as being blind spots, flashing lights or zigzag patterns in your field of vision. It can tackle other symptoms often associated with migraines too including sensitivity to light and noise, nausea and vomiting.
Can I buy Zomig online?
You can buy Zomig online after you have completed a short online questionnaire, the answers from which will be assessed by a Click Pharmacy doctor to confirm whether this is the right medication for your situation. If not, then our experts will recommend a better or safer option.
How Effective Is Zomig?
In some severe migraine cases, a second dose can be required to fully relieve the pain of the headache, but in studies, the effectiveness of Zomig was undeniable with positive results achieved in 90% of patients.
The 5mg dose seemed to achieve a higher result than the 2.5mg option in the more severe cases but the necessary dosage for your situation, based on severity and regularity of your migraine attacks amongst other factors, can be assessed by the doctor before you purchase your first pack.
It is worth bearing in mind that the medication is designed to be taken when a migraine has already started and that taking it does not prevent future attacks or reduce the number of attacks you have overall.
Why choose Zomig?
If you suffer from migraine headaches that prevent you from carrying out normal day-to-day activities, Zomig can be an effective form of treatment. The medication is often prescribed when over the counter painkillers have been unsuccessful as it can improve symptoms or even eliminate them completely.
One of the benefits of Zomig is that it can be taken at any time during a migraine attack and still be effective whereas other forms of migraine treatment need to be taken as early as possible to have a major effect on reducing the pain and/or symptoms. If you are out without your medication then this is important to factor in as you can have peace of mind that no matter how long it takes you to take your tablet the treatment will work as well as if it had been taken from the onset of the attack.
What dose should I choose?
Zomig comes in tablet form and the dose you require is based on a number of variables, including the severity of your attacks, your response to the medication, your age and any other medication you may be taking. For exact dosage instructions, read the patient information form that is provided with your prescription and you can also speak to your GP or one of our doctors here at Click Pharmacy.
How should I take Zomig?
For best results, take one tablet with a glass of water, with or without food, at the first signs of a migraine attack. The medication can also be taken after an attack has begun.
How does Zomig work?
Zomig is in a class of medicines known as 5HT1B- and 5HT1D-receptor agonists which are also referred to as triptans. They work by binding to these receptors and reducing the swelling of the blood vessel walls which become dilated around the brain, triggering a migraine. The constriction of these blood vessels via the Zomig treatment helps to ease the headache as well as the other migraine related symptoms such as nausea.
What are the side effects of Zomig?
Zomig may cause some temporary side effects, such as nausea, vomiting, dry mouth, drowsiness, weakness and heaviness or tightness around the chest or neck. Although very rare, there are also some more serious side effects associated with the medication. A complete list of potential side effects can be found in the patient information leaflet that comes with your prescription.
Is it safe to use Zomig whilst pregnant or breastfeeding?
There are limited studies done on taking triptans during pregnancy and when breastfeeding. Such trials are performed on a voluntary basis and as such results are compiled in small numbers.
In animal trials, the medication was found to have passed into breastmilk, though a separate study of a similar medication known as sumatriptan estimated that an infant received around 3.5% of the mother's full dose which was considered to be 'compatible with breastfeeding'.
Taking medication during pregnancy or when breastfeeding must always be done with caution and as such, speak with your GP or your doctor here at Click Pharmacy before deciding how best to proceed.
Is it safe to use Zomig whilst taking other medications
There are a number of medications that you cannot mix with Zomig. Especially important to discuss with your GP are any medications taken for depression including herbal supplements such as St John's Wart, as well as other tablets for headaches and migraines, antibiotics and cimetidine which is used to treat stomach ulcers.
Do be sure to mention any other medication, vitamins and supplements you are taking aside from these to ensure they can be mixed with your prescription of Zomig.
Is it safe to drive or operate machinery after taking Zomig?
Due to some of the reported side effects such as dizziness, vomiting, drowsiness and weakness, it is advised you do not drive or operate machinery until you are sure these effects have worn off.
What are Zomig Tablets used to treat symptoms of?
Zomig Tablets are used to treat symptoms of migraines and cluster headaches.
Do I need a prescription to purchase Zomig Tablets?
Yes, you require a prescription to purchase Zomig Tablets. After completing a short online questionnaire you will be provided with a prescription, allowing you to purchase Zomig tablets from our website.
How do Zomig Tablets treat symptoms of migraines and cluster headaches?
Zomig Tablets narrow blood vessels in the brain that have enlarged and caused a migraine attack. This helps to relieve symptoms, treating migraines and cluster headaches.
What is the difference between Zomig Tablets and Zolmitriptan Tablets?
While both Zomig and Zolmitriptan are used for the treatment of migraines, the main difference is branding. Zomig is the branded version of Zolmitriptan, making Zomig a cheaper alternative.
What is the active ingredient in Zomig Tablets?
The active ingredient in Zomig Tablets is zolmitriptan. This ingredient is effective at overcoming symptoms of migraines and cluster headaches.
When should I take Zomig Tablets?
You should begin to take Zomig Tablets once you begin to experience symptoms of a migraine.
How should I take Zomig Tablets?
You should swallow one whole tablet with a drink of water.
Can I take Zomig Tablets on an empty stomach?
It is safe to take Zomig Tablets with or without a meal. However to prevent any nausea like symptoms it is advised to take your dose after a well balanced and healthy meal.
Can pregnant women use Zomig Tablets?
Although studies suggest Zomig Tablets cause no harm to the unborn baby, it is advised to consult with a GP, pharmacist or midwife before taking this medication.
Can breastfeeding mothers use Zomig Tablets?
Evidence suggests that Zomig Tablets are transferred into breastmilk. You should refrain from taking this medication if you are pregnant.
Does using Zomig Tablets affect my ability to drive or operate machinery safely?
After using Zomig you are likely to experience dizziness. In this case you should refrain from driving or operating machinery until you are fit again.
Can I take other medication with Zomig Tablets?
It is recommended to consult with a GP or pharmacist before combining medicines as it could possibly cause harmful side effects.
Are Zomig Tablets suitable for everyone to use?
Zomig Tablets are not suitable for everyone to use. You should consult with a GP before starting this treatment if you have any of the following:
Blood circulation problems
Irregular heartbeat
Have ever had a heart attack or stroke
Liver disease
Seizure
Can I drink alcohol while using Zomig Tablets?
It is advised to refrain from drinking alcohol while using Zomig Tablets. This is because the effects of alcohol have the potential to worsen side effects and symptoms.
Like all medicines, it is expected to experience a number of side effects from using Zomig Tablets. Common side effects include the following:
Feeling sick/nausea
A dry mouth
Feeling weak
Feeling tired
Feeling dizzy
Headaches
Drowsiness
Irregular blood pressure
If any of these side effects worsen, you should stop using Zomig Tablets and seek medical advice as soon as possible.
Always read the patient information leaflet before starting your treatment. The patient information can be found here.
Authored by Jana Abelovska
Last reviewed 20 April 2021
How to order
Order your medication in a few clicks. Our process is easy, fast and secure.
Step 1
Quick Health Check
Fill out a questionnaire so our prescriber can assess if the treatment is suitable for you.
Step 2
Select a Treatment
Choose the medication you require from the range offered by our online pharmacy.
Step 3
Next Delivery
Add delivery details and complete payment process.
What do our customers say?
Jane C
January 29, 2022
Fabulous service, quick and assertive, nice to be able to have an alternative service whilst the nhs are struggling!
Kristin W
January 2, 2022
Happy with how quick they reply to me and the
Delivery was quick as well would definitely use them again in the future.
Robert F
December 9, 2021
Glad to have you there. Efficient, professional service. The next day delivery is always delivered on time as promised.
Medical News and Blogs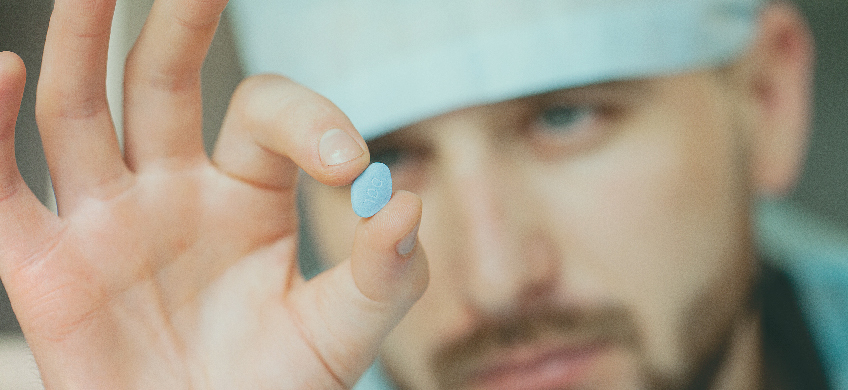 How The Little Blue Pill Revolutionized Relationships
It all began in 1998 when one of the greatest modern medical marvels was approved for sale in the world. Viagra, also affectionately called 'The Little Blue Pill', was originally meant....
Read