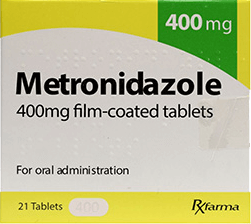 Estimated Delivery
Expected delivery date:
Tuesday, 10 May 2022
If you order within:
12h 36m 20s
*Your cart must meet the minimum requiretments for next day delivery
Fast
Delivery
Quick
Assessment
UK Registered
Pharmacy
Discreet &
Confidential
Overview
FAQ
Side Effects
Information leaflet
Reviews
What is Metronidazole
When the number of bacteria naturally found within the vagina changes it can upset the normal balance and cause an infection known as bacterial vaginosis (BV). It can occur in women of all ages but is most commonly found in those still within their reproductive years. Sex without protection, smoking and using douching products too regularly can upset this internal balance of the vagina and cause symptoms such as white discharge, an unpleasant odour and an itching or burning sensation. Some women find they experience no symptoms at all, but if you notice any changes it is important to seek medical advice. BV may clear up itself in time, but an oral treatment such as metronidazole can help your body to recover far more quickly, relieving you of the unpleasant or uncomfortable symptoms
Can I buy Metronidazole tablets Online?
You can purchase metronidazole online having completed a medical health questionnaire which enables our in-house doctors to assess whether this is the correct treatment for your symptoms.
Once approved, you can purchase your treatment which will be sent out quickly and discreetly to your chosen address. If you have any concerns about your symptoms then you can also book a free and confidential online appointment with a doctor at any time to discuss this.
How effective is Metronidazole?
Metronidazole is highly effective at clearing up BV in as little as 2 to 3 days though the treatment usually continues for up to 14 days to ensure the infection does not return.
The medication helps the body to fight infections and stop the development of the wrong kind of bacteria, bringing it back under control. This allows the body to utilise its own naturally occurring immunity to get the bacteria levels back into the correct balance. Many doctors still consider metronidazole to be the 'gold standard' in anaerobic antibiotics.
Why choose Metronidazole tablets?
Metronidazole has been used to treat infections for nearly 50 years and has proven, over that time to be as effective then as it is now. The medication is absorbed well and gets to work quickly; within 1 to 2 hours in most cases. In studies, it was shown that over 90% of women have no further symptoms after treatment and it has been shown to be safe to use during pregnancy. One study of nearly 8000 pregnant women demonstrated that taking antibiotics in no way increased the risk of premature birth and there was no evidence to suggest that taking a treatment such as metronidazole for BV whilst pregnant had any side effects for mother or child.
What is contained in Metronidazole?
The active ingredient in each tablet is metronidazole.
The inactive ingredients are:
croscarmellosesodium
cellulose
colloidal silica
lactose
magnesium stearate
maize starch
polyethylene glycol
titanium dioxide
hydroxypropyl cellulose
methyl hydroxypropyl cellulose
How does Metronidazole work?
When there is an imbalance or overgrowth of certain anaerobic bacteria within the vagina, BV is the result. One of the bacteria noted for its role in the development of bacterial vaginosis is Gardnerella and when this kind of overgrowth is present, treatments such as metronidazole work very effectively to kill the bacteria and enable the body to get its balance back. Any bacteria not destroyed by the medication will be dealt with by the patient's natural immunity.
How long can I take Metronidazole for?
The most commonamount of time you would be prescribed metronidazolefor BV is anywhere up to 14 days. Due to certain potential side effects, it is unlikely you would be prescribed it for longterm use. If it is necessary for you to use it for 3 or more months you would require regular reviews with your doctor to ensure it is safe for you to continue.
How should I take Metronidazole?
Although you will be given the prescription most appropriate to your symptoms and health, the usual recommended dose for metronidazole when suffering from bacterial vaginosis is one 400mg tablet twice a day for 7 days. Ensure you always take the tablets as directed by your doctor.
Antibiotics work best when the level of the drug is kept even so try and take the treatment at the same time each day; for example, 9 am with breakfast and 7 pm with dinner. It is best to be taken with food or a glass of milk to help stop any nausea and must not be broken, chewed or crushed.
Do not stop taking the course of antibiotics halfway through even if you feel better as this can result in a relapse or else cause the bacteria which is still left in the body to become resistant to metronidazole making it unusable if the infection does return.
What are the side effects of Metronidazole?
As with any medication, side effects are possible though not everyone will experience them and metronidazole is considered to be very well-tolerated in most patients. The most common side effects of metronidazole are generally mild and manifest as an upset stomach, abdominal pain, nausea or diarrhoea.
Other possible side effects include a metallic taste, headaches, rashes, vaginal itching and sores in the mouth.
Can I take Metronidazole whilst breastfeeding?
It has been shown that metronidazole passes into breast milk and, as such, should not be used whilst breastfeeding. If it is required, it is recommended you stop feeding your baby with breast milk during this time. Babies who take in metronidazole can be prone to developing an upset stomach, candidiasis and an intolerance to lactose.
Other Warnings to consider
Antibiotic treatments kill both the overgrown bacteria as well as good bacteria in the vagina meaning that some women can develop thrush after using such a treatment. Whilst this is nothing to worry about, if this occurs book an appointment with your GP or Click Pharmacy doctor and get a prescription for thrush treatment.
In rare cases, the use of metronidazole has been linked to peripheral neuropathy presenting as numbness and neuropathic pain in the legs and feet and experienced more at night. If caught early enough it can be reversed so if you experience anything like this whilst using metronidazole seek medical advice right away.
There are certain medications which cannot be mixed with metronidazole due to how they might interfere with one another's effectiveness. Keep a list of all other medications you use including vitamins and herbal supplements. Some of the prescribed treatments to mention include:
warfarin or any other blood thinner
lithium
epilepsy treatments
busulfan
5-fluorouracil
disulfiram
ciclosporin
What are Metronidazole Tablets used for?
Metronidazole Tablets are an antibiotic used to treat skin infections, rosacea and mouth infections.
Do I need a prescription to purchase Metronidazole Tablets?
Yes, you require a prescription to purchase Metronidazole Tablets. After completing a short online questionnaire on our website, you will be provided with a prescription. This will allow you to purchase Metronidazole Tablets from the Click Pharmacy website.
How long does it take to notice an improvement in my infection?
You should notice an improvement in symptoms after a few days. However depending on the severity of your case it may take a bit longer.
What is the difference between Metronidazole Tablets and Flagyl?
Both Metronidazole Tablets and Flagyl are antibiotics used to treat infections, the main difference is branding. Flagyl is the branded version of Metronidazole Tablets.
Can children use Metronidazole Tablets?
Metronidazole Tablets are generally safe to be used by children, adults and the elderly.
Can pregnant or breastfeeding women use Metronidazole Tablets?
It is advised that pregnant and breastfeeding females refrain from using Metronidazole Tablets. If you feel that it is necessary to take these antibiotics, you should consult with a GP, pharmacist or midwife before doing so.
Can I drink alcohol while using Metronidazole Tablets?
You should not drink alcohol while using Metronidazole Tablets. If you feel that you are unable to stop drinking alcohol, then you should not use Metronidazole Tablets.
Can I take Metronidazole Tablets on an empty stomach?
You should take Metronidazole Tablets after you've eaten a meal or snack. These tablets should not be taken on an empty stomach.
How often should I take Metronidazole Tablets?
Depending on the severity of your infection, you will be advised to take Metronidazole Tablets at regular intervals several times a day.
What if I forget to take my dose of Metronidazole Tablets?
If you forget to take your dose of Metronidazole Tablets then you should take them as soon as you remember, unless it is almost time for your next dose. If it is almost time for your next dose then you should skip the dose you just missed. You should never take two doses at once, even if you are making up for a missed dose.
Can I stop using Metronidazole Tablets if I feel better?
To prevent reinfection you must complete your course of Metronidazole Tablets for as long as your doctor has told you to, even if you begin to feel better.
Can I take other medication while using Metronidazole Tablets?
You should refrain from combining Metronidazole Tablets with the following medicines:
Warfarin
Disulfiram
Phenytoin
Ciclosporin
Fluorouracil
Medicines that contain alcohol
Who should not use Metronidazole Tablets?
You should not use Metronidazole Tablets if you:
Have problems with your liver
Are having dialysis
You may experience a number of side effects from using Metronidazole Tablets. These side effects should improve over time. Common side effects include:
Nausea: avoid eating spicy rich meals and try to consume lots of simple meals
Diarrhoea: drink plenty of fluids to prevent dehydration
Unusual taste in the mouth: you should drink plenty of water and simple foods, this taste should disappear over time.
If any of these side effects worsen you should stop using Metronidazole Tablets immediately and seek medical advice as soon as possible.
Always read the patient information leaflet before starting your treatment. The patient information can be found here.
Authored by Jana Abelovska
Last reviewed 20 April 2021
How to order
Order your medication in a few clicks. Our process is easy, fast and secure.
Step 1
Quick Health Check
Fill out a questionnaire so our prescriber can assess if the treatment is suitable for you.
Step 2
Select a Treatment
Choose the medication you require from the range offered by our online pharmacy.
Step 3
Next Delivery
Add delivery details and complete payment process.
What do our customers say?
Jane C
January 29, 2022
Fabulous service, quick and assertive, nice to be able to have an alternative service whilst the nhs are struggling!
Kristin W
January 2, 2022
Happy with how quick they reply to me and the
Delivery was quick as well would definitely use them again in the future.
Robert F
December 9, 2021
Glad to have you there. Efficient, professional service. The next day delivery is always delivered on time as promised.
Medical News and Blogs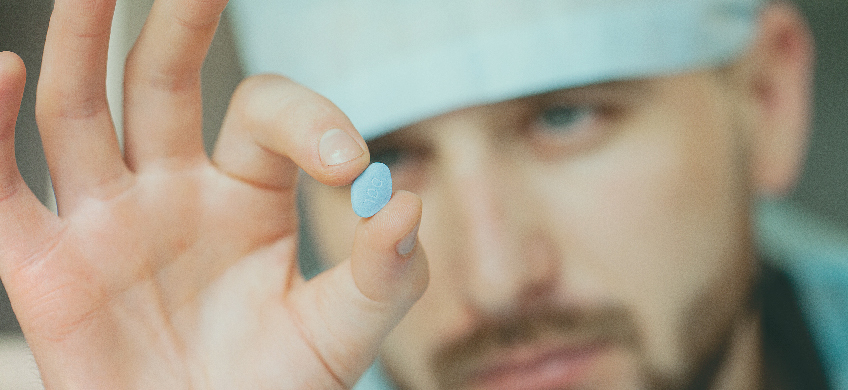 How The Little Blue Pill Revolutionized Relationships
It all began in 1998 when one of the greatest modern medical marvels was approved for sale in the world. Viagra, also affectionately called 'The Little Blue Pill', was originally meant....
Read