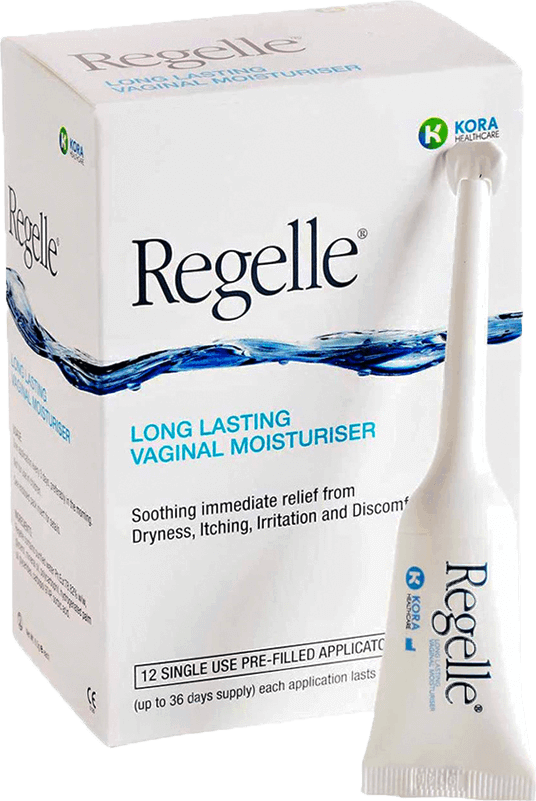 Regelle Vaginal Moisturiser
Estimated Delivery
Expected delivery date:
Tuesday, 10 May 2022
If you order within:
12h 36m 20s
*Your cart must meet the minimum requiretments for next day delivery
Fast
Delivery
Quick
Assessment
UK Registered
Pharmacy
Discreet &
Confidential
Overview
FAQ
Side Effects
Information leaflet
Reviews
What is Regelle Vaginal Moisturiser
Regelle Vaginal Moisturiser is a long-lasting and effective moisturiser to treat the vaginal dryness. Regelle Vaginal Moisturiser is one such product which will work to give you lasting hydration where you need it the most, easing the symptoms by hydrating the cells which need it. It is also non-hormonal so will not interfere with any treatment you might be having, which contains hormones.
Vaginal dryness can occur in women of different ages but is most common in those who are experiencing hormonal changes which can come as a result of the ageing process and menopause or as a result of pregnancy and breastfeeding. Other lifestyle factors can also influence it, such as using perfumed soaps or other products which upset the natural balance in your intimate area. This is a list of possible causes of your vaginal dryness:
You are menopausal
You are breastfeeding
You are taking contraceptive pills
You are taking antidepressants
You are having a hysterectomy
You are having certain cancer treatments, e.g. chemotherapy
You are experiencing changes in your hormone levels
You have an underlying medical condition, e.g. diabetes or Sjogren's syndrome
You have been using perfumed soaps, washes, or douches in or around the vagina
This dryness results in your vagina being less lubricated than it ordinarily would be and can cause pain and irritation. It may become sore, and you might have difficulty, and it may hurt to have sexual intercourse. It can even cause itchiness if not treated.
There are many products available which will help to alleviate the problem and help in different ways dependent on the cause of it. For example, unperfumed soaps might be the solution if heavily fragranced ones are what is causing your issue in particular. However, for those who have a more fundamental problem, it is likely you will need to use Regelle Vaginal Moisturiser to restore the natural moisture in the area.
How effective is Regelle Vaginal Moisturiser?
Regelle Vaginal Moisturiser is highly effective in restoring a more normal level of hydration in your vagina, which has been caused as a result of vaginal dryness. It has been proven clinically effective in treating vaginal dryness (or atrophy) instantly and will provide moisture for up to 3 days.
It can be used by women who are undergoing treatment such as HRT and chemotherapy as it will not interfere and has a 3-step method of working to ensure hydration is delivered effectively. Its easy-to-use format single-dose tube format helps to ensure you can get it to work for you immediately.
Always follow the guidelines for use.
How should I use Regelle Vaginal Moisturiser?
Regelle Vaginal Moisturiser - Pack of 12 Tubes, has 12 doses in pre-filled applicator format. It allows you to put the product directly into your vagina where it is needed the most. It is a long-lasting treatment that will last up to 3 days, and for best results, it should be administered in the morning. With continued use over time, you may find that you need to use the product less frequently as the vagina's natural moisture levels rebalance. If you are experiencing excessive amounts of dryness, you can use the product more.
There will be more detailed instructions provided within the product packaging – please ensure you follow them to ensure you administer the product correctly.
Can I buy Regelle Vaginal Moisturiser online?
Yes. Regelle Vaginal Moisturiser is available to purchase online, usually in two sizes. This larger packet of 12 doses will ensure you can treat your vaginal dryness for a minimum of 36 days.
It is classed as a medicine, but you do not need a prescription in order to buy it, and you will not need to fill out a medical questionnaire. It is available for order through approved online retailers such as Click Pharmacy. If you require the moisturiser quickly, you can take advantage of their Next Day Delivery service and have it delivered to the location of your choosing within a day of purchase.
If you have any questions before you buy Regelle Vaginal Moisturiser, please speak to the experts at Click Pharmacy who will be happy to help.
What dose should I choose?
Regelle Vaginal Moisturiser - Pack of 12 Tubes is a package containing 12 individual doses of the product. Its active ingredients are purified water and polycarbophil to hold this hydrating liquid in place against the vaginal wall. Its easy-to-use format allows you to administer exactly the right amount every time you need to apply it, ensuring you get all the benefits without overusing the product.
The tubes are very easy-to-use, and full instructions will be provided within the product packaging. Please ensure you read them all before use.
How does Regelle Vaginal Moisturiser work?
Regelle Vaginal Moisturiser has a clinically proven formula and easy-to-use pre-filled tubes allowing it to get right to the root of the issue. It will continue to deliver moisture for up to 3 days for normal levels of dryness.
It is a pH balanced and hormone-free, moisturising gel that is designed to work in 3 ways to relieve from vaginal dryness, itching and discomfort. These 3 ways are:
It works instantly by coating the inside of the vagina to provide immediate relief from dryness and the discomfort associated with it
Regelle will deliver a continuous level of moisture which will be absorbed by the dehydrated cells and will help them to regain their natural elasticity and structure
It will help the dry, dead skin cells to naturally shed themselves, which may result in some discharge. This leaves the vagina moisturised, healthy and comfortable and the discharge will stop once the natural health and balance is restored
How long do I use Regelle Vaginal Moisturiser for before I notice a difference?
Regelle Vaginal Moisturiser is designed to deliver instant relief from some of the symptoms of vaginal dryness, and you should find that your comfort levels improve almost immediately. This should happen after the very first dose administered. With continued use as directed, you will notice a general improvement in vaginal health and the discharge which is likely to occur with initial use will discontinue. You might also find that continued use will mean that you do need to use it as frequently as you do at the start.
What are the side effects of Regelle Vaginal Moisturiser?
As with any product to be applied to the skin or sensitive areas of the body, there can be some side effects experienced, although these are not experienced by many people. As mentioned, you might notice a discharge or residue with usage, and this is harmless. It is the body secreting the dead skin cells, leaving the softer, healthier tissue beneath and should stop after several applications.
If any other side effects are experienced, you must discontinue use immediately and speak to your pharmacist at Click Pharmacy or medical professional.
When shouldn't I use Regelle Vaginal Moisturiser?
Regelle Vaginal Moisturiser is suitable for use by women suffering from vaginal dryness as a result of many different conditions.
You can use this product in conjunction with HRT as it does not contain hormones.
Speak to your doctor before using Regelle Vaginal Moisturiser if you are trying to become pregnant, are pregnant or are breastfeeding as they may wish to recommend an alternative product.
It should not be used by children.
Do not use if you are allergic to any of the ingredients which are present in the product.
Regel is paraben-free. Regelle is water-based and safe to use with the majority of condoms – check the packaging in advance of use.
Always use as directed. Avoid contact with the eyes. If contact occurs, flush out with plenty of water immediately.
What is the difference between Regelle Vaginal Moisturiser and Vagisan MoistCream 50g / Sylk Personal Lubricant 40g?
Vagisan MoistCream 50g is also a cream but comes in a tube containing multiple doses with an applicator to apply as required. It is safe to use if you are pregnant and can be used as a lubricant for intercourse, as can Regelle.
Sylk Personal Lubricant 40g is made from only natural products including quality plant extracts and kiwifruit vine plus the natural preservative of citrus seed. There are no chemicals in it so is also safe to use with HRT.
What is Regelle Vaginal Moisturiser used for?
Regelle Vaginal Moisturiser is a moisturiser used to provide relief from symptoms of dry vaginal itching.
Do I need a prescription to purchase Regelle Vaginal Moisturiser?
No, you do not require a prescription to purchase Regelle Vaginal Moisturiser. However if you are unsure whether this product is right for you, you are welcome to book a free consultation with one of our medicine experts.
How does Regelle Vaginal Moisturiser treat vaginal dryness?
The active ingredients hydrate dry cells in the vaginal passage relieving discomfort and providing relief from irritation.
What causes vaginal itching?
Vaginal itching can be caused by a number of factors and conditions including the following:
Pregnancy
Breastfeeding
Menopause
Fluctuation in level of hormones
Whether or not you take contraceptive pills
Diabetes
Using fragranced soaps to cleanse the vagina
How long after using Regelle Vaginal Moisturiser does it take to notice improvements in my irritation and itching?
You should begin to notice improvements in your condition immediately after using Regelle Vaginal Moisturiser. If after three days of use you notice no improvements in your condition, you should stop using Regelle Vaginal Moisturiser immediately and seek medical advice as soon as possible.
How long does Regelle Vaginal Moisturiser provide relief for?
Regelle Vaginal Moisturiser effectively provides relief for up to three days from initial use. After three days of use you may begin to experience discomfort again, this can be prevented by continuous use.
How should I store Regelle Vaginal Moisturiser?
You should store Regelle Vaginal Moisturiser in a cool dry place, out of reach from children, and at room temperature. This product should not be exposed to extreme temperatures or direct sunlight.
Can pregnant or breastfeeding women use Regelle Vaginal Moisturiser?
You should consult with a doctor, pharmacist, or midwife before using Regelle Vaginal Moisturiser if you are pregnant, trying to get pregnant or breastfeeding. This is to ensure the vaginal moisturiser does not cause any potential harm to both born and unborn babies.
Does using Regelle Vaginal Moisturiser affect my ability to use contraception?
No, there is no evidence to suggest that using Regelle Vaginal Moisturiser affects one's ability to use different forms of contraception.
Can children use Regelle Vaginal Moisturiser?
Regelle Vaginal Moisturiser should not be used by children, it is only suitable for use by adults.
How should I use Regelle Vaginal Moisturiser?
You should use the pre-filled applicators provided to apply the vaginal moisturiser into the vaginal passage.
How often should I use Regelle Vaginal Moisturiser?
For effective results you should use Regelle Vaginal Moisturiser once every three days, preferably in the morning.
After using Regelle Vaginal Moisturiser you are unlikely to experience any side effects. This is because Regelle Vaginal Moisturiser does not directly interfere with the bloodstream. If you experience any of the following:
Severe irritation
Itching
Redness
Swelling
Difficulty breathing
You may be experiencing an allergic reaction. In this case you should stop using Regelle Vaginal Moisturiser immediately and seek medical advice, from a professional, as soon as possible.
Please read all the patient information that is included within the product packaging before use. The patient information leaflet can be found here.
Authored by Jana Abelovska
Last reviewed 20 April 2021
How to order
Order your medication in a few clicks. Our process is easy, fast and secure.
Step 1
Quick Health Check
Fill out a questionnaire so our prescriber can assess if the treatment is suitable for you.
Step 2
Select a Treatment
Choose the medication you require from the range offered by our online pharmacy.
Step 3
Next Delivery
Add delivery details and complete payment process.
What do our customers say?
Jane C
January 29, 2022
Fabulous service, quick and assertive, nice to be able to have an alternative service whilst the nhs are struggling!
Kristin W
January 2, 2022
Happy with how quick they reply to me and the
Delivery was quick as well would definitely use them again in the future.
Robert F
December 9, 2021
Glad to have you there. Efficient, professional service. The next day delivery is always delivered on time as promised.
Medical News and Blogs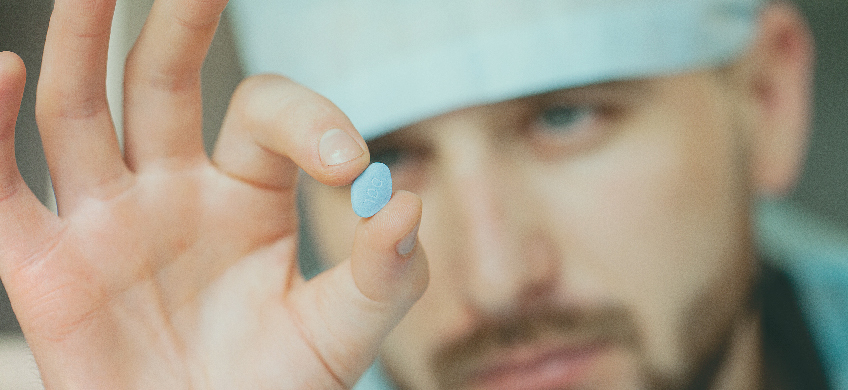 How The Little Blue Pill Revolutionized Relationships
It all began in 1998 when one of the greatest modern medical marvels was approved for sale in the world. Viagra, also affectionately called 'The Little Blue Pill', was originally meant....
Read