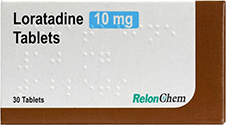 Estimated Delivery
Expected delivery date:
Tuesday, 10 May 2022
If you order within:
12h 36m 20s
*Your cart must meet the minimum requiretments for next day delivery
Fast
Delivery
Quick
Assessment
UK Registered
Pharmacy
Discreet &
Confidential
Overview
FAQ
Side Effects
Information leaflet
Reviews
What is Loratadine 10mg Tablets
Loratadine 10 Mg Tablet is a popular antihistamine. Antihistamines work by stopping a substance called histamine which a chemical released in your body. By this occurrence in the body, the results in symptoms on the surface such as itching, watery eyes, runny nose, and sneezing.
How effective are Loratadine 10 Mg Tablets?
Using Loratadine 10 Mg Tablets is among the most researched and proven ways of treating symptoms like watery eyes, itching, and runny nose. Recently, Loratadine 10 Mg Tablets have been studied in more than 12 researches by some of the best scientists in the universe. Most of these studies involved about 100 people with different conditions. After completing the studies, experts concluded that using Loratadine 10 Mg Tablets helped almost every patient treat their allergy symptoms effectively, and in a short period. It was also observed that these tablets did not cause severe side effects, compared to other alternatives that these patients had previously tried.
What dose should I choose?
Loratadine 10 mg Tablets come in a packet or bottle with about 10-30 tablets, depending on the amount you order. The right dose to take is mainly determined by age and body weight in most cases. Adults and children above 12 years old should take one tablet once daily.
Can I buy Loratadine 10 Mg Tablets online?
Of course, you can. Times have changed significantly, which has made it extremely easy to order anything online, including medicine. So, there are many websites where you can order the Loratadine 10 Mg Tablets. Before you order these tablets from any dealer, consider taking your time to research first. These tablets are vital, and getting poor quality ones might not give you the results you want or even cause severe side effects. So, before purchasing, go through several websites, and also check out their reviews to see how satisfied their previous customers were. That way, you can be sure that you'll get high-quality tablets that will provide the promised results. A professional seller should deliver these tablets the next day to allow you to start treating your symptoms immediately.
How should I take Loratadine 10 Mg Tablets?
Swallow the Loratadine 10 Mg Tablets with some water, milk, or juice. If your tablets have a score line, use it to help break tablets in half, to make it easier to swallow, but avoid chewing.
Always remember to read instructions on the tablets pack, or follow the provided ones by your doctor before using it. Doing that will allow you to ensure that you use Loratadine 10 Mg Tablets correctly, and reduce any chances of getting side effects after use.
How do Loratadine 10 Mg Tablets work?
Loratadine 10 Mg Tablets are a popular antihistamine. When you come into any contact with things you are allergic to, the body produces a chemical called histamine. Histamine is usually helpful in the body but causes symptoms like itching, skin rashes, runny nose, and watery eyes in allergic reactions.
Histamine is released from mast cells and attaches itself to other cells that have receptors of this substance. Taking Loratadine helps stimulate these cells to produce some chemicals that block the effects of histamine, thus reducing some symptoms.
How long do I take Loratadine 10 Mg Tablets for before I notice a difference?
One thing that has helped Loratadine 10 Mg Tablets gain much popularity worldwide is its ability to provide quick benefits. The exact amount of time that it should take to start feeling the effects varies depending on age, weight, and the severity of your symptoms. The estimated amount of time for most people is about an hour. So, you mustn't take more Loratadine 10 Mg Tablets when you feel like they are taking longer to respond, to avoid causing side effects.
What is the difference between Loratadine 10 Mg Tablets and other similar products like Levocetirizine or Dihydrochloride Tablets?
All these tablets have a huge number of users worldwide. However, Loratadine 10 Mg Tablets have proved to be more effective, compared to the other tablets, especially when it comes to treating allergy symptoms.
What are the side effects of Loratadine 10 Mg Tablets?
Most medications, including Loratadine 10 Mg Tablets, cause some side effects. Here are the most common side effects that you might experience after using these tablets include:
A headache

Dry mouth

Feeling nervous or hyperactive

Feeling drowsy or tired

Stomach pain and vomiting
In rare cases, you might also get severe side effects like abnormal headaches, a fast or uneven heart rate, and light-headed feeling like you might pass out. If you experience any severe effects, you must seek immediate help from your doctor to help reduce them or get an alternative.
When shouldn't I take Loratadine 10 Mg Tablets?
You should avoid using Loratadine 10 Mg Tablets if you suffer from these illnesses:
Asthma

Kidney disease

Liver disease
However, if you must take these tablets when suffering from the above conditions, consult with a doctor first to get proper advice.
Loratadine 10 Mg Tablets are not harmful but it's vital that you ask for guidance from a professional on whether it is safe to use during pregnancy. Some Loratadine might also pass through the milk while breastfeeding, hence reaching the baby. So, avoid using this medication, unless advised by the doctor or CLick Pharmacy medical professional.
What are Loratadine Tablets used for?
Loratadine Tablets are an antihistamine used to provide relief from symptoms of allergies such as hay fever and conjunctivitis.
Are Loratadine Tablets a drowsy antihistamine?
Loratadine Tablets are a non-drowsy antihistamine, meaning they are unlikely to make you feel sleepy and drowsy.
Do I need a prescription to purchase Loratadine Tablets?
Yes, you require a prescription to purchase Loratadine Tablets. After completing a short online questionnaire on our website you will be provided with a prescription. This will allow you to purchase Loratadine Tablets from our website.
Can I drink alcohol while using Loratadine Tablets?
It is advised to refrain from drinking alcohol while using Loratadine Tablets. This is because alcohol can increase the chances of you getting extreme side effects from this treatment.
What is the difference between Loratadine Tablets and Clarityn Allergy?
While both Loratadine Tablets and Clarityn Allergy are effectively used to provide relief from symptoms of allergies, the main difference is branding. Clarityn Allergy is the branded version of Loratadine Tablets, making it more expensive.
Can children use Loratadine Tablets?
Loratadine Tablets are suitable for children and adults over the age of 2 years old.
Can everyone use Loratadine Tablets?
Although Loratadine Tablets are often safe to use, they are not suitable for everyone. You should not use Loratadine Tablets if you have any of the following:
Severe liver failure
Lactose intolerance
Epilepsy
Porphyria
How often should I take Loratadine Tablets?
It is usually advised to take one 10mg dose of Loratadine Tablets once a day. Your dose may vary if you experience any liver related problems.
How should I take Loratadine Tablets?
It is advised to swallow one whole tablet with a drink of water. You should not break, chew or crush the tablet.
What if I forget to take my dose of Loratadine Tablets?
If you forget to take your dose of Loratadine Tablets you should take it as soon as you remember, unless it is almost time for your next dose. If it is almost time for your next dose, you should skip the dose you just missed and continue as normal. You should never take two doses at once, even if you are making up for a missed dose.
Can pregnant and breastfeeding women use Loratadine Tablets?
Although it is generally safe for pregnant and breastfeeding women to use Loratadine Tablets it is advised to consult with a GP, pharmacist or midwife before doing so.
Can I take other medication while taking Loratadine Tablets?
There are a few medicines which you should not combine with Loratadine Tablets, they include the following:
Amiodarone
Cimetidine
Erythromycin
Ketoconazole
Midodrine
Ritonavir
You may experience a number of side effects from using Loratadine Tablets. However as Loratadine is a non-drowsy antihistamine you are likely to experience less side effects. Common side effects and how to overcome them include:
Headaches: drink plenty of water, take a painkiller and rest
Feeling tired: speak to a GP who will advice an alternative antihistamine
Feeling sleepy: speak to a GP who will advice an alternative antihistamine
If any of these side effects get worse you should stop using Loratadine Tablets and seek medical advice, from a GP or pharmacist, as soon as possible.
Always read the patient information leaflet before starting your treatment. The patient information can be found here.
Authored by Jana Abelovska
Last reviewed 20 April 2021
How to order
Order your medication in a few clicks. Our process is easy, fast and secure.
Step 1
Quick Health Check
Fill out a questionnaire so our prescriber can assess if the treatment is suitable for you.
Step 2
Select a Treatment
Choose the medication you require from the range offered by our online pharmacy.
Step 3
Next Delivery
Add delivery details and complete payment process.
What do our customers say?
Jane C
January 29, 2022
Fabulous service, quick and assertive, nice to be able to have an alternative service whilst the nhs are struggling!
Kristin W
January 2, 2022
Happy with how quick they reply to me and the
Delivery was quick as well would definitely use them again in the future.
Robert F
December 9, 2021
Glad to have you there. Efficient, professional service. The next day delivery is always delivered on time as promised.
Medical News and Blogs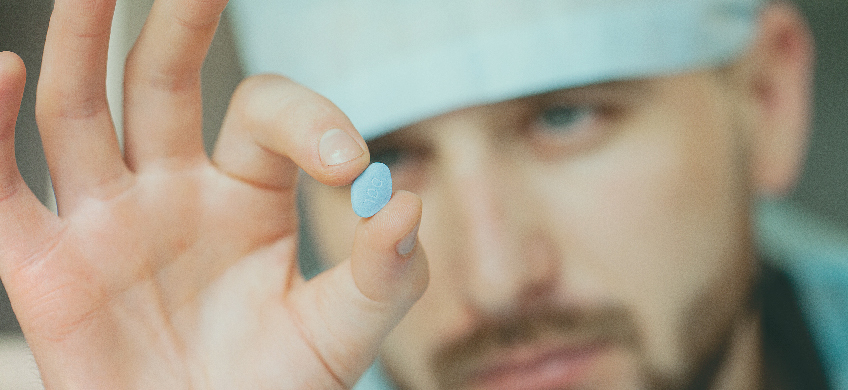 How The Little Blue Pill Revolutionized Relationships
It all began in 1998 when one of the greatest modern medical marvels was approved for sale in the world. Viagra, also affectionately called 'The Little Blue Pill', was originally meant....
Read