Estimated Delivery
Expected delivery date:
Tuesday, 10 May 2022
If you order within:
12h 36m 20s
*Your cart must meet the minimum requiretments for next day delivery
Fast
Delivery
Quick
Assessment
UK Registered
Pharmacy
Discreet &
Confidential
Overview
FAQ
Side Effects
Information leaflet
Reviews
What is Zantac Relief Tablets
Due to various reason, your stomach may produce excess acid than required to digest food. This leads to indigestion and heartburn. Zantac Relief contains an active ingredient known as ranitidine hydrochloride, which works by preventing the stomach from producing excess acid.
What is the difference between Zantac Relief and Prilosec/Famotidine
Zantac Relief, Prilosec and Famotidine are stomach acid relievers, and they work by decreasing the amount of acid produced in your stomach. You need to obtain a prescription before you are allowed to take Zantac Relief, Prilosec or Famotidine.
Zantac Relief and Famotidine are H2 blockers while Prilosec is a branded name of Omeprazole - drug known as a proton pump inhibitor.
How Effective Is Zantac Relief?
Zantac provides relief against acid reflux within 12 hours. It is taken as soon as you experience such symptoms, but the patient needs to be cautious not to exceed a maximum of two tablets within a day. Since Zantac Relief is a prescription drug, it is best to follow the instructions provided by the doctor for effective use. Nonetheless, should you see no improvement after six days, speak to your doctor or any medical profession.
Can I buy Zantac Relief online?
Zantac Relief is a prescription drug and can be obtained online or over the counter. However, know that you can only purchase this medication from a legally operating and regulated online pharmacy. This is so because it is not advisable to buy any additional pack of Zantac Relief, without the counsel of a doctor or a pharmacist. Hence should you require any assistance you are welcome to book an appointment with a health expert at Click Pharmacy, to discuss if it's the right product for you and if so how best to use it.
There are two packs of Zantac Relief. One with six pink biconvex tablets and another with 12 tablets.
Depending on the prescription provided by your doctor, you can purchase either of the packs online and they will be sent direct to you by Next Day Delivery via Click Pharmacy.
What dose should I choose?
The dose you should take depends on the prescription given by your doctor or pharmacist. Check the patient leaflet enclosed in the medication before use and make sure that you adhere to the instructions provided.
This medication is not suitable for persons under the age of 16 years.
How should I take Zantac Relief?
Ensure that you follow the doctor's instruction before taking this medication.
Take one tablet with a glass of water. In case your symptoms persist, take another tablet right away. Do not exceed a dose of two tablets in 24 hours.
If you forget to take the medication, do not double up your next dose, but continue with your treatment as prescribed. This medication is not to be taken for more than six days. If symptoms persist or worsen, speak to your doctor or pharmacist.
How does Zantac Relief work?
Zantac falls under a category of medicines known as ranitidine or H2 blockers. Ranitidine is the active ingredient in Zantac relief, and it works against acid reflux, thus preventing symptoms like the conventional burning pain in the chest, also known as heartburn and indigestion. This prevents intestinal ulcers.
How long do I take Zantac Relief for before I notice a difference?
Take Zantac Relief as your doctor or pharmacist prescribes. Depending on your dose, await your dose to take effect within a timeline of six days. Your doctor may prescribe a stronger starting dose, but as your symptoms improve, the doctor may ask you to lessen your dose to one pill in a day, for better results follow the prescription provided by your doctor.
When shouldn't I take Zantac Relief?
Do not begin this medication if you are allergic to ranitidine or any other ingredients listed on the product. In case you are on other medications, whether prescribed, herbal or non-prescribed, inform your doctor before taking Zantac Relief. This advice is even more crucial to people taking medicines used to treat cancer, HIV, fungal infections, blood clotting, insomnia, and treatments for lowering blood sugar as well as non-steroidal anti-inflammatory painkillers.
What are the side effects of Zantac Relief?
Like all medicines, you may or may not experience any of the following side effects by taking Zantac Relief. These include;
Constipation, stomach pain, diarrhoea, feeling sick, fever, itching, muscle pain, aches in joints, confusion, headache, drowsiness, dizziness when you stand, hallucinations, depression, jerky movements, yellowing of the skin, eyes and dark coloured urine due to inflammation of the liver. Others include changes in your heart rhythm, hair loss, blurred vision, swelling of the kidneys, blood in urine, impotence, changes in the amount of urine, swollen or leaking breasts. If you get any of these symptoms to notify your doctor immediately.
Also, if ever you experience an allergic reaction to the medication, including swollen eyelids, face or lips, difficulty breathing, chest pains and tightness, dizziness, fever, or an itchy rash, seek immediate medical attention from your GP or hospital.
Be cautious if you get, mouth ulcers, a sore throat, unexplained bruising, fever, or extreme paleness, weakness or exhaustion. These signs are associated with blood disorder conditions such as low platelet count, anaemia, low white blood cells, suppressed bone marrow, or reduction in agranulocytes.
Speak to your doctor or consult our specialists at Click Pharmacy should you require any further advice.
What are Zantac Relief Tablets used for?
Zantac Relief Tablets are used to reduce the amount of stomach acid in your stomach. This can be used to treat indigestion, heartburn and acid reflux.
Can children use Zantac Relief Tablets?
Zantac Relief Tablets are suitable for adults and children over the age of 16 years old. In rare cases they have been prescribed to children under the age of 16 years old.
Can everyone use Zantac Relief Tablets?
Although Zantac Relief Tablets are generally safe, they are not suitable for everyone. You should not use Zantac Relief Tablets if you have any of the following:
Problems with your kidney
Intolerance to sugars such as fructose
On a low salt and calcium diet
Can not drink alcohol
Phenylketonuria
Due to have an endoscopy
Allergy to any of the ingredients
How often should I take Zantac Relief Tablets?
It is usually advised to take Zantac Relief Tablets twice a day, once in the morning and once in the evening. The tablet should be swallowed with a drink of water or fruit juice.
What if I forget to take my dose of Zantac Relief Tablets?
If you forget to take your dose of Zantac Relief Tablets you should take it as soon as you remember unless it is almost time for your next dose. If it is almost time for your next dose you should skip the dose you just missed and continue as normal. You should never take two doses at once, even if you are making up for a missed dose.
Can pregnant or breastfeeding women use Zantac Relief Tablets?
Although it is generally safe for pregnant and breastfeeding women to use Zantac Relief Tablets. It is advised to consult with a professional such as a Gp, pharmacist or midwife before taking them. This is to ensure the medicine does not cause any harm to both born and unborn babies.
Can I combine Zantac Relief Tablets with other medication?
Although Zantac Relief Tablets are generally safe to combine with different medicines there are a few drugs you must not combine. You must not combine Zantac Relief Tablets with any of the following:
Antifungal medicines
HIV medicines
Medicines used for the treatment of cancer
Does using Zantac Relief Tablets affect my fertility?
There is no evidence to suggest that using Zantac Relief Tablets affects one's fertility. However if this is something you are worried about it is advised to consult with a professional before starting your treatment.
Does using Zantac Relief Tablets affect my contraception?
There is no evidence to suggest that using Zantac Relief Tablets can affect one's contraception.
Can I drink alcohol while using Zantac Relief Tablets?
Although drinking alcohol does not interfere with Zantac Relief Tablets itself, it does cause the stomach to produce more acid. It is advised to avoid drinking excessive amounts of alcohol for the duration of your treatment.
Like all medicines, after using Zantac Relief Tablets you are likely to experience a number of side effects. Common side effects and how to overcome them include the following:
Stomach pains: rest and eat smaller, more frequent meals
Constipation: increase your intake of fibre high foods such as fruits, vegetables, cereal and legumes.
Feeling sick: avoid eating large rich and spicy meals
If any of these side effects worsen, you should stop using Zantac Relief Tablets immediately and seek medical advice from a GP or pharmacist as soon as possible.
Always read the patient information leaflet before starting your treatment. The patient information can be found here.
Authored by Jana Abelovska
Last reviewed 20 April 2021
How to order
Order your medication in a few clicks. Our process is easy, fast and secure.
Step 1
Quick Health Check
Fill out a questionnaire so our prescriber can assess if the treatment is suitable for you.
Step 2
Select a Treatment
Choose the medication you require from the range offered by our online pharmacy.
Step 3
Next Delivery
Add delivery details and complete payment process.
What do our customers say?
Jane C
January 29, 2022
Fabulous service, quick and assertive, nice to be able to have an alternative service whilst the nhs are struggling!
Kristin W
January 2, 2022
Happy with how quick they reply to me and the
Delivery was quick as well would definitely use them again in the future.
Robert F
December 9, 2021
Glad to have you there. Efficient, professional service. The next day delivery is always delivered on time as promised.
Medical News and Blogs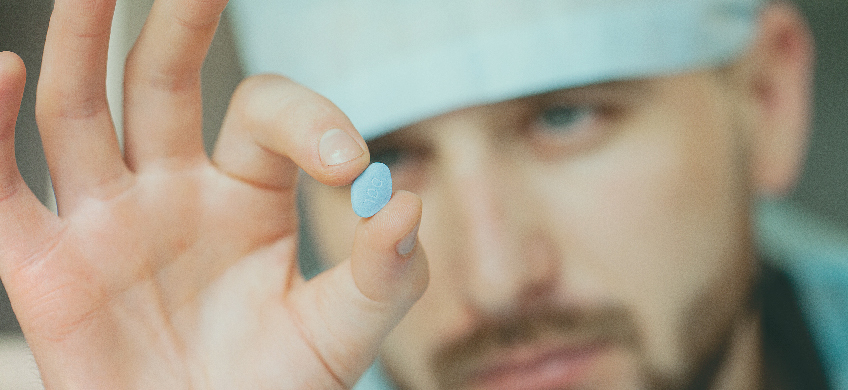 How The Little Blue Pill Revolutionized Relationships
It all began in 1998 when one of the greatest modern medical marvels was approved for sale in the world. Viagra, also affectionately called 'The Little Blue Pill', was originally meant....
Read