Estimated Delivery
Expected delivery date:
Tuesday, 24 May 2022
If you order within:
12h 36m 20s
*Your cart must meet the minimum requiretments for next day delivery
Fast
Delivery
Quick
Assessment
UK Registered
Pharmacy
Discreet &
Confidential
Overview
FAQ
Side Effects
Information leaflet
Reviews
What is Exorex Lotion
Skin conditions can occur in individuals of all ages and can flare up at any time. They might include eczema, psoriasis and other complaints which result in red, inflamed, itchy, dry, flaky or cracked skin.
Topical treatments can be used to help calm the symptoms of these skin complaints, and Exorex Lotion is a cutaneous emulsion which has proven active ingredients to fight them effectively. It can be used alone, or as part of a wider skin care or treatment programme to get your skin in the best health, it can be.
Exorex is particularly effective when treating psoriasis. Psoriasis is a skin complaint that is caused (usually) by an overproduction of skin cells. This results in scaly patches known as plaques that are often reddish and inflamed and have a silvery-white scaly coating in parts. The scaly patches of skin feel rough and hard to the touch, and it is likely the whole area will be itchy and irritated. Psoriasis is sometimes difficult to diagnose, and symptoms may improve or get worse at different points. The causes of it are not fully known; it might be an overproduction of skin cells, but this is not always the case. It could also be due to diet and lifestyle factors, skin irritants, and some scientists believe that the immune system could even be the cause of it.
As comparatively little is known about psoriasis, it can be challenging to treat, and there are different remedies available. One that is known to help is coal tar, which is found in Exorex.
How should I use Exorex Lotion?
Exorex Lotion is for external use and should be applied to the affected area only. Ensure the area is clean and dry and then apply a thin layer. Gently massage into the skin until absorbed. Repeat this twice or 3 times per day.
For infants and the elderly, you can reduce the dose slightly by diluting the emulsion with a few drops of boiled, then cooled, water. This can also then be applied to affected areas 2 to 3 times per day by gently massaging into skin.
Exorex Lotion is suitable for use on all external skin areas which might be affected, including the scalp.
Be careful not to get the emulsion onto items which might discolour or stain as this can be a problem with coal tar-based products.
How does Exorex Lotion work?
It is the active ingredient, coal tar, that works in the emulsion to treat the symptoms of psoriasis. Because psoriasis is often caused by an overproduction of the skin cells, Exorex is effective because it works to break down the hard, scaly excess skin produced. It will leave your skin feeling smoother and softer as a result.
The coal tar present will also work to soothe itchy areas to not only ease the discomfort but to prevent damage to the skin made by scratching. It also has mild antiseptic properties which are useful in fighting microbial and fungal infections that can target exposed areas such as those created by psoriasis.
How long do I use Exorex Lotion for before I notice a difference?
Symptoms such as itching should start to be reduced from the first application of Exorex Lotion, and you may even see a slight improvement in the patches of scaly skin from the first use. The most benefit, however, will be seen from the continued use of the product.
Unfortunately, there is no known cure for psoriasis. Still, the use of a remedy such as Exorex Lotion during the outbreak should see a significant improvement in symptoms and quality of skin if used as directed.
What are the side effects of Exorex Lotion?
This is a medicated product, and as with any medicine, there can be side effects experienced. These are usually as a result of an allergic reaction to one of the ingredients. If any adverse effects are experienced, discontinue use immediately and speak to your doctor or healthcare professional. If you are in any doubt about the possible issues when using this product, speak to the experts at Click Pharmacy in advance of purchase who will be happy to help.
When shouldn't I use Exorex Lotion?
Exorex Lotion is suitable for adults and children who want relief from dry, itchy and irritated skin. However, there are certain times when the emulsion should not be used. These include:
If you are allergic to coal tar or any of the other ingredients found in it. The ingredients are:

5% v/w Cutaneous Emulsion Prepared Coal Tar
Polysorbate 80
Ethanol
Di-Alpha Tocopherol
Xanthan Gum
Vitamin F Ethyl Ester
Hydrogenated Polyoxyl Castor Oil
Propyl Hydroxybenzoate (E216)
Methyl Hydroxybenzoate (E218)
Purified Water

You have skin that reacts adversely to direct sunlight
You are suffering from acne or inflammation of the hair follicles
You have open wounds or broken skin
You are suffering from a condition called lupus erythematosus
If you are pregnant or breastfeeding, speak to your GP before use.
If you are taking any other medication, speak to your GP before use.
What is the difference between Exorex Lotion and Dermalex Psoriasis Treatment / Cetraben Cream?
Dermalex Psoriasis treatment works to provide relief from the symptoms of psoriasis and works to normalise the production of skin cells as this is one of the common causes of it. It will also replenish the skin's natural barrier that would have been damaged as a result of the condition. Dermalex does not contain the same active ingredient, instead, it works to encourage the skin to repair itself.
Cetraben Cream is an emollient which will moisturise the skin to reduce inflammation, itching and will combat dry skin. It does not work in the same way as Exorex Lotion as this contains an active ingredient to effectively target the cause of psoriasis.
How effective is Exorex Lotion?
Exorex Lotion is one of the most effective treatments of psoriasis thanks to its active ingredient, coal tar. This has been proven to combat the excessively thick and scaly skin which builds up in areas of psoriasis by breaking it down. Users can start to feel an improvement after the first application because it will also soothe the itch. Longer terms of use will result in a reduction in the hard skin, and Exorex will also help to fight bacteria and fungus that can occur in affected areas to result in better skin health.
Can I buy Exorex Lotion online?
Yes, Exorex Lotion is available to purchase online. This is not a medicated product and therefore does not require a prescription which means it is readily available to buy from internet retailers such as Click Pharmacy. It is available for next day delivery to the address of your choosing – just select this option at the checkout stage of the buying process. If you would like any advice on your psoriasis treatment in advance of your purchase, please speak to the experts at Click Pharmacy who will be happy to help you.
What dose should I choose?
Exorex Lotion can be used as required by sufferers and can even be diluted for use by those with more sensitive skin. The emulsion contains prepared coal tar 5% v/w as the active ingredient, and a thin layer can be applied to the affected areas (including the scalp) up to 3 times per day. If required, it can be diluted with a small amount of water to treat infants and the elderly.
It can be used in periods when the complaint has flared up or continuously if required. Please read the instructions before use.
What is Exorex Lotion used for?
Exorex Lotion is used to provide relief from symptoms of psoriasis which appear to develop in the scalp and on the skin.
Do I need a prescription to purchase Exorex Lotion?
No, you do not require a prescription to purchase Exorex Lotion. However if you are unsure whether this product is right for you, you are welcome to book a free consultation with one of our medicine experts.
How often should I apply Exorex Lotion?
Exorex Lotion should be applied two to three times a day.
Can children use Exorex Lotion?
Exorex Lotion is generally suitable for use by adults and children over the age of 12 years old. However in rare cases it has been prescribed to children under the age of 12 years old, where the prescriber has felt it is necessary.
How should I apply Exorex Lotion?
You should apply a thin and even layer of Exorex Lotion to infected areas. The lotion should be massaged gently to allow for even application of the lotion.
How should I store Exorex Lotion?
You should store Exorex Lotion in a cool dry place, out of reach from children and at room temperature. This product should not be exposed to extreme temperatures or direct sunlight.
Does using Exorex Lotion affect one's ability to drive or operate machinery safely?
There is no evidence to suggest that using Exorex Lotion affects one's ability to participate in activities such as driving or operating machinery safely.
How long is the shelf life of Exorex Lotion?
The shelf life of Exorex Lotion is usually 2 years. However this may vary depending on your purchase.
What if I forget to use Exorex Lotion?
If you forget to use Exorex Lotion you should use it as soon as you remember, unless it is almost time for your next dose. If it is almost time for your next dose you should skip the dose you just missed and continue as normal. You should never take two doses at once even if you are making up for a missed dose.
Can pregnant or breastfeeding women use Exorex Lotion?
Although it is generally safe for pregnant and breastfeeding women to use Exorex Lotion, it is advised you consult with a doctor, pharmacist or midwife before doing so. This is to ensure the lotion does not cause any harm to both born and unborn babies.
Can I apply Exorex Lotion on broken and inflamed skin?
Exorex Lotion must not be applied onto broken or inflamed skin. This is to ensure the product does not cause any further irritation or reactions.
What should I do if I accidentally get Exorex Lotion into my eyes?
If you accidentally get Exorex Lotion into your eyes you should wash your eyes with lukewarm water for two minutes thoroughly.
After using Exorex Lotion you may experience a number of side effects. Common side effects include the following:
Skin irritation
Increased sensitivity to sunlight
Due to increased sensitivity to sunlight, it is vital that you apply a sunscreen with an spf of at least 30 to ensure your skin is protected from sunlight exposures.
Please read the patient information in full before using this product. Patient information can be found here.
Authored by Jana Abelovska
Last reviewed 20 April 2021
How to order
Order your medication in a few clicks. Our process is easy, fast and secure.
Step 1
Quick Health Check
Fill out a questionnaire so our prescriber can assess if the treatment is suitable for you.
Step 2
Select a Treatment
Choose the medication you require from the range offered by our online pharmacy.
Step 3
Next Delivery
Add delivery details and complete payment process.
What do our customers say?
Jane Cooper
January 29, 2022
Fabulous service, quick and assertive, nice to be able to have an alternative service whilst the nhs are struggling!
Kristin Watson
January 2, 2022
Happy with how quick they reply to me and the
Delivery was quick as well would definitely use them again in the future.
Robert Fox
December 9, 2021
Glad to have you there. Efficient, professional service. The next day delivery is always delivered on time as promised.
Medical News and Blogs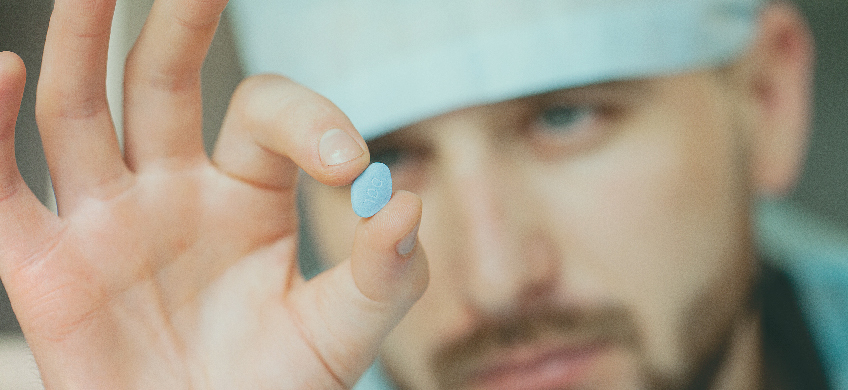 How The Little Blue Pill Revolutionized Relationships
It all began in 1998 when one of the greatest modern medical marvels was approved for sale in the world. Viagra, also affectionately called 'The Little Blue Pill', was originally meant....
Read