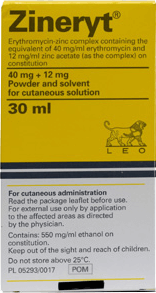 Estimated Delivery
Expected delivery date:
Tuesday, 10 May 2022
If you order within:
12h 36m 20s
*Your cart must meet the minimum requiretments for next day delivery
Fast
Delivery
Quick
Assessment
UK Registered
Pharmacy
Discreet &
Confidential
Overview
FAQ
Side Effects
Information leaflet
Reviews
What is Zineryt Lotion
Zineryt is an antibiotic solution which uses to combat the bacteria which leads to acne whilst also healing the skin itself which makes it a well-liked choice for acne sufferers.
Why choose Zineryt?
This product can be used by a wide majority of people suffering from acne vulgaris which manifests in the form of oily skin and spots. Both pregnant and breastfeeding women can use this product as well as younger children suffering from acne which is a real benefit to this particular type of medication as there are many forms of treatment on the market which are not to be used by these patient categories.
Another reason patients choose Zineryt is that less than 1% of those using it experience side effects. It can also be used alongside makeup which may be beneficial to some women suffering from acne.
What are the side effects of Zineryt?
The side effects of zineryt are usually mild and mostly affect patients at the beginning of the treatment as the skin gets used to the product.
When you first apply the medication there can be temporary side effects such as redness or stinging based on your skin's tolerance levels and the most common side effects can be dry and/or sore skin.
Severe reactions to the lotion are rare but if you experience symptoms such as itching, swelling of the tongue, lips, face or mouth, or suffer with issues with breathing then seek medical help right away and stop using the treatment.
How effective is Zineryt?
The effectiveness of any medication can vary from patient to patient but results can usually be seen from around 4 weeks onwards and in some cases 6. If you feel there has been no change to your acne after this time then you can book a free and confidential appointment with a doctor at Click Pharmacy to discuss other treatments.
Its mixture of ingredients, erythromycin and zinc, work well together and complement one another to not only destroy the bacteria causing the acne but to help with healing the skin where it has been damaged by the spots. In fact, by the end of a 12 week study, two thirds of patients had found that their acne legions had decreased.
Can I buy Zineryt Online?

Zineryt is a prescription only medication containing the antibiotic erythromycin and will be available to buy online once you have filled in our medical questionnaire and had your answers looked over by one of our doctors. They will assess whether this is the right medication for you based on a number of factors including the severity of your acne, other methods you have tried and any other medication you already take/use.

Once prescribed, you can purchase your medication online rather than booking an appointment with your GP for a prescription. We will then send your order through to your home by next day delivery where possible.
What is contained in Zineryt?
The active ingredients in Zineryt are erythromycin and zinc acetate.
It also contains ethanol and diisopropyl sebacate.
How should I take Zineryt
Generally, the product is used either once or twice a day as directed by your doctor and after using a mild cleanser to prep the skin, ensuring you pat it dry prior to application.
Zineryt's bottle comes with an applicator pad which is covered by a cap for protection which should be removed before use. Hold the bottle upside down and place the pad onto the affected area and spread the solution over it and around the edges of it too. The solution can be removed with a tissue if too much is applied.
A missed application of Zineryt can slow down the healing process so if you forget to use it, apply it as soon as you can leaving a minimum of three hours before using it again.
How does Zineryt work?

Excessive oil on the skin can plug your hair follicles. This causes them to swell and the bacteria which is usually living harmlessly on your skin use the sebum within these follicles to reproduce quickly. This, in turn, contributes to infection, inflammation and the resultant acne.

Zineryt contains two active ingredients to help fight this. The antibiotic known as erythromycin helps to fight the bacteria which is causing the acne by preventing it from producing a protein required for it to grow and reproduce. Without this, the bacteria die off and the body's own immunity can then begin to take over and kill off the remains of the bacteria.

The second ingredient, zinc acetate helps the skin to absorb as much of the erythromycin as possible whilst enabling the healing of the skin itself.
How long can I take Zineryt for?
Many people see results in as little as 4 weeks though it is recommended you use zineryt for up to 12 weeks. The initial effectiveness of the medication can be altered by what point you are at in your skin's shedding cycle but it should all balance out over the course of the treatment.
You will be advised by your GP or Click Pharmacy doctor as to how long your prescription will be necessary, so ensure you follow this guide to get the best out of your medication.
If you feel you are not seeing any benefit from the treatment after 4 to 6 weeks then book a free and confidential online appointment with Click Pharmacy to discuss other possible options.
Other Warnings to consider
It is generally a well tolerated product but if you are allergic to any of the ingredients in the medication, including any macrolide antibiotics or erythromycin, then do not use zineryt.
What is Zineryt Lotion used for?
Zineryt Lotion is an antibiotic lotion used for treating bacterial infections causing problems to the skin such as acne.
Do I need a prescription to purchase Zineryt Lotion?
Yes, you require a prescription to purchase Zineryt Lotion. After completing a short online questionnaire, on our website, you will be provided with a prescription. This will allow you to purchase zineryt Lotion from our website.
How long does it take to notice an improvement in my skin condition?
Generally it should take around 4 to 6 weeks to notice major improvements in symptoms. However this may differ depending on the severity of your condition.
Can pregnant or breastfeeding women use Zineryt Lotion?
Yes, Zineryt Lotion is safe to be used by pregnant women and breastfeeding mothers. There is no evidence to suggest that it causes any harm to the child.
What is the active ingredient in Zineryt Lotion?
Zineryt Lotion contains two active ingredients: erythromycin and zinc acetate. These ingredients are effective at clearing up one's skin and improving symptoms of bacterial infections.
How often should I apply Zineryt Lotion?
Generally Zineryt Lotion is prescribed to be applied to the skin twice a day, in the morning and evening.
How should I apply Zineryt Lotion?
Prior to applying Zineryt Lotion you should cleanse your face with a mild cleanser. After ensuring your skin is completely dry, you should apply a thin and even layer of Zineryt Lotion to infected areas. The lotion should be gently massaged into the skin until it disappears. You should then use a mild moisturizer to lock in moisture.
Can I use other skincare products while using Zineryt Lotion?
You should refrain from using harsh skincare products while using zineryt Lotion. It is advised to stick to only using a mild cleanser and moisturiser. If you feel that it is necessary to use any other product, you should consult with a GP or pharmacist before doing so.
How does Zineryt Lotion treat skin conditions?
The active ingredients are effective at killing protein which bacteria cells need in order to survive. This prevents the bacteria from reproducing and growing, allowing for the skin to clear up.
What if I forget to use Zineryt Lotion?
It is vital to use Zineryt Lotion on time as a missed application can slow down the whole process. If you forget to use Zineryt Lotion it is advised to use it as soon as you remember, unless it is almost time for your next dose. If it is almost time for your next dose you should skip the dose you just missed and continue as normal.
After the first few applications you are likely to experience several side effects from Zineryt Lotion. These side effects are usually temporary, and symptoms begin to disappear once your skin cells adapt to the new product. Common side effects include the following:
Redness around infected areas
Burning like sensation
Itching of skin
Heat like feeling from skin
Swelling
Possible bleeding from scares
If any of these side effects worsen you should stop using Zineryt Lotion and seek medical advice, from a GP or pharmacist, as soon as possible.
Always read the patient information leaflet before starting your treatment. The patient information can be found here.
Authored by Jana Abelovska
Last reviewed 20 April 2021
How to order
Order your medication in a few clicks. Our process is easy, fast and secure.
Step 1
Quick Health Check
Fill out a questionnaire so our prescriber can assess if the treatment is suitable for you.
Step 2
Select a Treatment
Choose the medication you require from the range offered by our online pharmacy.
Step 3
Next Delivery
Add delivery details and complete payment process.
What do our customers say?
Jane C
January 29, 2022
Fabulous service, quick and assertive, nice to be able to have an alternative service whilst the nhs are struggling!
Kristin W
January 2, 2022
Happy with how quick they reply to me and the
Delivery was quick as well would definitely use them again in the future.
Robert F
December 9, 2021
Glad to have you there. Efficient, professional service. The next day delivery is always delivered on time as promised.
Medical News and Blogs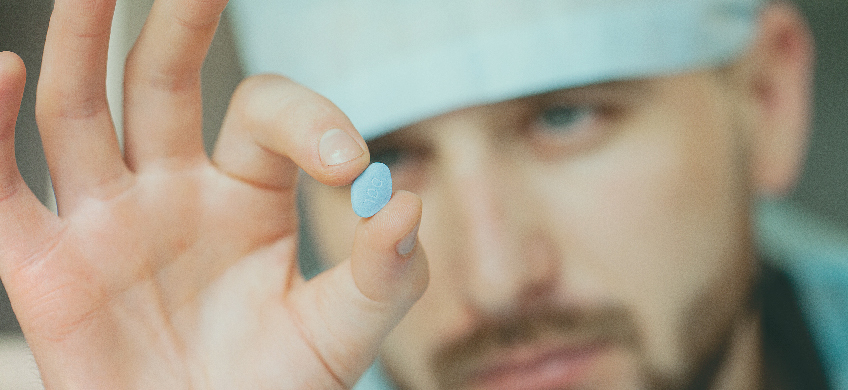 How The Little Blue Pill Revolutionized Relationships
It all began in 1998 when one of the greatest modern medical marvels was approved for sale in the world. Viagra, also affectionately called 'The Little Blue Pill', was originally meant....
Read