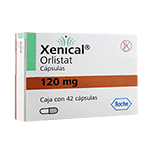 Xenical Tablets (Capsules)
Estimated Delivery
Expected delivery date:
Tuesday, 24 May 2022
If you order within:
12h 36m 20s
*Your cart must meet the minimum requiretments for next day delivery
Fast
Delivery
Quick
Assessment
UK Registered
Pharmacy
Discreet &
Confidential
Overview
FAQ
Side Effects
Information leaflet
Reviews
What is Xenical Tablets (Capsules)
For some people, losing weight through dietary changes and exercise alone is a continual struggle. Obesity is a growing problem in the UK and in many other parts of the world, and it is a crippling disease that can affect every aspect of our lives. The health concerns and the poor self-image associated with it make weight loss and weight control two of the primary goals in achieving a long and healthy life. This has led to the development of prescription weight loss treatments like Xenical.
These tablets contain the lipase inhibitor orlistat and they work by reducing the amount of fat that the body absorbs during digestion. To achieve the desired results, this medicine should be combined with lifestyle and dietary changes.
What is the difference between Xenical and Orlistat?
Orlistat is the active ingredient in both medications. There is 120mg found in both and they work to block fat in the same way. The main difference is that Xenical is the branded version and orlistat is the generic form. As such, Xenical is fractionally more expensive due to its branded name.
Why choose Xenical?
This treatment doesn't just help you lose weight; it can help you to live longer and have a higher quality of life. Obesity can make every new day seem like a challenge. Weight management is a must in order to protect ourselves from the many related diseases and Xenical can help you to:
Take control of your weight
Regain your youthful figure
Strive for a healthier body
Trials also showed that Xenical supported the maintenance of weight loss better than those trying to do it through a balanced lifestyle and willpower alone.
How Effective Is Xenical?
The active ingredient in Xenical is designed to attach itself to the digestive enzymes which break down fat to allow it to be absorbed into your body. When using Xenical, 30% of this fat is blocked and as such, you begin to naturally lose more weight than simply using calorie control and exercise alone.
When researched for one year across five separate trials, the average amount of weight lost by those using Xenical was 13.4lb compared to those in the placebo trial who were using exercise and healthy eating alone. The placebo group lost an average of 5.8lb meaning that Xenical assisted in over double the loss of a healthy lifestyle alone.
Can I buy Xenical online?
Xenical can be purchased online through our website. You can take a free and confidential consultation with one of our professionals here at Click Pharmacy. We will assess your current medical situation and if appropriate we can prescribe you Xenical. You can then buy the tablets online through the site in different sized packs depending on your preference from 2 weeks worth up to 3 months.
What dose should I choose?
Each tablet contains 120mg of the active ingredient orlistat which can be taken three times a day before a meal.
When deciding which pack size to initially purchase, you can speak to your doctor or ask your specialist at Click Pharmacy during your initial online appointment. They will be able to give you all the information and support you need.
How should I take Xenical?
You should take one of these tablets 3 times per day immediately before, during or shortly after your meals but no later than an hour after you eat and you should not take the tablets after eating fat-free meals.
Taking more than 3 a day will not help you to lose any more weight and if you miss a tablet there is no need to worry; it simply means that you will not have received the benefit of the medication on that occasion. You can continue to take the tablets as normal when you next eat.
Due to its fat blocking abilities, you should take a fat soluble, daily multivitamin at least 2 hours before or after taking Xenical. Full instructions are provided with the medicine and if you have any questions about how to take it, you can contact our expert team.
How does Xenical work?
Xenical works by inhibiting fat absorption in the gastrointestinal tract. Orlistat, which is the active ingredient in the tablets, is a lipase inhibitor and stops your body from taking in all the fat from your meals as free fatty acids. In turn, this makes it easier to lose weight. Bear in mind that eating food with a very high-fat content whilst taking Xenical can cause unpleasant gastrointestinal side effects and as such your meals should only contain 30% fat.
How Long do I take Xenical for before I notice a difference?
The weight loss from taking Xenical usually begins to show after around 14 days and depending on your starting weight and weight target, can continue to drop for anywhere up to 1 year. In some cases, the weight loss will begin to plateau. This does not mean that the medication is no longer working; it simply means that you are beginning to maintain your weight loss using the drug rather than continuing to lose it.
What are the side effects of Xenical?
All medications are associated with certain potential side effects. Some of the most common in the case of Xenical are loose stools and gas with oily spotting, an increased number of bowel movements, an urgent need to have a bowel movement, a sore throat, headaches and sweating.
These side effects are most common when you first start taking Xenical as your body is getting used to the effects of the medication. If you find that these symptoms are persistent or worsen, it is advisable to speak to your GP or book an appointment online at Click Pharmacy to discuss your options and get advice.
What are Xenical Capsules used for?
Xenical Capsules are a weight loss medication often prescribed to overweight people to treat disorders such as obesity.
Are Xenical Capsules safe to be used by overweight people?
Xenical Capsules are safe to use, they are effective at treating disorders such as obesity. Orlistat also decreases the chances of any health related problems such as diabetes and heart disease.
How do Xenical Capsules result in weight loss?
Xenical Capsules block the enzymes in your body which digest fat, this leads to the undigested fat passing out via bowel movement. This all results in weight loss as fat is being removed from the body.
How often should I take Xenical Capsules?
Depending on the severity of your case you may be advised to take Xenical Capsules differently. However you are generally required to take one capsule an hour after consuming a fat containing meal, this is usually three times a day.
Should I take a dose of Xenical Capsules if I skip a meal?
If you skip a meal, you should also skip your dose of Xenical Capsules. Taking Xenical Capsules on an empty stomach can cause serious harm to the body.
Why do I have to take Xenical Capsules after consuming a fat-containing meal?
It is important to take Xenical Capsules after consuming a fat-containing meal. This is because Xenical Capsules work by targeting the fat consumed with meals, if you have not consumed a meal the active ingredient could target the wrong type of fat and cause harmful side effects.
Do I need to take any supplement while using Xenical Capsules?
It is recommended to take supplements such as vitamins which contain vitamins A, D, E and K while using Xenical Capsules. This is because there is a possibility that Xenical Capsules interfere with the absorption of these vitamins.
What is the best time to take multivitamins?
It is recommended to take multivitamins that contain vitamin A, D, E and K at least 2 hours before or after your dose of Xenical Capsules.
Can I use Xenical Capsules for weight loss if I am diabetic?
Xenical Capsules are suitable for use for diabetic patients however it is advised to regularly check your blood sugar levels. This is because there is a possibility that Xenical Capsules interfere with blood sugar levels.
Can pregnant or breastfeeding women use Xenical Capsules for weight loss?
Xenical Capsules are not suitable for anyone who is pregnant, trying to get pregnant or breastfeeding. If you are taking Xenical Capsules and find out you are pregnant, you should stop taking Xenical Capsules immediately.
Can I combine other drugs with Xenical Capsules?
Using Xenical Capsules may stop medication used to treat seizures and fits. You should consult with a GP or pharmacist before combining these drugs.
Like all medicines, you may experience a number of side effects from using Xenical Capsules. Common side effects include:
Increased bowel movements
More urgent bowel movements
Changes in bowel function
Poor bowel and bladder control
If any of these side effects worsen you should stop using Xenical Capsules and seek medical advice, from a GP or pharmacist, as soon as possible.
Always read the patient information leaflet before starting your treatment. The patient information can be found here.
Authored by Jana Abelovska
Last reviewed 20 April 2021
How to order
Order your medication in a few clicks. Our process is easy, fast and secure.
Step 1
Quick Health Check
Fill out a questionnaire so our prescriber can assess if the treatment is suitable for you.
Step 2
Select a Treatment
Choose the medication you require from the range offered by our online pharmacy.
Step 3
Next Delivery
Add delivery details and complete payment process.
What do our customers say?
Jane Cooper
January 29, 2022
Fabulous service, quick and assertive, nice to be able to have an alternative service whilst the nhs are struggling!
Kristin Watson
January 2, 2022
Happy with how quick they reply to me and the
Delivery was quick as well would definitely use them again in the future.
Robert Fox
December 9, 2021
Glad to have you there. Efficient, professional service. The next day delivery is always delivered on time as promised.
Medical News and Blogs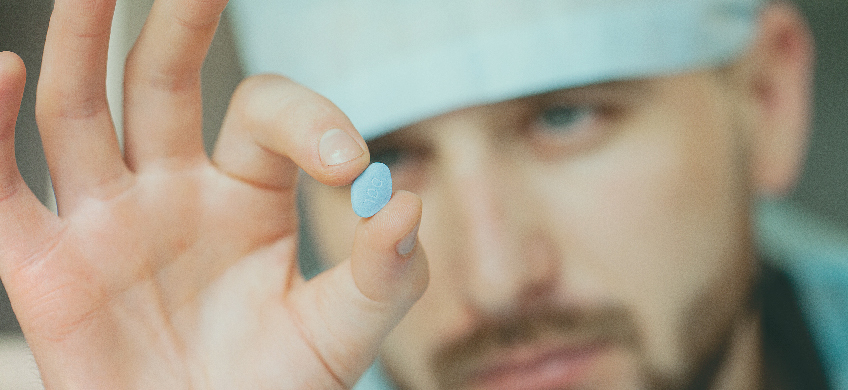 How The Little Blue Pill Revolutionized Relationships
It all began in 1998 when one of the greatest modern medical marvels was approved for sale in the world. Viagra, also affectionately called 'The Little Blue Pill', was originally meant....
Read