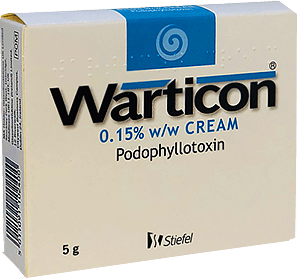 Estimated Delivery
Expected delivery date:
Tuesday, 10 May 2022
If you order within:
12h 36m 20s
*Your cart must meet the minimum requiretments for next day delivery
Fast
Delivery
Quick
Assessment
UK Registered
Pharmacy
Discreet &
Confidential
Overview
FAQ
Side Effects
Information leaflet
Reviews
What is Warticon
Warticon is a topical prescription treatment used to treat anogenital warts. It contains the active ingredient podophyllotoxin, which works as an anti-mitotic to prevent viral warts cells caused by HPV, from growing. In the end, the warts cell die to be replaced by healthy cells. Warticon is a recommended cream for genital warts, particularly those that appear under the foreskin of the uncircumcised penis or on the shaft of a circumcised penis. In women, genital warts appear on the external parts of the Vagina.
What dose should I choose?
Warticon is a prescription-only medication and comes in the form of a solution or a cream. Each of these variants contains a difference in the strength of the active ingredient, which is why it's important to follow the doctor's prescription when using Warticon. Nonetheless, both the Warticon solution and cream are similarly effective.
Warticon is available as a 5g tube of white cream or a 3ml container of blue solution.
How does Warticon work?
Warticon is both an anti-viral as well as an anti-mitotic treatment. When applied, it works by preventing the wart cells from dividing and multiplying, which can worsen the symptoms. Podophyllotoxin which is responsible for fighting the HPV virus itself diminishes the wart cells, and as they die and shed, new cells grow in their place to reveal healthy skin.
How should I take Warticon
Warticon is a topical treatment and should never be administered through the mouth. One complete treatment course is made up of three consecutive days of each week. For these three days, you should apply the treatment in the morning and evening, ensuring that 12 hours have passed between each application. Do not apply the cream for the next four days but start your next course of treatment after the 4 days have passed. Do this if you have warts remaining after the first seven days of applying the treatment.
How to apply;
Start by washing the affected areas with soap and water. Dry the area with your towel. Do not use another's to avoid spreading the infection, as warts are contagious. Use the mirror provided in the package to view the area as you apply the treatment. Use a clean fingertip to apply and coat each wart with the cream. Rub the cream gently into the wart, taking extra caution not to get the cream/solution on healthy skin. However, if you do, wash the area with soap and water.
Wash your hands thoroughly and seal back the tube tightly. You do not need a plaster to cover the application site.
How Effective Is Warticon?
Warticon contains one of the most biologically active components that has been used for centuries due to its medicinal properties. The active ingredient podophyllotoxin also known as podophyllum resin topical is a strong plant extract that falls under a category of anti-virals. This anti-viral (podophyllotoxin) attacks and eradicates HPV, causing Warticon cells to die and a new healthy skin to grow within four to five weeks.
Can I buy Warticon online?
Warticon is a prescription treatment, which can be obtained over the counter or from registered online pharmacies. Therefore should you require assistance, you are welcome to book an appointment with a health expert at Click Pharmacy to discuss how best to use this product.
The medication is available as a 5g tube of white cream or a 3ml container of blue solution. Hence depending on the treatment that is suitable for you/one prescribed by the doctor, you can purchase Warticon online, and it will be sent to you by Next Day Delivery.
How long do I take Warticon for before I notice a difference?
The topical application follows a recommended dosage of two applications per day, ensuring that 12 hours have passed between each application. That is the morning application should be 12 hours apart from the evening application. This is done for three consecutive days each week, and for the next four days, treatment is not applied. This is considered as one complete course of treatment.
In case you have warts after the first seven days of using the treatment, repeat the treatment course.
With proper use, it takes four courses of treatment for warts to be fully eliminated.
However, if you do not see any change or if symptoms worsen at this point, seek further help from your doctor for further treatment options.
What are the side effects of Warticon?
The main side effects of this medication may emerge after the second or third day once you apply the cream. That is, you may experience mild irritation of the areas treated. This shows that the treatment is taking effect.
But there are other common side effects which you may or may not experience, and they include;
Redness, itchiness, wearing away of the outer layer of the skin and a burning sensation on the area the application site.
You may also experience, pain, itching, bleeding, stinging, severe burning or swelling of the treated skin. If ever you experience these effects, wash the medication from the applied area with plenty of water and soap, then contact your doctor immediately.
Some other side effects occur, but cannot be estimated from the available data, and they include; pain, bleeding, swelling and allergic reactions. Loss or damage to the top layer of the skin. Weeping wound, discolouration of the skin, skin ulcers, blisters, dry skin and scab.
Therefore, it is essential that if you experience any of these side effects, including those not mentioned on the leaflet enclosed in the medication, you report this immediately to your doctor.
Warticon may cause irritation if it comes into contacts with your eyes. If this happens, rinse your eyes immediately with plenty of water and seek immediate medical attention from your GP or hospital.
You are also welcome to consult our specialists at Click Pharmacy should you require any further advice.
When shouldn't I take Warticon?
Do not begin this treatment if you are hypersensitive to podophyllotoxin or any of the other ingredients listed on this product. Do not apply Warticon on bleeding areas or broken and damaged skin. If you are on other medications, whether prescribed or non-prescribed consult your doctor first before using Warticon. Especially if any of the medication you're taking contains, podophyllotoxin.
If you're warts are more prominent than an area of 4cm, approximately the size of a postage stamp, seek medical assistance. You may require a doctor's help, to apply the medication on warts, effectively.
Do not use this medicine on warts around the anus.
Avoid sex during treatment. Rather you should wait until warts have gone and the skin has healed to avoid spreading the infection. However, if you do opt to have sex, use a condom to prevent warts from spreading and also to protect your partner from coming into contact with podophyllotoxin, which can cause them irritation.
The use of Warticon is not recommended for persons under the age of 18 years. Neither should you use the treatment if you are breastfeeding, pregnant, or planning to be pregnant.
What is the difference between Warticon and Aldara/ Condyline?
All are treatments for genital warts. Both Warticon and Condyline contain podophyllotoxin as an active ingredient, while Aldara contains imiquimod. Imiquimod is an ingredient that stimulates your immune system to fight Human Papillomavirus destroying genital warts.
Aldara is an expensive alternative of Warticon and Condyline but warts treated with Aldara are less likely to recur than if treated with Warticon and Condyline.
What is Warticon Cream used for?
Warticon Cream is used for the treatment of genital warts.
Do I need a prescription to purchase Warticon Cream?
Yes, you require a prescription to purchase Warticon Cream. After completing a short online questionnaire on our website you will be provided with a prescription. This will allow you to purchase Warticon Cream from our website.
What is the active ingredient in Warticon Cream?
The active ingredient in Warticon Cream is podophyllotoxin. This is an anti motic which kills the cell walls, preventing them from growing.
Do I need to wash my hands before using Warticon Cream?
It is essential that you wash and dry your hands thoroughly before and after using Warticon Cream. This is to ensure germs and other bacteria do not spread to other areas.
Do I need to wash the infected areas before applying Warticon Cream?
You must wash and dry infected areas thoroughly before applying Warticon Cream. This is to ensure the area is deeply cleansed and ready to be treated.
How should I apply Warticon Cream?
You should use cleansed fingers to apply a thin even layer all over the infected areas.
How should I store Warticon Cream?
You should store Warticon Cream in a cool dry place, out of reach from children and at room temperature. This product should not be exposed to extreme temperatures or direct sunlight.
How often should I apply Warticon Cream?
For the first three days of your treatment you should apply Warticon Cream to infected areas twice a day at regular intervals of 12 hours. The cream should be applied once in the morning and once in the evening. It is vital to leave 12 hour intervals between two applications. For the next 4 days you should not apply anything to infected areas. If on the seventh day you still have genital warts you should continue this same process once more. You can repeat this process up to 4 times.
How long can I use Warticon Cream for?
You are able to use Warticon Cream for up to 5 weeks. If after the fifth course of treatment on the fifth week you notice no improvements, you should stop using Warticon Cream immediately and seek medical advice from a professional.
Can I participate in sexual intercourse while using Warticon Cream?
It is advised to refrain from participating in sexual intercourse while using Warticon Cream. This is to allow for the sufficient treatment of genital warts and also prevent the warts from spreading to partners and other people.
Can I combine other medicines with Warticon Cream?
You must consult with a GP or pharmacist before combining Warticon Cream with other medicines. This is to ensure the combination of drugs do not interfere and cause harmful side effects.
Like all medicines, after using Warticon Cream you are likely to experience a number of side effects. It is important to note that not everyone experiences the same side effects and that side effects are often mild. Common side effects include the following:
Irritation
Itching
Swelling
Burning sensation
Flaking of skin
Dry skin
If any of these side effects worsen, you should stop using Warticon Cream immediately and seek medical advice from a professional.
Always read the patient information leaflet before starting your treatment. The patient information can be found here.
Authored by Jana Abelovska
Last reviewed 20 April 2021
How to order
Order your medication in a few clicks. Our process is easy, fast and secure.
Step 1
Quick Health Check
Fill out a questionnaire so our prescriber can assess if the treatment is suitable for you.
Step 2
Select a Treatment
Choose the medication you require from the range offered by our online pharmacy.
Step 3
Next Delivery
Add delivery details and complete payment process.
What do our customers say?
Jane C
January 29, 2022
Fabulous service, quick and assertive, nice to be able to have an alternative service whilst the nhs are struggling!
Kristin W
January 2, 2022
Happy with how quick they reply to me and the
Delivery was quick as well would definitely use them again in the future.
Robert F
December 9, 2021
Glad to have you there. Efficient, professional service. The next day delivery is always delivered on time as promised.
Medical News and Blogs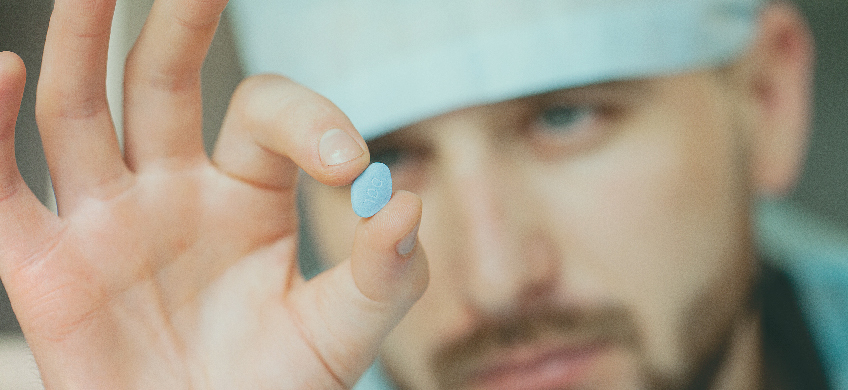 How The Little Blue Pill Revolutionized Relationships
It all began in 1998 when one of the greatest modern medical marvels was approved for sale in the world. Viagra, also affectionately called 'The Little Blue Pill', was originally meant....
Read