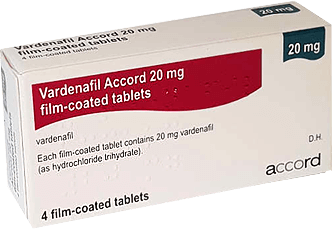 Estimated Delivery
Expected delivery date:
Tuesday, 10 May 2022
If you order within:
12h 36m 20s
*Your cart must meet the minimum requiretments for next day delivery
Fast
Delivery
Quick
Assessment
UK Registered
Pharmacy
Discreet &
Confidential
Overview
FAQ
Side Effects
Information leaflet
Reviews
What is Vardenafil Tablets
Vardenafil is a medication used to treat erectile dysfunction (ED), a common condition which affects around 50% of men between the ages of forty and seventy. ED stops a man from achieving or maintaining an erection, even when appropriately stimulated. There are certain natural treatments you can try before medication such as psychotherapy for any underlying emotional causes, checking hormone levels, as well as looking at any other possible medical conditions such as diabetes.
An erectile dysfunction treatment can help you to regain your erections when desired and maintain them thus lowering any potential mental or physical stress which this issue may be causing you, enabling you to get back to a satisfying sex life.
How should I take Vardenafil?
Vardenafil should be administered orally anywhere between 25 and 60 minutes before sexual activity is desired. It should not be taken more than once a day and once taken you should be able to achieve an erection for anywhere up to 12 hours with sexual stimulation. Note that you will not have unexpected erections from taking this type of medication as stimulation is required for it to work.
There should be at least 24 hours between each dose and for optimum results, the tablet should be ideally ingested after a light meal though a larger meal will not stop its effects from working; it may just take a little more time to kick in.
How does Vardenafil work?
Vardenfil inhibits the enzyme PDE-5 which is known to stop blood vessels from working properly. This is often the cause of erectile dysfunction as blood needs to be able to flow freely for an erection to be achieved and maintained. Vardenafil is part of a family of drugs known as an inhibitor, specifically, a PDE-5 inhibitor, which, when active, relaxes the muscles within the blood vessels increasing the flow of blood to the penis.
What are the side effects of Vardenafil?
There is a possibility of side effects inherent in the use of any medication and the most common side effects of vardenafil are headaches, a blocked nose, indigestion, dizziness and flushing. The patient information leaflet which comes with the medication will include further information on side effects.
There can be less common side effects possible too including but not limited to tiredness, a pounding heart, breathlessness and stomach upsets. If you find you experience any unwanted side effects from using this medication, stop taking it and speak to your doctor for advice.
How effective is Vardenafil?
Vardenafil is a particularly popular treatment for ED and is often chosen over other versions, such as Viagra, due to its long-lasting, 12 hour effect. In one study, Vardenafil still showed an improved sexual response 8 hours after taking the dose, and nearly three-quarters of the participants achieved a strong enough erection for sexual intercourse at both 1 and 12 hours post-administration of the dose.
What is the difference between Vardenafil and Levitra?
Prior to September 2019, this ED medication was only available in its branded form known as Levitra. After Levitra's patent expired last year, the generic form known as vardenafil became available on the market at a lower price point. It's important to note that vardenafil was the active ingredient in Levitra, but now it is simply available directly rather than under a more expensive brand name.
By law manufactures of these unbranded forms of a drug must prove that their product is identical to the brand across a wide number of areas including its:
dosage
intended use
side effects
expected effects
strength
route of administration
quality
stability
safety
What dose should I choose?
Your dosage requirements depend on your condition, how you respond to treatment, any other medications you are taking and other health concerns you may have. You should consult your doctor or one of our specialists at Click Pharmacy for advice about what dose is right for you which can be done via a Skype or email appointment.
What is contained in Vardenafil?
The active ingredient in Vardenafil generic is vardenafil in 5 mg, 10 mg or 20 mg doses.
The inactive ingredients are:
cellulose
microcrystalline
silica colloidal anhydrous
crospovidone (type A)
stearic acid
hypromellose
macrogol 400
titanium dioxide (E171)
iron oxide yellow (E172)
iron oxide red (E172).
Can I buy Vardenafil Online?
Vardenafil can be purchased online once you have completed a short health questionnaire. Your results will be assessed by one of our in-house doctors to ensure that this medication will be safe and appropriate for your medical situation. In some cases, another medication can interfere with the effectiveness of Vardenafil and certain medical conditions could be affected negatively by it. In these instances, our doctors will find you the best alternative treatment.
Once you have been given your prescription you can order your medication anytime online without filling in this questionnaire again. If you prefer you can discuss your health concerns or medication options with one of our doctors by booking a free and confidential online appointment.
Why choose Vardenafil?
Vardenafil is chosen by many is because it can be taken with or without food whilst others forms require an empty stomach to achieve full effects. Whilst a heavy meal may possibly slow the effects down slightly, keeping your stomach completely empty prior to taking the medication is not necessarily a realistic option.
Vardenafil is also a more potent form of a phosphodiesterase-5 (PDE-5) inhibitor than other ED medications, meaning it achieves its required results at a lower concentration of the drug than other lower potency versions. In other words, you can take a smaller dose and still get effective results. Your required dosage will be discussed with your doctor during your appointment.
Another reason vardenafil may be chosen over other ED medications is that it has been found in studies to be such a strong inhibitor for PDE-5 specifically that it minimally affects other PDEs within the body, especially when compared to other ED medications. For example, vardenafil does not inhibit PDE-6 which is found within the retina and which, when affected by certain ED medications can alter a patient's vision short term with side effects including charges to colour perception, blurring, light sensitivity and visual disturbances.
What are Vardenafil Tablets used for?
Vardenafil Tablets are effectively used to treat erectile dysfunction.
Do I need a prescription to purchase Vardenafil Tablets?
Yes, you require a prescription to purchase Vardenafil Tablets. After completing a short online questionnaire you will be provided with a prescription, allowing you to purchase Vardenafil Tablets.
What is the active ingredient in Vardenafil Tablets?
The active ingredient in Vardenafil Tablets is vardenafil itself. This ingredient is commonly used among a number of drugs for the treatment of erectile dysfunction.
What is the difference between Vardenafil Tablets and Levitra Tablets?
Both Vardenafil and Levitra are effectively used for the treatment of erectile dysfunction, the main difference is branding and price. Levitra is the branded version of Vardenafil making it more expensive.
How long are Vardenafil Tablets effective for?
Vardenafil Tablets are commonly used due to their long lasting effect of up to 12 hours.
Should I Vardenafil Tablets on an empty stomach?
Unlike most erectile dysfunction treatments, Vardenafil Tablets can be taken with or without a meal.
When should I take Vardenafil Tablets?
For maximum effectiveness it is advised to take one Vardenafil Tablet 25-60 minutes prior to participating in sexual intercourse.
How many times a day can I take Vardenafil Tablets?
You must not consume more than one Vardenafil Tablet in a day. You must leave an interval of at least 24 hours before consuming another dose.
How do Vardenafil Tablets treat erectile dysfunction?
The active ingredient, vardenafil, is effective at releasing blood to the blood vessels which flow to the penis, allowing for a successful erection.
Can women use Vardenafil Tablets?
No, Vardenafil Tablets are not suitable for women to use. They should only be consumed by men who suffer from erectile dysfunction.
How should I take Vardenafil Tablets?
You should swallow one whole capsule with a drink of water. You should refrain from crushing or chewing the capsule.
Is there any food or drink that I should avoid when consuming Vardenafil Tablets?
When taking Vardenafil Tablets it is important to avoid drinking grapefruit juice. This is because grapefruit juice can interfere with the way the drug works, increasing the chances of harmful side effects.
Who should not use Vardenafil Tablets for erectile dysfunction?
It is important to note that Vardenafil Tablets are not suitable for everyone to use. You should consult with a GP or pharmacist prior to taking this treatment if you have any of the following:
Experienced a heart attack in the past 6 months
Experienced a stroke in the past 6 months
kidney disease
Irregular blood pressure
Penis conditions
Severe loss of body water
Penis conditions
Active stomach ulcers
Bleeding disorders
Eye problems
Liver disease
Severe loss of body water
You are likely to experience a number of side effects after consuming Vardenafil Tablets. Although not everyone experiences the same side effects, you may experience more than one side effect. Common side effects include:
Headaches
Feeling dizzy
Blurred vision
Sensitivity to light
nausea/feeling sick
Feeling tired
Drowsiness
Feeling sleepy
If any of these side effects worse, you should stop using Vardenafil Tablets and seek medical advice from a GP or pharmacist as soon as possible.
Always read the patient information leaflet before starting your treatment. The patient information can be found here.
Authored by Jana Abelovska
Last reviewed 20 April 2021
How to order
Order your medication in a few clicks. Our process is easy, fast and secure.
Step 1
Quick Health Check
Fill out a questionnaire so our prescriber can assess if the treatment is suitable for you.
Step 2
Select a Treatment
Choose the medication you require from the range offered by our online pharmacy.
Step 3
Next Delivery
Add delivery details and complete payment process.
What do our customers say?
Jane Cooper
January 29, 2022
Fabulous service, quick and assertive, nice to be able to have an alternative service whilst the nhs are struggling!
Kristin Watson
January 2, 2022
Happy with how quick they reply to me and the
Delivery was quick as well would definitely use them again in the future.
Robert Fox
December 9, 2021
Glad to have you there. Efficient, professional service. The next day delivery is always delivered on time as promised.
Medical News and Blogs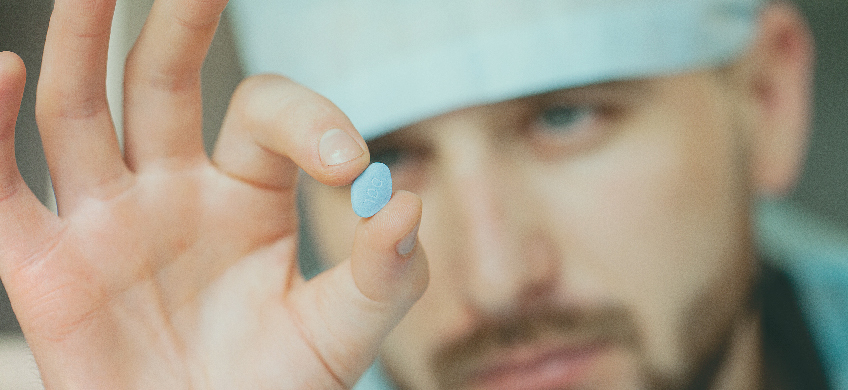 How The Little Blue Pill Revolutionized Relationships
It all began in 1998 when one of the greatest modern medical marvels was approved for sale in the world. Viagra, also affectionately called 'The Little Blue Pill', was originally meant....
Read