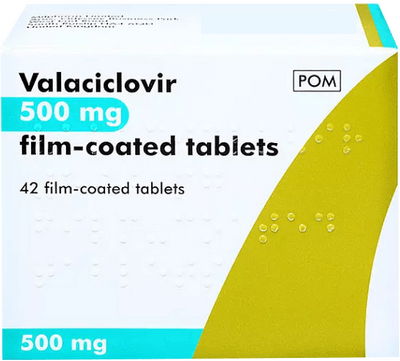 Estimated Delivery
Expected delivery date:
Tuesday, 24 May 2022
If you order within:
12h 36m 20s
*Your cart must meet the minimum requiretments for next day delivery
Fast
Delivery
Quick
Assessment
UK Registered
Pharmacy
Discreet &
Confidential
Overview
FAQ
Side Effects
Information leaflet
Reviews
What is Valaciclovir Tablets
While Valaciclovir can't battle the herpes simplex virus when inactive and dormant, it will possibly well resist the virus when live and attacking the cells of the body. In actual fact, in depth studies performed on Valaciclovir have found it to be an extremely effective treatment for herpes if taken on the early stage of a flare up.
How effective is Valaciclovir?
Whilst Valaciclovir can't fight the herpes simplex virus when inactive and dormant, it can effectively fight the virus when live and attacking the cells of the body. In fact, extensive studies performed on Valaciclovir have shown it to be a highly beneficial treatment for herpes if taken at the first sign of a flare up. Valaciclovir can even prevent a sore from forming if used as a preventative and can make symptoms more bearable and lessen the period of healing by up to half in some cases.
Can I buy Valaciclovir Online?
Valaciclovir is a prescription only medication which requires a doctor's approval prior to purchase. You will be asked to complete a health questionnaire which will give our doctors insight as to whether this is the correct medication for your situation. This will be based on a number of factors such as other medications you have tried or are currently taking and the severity of your symptoms.
Once you have been given a prescription you can purchase your treatment online. It will then be sent to you by next day delivery.
Why choose Valaciclovir?
Valaciclovir is thought to be even more beneficial than other cold sore treatments as the body can more effectively use this version of the aciclovir drug to help prevent and/or treat the herpes simplex virus. It can also be taken in a lower dose than other treatments and remain effective which means that there could be fewer side effects than if taking a higher dosage of another medication.
What is contained in Valaciclovir?
The active ingredient is valaciclovir hydrochloride.
The inactive ingredients are ammonium hydroxide, black iron oxide, hypromellose, magnesium stearate, microcrystalline cellulose, polyethylene glycol, propylene glycol, shellac glaze and titanium dioxide.
How long can I take Valaciclovir for?
The amount of time you use the medication for varies based on how quickly you begin treatment from the first signs of a cold sore as well as the severity of the cold sore itself. Generally speaking, you would take the treatment for anywhere up to 10 days. It can also be used to prevent a herpes outbreak or manage HSV-1 longterm and studies have shown that it is safe, when prescribed, to be taken for years at a time if necessary such as in the case of someone with lowered immunity.
How does Valaciclovir work?
Although the virus causing the cold sore can never be entirely cured, you can treat it with an antiviral medication such as Valaciclovir when active.
Valaciclovir stops the HSV-1 spreading by interfering with the mechanism which enables the herpes virus to multiple during an outbreak. This lessens the speed at which the infection can spread to healthy cells and shortens the lifespan of the blister.
How should I take Valaciclovir?
You will be prescribed the correct dose strength and length of treatment for the type of herpes virus you have. As such, it is important to take the tablets as directed by your doctor to ensure you get the full benefit.
You can take them with or without food and swallowed with water, and you must start taking them as early as possible from the initial onset of your symptoms which is usually a tingling sensation on the lip or around the mouth. Anytime up to 48 hours from symptoms appearing is the ideal window of time to begin treatment. If you miss a dose and do not remember until close to the time of your next, then wait and take the following tablet at the normal time. Do not take two at once.
What are the side effects of Valaciclovir?
Valaciclovir's side effects are similar to those found with most medications and depend entirely on your body's ability to tolerate the drug. The most common side effects include nausea, vomiting, diarrhoea and a headache.
These effects are usually mild and should not stop you taking the treatment although if you feel concerned at any time then you can arrange a free and confidential online appointment to speak to a medical expert at Click Pharmacy.
Side effects which have been found to affect less than 1% of patients using Valaciclovir can include:
dizziness
constipation
stomachache
painful periods
joint pain
To avoid any possible issues with your kidneys whilst taking this medication, ensure you drink plenty of extra fluids to keep them working effectively.
Other Warnings to consider
It is extremely rare but issues with the nervous system can occur through the use of Valaciclovir and can manifest in the form of a change in behaviour such as becoming more aggressive, confusion and hallucinations. If this occurs, seek medical help right away and stop the treatment. Similar if you find
Certain groups of people are more likely to suffer certain negative side effects including those with kidney issues such as disease or transplantation, and anyone over 65. Also, if you are, or think you may be pregnant, or you are breastfeeding then ensure you tell your Click Pharmacy doctor or GP so they can discuss potential risks before giving you a prescription. For example, the drug can pass into the milk in a breastfeeding mother which could potentially affect the baby.
Tell your doctor about any other medications you take, including herbal supplements and vitamins to ensure that they will not interfere negatively with the Valaciclovir medication causing it to be less effective.
What are Valaciclovir Tablets used for?
Valaciclovir Tablets are used for the treatment of cold sores and herpes.
Do I need a prescription to purchase Valaciclovir Tablets?
Yes, you require a prescription to purchase Valaciclovir Tablets. After completing a short online questionnaire, you will be provided with a prescription. This will allow you to purchase Valaciclovir Tablets from our website.
What is the active ingredient in Valaciclovir Tablets?
The active ingredient in Valaciclovir Tablets is valaciclovir hydrochloride. This ingredient is effective at treating cold sores.
How do Valaciclovir Tablets treat cold sores?
The active ingredient, valaciclovir tablets, stops the virus from multiplying and reproducing in bacterial cells. This reduces the spread of the virus slowly causing the existing germs to die out, treating the virus.
When should I take Valaciclovir Tablets?
It is advised to take Valaciclovir Tablets within 48 hours of the first symptom of a cold sore. Taking Valaciclovir Tablets any time after this may mean the drug is ineffective on the cold sore.
How should I take Valaciclovir Tablets?
You should swallow one whole tablet on a whole, with a drink of water. This tablet should not be broke, chewed or crushed.
Can I take Valaciclovir Tablets on an empty stomach?
It is safe to take Valaciclovir Tablets on an empty stomach. However to prevent nauseous side effects it is recommended to take Valaciclovir Tablets after a meal. This will ensure you do not experience any nauseous side effects.
How long should I take Valaciclovir Tablets for?
The length of your treatment usually varies depending on the severity of your cold sore. You should follow the treatment as advised by your prescriber.
Can pregnant or breastfeeding women use Valaciclovir Tablets?
You should consult with a doctor before using Valaciclovir Tablets if you are pregnant, trying to get pregnant or breastfeeding.
Can I combine other drugs with Valaciclovir Tablets?
Although it is generally safe to combine drugs with Valaciclovir Tablets, you must consult with a doctor before doing so. This is to ensure the drugs do not interfere with one another and cause harmful side effects.
How should I store Valaciclovir Tablets?
You should store Valaciclovir Tablets in a cool dry place, out of reach from children and at room temperature. This product should not be exposed to extreme temperatures or direct sunlight.
What if I forget to take my dose of Valaciclovir Tablets?
If you forget to take your dose of Valaciclovir Tablets you should take them as soon as you remember, unless it is almost time for your next dose. If it is almost time for your next dose you should skip the dose you just missed and continue as normal. You should never take two doses at once, even if you are making up for a missed dose.
After using Valaciclovir Tablets it is unlikely to experience side effects. This is because the side effects and symptoms from this drug depend on your body's ability to tolerate the drug. Bodies that are unable to tolerate the drug may experience mild side effects which are expected to disappear over multiple uses. Possible side effects include the following:
Nausea
Headaches
Diarrhoea
Vomiting
Always read the patient information leaflet before starting your treatment. The patient information can be found here.
Authored by Jana Abelovska
Last reviewed 20 April 2021
How to order
Order your medication in a few clicks. Our process is easy, fast and secure.
Step 1
Quick Health Check
Fill out a questionnaire so our prescriber can assess if the treatment is suitable for you.
Step 2
Select a Treatment
Choose the medication you require from the range offered by our online pharmacy.
Step 3
Next Delivery
Add delivery details and complete payment process.
What do our customers say?
Jane Cooper
January 29, 2022
Fabulous service, quick and assertive, nice to be able to have an alternative service whilst the nhs are struggling!
Kristin Watson
January 2, 2022
Happy with how quick they reply to me and the
Delivery was quick as well would definitely use them again in the future.
Robert Fox
December 9, 2021
Glad to have you there. Efficient, professional service. The next day delivery is always delivered on time as promised.
Medical News and Blogs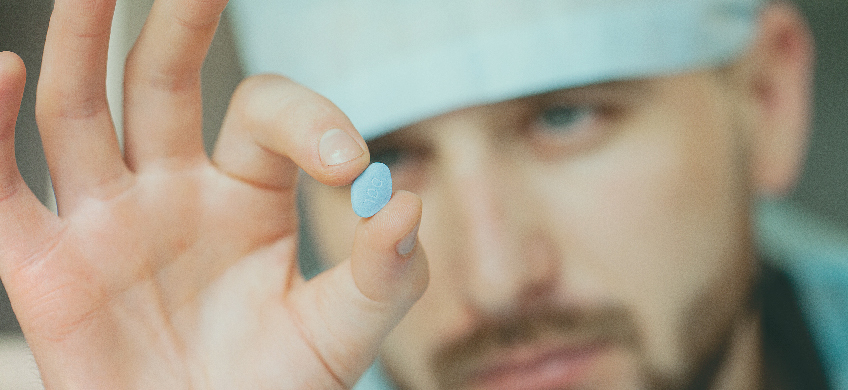 How The Little Blue Pill Revolutionized Relationships
It all began in 1998 when one of the greatest modern medical marvels was approved for sale in the world. Viagra, also affectionately called 'The Little Blue Pill', was originally meant....
Read