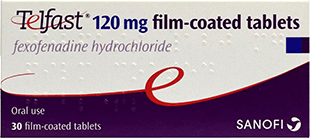 Estimated Delivery
Expected delivery date:
Tuesday, 10 May 2022
If you order within:
12h 36m 20s
*Your cart must meet the minimum requiretments for next day delivery
Fast
Delivery
Quick
Assessment
UK Registered
Pharmacy
Discreet &
Confidential
Overview
FAQ
Side Effects
Information leaflet
Reviews
What is Telfast (Fexofenadine)
Telfast is a prescription-only oral antihistamine used to treat the symptoms of hay fever and seasonal rhinitis.
Hayfever is an allergic condition that is triggered by inhaling pollen particles. This allergic reaction releases histamine into the body which causes inflammation and the well known symptoms of hay fever which generally include sneezing, a runny nose, watery and itchy eyes and hives. Rhinitis is the medical term for inflammation of the inside of the nose which occurs when the body becomes oversensitive to substances such as pollen, dust or animal skin. It appears to resemble the common cold with a runny nose, but unlike the symptoms produced by the viral infection, it also includes a dry cough, facial pain, fatigue and itchy, watery eyes.
Both hay fever and rhinitis are very common conditions, with each affecting one in five people in the UK, impacting their way of life and ability to continue their regular day to day activities. Telfast contains the active ingredient fexofenadine, which helps to alleviate symptoms of these two troublesome health problems.
Can I buy Telfast Online?
Both the generic version, known as Fexofenadine and the branded version, known as Telfast, can be purchased online via Click Pharmacy.
You simply need to fill in a quick health assessment form so our doctors can check your suitability for this medication and to ensure it is the right one for you. Upon completion, you can purchase either the branded or the generic versions online with just a small variation in price.
Why choose Telfast (Fexofenadine)?
If you've ever experienced hay fever or rhinitis, you'll know how miserable these conditions can make you feel.
Telfast relieves a number of the irritating and life-disrupting symptoms which come with hay fever and rhinitis allowing you to feel better and continue with your daily routine. Living with the ongoing symptoms such as sneezing, itching eyes and hives can be a nuisance at best and at worst can stop you from getting on with your usual activities. As such, Telfast is ideal as it gets to work fast - within one hour.
What's more, unlike some other antihistamines, Telfast is a non-sedating medication which means that it does not cause drowsiness so you can take this medication without it having a negative impact on activities such as driving or work.
How effective is Telfast?
Telfast and its generic counterpart are both effective at preventing the actions of histamine which is released upon the introduction of certain allergens into the body of which it is susceptible. It does this by blocking the histamine receptors and can get to work within half an hour making it especially effective for those suffering from hay fever or rhinitis day-to-day and who need to get on with their life at work or at home, symptom free.
How does Telfast (Fexofenadine) work?
Symptoms of hay fever and seasonal rhinitis are caused by your body producing a natural chemical called histamine when experiencing an allergic reaction. Telfast works by blocking histamine and preventing it from affecting the body with symptoms such as sneezing and sore eyes.
What is contained in Telfast?
Telfast contains an active ingredient which is part of a group of medicines known as antihistamines. This ingredient is called fexofenadine (the generic version of Telfast). The inactive ingredients which make up the tablet itself are:
povidone
pregelatinised maize starch
croscarmellose sodium
titanium dioxide
colloidal anhydrous silica
magnesium stearate
microcrystalline cellulose
macrogol 400
Pigment Blend Pink PB1254
Pigment Blend Yellow PB1255
hypromellose
The tablets do not include gluten, lactose or preservatives.
What dose should I choose?
To relieve the symptoms of seasonal hay fever and rhinitis in adults and children over 12 you can take up to two 60mg tablets a day. However, to ensure that you take the right dosage for you, you should read the patient information leaflet that comes with your medication carefully. You can also consult your doctor or one of our trusted healthcare professionals at Click Pharmacy for further advice.
Depending on the severity of your hay fever there are also 120mg and 180mg versions of the medication which can offer relief from more uncomfortable symptoms such as hives and rashes which can come as part of hay fever or rhinitis. It is crucial you discuss your requirements with your GP or doctor at Click Pharmacy before deciding which tablet to take.
How should I take Telfast (Fexofenadine)?
Telfast should be taken with a glass of water, with or without food. Continue to take it for as long as directed by your doctor or pharmacist.
If you are being treated for any other medical issues then ensure you tell your doctor before taking Telfast or fexofenadine. Also, if you are planning surgery which requires a general anaesthetic, then be sure to tell your surgeon you have been taking this medication.
Do not take Telfast if you are under 12, pregnant, breastfeeding, allergic to fexofenadine or if you have been advised not to by your pharmacist or GP.
If you have any questions about using this medication, seek advice from a medical professional.
What are the side effects of Telfast (Fexofenadine)?
Aside from their beneficial purposes, most medications can also be associated with other possible side effects some of which are negative. Though uncommon, these side effects can include:
headache
dizziness
nausea
indigestion
drowsiness
If you experience swelling of the face, throat, lips or tongue or have difficulty breathing after taking this medicine, it is crucial that you contact your doctor immediately and stop taking it. These symptoms are rare but may be a sign of a severe allergic reaction.
What are Telfast Tablets used for?
Telfast Tablets are an antihistamine medication used for relief from symptoms of allergies such as hay fever.
What is the active ingredient in Telfast Tablets?
The active ingredient in Telfast Tablets is fexofenadine. This ingredient is effective at providing relief from allergy symptoms.
Do I need a prescription to purchase Telfast Tablets?
Yes, you require a prescription to purchase Telfast Tablets. After completing a short online questionnaire you will be provided with a prescription, allowing you to purchase Telfast Tablets from our website.
What is the difference between Telfast Tablets and Fexofenadine Tablets?
Both Telfast and Fexofenadine are effectively used for relief of allergy symptoms; the main difference is branding. Telfast is the branded version of Fexofenadine, while fexofenadine is the active ingredient in Telfast.
Can I drink alcohol while using Telfast Tablets?
It is advised to not drink alcohol while using Telfast Tablets. This is to reduce the chances of any possible side effects.
Can children use Telfast Tablets?
Telfast Tablets are not suitable for children under the age of 6 years old.
Can elderly use Telfast Tablets?
Telfast Tablets are not suitable for anyone over the age of 65 years old, this is due to the lack of research on the effect of this drug on this particular age group.
Who should not take Telfast Tablets for relief from allergy symptoms?
Telfast Tablets are not suitable for everyone, you should not use Telfast Tablets if you have any of the following:
liver problems
problems with your kidney
Epilepsy
What dose should I take of Telfast Tablets?
The recommended dose of Telfast Tablets varies depending on age. For hay fever the recommended doses are:
Children aged 6-11 years old: 30mg twice a day
Anyone over the age of 12 years old: 120mg once a day
How should I take Telfast Tablets?
You should swallow one whole capsule with a drink of water, it can be taken with or without a meal. You should refrain from crushing or chewing the medication.
Is there any food or drink I should avoid?
When taking Telfast Tablets you should not drink grapefruit juice or apple juice. This is because these juices may interfere with the way the drug works.
When should I take Telfast Tablets?
The need for Telfast Tablets is often seasonal, you should begin taking these tablets when you start to experience symptoms. For example hay fever usually arises throughout summer, so you would begin this treatment in summer.
What if I forget to take my dose of Telfast Tablets?
If you forget to take your dose of Telfast Tablets you should take it as soon as you remember unless it is almost time for your next dose.
You may experience a number of side effects while using Telfast Tablets. These side effects are usually mild, and should disappear over time. Common side effects and how to overcome them include:
Feeling sleepy: try taking an alternative medication
nausea/feeling sick: refrain from eating rich spicy meals and stick to simple well balanced meals
Headaches: drink plenty of water and take a painkiller such as paracetamol and ibuprofen
Feeling dizzy: rest until you feel better
Always read the patient information leaflet before starting your treatment. The patient information can be found here.
Authored by Jana Abelovska
Last reviewed 20 April 2021
How to order
Order your medication in a few clicks. Our process is easy, fast and secure.
Step 1
Quick Health Check
Fill out a questionnaire so our prescriber can assess if the treatment is suitable for you.
Step 2
Select a Treatment
Choose the medication you require from the range offered by our online pharmacy.
Step 3
Next Delivery
Add delivery details and complete payment process.
What do our customers say?
Jane C
January 29, 2022
Fabulous service, quick and assertive, nice to be able to have an alternative service whilst the nhs are struggling!
Kristin W
January 2, 2022
Happy with how quick they reply to me and the
Delivery was quick as well would definitely use them again in the future.
Robert F
December 9, 2021
Glad to have you there. Efficient, professional service. The next day delivery is always delivered on time as promised.
Medical News and Blogs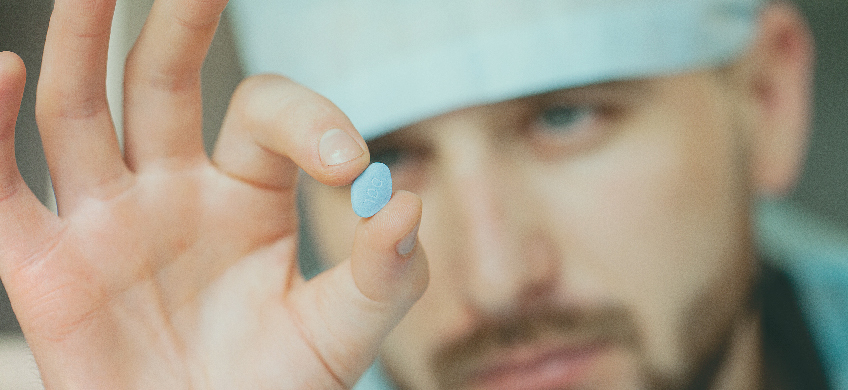 How The Little Blue Pill Revolutionized Relationships
It all began in 1998 when one of the greatest modern medical marvels was approved for sale in the world. Viagra, also affectionately called 'The Little Blue Pill', was originally meant....
Read