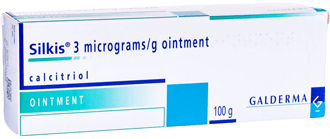 Estimated Delivery
Expected delivery date:
Tuesday, 24 May 2022
If you order within:
12h 36m 20s
*Your cart must meet the minimum requiretments for next day delivery
Fast
Delivery
Quick
Assessment
UK Registered
Pharmacy
Discreet &
Confidential
Overview
FAQ
Side Effects
Information leaflet
Reviews
What is Silkis Ointment
Silkis is used for the topical treatment of mild to moderately severe plaque psoriasis with up to one-third of the body surface area involvement. It contains an active ingredient, calcitriol (a vitamin D derivate) that inhibits and normalizes the unrestrained cell growth in psoriasis affected skin.
How effective is Silkis?
Silkis is an effective way of controlling and treating psoriasis. It contains calcitriol as an active ingredient, and it has been scientifically tested and proven to be highly effective in treating psoriasis, helping people to achieve clear and fresh skin.
Can I buy Silkis online?
Silkis is a prescription only medication therefore you need to fill out a medical questionnaire before placing your order. It can be purchased in 100g tubes and will be sent directly to you by Next Day Delivery
What dose should I chose?
There is no experience with the use of Silkis in children. Therefore, Silkis should not be used in children.

Do not use more than 30g of ointment per day and do not cover more than one third of skin area approximately one full leg and the one full arm.

Wash your hands after each application in order to avoid any contact with other non-lesioned areas.

Apply a thin layer of Silkis over the affected areas to be treated twice a day, morning and evening before retiring, or as advised by a doctor.
How does Silkis work?
Silkis ointment contains the active ingredient calcitriol, which is a type of medicine called a vitamin D analogue. Calcitriol is used to treat plaque psoriasis, which is a condition that results in the scaling and thickening of the skin due to excessive skin cell production. Calcitriol reduces the excessive skin cell production by binding to the vitamin D receptors on skin cells called keratinocytes, in the same way as natural vitamin D would bind. This helps to bring the rate at which skin cells are produced back to normal and therefore helps to improve the symptoms of plaque psoriasis.
How should I take Silkis?
Silkis is an ointment for use on the skin only. Always use this medicine exactly as directed by the doctor. If you are not sure about how to use this medication, feel free to contact CLick Pharmacy with any queries.
Carefully apply the ointment to face, since it has a higher risk of the irritation. Avoid contact with sensitive areas like the eyes.

After using the ointment, wash hands to prevent the unintentional spread to the non-affected zones.

Due to the potential effect on calcium metabolism, the ointment may not be applied under an occlusive wound dressing.

In case of the severe irritation or allergic reaction occur, the treatment should be stopped, and contact the doctor immediately.

Although no significant hypercalcemia (high blood calcium levels) was observed during the clinical studies with this ointment, there is some absorption of calcitriol by the skin. This gives a risk of an increase of blood or urine calcium levels.

Do not swallow this product. If you accidentally do so, seek immediate medical attention.

Regularly follow your treatment, according to strictly to your doctor's advice.

If you feel that the effect of this medicine is too strong or too weak, talk to your pharmacist or doctor.
The risk is minimal if you follow your doctor's advice. However, if any problem occurs after using the Silkis, then do contact your doctor or physician.
How long do I take Silkis for before I notice a difference?
Silkis must be continued until psoriasis is cured completely so that if any of the infected particles are left behind, it can begin the same problem again. The treatment must continue or discontinue according to the doctor's or pharmacist's advice.
What are the side effects of Silkis?
Silkis have side effects like all other medicines, but not all individuals get them. In case of severe irritation or contact allergy, then treatment should be stopped, and the patient should seek medical attention. If contact allergy is confirmed, then the treatment must be discontinued.
Side effects of the Silkis may take place:
Common side effects may be
Skin discomfort.

Pruritus.

Erythema (skin redness).

Skin irritation.
Uncommon side effects may take place:
Psoriasis aggravation.

Dry skin.
Not known side effects may be
Contact dermatitis.

Skin oedema.
Hypotonia (decrease tension in muscles), lack of appetite, constipation, nausea, vomiting and depression may occur after using too much calcitriol. Therefore, contact your physician if these symptoms appear.
When shouldn't I take Silkis?
Do not use Silkis:
If you are treated by the systematic oral route for the calcium deficiency.

If you have a liver or kidney disease.

If you have high blood calcium levels or if you suffer from an abnormal calcium metabolism.

If you are allergic to calcitriol or to any of the other ingredients of this medicine.
What is the difference between Silkis and tacalcitol and calcitriol ointment?
Silkis and the tacalcitol are two products for treating psoriasis, but side effects of tacalcitol are greater than for Silkis.
Calcitriol ointment is the generic name for Silkis. Calcitriol ointment will have the same effect.
What is Silkis Ointment used for?
Silkis Ointment is used to treat skin conditions such as severe cases of psoriasis.
Do I need a prescription to purchase Silkis Ointment?
Yes, you require a prescription to purchase Silkis Ointment. After completing a short online questionnaire you will be provided with a prescription, allowing you to purchase Silkis Ointment from our website.
What is the active ingredient in Silkis Ointment?
The active ingredient in Silkis Ointment is calcitriol. This ingredient is effectively used to help achieve clearer and healthier skin.
Can children use Silkis Ointment?
Silkis Ointment must not be used by children, it is only suitable for adults over the age of 18 years old.
How often should I use Silkis Ointment?
You should use no more than 30g of Silkis Ointment twice a day. Depending on the severity of your skin's condition you may need to use less than 30g of Silkis Ointment.
How should I use Silkis Ointment?
You should apply a thin and even layer of Silkis Ointment to infected areas no more than twice a day. This ointment should be applied once in the morning when you wake up and once in the evening before you go to bed.
Do I need to wash my hands before using Silkis Ointment?
Yes, it is vital that you wash your hands before and after using Silkis Ointment. This is to ensure the infection does not spread to other people or other areas of the skin.
Is Silkis Ointment for external use?
Yes, Silkis Ointment is formulated for external use only. It must be used internally in any way or form. If it is taken internally you should seek medical assistance from a professional as soon as possible.
Can everyone use Silkis Ointment?
Although Silkis Ointment is generally safe to use, it is not suitable for everyone. You should not use Silkis Ointment if you have any of the following:
Problems with your liver
Problems with your kidney
High blood calcium levels
Allergic to any of the active or inactive ingredients.
Can pregnant or breastfeeding women use Silkis Ointment?
You should consult with a doctor before using Silkis Ointment if you are pregnant, trying to get pregnant, or breastfeeding.
Does using Silkis Ointment affect my ability to drive or operate machinery safely?
Using Silkis Ointment does not interfere with or affect anyone's ability to drive or operate machinery safely.
How should I store Silkis Ointment?
You should store Silkis Ointment in a cool dry place, out of reach from children, and at room temperature. This product should not be exposed to extreme temperatures or direct sunlight.
Like all medicines, after using Silkis Ointment you are likely to experience several side effects. It is important to note that not everyone experiences the same side effects and side effects are often mild. Common side effects include the following:
Skin discomfort
Dry skin
Flaking skin
Skin redness
Heat coming from skin
Irritation
Itching
If any of these side effects worsen, you should stop using Silkis Discomfort immediately and seek medical advice from a GP or pharmacist as soon as possible.
Always read the patient information leaflet before starting your treatment. The patient information can be found here.
Authored by Jana Abelovska
Last reviewed 20 April 2021
How to order
Order your medication in a few clicks. Our process is easy, fast and secure.
Step 1
Quick Health Check
Fill out a questionnaire so our prescriber can assess if the treatment is suitable for you.
Step 2
Select a Treatment
Choose the medication you require from the range offered by our online pharmacy.
Step 3
Next Delivery
Add delivery details and complete payment process.
What do our customers say?
Jane Cooper
January 29, 2022
Fabulous service, quick and assertive, nice to be able to have an alternative service whilst the nhs are struggling!
Kristin Watson
January 2, 2022
Happy with how quick they reply to me and the
Delivery was quick as well would definitely use them again in the future.
Robert Fox
December 9, 2021
Glad to have you there. Efficient, professional service. The next day delivery is always delivered on time as promised.
Medical News and Blogs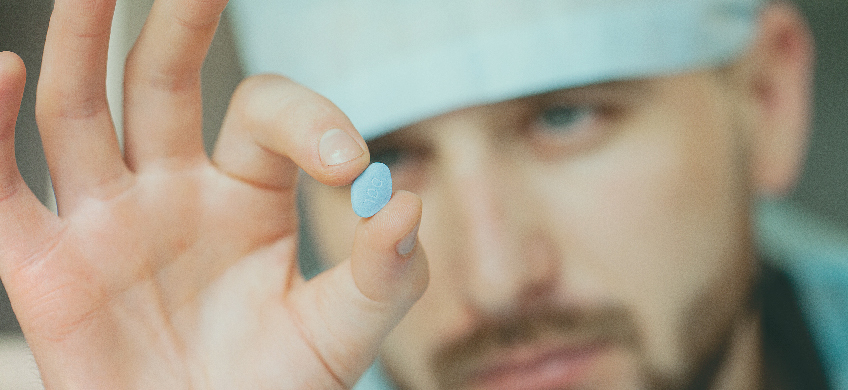 How The Little Blue Pill Revolutionized Relationships
It all began in 1998 when one of the greatest modern medical marvels was approved for sale in the world. Viagra, also affectionately called 'The Little Blue Pill', was originally meant....
Read