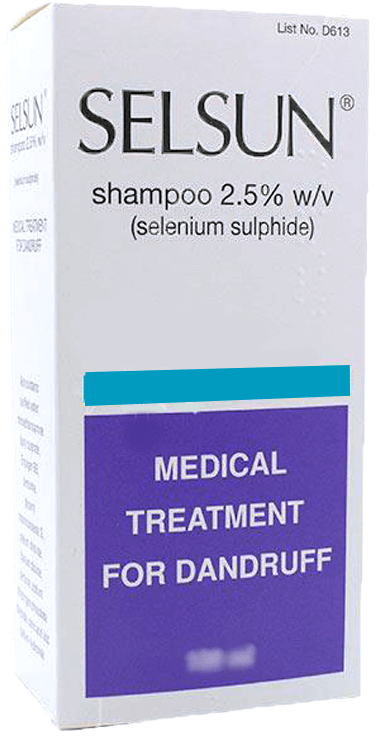 Selsun Shampoo 2.5% (Selenium Sulfide)
Estimated Delivery
Expected delivery date:
Tuesday, 24 May 2022
If you order within:
12h 36m 20s
*Your cart must meet the minimum requiretments for next day delivery
Fast
Delivery
Quick
Assessment
UK Registered
Pharmacy
Discreet &
Confidential
Overview
FAQ
Side Effects
Information leaflet
Reviews
What is Selsun Shampoo 2.5% (Selenium Sulfide)
Selsun Dandruff Shampoo is a medicated shampoo used to treat the scalp from dandruff and seborrhoeic dermatitis. It is effective in reducing grease on the scalp and helps with slowing down the process of newly grown skin cells.
The skin on the scalp is more sensitive than any other part of our body and grows skin cells at a faster rate. It is made up of tissue layers that contain more hair follicles and sebaceous glands. Selsun Dandruff Shampoo 2.5% reduces the growth of the grown tissues and improves nourishment for the hair to grow at a healthier rate.
Using this anti-Dandruff Shampoo on a regular basis helps the tissues on the scalp stay longer and keep the skin cells more connective thus healthy. This product is safe for anyone over the age of 5. This Shampoo is considered a pharmaceutical medicine and is approved by the Medicines & Healthcare Products Regulatory Agency.
How Effective is Selsun Dandruff Shampoo?
Selsun Dandruff Shampoo contains 2.5% Selenium Sulphide. Selenium Sulphide is excellent at killing a type of fungus known as Dermatophyte. Eliminating Dermatophyte helps with the prevention of cutaneous mycoses, also known to cause nail and hair infections. Selenium Sulphide is classified as an anti-infective, which works by slowing yeast growth that causes various infections. This active ingredient is reported by a Journal of Dermatology to be effective in reducing cell turnover and has anti-seborrheic properties. It is considered a powerful anti-dandruff active ingredient and is found in many anti-dandruff treatments.
With Selenium Sulphide as its active ingredient, Selsun Dandruff Shampoo provides an anti-bacterial and healing effect on people prone to dandruff. However, you may experience slight oiliness, which is a common reaction to Selenium Sulphide for some people.
Can I Buy Selsun Dandruff Shampoo online?
Yes, you can buy Selsun Dandruff Shampoo online. If you are unsure about compatibility, sensitive to specific ingredients, or have certain scalp injuries, you can either book an appointment with your GP or pharmacist to discuss. Or else you may prefer to book an appointment with one of Click Pharmacy's own doctors who are available to offer advice.
There is a quick questionnaire to complete so our doctors can assess the suitability of your treatment after which you can check out quickly and easily. Your order will be with you in discreet packaging the next working day if ordered before 3 pm.
What dose should I choose?
Selsun Dandruff Shampoo comes in 50mL, 100mL, and 150mL bottles.
The dose of choice will depend on the duration of use. For daily use, a 150ml bottle is recommended. You may consult a local pharmacy to confirm the ideal dose. For weekly use, a 150mL would last you around a month or more.
How Should I take Selsun Dandruff Shampoo?
Shake the shampoo bottle well before use. Twist the cap off anti-clockwise. Pour some shampoo on your palm and rub it on your head. Massage the scalp and scrub thoroughly. Allow Selsun Dandruff Shampoo to sit for 2-3 minutes and rinse off gently. Some customers have reported good result after leaving it for about 5 minutes. Ensure that your hair is completely saturated in Shampoo and that the foam has been gently massaged into the scalp.
Use Selsun Dandruff Shampoo twice a week for the first two weeks. Then, use the Shampoo only once a week for the next two weeks. After the first four weeks, regular use of Shampoo is only necessary as required to improve certain scalp conditions. If you begin to experience any side effects, stop and consult your healthcare professional.
Do not forget to close the seal of the shampoo bottle tightly after use and keep out of children's reach. For frequent use due to medical treatment, use more Shampoo if a fungal infection of the scalp/hair is present.
Do not under any circumstance, swallow or inject the Shampoo. Avoid contact with the eyes. If the by chace shampoo does get in your eyes, wash immediately with lots of cold water.
Seek advice of a health care professional before using if you are breastfeeding, pregnant, planning to become pregnant, or if you suffer from allergies. It is also recommended to seek advice from a local dermatologist or pharmacist for the advisable dosage based on the medical condition.
How Does Selsun Dandruff Shampoo Work?
Selsun Dandruff Shampoo contains an essential ingredient Selenium Sulphide 2.5%.
Selenium Sulphide is a compound that has medical use to treat pityriasis versicolor, seborrheic dermatitis, and dandruff.
The function of the Sulphide is to destroy a particular type of fungus called Dermatophyte. Dermatophyte is the cause of the conditions mentioned above. It is prone to grow on the scalp to damage skin cells and cause hair infection. The Shampoo helps with the prevention of infections as it contains Selenium Sulphide, an antifungal medication.
Selsun Dandruff Shampoo 2.5% prevents fungus from growing on your scalp. It is essential to let this chemical sit onto the skin of the scalp for maximum effectiveness, which would take more than a minute. Selsun Dandruff Shampoo help preserve the skin cells on the scalp as well as the amount of natural oil produced on hair.
How Long do I Use Selsun Dandruff Shampoo Before I Notice a Difference?
Pharmaceutical instructions recommend using the Shampoo twice a week for the first two weeks, and then once a week for the consecutive two weeks.
For a noticeable difference, the Shampoo must be used at least two times a week as directed by physicians. Other brands of dandruff shampoo require the application for three to four days for up to eight weeks for medical treatment.
If rashes appear during the process of applying dandruff, it is advisable not to use the shampoo and caution to stop applying if dandruff does not improve in 2 – 4 weeks.
What are the side effects of Selsun Dandruff Shampoo?
As with other shampoos, oiliness or dryness of hair and scalp may occur depending on compatibility. Hair loss and skin irritation are side effects that can be avoided by rinsing the hair with water after treatment.
If you experience any of the following side effects after using Selsun Dandruff Shampoo, stop using it immediately:
Skin irritation or burning sensation
Excessive oiliness or dryness of the scalp and/or hair
Increase of hair loss
Hair discolouration
Allergic reaction (rash, hives)
If you are experiencing other adverse effects, stop using the product and visit the pharmacist. After accidental ingestion, contact your physician or visit the ER as soon as possible.
When shouldn't I use Selsun Dandruff Shampoo?
Make sure to check ingredients before purchasing any medical products, including Selsun Dandruff Shampoo. Do not use this product if you are allergic or hypersensitive to the following ingredients:
Selenium Sulphide
Bentonite
Titanium dioxide
Citric acid
Sodium dihydrogen phosphate dehydrate
Glyceryl monoricinoleate
Sodium Chloride
Sodium Hydroxide.
What makes Selsun Dandruff Shampoo different from Head and Shoulder Anti-Dandruff Shampoo?
Head and Shoulders is known to use the active ingredient Pyrithione Zinc, while Selsun's principal active ingredient is Selenium sulphide. Both serve as antifungal ingredients, though Pyrithione Zinc is more popular for treating milder dandruff. Selsun Dandruff Shampoo has been in use longer, and according to dermatologists, it can fight off conditions of a higher degree of medical severity.
What is Selsun Shampoo used for?
Selsun Shampoo is used for the treatment of dandruff and other dry skin conditions found in the scalp.
Do I need a prescription to purchase Selsun Shampoo?
No, you do not require a prescription to purchase Selsun Shampoo. However, if you are unsure whether this dandruff treatment is right for you, you are welcome to book a free consultation with one of our medicine experts.
How often should I use Selsun Shampoo?
For best results it is recommended to use Selsun Shampoo twice a week.
Can pregnant or breastfeeding women use Selsun Shampoo?
Selsun Shampoo is not suitable for use by pregnant or breastfeeding women. If you are pregnant or breastfeeding you should consult with a professional who will be able to advise you to use an alternative product.
Can children use Selsun Shampoo?
Selsun Shampoo is suitable for use by adults and children over the age of 5 years old. It should not be used by children under the age of 5 years old.
What is the active ingredient in Selsun Shampoo?
The active ingredient in Selsun Shampoo is selenium sulphide. This ingredient is effective at overcoming dry scalp conditions such as dandruff.
How should I use Selsun Shampoo?
Prior to applying Selsun Shampoo you should ensure your hair is wet. You should then massage a generous amount of Selsun Shampoo into your scalp and allow it to sit for 3 minutes. After 3 minutes you should wash off the shampoo with lukewarm water. This process should be repeated twice a week.
How should I store Selsun Shampoo?
You should store Selsun Shampoo in a cool dry place, out of reach from children, and at room temperature. This dandruff shampoo should not be exposed to extreme temperatures or direct sunlight.
Is Selsun Shampoo suitable for long term use?
Yes, Selsun Shampoo is suitable for regular use in order to effectively treat dandruff and other dry scalp conditions.
Who should not use Selsun Shampoo?
You should not use Selsun Shampoo if you are allergic to any of the active or inactive ingredients. You also should not use Selsun Shampoo if you are pregnant or breastfeeding.
What if I forget to use Selsun Shampoo?
If you forget to use Selsun Shampoo you should skip the application you just missed and continue as normal. As long as you maintain a regular routine, one missed application will not have a big impact.
Can I use Selsun Shampoo while having hair treatment?
You should not use Selsun Shampoo 2 days prior to, and 2 days after getting any form of hair treatment. This is to ensure the products do not interfere with one another and cause unwanted side effects.
Like all medicines, after using Selsun Shampoo you are likely to experience a number of different side effects. It is important to note that not everyone experiences the same side effects, and symptoms are expected to improve over multiple applications. Possible side effects include the following:
Oily scalp
Greasy hair
Increased hair loss
Irritation
Burning like sensation
If any of these side effects worsen, you should stop using Selsun Shampoo immediately and seek medical advice as soon as possible.
Always read the instructions on the packaging and the patient information leaflet before using a new product. The patient information leaflet for Selsun Dandruff Shampoo 2.5% can be found here. If you are unsure about its use or have any questions, contact your doctor before further use.
Authored by Jana Abelovska
Last reviewed 20 April 2021
How to order
Order your medication in a few clicks. Our process is easy, fast and secure.
Step 1
Quick Health Check
Fill out a questionnaire so our prescriber can assess if the treatment is suitable for you.
Step 2
Select a Treatment
Choose the medication you require from the range offered by our online pharmacy.
Step 3
Next Delivery
Add delivery details and complete payment process.
What do our customers say?
Jane Cooper
January 29, 2022
Fabulous service, quick and assertive, nice to be able to have an alternative service whilst the nhs are struggling!
Kristin Watson
January 2, 2022
Happy with how quick they reply to me and the
Delivery was quick as well would definitely use them again in the future.
Robert Fox
December 9, 2021
Glad to have you there. Efficient, professional service. The next day delivery is always delivered on time as promised.
Medical News and Blogs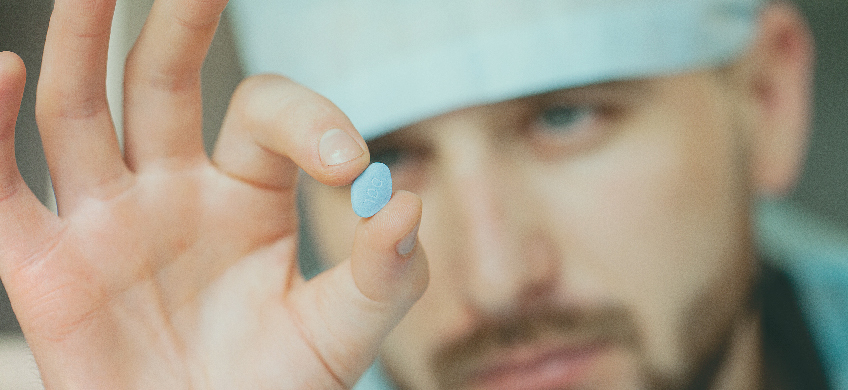 How The Little Blue Pill Revolutionized Relationships
It all began in 1998 when one of the greatest modern medical marvels was approved for sale in the world. Viagra, also affectionately called 'The Little Blue Pill', was originally meant....
Read