Estimated Delivery
Expected delivery date:
Tuesday, 24 May 2022
If you order within:
12h 36m 20s
*Your cart must meet the minimum requiretments for next day delivery
Fast
Delivery
Quick
Assessment
UK Registered
Pharmacy
Discreet &
Confidential
Overview
FAQ
Side Effects
Information leaflet
Reviews
What is Scopoderm
Scopoderm 1.5mg patches have the active substance hyoscine that belongs to a group of medicines called the anti-emetics or the anti-sickness medicines.
How Effective is Scopoderm?
Scopoderm is an effective way of treating and preventing symptoms of motion sickness like vomiting, nausea and vertigo. Hyoscine is the active ingredient present in Scopoderm which has been scientifically tested and proven to be highly effective in treating and preventing symptoms of motion sickness thus helping people to journey without motion sickness if taken as directed.
Can I buy Scopoderm online?
Scopoderm does not require a prescription, although you are very welcome to book an appointment with a health expert at Click Pharmacy to discuss how best to use this product. It can be purchased in packs of 2 patches and will be sent directly to you by Next Day Delivery.
What dose should I choose?
Do not apply more than one Scopoderm patch at a time. One patch should be applied about 5-6 hours before leaving on your journey or one night before on the clean, clear, dry and hairless area of the intact skin behind the ear. Scopoderm patches of 1.5mg are not recommended to be used by children under the age of 10.
How should I take Scopoderm?
It is recommended that the Scopoderm TTS patch is applied behind the ear because the skin in this area is thin and allows for excellent transdermal absorption of hyoscine hydrobromide. If the patch is applied to another area of skin, the transdermal absorption of hyoscine hydrobromide can be variable depending on the thickness of the skin and therapeutic levels cannot be guaranteed. The licensed dose in the application of a single patch may be applied for 72 hours. Thus, it is unlicensed to cut a Scopoderm patch. Despite this, several references indicate that the patches may be cut in half. Scopoderm patches may be cut either with scissors along full-thickness ensuring membrane is not peeled away or a cover portion to prevent contact with skin. When handling the patch, every effort should be made to avoid touching the active surface. After handling the patch, avoid any contact with eyes and wash hands thoroughly.
The transdermal patch contains a reservoir with 1.5mg hyoscine. The average amount of hyoscine absorbed from each patch in 72 hours is 1mg. Only one patch must be used at a time.
Multiple Scopoderm can be used in the following way:
In the treatment of sialorrhea or drooling an initial dose of one patch every 72 hours (1mg/ 72 hours), if necessary two patches may be used concurrently.

For reduction of respiratory secretions in adults, one regimen uses 2 to 4 mg (two to four patches) every 72 hours with additional parenteral doses of glycopyrronium bromide.
If more than 1 patch is to be used at one time, the patient should be monitored carefully for adverse effects including dizziness, drowsiness and dry mouth.
How does Scopoderm work?
When travelling, it is possible to begin to feel travel sick when there is a conflict between what the inner ear can sense and what the eyes can see. When this conflict begins, it can make you feel unsteady, nauseous and disoriented; hyoscine works by reducing this conflict in the brain. Hyoscine blocks receptors called the muscarinic in the vomiting centre from receiving messages from the vestibular system. This prevents the internal confusion, which causes a feeling of nausea.
How long can Scopoderm be taken before noticing a difference?
Scopoderm patches should be removed when travelling has ceased. There is no need for Scopoderm patches after you have finished travelling.
When shouldn't I take Scopoderm?
The Scopoderm should not be taken if
You are a child under 10 years old.

You have glaucoma or history of this.

If you are allergic to any of the ingredient of this medicine.
What are the side effects of Scopoderm?
This medicine may cause dizziness, confusion, drowsiness and blurred vision. These side effects may affect your ability to perform other activities like driving that require concentration. Operation of machinery or driving is not recommended. Consumption alcohol is strongly advised against, as it worsens these side effects.
If you experience any side effects including the drowsiness, that they may last for 24 hours or longer after removing the patch. This Scopoderm patch should be removed before medical scans like MRI scans because it contains aluminum.
Avoid touching the patch once placed onto the skin. Pressing on the patch may possibly cause the medicine to ooze out at the edge.
What is the difference between Scopoderm and Dimenhydrinate and Hyoscine?
Scopoderm and the Dimenhydrinate are the two effective ways for preventing the symptoms of motion sickness, but Scopoderm is available in patches while Dimenhydrinate is available in tablets.
Hyoscine is another alternative that is available as tablets, chewable tablets, and patches. It works by preventing confusing messages being sent to the brain.
Always read the patient information leaflet before starting your treatment. The patient information can be found here.
Authored by Jana Abelovska
Last reviewed 20 April 2021
How to order
Order your medication in a few clicks. Our process is easy, fast and secure.
Step 1
Quick Health Check
Fill out a questionnaire so our prescriber can assess if the treatment is suitable for you.
Step 2
Select a Treatment
Choose the medication you require from the range offered by our online pharmacy.
Step 3
Next Delivery
Add delivery details and complete payment process.
What do our customers say?
Jane Cooper
January 29, 2022
Fabulous service, quick and assertive, nice to be able to have an alternative service whilst the nhs are struggling!
Kristin Watson
January 2, 2022
Happy with how quick they reply to me and the
Delivery was quick as well would definitely use them again in the future.
Robert Fox
December 9, 2021
Glad to have you there. Efficient, professional service. The next day delivery is always delivered on time as promised.
Medical News and Blogs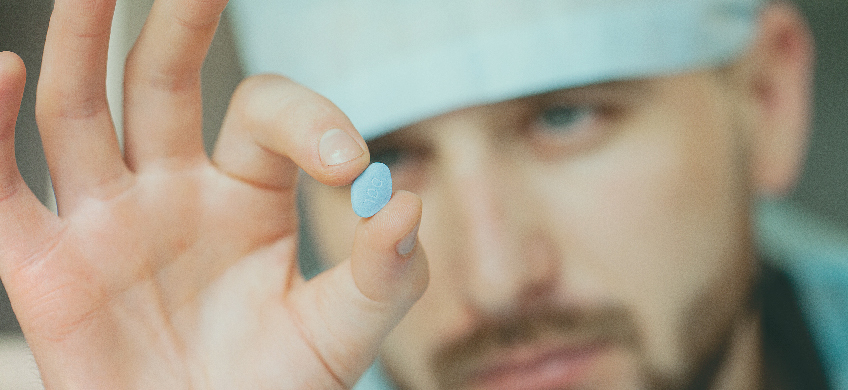 How The Little Blue Pill Revolutionized Relationships
It all began in 1998 when one of the greatest modern medical marvels was approved for sale in the world. Viagra, also affectionately called 'The Little Blue Pill', was originally meant....
Read