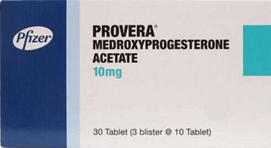 Estimated Delivery
Expected delivery date:
Tuesday, 10 May 2022
If you order within:
12h 36m 20s
*Your cart must meet the minimum requiretments for next day delivery
Fast
Delivery
Quick
Assessment
UK Registered
Pharmacy
Discreet &
Confidential
Overview
FAQ
Side Effects
Information leaflet
Reviews
What is Provera
Whether you are planning a holiday, your wedding night, or a fun festival weekend and you need to remain period free, Provera can be a safe and easy way to help you achieve a delay to your menstruation. It can also be useful if you are going to be having an operation or require longterm bed rest, though it is wise to discuss this type of extended use of Provera with your doctor as ideally it is best to be used for short term delays of up to 10 days.
What are the side effects of Provera?
As with any medication, side effects are possible but your doctor will have weighed up the possible risks for you so you should experience them as mildly as possible. Unexpected issues can still occur if your body finds it is unable to tolerate the medicine. If this occurs then speak to your doctor right away.
The most common side effects in women using Provera have been found to be nausea, headaches and bleeding and/or spotting.
Still common but less occurring side effects include fluid retention, breast tenderness, weight gain, dizziness, insomnia, depression, fatigue and acne.
These should all be mild enough not to stop you using the medication and should ease over the course of the prescription. If they do not and you are struggling with the side effects, consult your doctor.
How should I take Provera?
Provera must be taken as directed by your doctor and if you are uncertain, you can ask one of our pharmacists at Click Pharmacy or book a free appointment with a doctor online.
For period delay you should begin taking the tablet 3 times a day, 3 days prior to the time you wish to delay it from. You then continue taking them in this same fashion until the end of your prescription after which your period will begin in between 1 and 3 days.
Do not take a smaller or larger dosage than that which is prescribed for you as you will have been given the necessary amount for your personal requirement. If you miss a dose and it is nearly time for your next tablet then wait for that and do not double up. If you remember after only a few hours of the missed pill you can take it.
How does Provera work?
Provera's active ingredient, medroxyprogesterone, is a synthetic form of the female hormone progesterone. A drop in progesterone each month triggers the uterus to shed the lining which women experience as their monthly period. By taking Provera and keeping those progesterone levels high with the use of the synthetic progestin, the period is delayed.
How long can I take Provera for?
For period delay, Provera is ideally used only for a short period of time, usually around 10 days. If you will require it for a longer time, for example, if you are travelling, being placed on bedrest or booked to have an operation, then you can discuss this with your doctor and they will advise you on the best option for your health and safety.
Can I take Provera whilst pregnant or breastfeeding?
You must not take Provera whilst pregnant and if you think you might be, your doctor will ask you to take a test before prescribing this medication.
Although medroxyprogesterone passes into the milk, there is no evidence which shows it harms the baby. If you are breastfeeding though, be sure to speak to your doctor about your concerns prior to beginning a prescription.
How effective is Provera?
When used as prescribed by your doctor, Provera is known to effectively delay periods. Once you stop taking the tablet your period will return 1 to 3 days later.
In many cases, Provera is as effective at stopping periods as the contraceptive pill. If a woman does not use a contractive pill, then Provera is a good alternative for effective period delay. It is also recommended as a safe option for anyone who cannot take contraceptive pill due to being at risk of deep in thrombosis or developing blood clots.
What is contained in Provera?
The active ingredient in Provera is medroxyprogesterone acetate. Tablets contain 2.5mg, 5mg or 10mg of this ingredient.
The inactive ingredients found in each Provera tablet include:
2.5 mg: Lactose monohydrate, sucrose, maize starch, liquid paraffin, talc, calcium stearate, sunset yellow (E110), purified water.
5 mg: Lactose monohydrate, starch, sucrose, liquid paraffin, calcium stearate, talc, the colour FD & C Blue No. 2 Aluminium Lake, purified water.
10 mg: Lactose monohydrate, sucrose, maize starch, liquid paraffin, talc, calcium stearate, purified water.
Can I buy Provera Online?
Provera is a prescription only medication and it will be necessary for you to fill in our online health questionnaire prior to you being approved to purchase it. Once you have completed the assessment, our in-house doctors will confirm that this is the correct treatment for your situation and that it will be safe for you to take. This is based on a number of factors including any other medications you take which may affect how Provera works and whether you suffer from other health issues which may be affected negatively by Provera.
Once you have your prescription you will not be required to fill in the questionnaire for this product again in the future. You will be sent your medication quickly and discreetly to your chosen address once purchased.
Why choose Provera Pill?
For any number of reasons, there are occasions when a woman wants to take control of her menstrual cycle and delay it for a few days or a couple of weeks. Provera offers an effective way to do this and is considered a safe option. Alongside being used by women who have no health issues and who simply want to delay the start of their period for a short while, it is the recommended treatment for women who smoke, are overweight, aged 35 or over and any woman at risk of venous thromboembolism.
Other Warnings to consider
Although very rare, there is a slightly increased risk of blood clots with Provera usage. If you begin to get a stabbing pain or swelling in one of your legs, pain when you breathe or cough, begin to feel breathless or cough up blood, experience chest pain, numbness, a severe headache or issues with your vision, stop the treatment and seek medical help right away.
It is vital you also let your doctor know about any other medicines you are taking including vitamins and herbal supplements to ensure there will be no interference between them and Provera.
Some of the drugs which stop Provera from working as effectively include barbiturates, rifampicin, St John's wort, aprepitant amongst others, so create a list of all your current medications for your doctor prior to your appointment.
Provera is not a contraceptive pill and will not stop you getting pregnant; as such you must also use some form of contraception along side Provera.
What are Provera Tablets used for?
Provera Tablets are used to adjust the menstrual cycle. Provera Tablets are effectively able to delay your period for as long as you take these tablets.
Do I need a prescription to purchase Provera Tablets?
Yes. you require a prescription to purchase Provera Tablets. After completing a short online questionnaire you will be provided with a prescription, allowing you to purchase Provera Tablets from our website.
What is the active ingredient in Provera Tablets?
The active ingredient in Provera Tablets is medroxyprogesterone acetate. This ingredient is effective at delaying periods.
How do Provera Tablets prevent periods?
The active ingredient, medroxyprogesterone acetate, keeps progesterone levels high in the body. Periods are caused by progesterone levels dropping, keeping them high prevents periods.
How long can I use Provera Tablets for?
Provera Tablets are ideal for short term use, it is advised to use them for up to 10 days. Provera Tablets are not suitable for long term use.
Can pregnant women take Provera Tablets?
You should not take Provera Tablets if you are pregnant or trying to get pregnant.
Can breastfeeding mothers use Provera Tablets?
The active ingredient in Provera Tablets can pass into breast milk, although this causes no harm, it is advised to consult with a GP or pharmacist before using these tablets.
How many times a day should I take Provera Tablets to delay my period?
You should take one capsule of Provera Tablets three times a day. They can be taken with or without meals, however to prevent nausea it is advised to take them after consuming a well balanced meal.
When should I begin taking Provera Tablets if I want to delay my period?
To effectively delay your period you should begin taking Provera Tablets three days prior to the day you would like to not get your period. They must be taken daily until you no longer wish to delay your period.
Will I get my period straight away once I stop taking Provera Tablets?
Once you stop taking Provera Tablets it will take around 1-3 days until you get your period.
Will I get a heavier period once I stop using Provera Tablets?
There is a possibility that you experience heavier and more painful periods once you stop using Provera Tablets. However periods like this are usually temporary and return to normal once your cycle restarts.
Can I take other medication while using Provera Tablets?
There are a few medicines which you must not combine with Provera Tablets, they include:
Antifungal medicines
Anti-seizure medicines
Medicines that impact your liver enzymes
Like all medicines, after using Provera Tablets you are likely to experience a number of side effects. It is important to note that not everyone will experience the same symptoms, these will differ depending on the severity of your condition. Common side effects include:
Nausea/feeling sick
Tender breasts
Bloating
Headaches
Feeling tired
Mood swings
Unusual vaginal discharge
Drowsiness
Blurred vision
Weight loss or gain
Heavy future periods
Painful future periods
If any of these side effects worsen you should stop using Provera Tablets and seek advice from a medicine expert, such as a GP or pharmacist, as soon as possible.
Always read the patient information leaflet before starting your treatment. The patient information can be found here.
Authored by Jana Abelovska
Last reviewed 20 April 2021
How to order
Order your medication in a few clicks. Our process is easy, fast and secure.
Step 1
Quick Health Check
Fill out a questionnaire so our prescriber can assess if the treatment is suitable for you.
Step 2
Select a Treatment
Choose the medication you require from the range offered by our online pharmacy.
Step 3
Next Delivery
Add delivery details and complete payment process.
What do our customers say?
Jane C
January 29, 2022
Fabulous service, quick and assertive, nice to be able to have an alternative service whilst the nhs are struggling!
Kristin W
January 2, 2022
Happy with how quick they reply to me and the
Delivery was quick as well would definitely use them again in the future.
Robert F
December 9, 2021
Glad to have you there. Efficient, professional service. The next day delivery is always delivered on time as promised.
Medical News and Blogs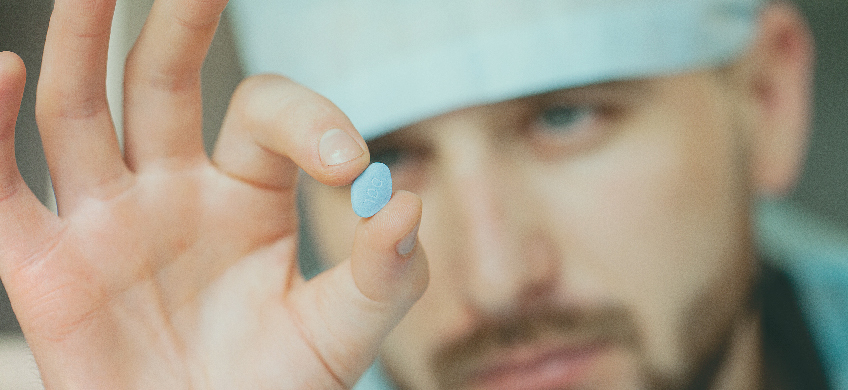 How The Little Blue Pill Revolutionized Relationships
It all began in 1998 when one of the greatest modern medical marvels was approved for sale in the world. Viagra, also affectionately called 'The Little Blue Pill', was originally meant....
Read