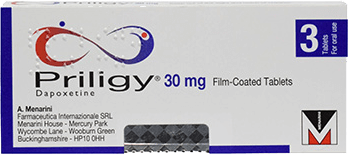 Estimated Delivery
Expected delivery date:
Tuesday, 10 May 2022
If you order within:
12h 36m 20s
*Your cart must meet the minimum requiretments for next day delivery
Fast
Delivery
Quick
Assessment
UK Registered
Pharmacy
Discreet &
Confidential
Overview
FAQ
Side Effects
Information leaflet
Reviews
What is Priligy
Priligy is a medication used in the treatment of premature ejaculation (PE). A selective serotonin re-uptake inhibitor (SSRI), derived from the family of drugs usually used for antidepressants; the active ingredient in Priligy, known as dapoxetine, was specifically developed for the treatment of PE in men aged 18 to 64 after scientists discovered the body quickly absorbed and eliminated it.
Why choose Priligy?
The effects of premature ejaculation go well beyond the physical. Experts agreed that there are three different factors which define premature ejaculation:
a lack of control over ejaculation
timing
distress for both partners.
Some men affected by it suffer from often crippling psychological issues such as low self-esteem, difficulty with interpersonal relationships and they may see themselves as an inadequate partner. All of that, in addition to the sexual dissatisfaction the couple experience, can have a significant impact on the quality of your life.
The use of a drug such as Priligy can help to bring back that control during sex enabling a man to feel more confident whilst allowing the couple to develop their intimacy.
Can I buy Priligy Online?
Priligy is a prescription medication which can be purchased online from Click Pharmacy. After a short assessment by one of our doctors, you will be given either a 30mg or 60mg prescription as recommended by your doctor and it will be sent to you for next day delivery.
It is important to be aware that there have been a number of counterfeit drugs on the market aimed at men with PE. These will not only fail to give you the results you desire, but they can also pose a serious risk to your health with undisclosed, unknown ingredients. As such buying from a registered, reputable pharmacy such as Click Pharmacy is recommended to ensure you are receiving the correct medication.
You can check if you have the genuine medication by entering the 12 digit serial number printed on the packing at www.genuinepriligy.com
What dose should I choose?
You will usually be recommended to start on a 30mg dose. If the effects are beneficial and you suffer little to no side effects then you may be able to increase your dosage to 60mg.
You may consult your doctor to confirm which dose is ideal for you or you may speak to our specialist doctors at Click Pharmacy for further advice. You should also discuss your experience of the drug after around 4 weeks or after the first 6 doses to see whether the treatment suits you and how best to continue.
What is contained in Priligy?
The active ingredient in either a 30mg or 60mg Priligy tablet is dapoxetine.
Alongside this are the ingredients which make up the coating and the core of the tablet:
Core: lactose monohydrate, magnesium stearate, microcrystalline cellulose, colloidal anhydrous silica and croscarmellose sodium.
Coating: lactose monohydrate, titanium dioxide (E171), triacetin, hypromellose, Iron Oxide Black (E172), Iron Oxide Yellow (E172).
How effective is Priligy?
In five separate trials which were reviewed and compared in 2012, Priligy was been shown to be highly effective in reducing the negative effects of living with premature ejaculation. In the 6000 study participants, many men found that the length of time between erection and ejaculation was more than doubled, whilst many also noted that they felt more in control of their ejaculation.
The PE sufferers who, prior to taking Priligy, lasted 0.9 minutes, found that the 30mg tablet increased that time to 2.8 minutes and the 60mg lengthened this is 3.3 minutes with patients rating their results as fair, good or very good.
Here are some of the other key benefits:
Research suggests that more than 65% of men have reported that their condition is better than before
It can increase your satisfaction and that of your partner.
You can achieve sexual fulfilment
How should I take Priligy?
It is recommended to take a tablet 1 to 3 hours before engaging in intercourse. The tablet can be taken with or without a meal and the maximum dose is one tablet daily.
How does Priligy work?
The dapoxetine contained in Priligy promotes ejaculatory delay by inhibiting the serotonin transporter. It inhibits the ejaculatory expulsion reflex at a supraspinal level and is presumed to be linked to the inhibition of neuronal re-uptake of serotonin and the subsequent potentiation of the neurotransmitter's action.
What are the side effects of Priligy?
Whilst there is a possibility of side effects inherent in the use of any medication dapoxetine, the active ingredient in Priligy, has been well tolerated in each of its studies. Any issues reported were either mild or moderate and usually related to taking too higher a dose. As such, lowering from the 60mg to 30mg would ease the ill-effects.
The most common side effects are:
Insomnia, fatigue, nasopharyngitis (a cold) and dry mouth have also been known side effects.
Speak to your doctor or consult our specialists at Click Pharmacy should you require any further advice.
If I suffer from both premature ejaculation and erectile dysfunction, should I take Priligy?
Unfortunately, use of Priligy together with erectile dysfuntion medication (such as Viagra, Sildenafil, Cialis…) should be done only under the supervision of a doctor. Due to the higher risk of side effects, at Click Pharmacy we are unable to prescribe these together.
What are Priligy Tablets used to treat?
Priligy Tablets are used for the treatment of premature ejaculation.
What is the difference between Priligy Tablets and Dapoxetine Tablets?
While both Priligy Tablets and Dapoxetine Tablets are used for the treatment of premature ejaculation, the main difference is branding. Priligy Tablets are the branded version of Dapoxetine Tablets, where dapoxetine is the active ingredient in both of these.
Can females use Priligy Tablets?
Priligy Tablets are not suitable for women to use, they should only be used by men.
Do I need a prescription to purchase Priligy Tablets?
Yes, you require a prescription to purchase Priligy Tablets. After completing a short online questionnaire you will be provided with a prescription, allowing you to purchase Priligy Tablets from our website.
Are Priligy Tablets effective at treating premature ejaculation?
Evidence suggests that Priligy Tablets are more than 65% effective at treating premature ejaculation in men.
What is the active ingredient in Priligy Tablets?
The active ingredient in Priligy Tablets is dapoxetine. This ingredient is effective at treating symptoms of premature ejaculation.
How often should I take Priligy Tablets?
It is advised to take Priligy Tablets once a day, they can be taken with or without a meal.
Can I take Priligy Tablets on an empty stomach?
It is safe to take Priligy Tablets on an empty stomach. However to prevent nauseous side effects it is advised to take your dose after a well balanced meal.
When should I take Priligy Tablets?
It is advised to take one tablet three hours prior to participating in sexual intercourse.
Who should not take Priligy Tablets for the treatment of premature ejaculation?
Priligy Tablets are not suitable for people who suffer from certain conditions. It is advised to consult with a GP or pharmacist, prior to using Priligy Tablets, if you suffer from any of the following conditions:
Epilepsy
Heart condition
Bleeding disorder
Clotting disorder
Mental health problem such as bipolar disorder or depression
Glaucoma, an increased pressure in the eye
Problems with your liver
Problems with your kidney
A tendency to faint
Can I drink alcohol while taking Priligy Tablets?
You should not drink alcohol while using Priligy Tablets. The two combined may interfere with each other increasing the chances of harmful side effects such as fainting.
Can I drive or operate machinery while Taking Priligy Tablets?
After taking Priligy Tablets it is expected to experience dizziness. In this case you must not drive or operate machinery until you are fit again.
How should I take Priligy Tablets?
You should swallow one whole capsule with a drink of water. You must not take Priligy Tablets with grapefruit juice as this can interfere with the drug, increasing the risk of any harmful side effects.
Like all medicines, after taking Priligy Tablets you are likely to experience a number of side effects. These side effects should disappear as the drug begins to wear off. Common side effects and how to overcome them include:
Dizziness or feeling light headed: you should lie down and rest until this side effect wears off. You should not drive or operate machinery until you are fit again.
Nausea like feeling: you should drink plenty of water to remain hydrated and rest until the feeling disappears.
Headache: you should drink plenty of fluids to prevent dehydration and take a suitable painkiller such as paracetamol and ibuprofen.
Always read the patient information leaflet before starting your treatment. The patient information can be found here.
Authored by Jana Abelovska
Last reviewed 20 April 2021
How to order
Order your medication in a few clicks. Our process is easy, fast and secure.
Step 1
Quick Health Check
Fill out a questionnaire so our prescriber can assess if the treatment is suitable for you.
Step 2
Select a Treatment
Choose the medication you require from the range offered by our online pharmacy.
Step 3
Next Delivery
Add delivery details and complete payment process.
What do our customers say?
Jane C
January 29, 2022
Fabulous service, quick and assertive, nice to be able to have an alternative service whilst the nhs are struggling!
Kristin W
January 2, 2022
Happy with how quick they reply to me and the
Delivery was quick as well would definitely use them again in the future.
Robert F
December 9, 2021
Glad to have you there. Efficient, professional service. The next day delivery is always delivered on time as promised.
Medical News and Blogs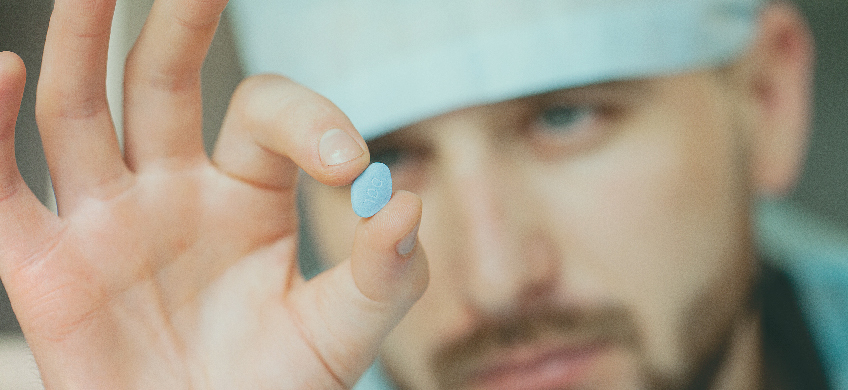 How The Little Blue Pill Revolutionized Relationships
It all began in 1998 when one of the greatest modern medical marvels was approved for sale in the world. Viagra, also affectionately called 'The Little Blue Pill', was originally meant....
Read