Pepto Bismol (Bismuth Subsalicylate)
Estimated Delivery
Expected delivery date:
Tuesday, 10 May 2022
If you order within:
12h 36m 20s
*Your cart must meet the minimum requiretments for next day delivery
Fast
Delivery
Quick
Assessment
UK Registered
Pharmacy
Discreet &
Confidential
Overview
FAQ
Side Effects
Information leaflet
Reviews
What is Pepto Bismol (Bismuth Subsalicylate)
Pepto-Bismol is used to treat an upset stomach, heartburn, indigestion and nausea. Signs include belching and the feeling of fullness. The active ingredient is known as bismuth subsalicylate. It belongs to the drug class known as salicylates.
What is the difference between Pepto Bismol, Alka-Seltzer and Maalox?
The main difference between the Pepto-Bismol, Alka-Seltzer and Maalox is the active ingredient they contain. Pepto-Bismol contains bismuth salicylate, Alka-Seltzer contains aspirin and Maalox contains Aluminium hydroxide and Magnesium hydroxide. They are all used as treatment options for upset stomach.
How long do I take Pepto Bismol for before I notice a difference?
Pepto-Bismol should not be taken for longer than 48 hours without consulting a health professional.
What are the side effects of Pepto Bismol?
Like all other medicines, Pepto-Bismol does have side effects that are as the following:
Common side effects of Pepto-Bismol are:
Black, hairy tongue

Black stool
Pepto-Bismol contains the substance bismuth. When this substance gets mixed with sulfur, then another substance is formed which is called bismuth sulfide. This substance is black in color. When it forms in the digestive tract, it gets mixed with the food as one digests it. So, this makes the stool black.
Ringing in the ears is an uncommon and serious side effect of the Pepto-Bismol. If you feel this then stop taking the Pepto-Bismol and consult your physician.
These side effects are quite harmless. All of the above effects are temporary and can be reduced within a few days after the intake of Pepto-Bismol has stopped.
How effective is Pepto Bismol?
Pepto-Bismol has been scientifically tested and proven to be highly effective in treating diarrhoea and other stomach conditions. It is a licensed drug rather than a supplement and it is helping people to manage upset stomach conditions if used as directed.
Can I buy Pepto Bismol online?
Pepto Bismol does not require a prescription although you are very welcome to book an appointment with a health expert at Click Pharmacy to discuss how best to use this product. It can be purchased in 120ml or 240ml bottles and can be sent directly to you by Next Day Delivery.
What dose should I chose?
Adults can take Pepto-Bismol for up to two days. If your condition lasts longer than two days or if you have ringing in your ears, then discontinue the Pepto-Bismol and consult your physician or doctor.
How should I take Pepto Bismol?
If you are going to take the Pepto-Bismol, then the following instructions must be followed:
The original liquid Pepto Bismol includes 30 milliliter (ml) cup, that is one dose, thus delivering 525 milligrams of bismuth subsalicylate. The usual recommendations for taking Pepto-Bismol are:
One 30 ml dose every 30 minutes as required for the stomach upset, indigestion, nausea and heartburn.

One 30 ml dose every 30 minutes or two doses every hour for diarrhea or the traveler's diarrhea.
It is also warned not to take more than 8 doses in time of 24 hours.
How does Pepto Bismol work?
Pepto-Bismol is thought to treat diarrhea by:
Increasing the amount of fluid your intestines absorb

Reducing inflammation and over-activity of your intestines

Preventing your body's release of a chemical called prostaglandin that causes inflammation

Blocking toxins produced by bacteria such as E. coli

Killing other bacteria that cause diarrhea
The active ingredient, bismuth subsalicylate, also has antacid properties that can help to decrease heartburn, nausea and upset stomach.
When shouldn't I take Pepto Bismol?
Pepto-Bismol is usually safe for most people, but one should avoid it if he or she have some health conditions. Pepto-Bismol can make those health conditions worse. It must not be taken if you:
have a bleeding or an active ulcer

are allergic to the salicylates that includes NSAIDs or aspirin like naproxen, celecoxib and ibuprofen

are a teenager that is recovering from flu or chickenpox

have a kidney problem
Bismuth salicylates can also cause many problems for people with other medical conditions. Before taking this product, consult your physician or doctor.
What is Pepto Bismol used for?
Pepto Bismol is a medicine used for the treatment of heartburn, acid reflux, indigestion and diarrhoea.
What is the active ingredient in Pepto Bismol?
The active ingredient in Pepto Bismol is bismuth subsalicylate. This ingredient is effective at protecting your stomach from stomach acid.
Can children use Pepto Bismol?
Pepto Bismol is suitable for adults and children over the age of 16 years old.
Can everyone use Pepto Bismol?
Although Pepto Bismol is generally a safe medicine. It is not suitable for everyone to use. You should not use Pepto Bismol if you have any of the following:
An allergy to aspirin
Problems with blood clotting
Diabetes
Gout
Phenylketonuria
Allergy to amaranth
How long can I use Pepto Bismol for?
You must not use Pepto Bismol for any longer than 2 consecutive days.
What dosage of Pepto Bismol should I take?
The recommended dose of Pepto Bismol is 30ml. You can take this dose every 30 to 60 minutes however you must not exceed any more than 8 doses in 24 hours.
Does using Pepto Bismol cause dehydration?
There is a chance that using Pepto Bismol may cause dehydration, it is vital that you drink plenty of water to prevent dehydration.
Can pregnant or breastfeeding women use Pepto Bismol?
You should not use Pepto Bismol if you are pregnant, trying to get pregnant or breastfeeding.
Can I take other medication while using Pepto Bismol?
Pepto Bismol contains salicylates which have the possibility to interfere with other medicines. You should not combine Pepto Bismol with any of the following medicines:
Blood thinners
Medicines for the treatment of diabetes
Medicine for the treatment of gout
Doxycycline or minocycline
Can I take other painkillers with Pepto Bismol?
It is safe to take paracetamol at the same time as Pepto Bismol. However you must not combine Pepto Bismol with any other painkiller such as aspirin or ibuprofen.
Can I combine other medicines for the treatment of indigestion with Pepto Bismol?
It is important that you consult with a GP or pharmacist before combining different drugs with Pepto Bismol. This is because a combination of drugs has the possibility to interfere with one another and cause harmful side effects.
Does using Pepto Bismol affect my fertility?
There is no evidence to suggest that using Pepto Bismol affects one's fertility.
Does using Pepto Bismol affect my contraception?
Although using Pepto Bismol does not directly impact contraception, however if you experience diarrhoea the contraceptive pill may be ineffective.
Can I drink alcohol while using Pepto Bismol?
Although alcohol does not interfere with Pepto Bismol itself, it may result in your stomach producing more acid.
After using Pepto Bismol you may experience a number of different side effects. More common side effects include your poop and tongue turning black. This happens due to the active ingredient coming into contact with small amounts of saliva in the digestive system. This side effect should disappear once you stop using this medication. If after 3 days of consecutive use your side effects do not improve, you should seek medical advice from a GP or pharmacist as soon as possible.
Always read the patient information leaflet before starting your treatment. The patient information leaflet can be found here
Authored by Jana Abelovska
Last reviewed 20 April 2021
How to order
Order your medication in a few clicks. Our process is easy, fast and secure.
Step 1
Quick Health Check
Fill out a questionnaire so our prescriber can assess if the treatment is suitable for you.
Step 2
Select a Treatment
Choose the medication you require from the range offered by our online pharmacy.
Step 3
Next Delivery
Add delivery details and complete payment process.
What do our customers say?
Jane C
January 29, 2022
Fabulous service, quick and assertive, nice to be able to have an alternative service whilst the nhs are struggling!
Kristin W
January 2, 2022
Happy with how quick they reply to me and the
Delivery was quick as well would definitely use them again in the future.
Robert F
December 9, 2021
Glad to have you there. Efficient, professional service. The next day delivery is always delivered on time as promised.
Medical News and Blogs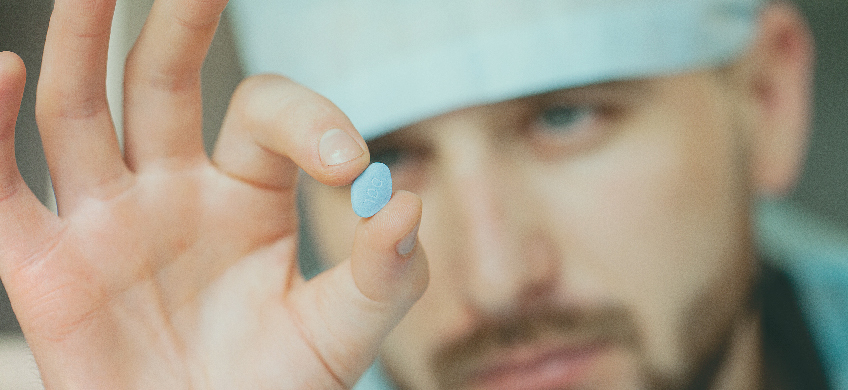 How The Little Blue Pill Revolutionized Relationships
It all began in 1998 when one of the greatest modern medical marvels was approved for sale in the world. Viagra, also affectionately called 'The Little Blue Pill', was originally meant....
Read