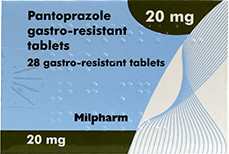 Estimated Delivery
Expected delivery date:
Tuesday, 10 May 2022
If you order within:
12h 36m 20s
*Your cart must meet the minimum requiretments for next day delivery
Fast
Delivery
Quick
Assessment
UK Registered
Pharmacy
Discreet &
Confidential
Overview
FAQ
Side Effects
Information leaflet
Reviews
What is Pantoprazole
Pantoprazole is used to treat common problems with the stomach and oesophagus, similar to acid reflux and heartburn. It works by reducing the amount of acid released by the abdomen. It also helps alleviate symptoms comparable to swallowing crisis, and chronic coughs.
How Effective is Pantoprazole?
Pantoprazole is an effective way of treating stomach and oesophagal problems like acid reflux. The active ingredient present in pantoprazole is pantoprazole itself which has been scientifically tested and proven to be highly effective in treating stomach and esophageal problems helping people to have a healthy stomach and esophagus if taken as directed.
Can I buy pantoprazole online?
Pantoprazole requires a prescription, so you are very welcome to book an appointment with a health expert at Click Pharmacy to discuss how best to use this product. It can be purchased in packs of 28 tablets and can be sent directly to you by Next Day Delivery.
What are the side effects of pantoprazole?
Diarrhoea or headaches may occur. If either of these symptoms worsens or persist, consult a pharmacist or doctor promptly.
Remember that a doctor has prescribed this medication because they have judged that the health benefits outweigh the risk of side effects. Many people who use this medication do not have serious side effects. Tell your doctor immediately if any severe side effects occur, including symptoms of fast/irregular/slow heartbeat, low magnesium blood level, persistent muscle spasms, signs of lupus-like rash on the cheeks and nose, new and worsening joint pain or seizures.
This medicine may rarely cause severe intestinal conditions i.e., Clostridium difficile-associated diarrhoea, due to the type of bacteria. Do not use anti-diarrhoea medications if any of the following symptoms present as these products make them worse. If stomach pain, fever, blood/mucus in the stool occurs, then tell a doctor or pharmacist immediately.
What dose should I choose?
Most patients will take 40 mg of pantoprazole once per day. The recommended duration of the therapy usually is for 8 weeks. The correct dose to be taken for treatment will be recommended by a pharmacist or doctor.
How should I take Pantoprazole?
Pantoprazole tablets can be taken both with food and without food. Swallow the whole tablets. Do not crush, split or chew granules. Doing so may reduce the effectiveness of the drug. If taking granules, take the dose 30 minutes before a meal.
If required, antacids may be taken along with pantoprazole. If the patient is also taking sucralfate, take pantoprazole at least 30 minutes before sucralfate. Use this medication regularly to get the most benefit from it. To help with remembering to take medicine, consume it at the same time each day. Continue to take this medication for the prescribed length of treatment, even if feeling better.
How does pantoprazole work?
Pantoprazole works by decreasing the amount of acid the stomach produces. This medication relieves symptoms like difficulty in swallowing, persistent cough and heartburn. It helps in healing acid damage to the oesophagus and stomach, helps in preventing ulcers, and moreover, it may help in preventing the cancer of the oesophagus. Pantoprazole belongs to the class of drugs known as proton pump inhibitors (PPIs).
How long do I take Pantoprazole before I notice a difference?
If patients have not healed after 8 weeks or erosion to the oesophagus occurs with the oral formulation, treatment for another 8 weeks may be considered. Controlled studies using the oral formulation for maintenance did not extend beyond 12 months.
When shouldn't I take Pantoprazole?
You should not take this medicine if you have a kidney problem, liver problem, systematic lupus erythematosus, an autoimmune disease, osteoporosis, condition of weak bones, a broken bone, low amount of magnesium in the blood, or inadequate vitamin B12.
What is the difference between Pantoprazole and Omeprazole and Gaviscon?
Pantoprazole and omeprazole are used to treat similar conditions. However, pantoprazole is much stronger than omeprazole.
Gaviscon works by producing a floating "raft" of gel on top of the stomach acids. This layer helps prevent acid from escaping the stomach.
What are Pantoprazole Tablets used for?
Pantoprazole Tablets are used to reduce the amount of stomach in your acid. This is done to treat problems such as heartburn, acid reflux and gastro-oesophageal reflux disease.
Do I need a prescription to purchase Pantoprazole Tablets?
Yes, you require a prescription to purchase Pantoprazole Tablets. After completing a short online questionnaire on our website, you will be provided with a prescription. This will allow you to purchase Pantoprazole Tablets.
How often should I take Pantoprazole Tablets?
Pantoprazole Tablets are usually prescribed to be taken once a day in the morning.
Can pregnant or breastfeeding women use Pantoprazole Tablets?
It is advised that pregnant and breastfeeding women do not use Pantoprazole Tablets. This is because this drug has the possibility of causing harm to babies.
Who should not use Pantoprazole Tablets?
Although Pantoprazole Tablets are generally safe to use, they are not suitable for everyone. You should not use Pantoprazole Tablets if you have any of the following:
Pregnant
Breastfeeding
Liver problems
Due for an endoscopy
Allergic to any of the ingredients
When should I take Pantoprazole Tablets?
It is advised to take one tablet, first thing in the morning, an hour before having a meal.
How long does it take to notice an improvement in symptoms?
You should begin to notice an improvement in symptoms a few days after using Pantoprazole Tablets. If after 2 weeks you notice no improvement, you should stop using Pantoprazole Tablets and seek medical advice from a GP or pharmacist as soon as possible.
What if I forget to take my dose of Pantoprazole Tablets?
If you forget to take your dose of Pantoprazole Tablets, you should take them as soon as you remember unless it is almost time for your next dose. If it is almost time for your next dose you should skip the dose you just missed and continue as normal.
Can I combine Pantoprazole Tablets with other medication?
Although it is generally safe to combine drugs, there are a few which you should not combine with Pantoprazole Tablets. They include the following:
Digoxin
Antifungal medicines
Blood thinning medicines
Rifampicin
HIV medicines
Methotrexate
Can I drink alcohol while using Pantoprazole Tablets?
Although alcohol does not interfere with the drug Pantoprazole itself, drinking alcohol does increase the amount of acid in your stomach. For an effective treatment it is advised to not drink alcohol.
Do I need to avoid any food or drink?
It is generally safe to eat or drink anything. However, it is advised to avoid eating spicy rich meals as these can make symptoms worse.
Can I take painkillers while using Pantoprazole Tablets?
Yes, it is safe to take painkillers such as paracetamol and ibuprofen while using Pantoprazole Tablets.
Side Effects
Like all medicines, after using Pantoprazole Tablets you are likely to experience a number of side effects. Common side effects include the following:
Headaches: avoid drinking alcohol and drink lots of water to remain hydrated
Diarrhoea: drink lots of fluids to prevent dehydration
Nausea and feeling sick: avoid eating rich spicy meals, stick to simple smaller meals
Constipation: increase your intake of fruits and vegetables and fibre high foods
Wind: avoid foods such as lentils, beans and onions
Always read the patient information leaflet before starting your treatment. The patient information can be found here.
Authored by Jana Abelovska
Last reviewed 20 April 2021
How to order
Order your medication in a few clicks. Our process is easy, fast and secure.
Step 1
Quick Health Check
Fill out a questionnaire so our prescriber can assess if the treatment is suitable for you.
Step 2
Select a Treatment
Choose the medication you require from the range offered by our online pharmacy.
Step 3
Next Delivery
Add delivery details and complete payment process.
What do our customers say?
Jane C
January 29, 2022
Fabulous service, quick and assertive, nice to be able to have an alternative service whilst the nhs are struggling!
Kristin W
January 2, 2022
Happy with how quick they reply to me and the
Delivery was quick as well would definitely use them again in the future.
Robert F
December 9, 2021
Glad to have you there. Efficient, professional service. The next day delivery is always delivered on time as promised.
Medical News and Blogs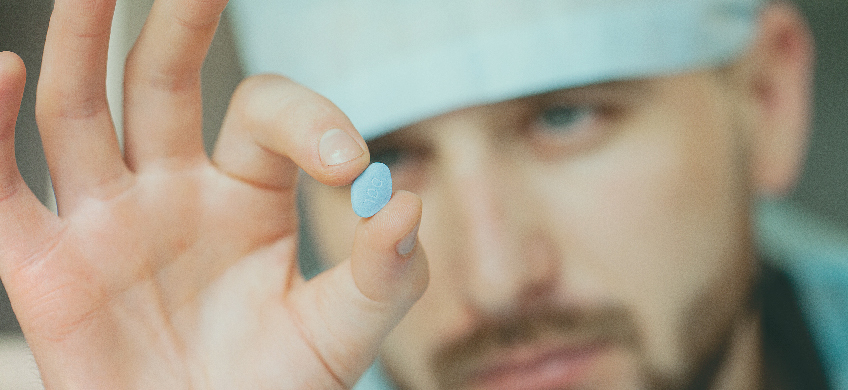 How The Little Blue Pill Revolutionized Relationships
It all began in 1998 when one of the greatest modern medical marvels was approved for sale in the world. Viagra, also affectionately called 'The Little Blue Pill', was originally meant....
Read