Ovex Family Pack (Tablets)
Estimated Delivery
Expected delivery date:
Tuesday, 10 May 2022
If you order within:
12h 36m 20s
*Your cart must meet the minimum requiretments for next day delivery
Fast
Delivery
Quick
Assessment
UK Registered
Pharmacy
Discreet &
Confidential
Overview
FAQ
Side Effects
Information leaflet
Reviews
What is Ovex Family Pack (Tablets)
Ovex tablets are the best choice in terms of treating threadworms effectively. This medicine contains mebendazole as its effective ingredient, which helps manage your infection ideally and prevents you from infecting other people.
How effective are Ovex tablets?
Ovex tablets contain mebendazole, which belongs to a group of medicine called anthelmintics, which is known to help kill parasitic worms, including pinworms. Taking Ovex tablets allows you to deprive the worms of the sugar they need to survive in your body. Doing that helps kill the threadworms fast hence enabling you to treat your condition effectively, and reduce the chances of spreading it.
Also, due to the popularity of the Ovex tablets, scientists decided to do thorough research to see whether the product deserved all the praise. They conducted several studies involving about 70 people with threadworms, and gave a percentage of them, different doses of Ovex tablets depending on the severity of their infections. These scientists also administered different medications to a number of these patients to see which was more effective. After about a week, these experts noted that the patients who used Ovex tablets had treated their pinworms faster and more effectively compared to those who used other medications. Therefore, Ovex tablets are a very effective medication for threadworms that everyone should consider using.
Can I buy Ovex tablets online?
You can buy Ovex tablets online from different sources as they have reached most corners of the planet nowadays. Quality is one major factor that you should consider when purchasing this product online. That way, you get tablets that will provide the promised results and avoid wasting your money.
Ovex tablets do not need any unique prescription. However, you can always consult an expert from Click Pharmacy before purchasing this product to get the best advice on how to use it to get the best results. Also, we sell high-quality Ovex tablets, and deliver it the next day to your doorstep, allowing you to enjoy the benefits almost immediately.
What dose should I choose?
This medication is usually in a packet of about four tablets and is mostly suitable for adults and children above four years old. You only need one tablet to treat your infection. So, it would be best if you observed some improvements within a few days of using Ovex tablets. If you don't see any changes, then talk to your doctor to determine the exact reason. The doctor might offer you a different alternative or advise you to take another dose of this medication after about two weeks.
How should I take Ovex tablets?
You can either swallow or chew the Ovex tablets. If these tablets are for a child, then you should crush them to make it easier to swallow. Also, these tablets can be taken with or without food hence making them helpful during any situation. Also, since threadworms are contagious, the whole family should take Ovex tablets at the same time once one member is infected. Reading the instructions that come with these tablets is also crucial as it helps you understand how to use this medication better to help avoid side effects if any.
How do Ovex tablets work?
Ovex tablets use the active ingredient mebendazole to kill threadworms. How? This ingredient works by preventing pinworms from absorbing the vital sugars they need to survive in your body. Doing that weakens the threadworms as they lack energy, which eventually kills them in several days. The dead threadworms are then excreted from the body in your stools.
Using Ovex tablets helps to kill the adult threadworms, but not the eggs. Therefore, you must maintain good hygiene after the treatment to help get rid of the eggs, and also perform other vital practices to ensure you don't catch another infection.
How long do I take Ovex tablets for before I notice a difference?
Taking one dose of this medication allows you to notice some significant changes after about 2, or 3 days. However, some people may take even a week before feeling the full benefits of Ovex tablets. If you take these tablets and you don't feel any improvements, then consult a doctor to get help and proper advice on what to do next to treat your condition.
What are the side effects of Ovex tablets?
Every medication can cause some side effects. However, not every user experiences side effects as they affect people differently. The following are some of the most common side effects that you might experience:
Diarrhoea

Stomach pain and discomfort

Flatulence
Although rare, you might also experience these side effects:
Dizziness

Severe rash

Hair loss

Severe allergic reactions

Abnormal results during liver function tests
If you get any of the above rare side effects, report immediately to your doctor to get help, or another alternative.
When shouldn't I take Ovex tablets?
Avoid using these tablets if:
You are allergic to mebendazole, or any other ingredient in this medication

You are pregnant, or breastfeeding since the safety of using Ovex tablets during these stages has not been established yet

Kids under the age of 2 should also not use this medication to avoid any possible side effects
What is the difference between Ovex tablets, and other similar products such as Reeses Pinworm Medicine, and Combantrin Chocolate Squares?
These three medications are similar in that they're all used to treat threadworms. However, Ovex tablets stand out more since they have proved their efficacy, and safety compared to other similar treatments. So, Ovex tablets are more effective than these two products, as they contain a renowned ingredient-mebendazole, which helps them to treat threadworms effectively and faster. Also, Ovex tablets do not cause severe side effects when used correctly compared to other alternatives hence making them safer to use, and more preferable.
What are Ovex Family Pack Tablets Used for?
Ovex Family Pack Tablets is a medication used to treat threadworm.
Do I need a prescription to purchase an Ovex Family Pack Tablets?
No, you do not require a prescription to purchase Ovex Family Pack Tablets. However, if you are unsure whether this product is right for you, you are welcome to book a free consultation with one of our medicine experts.
What is the active ingredient in the Ovex Family Pack Tablets?
The active ingredient in Ovex Family Pack Tablets is mebendazole. This ingredient is commonly used for the treatment of internal worms.
How does Ovex Family Pack Tablets treat threadworms?
In order for the infection to spread it must absorb the body's sugars. The active ingredient in this product, mebendazole, prevents internal worms from being able to absorb sugars. This prevents the infection from reproducing and growing, killing any traces of the infection.
How long does it take to notice an improvement in my symptoms?
You should begin to notice an improvement in symptoms within 72 hours. If after 72 hours you notice no improvement in symptoms you should seek medical advice from a GP or pharmacist as soon as possible.
Can pregnant or breastfeeding women use Ovex Family Pack Tablets?
If you are pregnant, trying to get pregnant or breastfeeding, you should consult with a GP, pharmacist or midwife before using Ovex Family Pack Tablets. This is because the Ovex Family Pack Tablets are absorbed into the bloodstream, meaning it could interfere with other things.
Can children use Ovex Family Pack Tablets?
Ovex Family Pack Tablets are suitable for use by adults and children over the age of 4 years old. Ovex Family Pack Tablets must not be used by children under the age of 4 years old, unless advised to do so by a professional.
How should I store an Ovex Family Pack Tablets?
You should store the Ovex Family Pack Tablets in a cool dry place, out of reach and sight from children and at room temperature. This product should not be exposed to extreme temperatures or direct sunlight.
How often should I take Ovex Family Pack Tablets?
For the treatment of threadworms you only need to take one tablet, you should not exceed this dose. If after 72 hours you notice no improvement in symptoms you should seek medical advice from a professional as soon as possible.
How should I take Ovex Family Pack Tablets?
This medication can be crushed, swallowed or chewed. For younger children who may struggle to swallow tablets you should crush up the tablet into smaller pieces for ease while swallowing.
Can I take Ovex Family Pack Tablets on an empty stomach?
Ovex Family Pack Tablets can be taken with or without food.
Should a whole family take Ovex Family Pack Tablets?
Once someone is infected with threadworms, it is important the entire family takes this medication at the same time to allow for a quick and safe recovery.
After using Ovex Family Pack Tablets, it is expected to experience a range of different side effects. Common side effects include the following:
Wind
Diarrhoea
Rash
Discomfort in the stomach
Feeling dizzy
Inflammation
Decrease in number of white blood cells
If any of these side effects worsen, you should stop using Ovex Family Pack Tablets and seek medical advice from a professional as soon as possible.
Always read the patient information leaflet before starting your treatment. The patient information can be found here.
Authored by Jana Abelovska
Last reviewed 20 April 2021
How to order
Order your medication in a few clicks. Our process is easy, fast and secure.
Step 1
Quick Health Check
Fill out a questionnaire so our prescriber can assess if the treatment is suitable for you.
Step 2
Select a Treatment
Choose the medication you require from the range offered by our online pharmacy.
Step 3
Next Delivery
Add delivery details and complete payment process.
What do our customers say?
Jane C
January 29, 2022
Fabulous service, quick and assertive, nice to be able to have an alternative service whilst the nhs are struggling!
Kristin W
January 2, 2022
Happy with how quick they reply to me and the
Delivery was quick as well would definitely use them again in the future.
Robert F
December 9, 2021
Glad to have you there. Efficient, professional service. The next day delivery is always delivered on time as promised.
Medical News and Blogs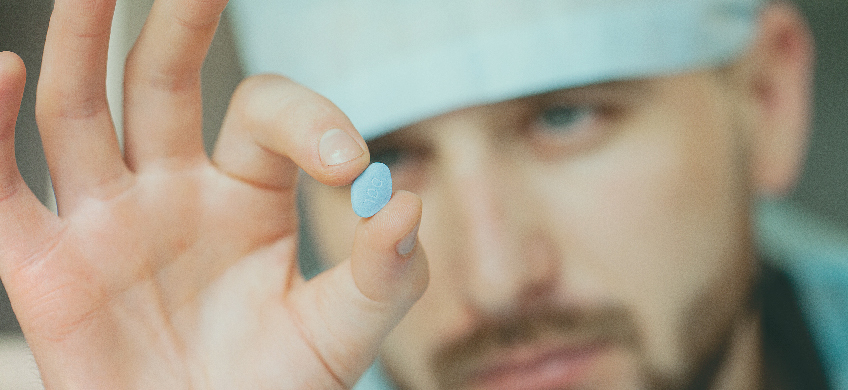 How The Little Blue Pill Revolutionized Relationships
It all began in 1998 when one of the greatest modern medical marvels was approved for sale in the world. Viagra, also affectionately called 'The Little Blue Pill', was originally meant....
Read