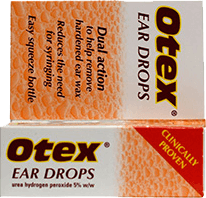 Estimated Delivery
Expected delivery date:
Tuesday, 10 May 2022
If you order within:
12h 36m 20s
*Your cart must meet the minimum requiretments for next day delivery
Fast
Delivery
Quick
Assessment
UK Registered
Pharmacy
Discreet &
Confidential
Overview
FAQ
Side Effects
Information leaflet
Reviews
What is Otex Ear Drops
Hardened wax can be difficult to remove. Otex Express, therefore, helps to soften this hard wax and ease its removal from the ears.
When shouldn't I take Otex ear drops?
As much as Otex ear drops are safe to use, there are times when you should not take them to avoid complications. So, do not use these ear drops if:
You are allergic to hydrogen peroxide, or any other ingredient in these drops

You have ear problems

You are currently using other ear drops

You use a hearing aid

Your eardrum is damaged

You get dizzy a lot

You have syringed your ear in the past 2 or 3 days
How do Otex ear drops work?
Otex ear drops have the active ingredient-hydrogen peroxide, which enables them to soften the earwax causing some build up in your ears. Hydrogen peroxide does that by breaking the earwax into tiny chunks that can quickly get out without the need for syringing. So, applying these drops in your ears daily allows you to finally get rid of the entire build-up, hence leaving you free from symptoms like hearing difficulties and itching.
What dose should I choose?
Otex ear drops come in a 10 ml bottle, which you should use about 5 drops in every ear, or as instructed by a doctor. These drops are most suitable for adults and the elderly and should be used for about 3 to 4 days, until you feel some improvement. You can use Otex ear drops once, or even twice a day. If your ear blockage does not reduce after using Otex ear drops for some days, then consult with a doctor to help you determine what the issue is, and find the best solution.
How should I take Otex ear drops?
To ensure you receive maximum benefits from using Otex ear drops, follow these directions:
Slowly tilt your head to the side, while keeping one ear facing up

Being very careful not to touch the ear with your applicator nozzle, gently squeeze about 5 drops of the Otex ear drops into your ear

Keep the head tilted for some minutes to allow these drops to kick in

Use a tissue or cotton wool to wipe the excess drops away

Repeat the same steps for the other ear

Wash your hands after use
What's the difference between Otex ear drops and other alternatives like Debrox Drops Earwax Removal Aid, and Mack's Wax Away Earwax Removal System?
You can use all these products to remove earwax from your blocked ears. However, Otex ear drops are better as they're easier to use, unblock ears more effectively, and do not cause severe side effects compared to the two other products.
How effective are the Otex ear drops?
This active ingredient hydrogen peroxide helps to soften the excess ear wax that's causing the blockage in your ear canal. Doing that allows the earwax to get out easily, without the need for syringing.
Can I buy Otex ear drops online?
Yes, you can buy Otex ear drops without a need for a prescription.
How long do I take Otex ear drops before I notice a difference?
Medications affect people differently. So, there is no exact amount of time that these drops can take to provide some notable benefits. You might feel some difference and even see the earwax starting to come out almost immediately after use. However, you might use these drops and not notice any huge difference within the first day of applying. Most people start noticing more significant benefits after using Otex ear drops for at least two days or more. So, you must avoid using more doses than advised by your doctor, if you feel like the medication is taking too long to provide the desired results. You just need to be patient, and the benefits will start kicking in within no time.
What are the side effects of Otex ear drops?
Like most medicines, using the Otex ear drops can also give you some side effects. However, you might or might not experience some or any of these side effects. Some of the most reported side effects of using these drops include:
A mild bubbling sensation in your ear. This feeling occurs due to the release of oxygen as the Otex ear drops break the excessive earwax into smaller pieces, and is usually temporary

The worsening of some symptoms like causing more discomfort, pain, irritation, dizziness, tinnitus, (ringing sound in your ears) and loss of hearing

Although this rarely happens, you might also experience a very unpleasant taste in your mouth. If you get this side effect, you should stop using Otex ear drops, and talk to your doctor to get immediate help
What are Otex Ear Drops used for?
Otex Ear Drops are used to soften and allow for easy removal of ear wax.
Do I need a prescription to purchase Otex Ear Drops?
No, you do not require a prescription to purchase Otex Ear Drops.
How often should I use Otex Ear Drops?
You should use up to 5 drops of Otex Ear Drops on each ear three to four times a day.
How should I use Otex Ear Drops?
You should tilt your head to the side and allow up to five drops of Otex Ear Drops to drop into your ear. You should keep your head tilted for some time to allow the drops to reach their designated destination. You should repeat this process on the alternative ear and repeat three to four times a day.
What is the active ingredient in Otex Ear Drops?
The active ingredient in Otex Ear Drops is hydrogen peroxide. This ingredient is effective at softening ear wax.
How do Otex Ear Drops soften ear wax?
The active ingredient, hydrogen peroxide, breaks ear wax into tiny chunks to allow for easy removal.
How long after using Otex Ear Drops does it take to notice an improvement in symptoms?
The amount of time to notice an improvement in symptoms varies depending on the severity of your ear wax build up. You should begin to notice ear wax falling out within a few days of using Otex Ear Drops.
Can I use Otex Ear Drops if I have a damaged ear drum?
You must not use Otex Ear Drops if you have a damaged ear drum.
Who should not use Otex Ear Drops?
Although Otex Ear Drops are generally safe to use, they are not suitable for everyone. You should not use Otex Ear Drops if you use any of the following:
A damaged ear drum
Use a hearing aid
Have ear problems
Have syrgined your ear in the past week
Using other ear drums
Get dizzy a lot
How should I store Otex Ear Drops?
You store Otex Ear Drops in a cool dry place, out of reach from children, and at room temperature. This product should not be exposed to extreme temperatures or direct sunlight.
Can I combine other ear drops with Otex Ear Drops?
You should not use Otex Ear Drops if you are already using any other form of ear drops. This is because the two eye drops combined may interfere with one another and cause harmful side effects.
After using Otex Ear Drops you are likely to experience a number of side effects. It is important to note that not everyone experiences the same side effects and side effects are often mild. Common side effects include the following:
Bubbling-like sensation in your ear. This is caused by Otex Ear Drops breaking wax into smaller pieces and releasing oxygen.
Discomfort in the ear
Irritation
Itching
Unpleasant taste in mouth
If any of these side effects worsen, you should stop using Otex Ear Drops immediately and seek medical advice as soon as possible.
Always read the patient information leaflet before starting your treatment. The patient information can be found here.
Authored by Jana Abelovska
Last reviewed 20 April 2021
How to order
Order your medication in a few clicks. Our process is easy, fast and secure.
Step 1
Quick Health Check
Fill out a questionnaire so our prescriber can assess if the treatment is suitable for you.
Step 2
Select a Treatment
Choose the medication you require from the range offered by our online pharmacy.
Step 3
Next Delivery
Add delivery details and complete payment process.
What do our customers say?
Jane C
January 29, 2022
Fabulous service, quick and assertive, nice to be able to have an alternative service whilst the nhs are struggling!
Kristin W
January 2, 2022
Happy with how quick they reply to me and the
Delivery was quick as well would definitely use them again in the future.
Robert F
December 9, 2021
Glad to have you there. Efficient, professional service. The next day delivery is always delivered on time as promised.
Medical News and Blogs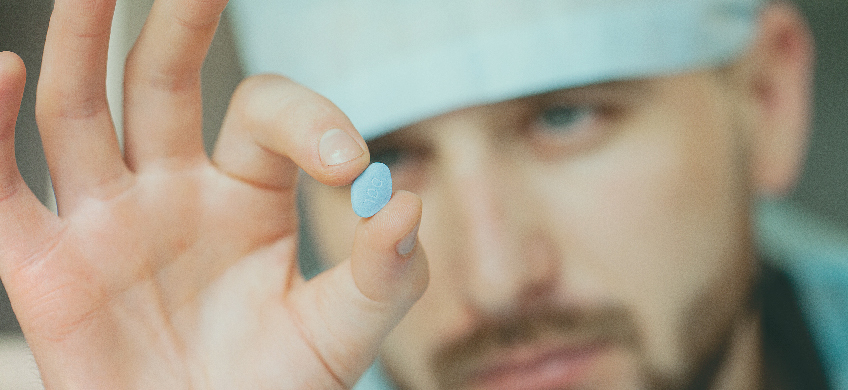 How The Little Blue Pill Revolutionized Relationships
It all began in 1998 when one of the greatest modern medical marvels was approved for sale in the world. Viagra, also affectionately called 'The Little Blue Pill', was originally meant....
Read