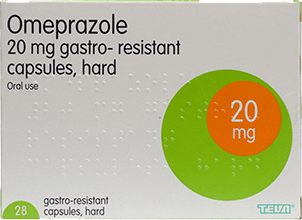 Omeprazole Tablets (Capsules)
Estimated Delivery
Expected delivery date:
Tuesday, 24 May 2022
If you order within:
12h 36m 20s
*Your cart must meet the minimum requiretments for next day delivery
Fast
Delivery
Quick
Assessment
UK Registered
Pharmacy
Discreet &
Confidential
Overview
FAQ
Side Effects
Information leaflet
Reviews
What is Omeprazole Tablets (Capsules)
Omeprazole belongs to the family of drugs acting at the proton pump receptor. Thus they are used to suppress prolonged gastric acid secretion. The medication istypically administered to sufferers of stomach ulcers, heartburn, gastroesophageal reflux disease (GERD).
How should I take Omeprazole?
Omeprazole is taken orally in the form of tablets or capsules, as well as suspension which is administered using a syringe. Usually, the medication is taken once a day, first thing in the morning. It does not upset the stomach so that you can take it before or after a meal.
Note that pharmacists and doctors do not recommend taking the medication for immediate relief of acid reflux symptoms, particularly heartburn. Instead, it should be taken for 4 to 8 weeks but some patients may end up taking for 14 weeks, depending on the severity of the symptoms. Also, it may take several days for this medication to alleviate stomach pains which is why it should be taken with antacids, as advised by the doctor. If you are taking sucralfate, take omeprazole half an hour before sucralfate.
When taking omeprazole capsules/tablets, you should not chew or crush them in food, since doing so prevents the activation of the medicinal properties of the drug. If unable to swallow the capsules, some brands of omeprazole capsules can be opened and the contents mixed in a small amount of water that should be taken right away. You should take to a pharmacist to know which type of capsules can be opened.
If you forget to take the medication, take it as soon as you remember. However, if it is within 12 hours to your next dose, you can skip the missed dose. It would be best if you didn't take a double dose to make up for a forgotten dose.
How long should I take Omeprazole before I notice any difference?
It takes 2 to 4 days of consumption to realize the full effect, as such it should not be taken to provide immediate relief. Instead, it is meant to treat acid reflux symptoms occurring a couple of times in a week. Usually, omeprazole is prescribed for 8 weeks when treating short-term gut conditions, but the period can be extended to 14 weeks if the patient's condition does not improve.
If you are self-medicating, you should not take omeprazole for more than 2 weeks, unless advised otherwise by a pharmacist or doctor.
What are the side effects of Omeprazole?
Similar to other PPIs, most patients well tolerate omeprazole. However, it causes some mild side effects on a few patients, which fade away with time.
Some of these common side effects include:
Diarrhoea

Nausea

Headaches

Rash

Abdominal pain
In addition to these effects, younger patients, aged 1 to 17 years, complain about fever and breathing issues such as pharyngitis and sinus infections.
Using omeprazole for an extended period, more than 1 year, can make it difficult for your body to absorb vitamin B-12. The deficiency manifests itself through feeling nauseated, numbness, poor muscle coordination and changes in menstruation cycle. Serious side effects that should warrant a visit to the doctor include bone fractures, severe diarrhoea, pale skin and swellings in the mouth.
If you experience any of these severe side effects, be sure to consult us at Click Pharmacy for urgent assistance.
When shouldn't I take Omeprazole?
You should not take this treatment if you are on any antifungal, bloodthinning, and anti-epilepsy medications. Heart-related drugs such as digoxin and some antibiotics, do not go well with omeprazole. These medications make it more likely to develop severe omeprazole side effects. Thus you should inform your doctor if you are on any medication before beginning omeprazole treatment.
Nonetheless, the treatment is safe for pregnant and nursing mothers. But first, you are advised to try alternative treatment methods such as eating smaller meals and less spicy foods, to ease acid reflux symptoms, before you can start treatment.
What is the difference between Omeprazole and Nexium/Aciphex?
Omeprazole and Nexium as well Aciphex are similar since they are all proton pump inhibitors. They can be prescribed to treat ulcers and GERD.
The only difference is in their active ingredient component. Both omeprazole and Nexium contain the same active ingredient, but omeprazole contains two isomers of the ingredient while Nexium contains only one isomer. Aciphex, on the other hand, contains rabeprazole as the active ingredient, which is also under the proton pump inhibitor class of medications.
How effective is Omeprazole?
Omeprazole is an approved brand and generic drug that is used to treat a variety of digestive conditions caused by excessive production of gastric acid. The active ingredient, which also goes by the same name as that of the drug, omeprazole is highly effective in preventing the secretion of excess gastric acid. This allows the intestinal and stomach ulcers to heal as well as relieving heartburn discomfort when used as advised.
Can I buy Omeprazole online?
Although omeprazole is often available as a prescribed drug, you can still buy over-the-counter omeprazole tablets/capsules. These tablets are used to treat frequent heartburn that occurs a few times within a given period.
You can buy the tablets online packs of 28 tablets that can be sent to you by Next Day Delivery. You are free to book an appointment with a health expert at Click Pharmacy to discuss how best to use this drug.
What dose should I choose?
A pack of omeprazole tablets come in 28 tablet size. Each of these tablets contains 20 or 40 mg of the active ingredient omeprazole, which should be taken once daily for at least 4 weeks by patients above 18 years.
How does Omeprazole work?
The active ingredient omeprazole works by targeting proton pumps in your stomach, hence its classification under proton pump inhibitor class of drugs. These tiny pumps are responsible for the chemical reaction that produces stomach acid. Once omeprazole is ingested, it is absorbed in the bloodstream and signals the acid-forming cells on the stomach lining, to reduce the amount of acid they produce. With the acidity reduced, the patient is relieved of acid reflux symptoms and the intestinal ulcers start healing.
What are Omeprazole Capsules used for?
Omeprazole Capsules are capsules that reduce the amount of acid in your stomach. They are used for the treatment of indigestion and heartburn.
Do I need a prescription to purchase Omeprazole Capsules?
Yes, you require a prescription to purchase Omeprazole Capsules. After completing a short online questionnaire, on our website, you will be provided with a prescription allowing you to purchase Omeprazole Capsules.
Can pregnant and breastfeeding women use Omeprazole Capsules?
Yes, it is safe for pregnant and breastfeeding women to use Omeprazole Capsules.
Can children use Omeprazole Capsules?
Yes, doctors often prescribe Omeprazole Capsules for children to use.
Can everyone use Omeprazole Capsules for the treatment of indigestion and heartburn?
Although Omeprazole Capsules are a safe medicine, they are not suitable for everyone to use. You should not use Omeprazole Capsules if you have any of the following:
Problems with your liver
Due to have an endoscopy
When should I take Omeprazole Capsules?
It is usually advised to take one Omeprazole Tablet first thing in the morning. For severe cases it is sometimes prescribed to be taken twice a day, once in the morning and evening.
How should I take Omeprazole Capsules?
You should swallow one whole capsule with a drink of water or even juice. If you struggle to swallow capsules you can purchase granules which can be mixed with water or juice.
How long should I take Omeprazole Capsules for?
If after two weeks of using Omeprazole Capsules you do not notice an improvement in symptoms, you should stop using them and seek medical advice from a GP or pharmacist as soon as possible.
When should I stop taking Omeprazole Capsules?
It is recommended to stop taking Omeprazole Capsules once you feel better.
What if I forget to take my dose of Omeprazole Capsules?
If you forget to take your dose of Omeprazole Capsules you should take them as soon as you remember, unless it is almost time for your next dose. If it is almost time for your next dose you should skip the dose you just missed and continue as normal. You should never take two doses at once, even if you are making up for a missed dose.
Can I take other medicines with Omeprazole Capsules?
Although Omeprazole Capsules are often safe to combine with other drugs, there are a few drugs you should not combine with Omeprazole Capsules. They include the following:
Blood thinning medicines
Rifampicin
Phenytoin
HIV medicines
Methotrexate
Antifungal medicines
Cilostazol
Heart medicines
Can I drink alcohol while taking Omeprazole Capsules?
Although alcohol does not interfere with the way Omeprazole Capsules work, it does cause the stomach to produce more acid. It is advised to refrain from drinking alcohol to allow the stomach to recover.
After using Omeprazole Capsules you are likely to experience lots of different side effects. Common side effects and how to overcome them include the following:
Headaches: rest and drink plenty of water to ensure you are hydrated
Feeling sick: take your medication after a meal or snack
Diarrhoea: drink lots of fluids to prevent dehydration
Stomach pains: eat smaller more frequent meals
Constipation: try to increase your intake of foods that contain lots of fibre
Wind: avoid foods such as lentils, beans and cereals.
Always read the patient information leaflet before starting your treatment. The patient information can be found here.
Authored by Jana Abelovska
Last reviewed 20 April 2021
How to order
Order your medication in a few clicks. Our process is easy, fast and secure.
Step 1
Quick Health Check
Fill out a questionnaire so our prescriber can assess if the treatment is suitable for you.
Step 2
Select a Treatment
Choose the medication you require from the range offered by our online pharmacy.
Step 3
Next Delivery
Add delivery details and complete payment process.
What do our customers say?
Jane Cooper
January 29, 2022
Fabulous service, quick and assertive, nice to be able to have an alternative service whilst the nhs are struggling!
Kristin Watson
January 2, 2022
Happy with how quick they reply to me and the
Delivery was quick as well would definitely use them again in the future.
Robert Fox
December 9, 2021
Glad to have you there. Efficient, professional service. The next day delivery is always delivered on time as promised.
Medical News and Blogs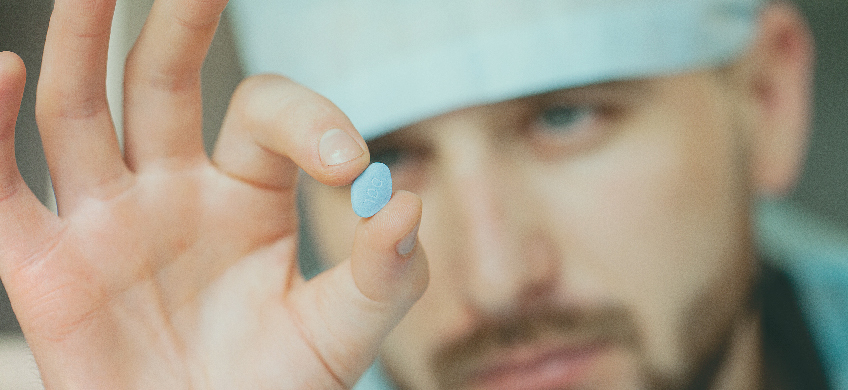 How The Little Blue Pill Revolutionized Relationships
It all began in 1998 when one of the greatest modern medical marvels was approved for sale in the world. Viagra, also affectionately called 'The Little Blue Pill', was originally meant....
Read