Estimated Delivery
Expected delivery date:
Tuesday, 10 May 2022
If you order within:
12h 36m 20s
*Your cart must meet the minimum requiretments for next day delivery
Fast
Delivery
Quick
Assessment
UK Registered
Pharmacy
Discreet &
Confidential
Overview
FAQ
Side Effects
Information leaflet
Reviews
What is Oilatum Shower Gel
Oilatum shower gel is a treatment without a prescription for dry skin problems like eczema and dermatitis. It contains light liquid paraffin as an active ingredient that helps the eczema flare-ups to be handled and prevented. Light fluid paraffin is an emollient that works by lubricating and protecting the outside of the skin, mainly from pathogens and bacteria.
How effective is Oilatum Shower Gel?
Oilatum Shower Gel is an effective way of managing and controlling skin irritation, redness, itching and eczema flare-ups. You should adhere to the instructions provided on the leaflet enclosed for effective use of this treatment. You should use this gel regularly even once your condition has improved, to keep the skin smooth and prevent it from drying.
Can I buy Oilatum Shower Gel online?
Oilatum Shower Gel does not require a prescription, although you are very welcome to book an appointment with a health expert at Click Pharmacy to discuss how best to use this product.
You can purchase the 150g gel in multipacks (maximum 6) as you may need to use the treatment for a while to treat and protect your skin against drying.
Once purchased the product will be sent directly to you by Next Day Delivery.
What dose should I choose?
Oilatum Shower Gel is not a prescription treatment but if it recommended by your doctor, use it as per the instructions given. Otherwise check the label and follow the instructions provided in the leaflet enclosed for effective use of the product. Use the gel every time you shower or use the sink to maintain the smoothness, flexibility and protection that the gel affords the skin.
Even when symptoms improve, do not stop treatment, unless your doctor recommends so.
Oilatum Shower Gel is not suitable for infants under the age of six months.
How should I take Oilatum Shower Gel?
With caution to avoid slipping in the shower, wet your skin and wash. Use a small amount of non-foaming Oilatum Shower Gel and rub it gently on your palms before applying liberally on wet skin.
In case you are using the gel on someone else, wet your hands and the patient's skin before coming into contact with the gel.
Rinse with warm water and gently pat the skin dry to finish. Do not rub the skin as this will rub off the treatment leaving your skin prone to dryness and eczema flares.
This gel makes surfaces slippery, therefore, be cautious as you get out of the shower to avoid accidents.
Oilatum Shower Gel is for external use only.
How does Oilatum Shower Gel work?
Oilatum Shower Gel is an emollient that soothes, moisturises and protects the skin against microbes and pathogens as you shower. The gel contains a fragrance-free active ingredient known as light liquid paraffin, which acts as an insulator to prevent moisture from leaving the outer layer of the skin. This action seals the moisture in the skin, and hence taming symptoms such as dryness, irritation, itchiness, redness that lead to eczema and dermatitis.
How long do I use Oilatum Shower Gel for before I notice a difference?
It would be best if you did not stop using Oilatum Shower Gel, even when you notice a difference. This is to keep your skin, moisturised, soft and supple and hence to prevent future eczema flare-ups.
What are the side effects of Oilatum Shower Gel?
The main side effect of using this medication can be an allergic reaction. Hence if you ever experience signs such as inflammation/redness, irritation, skin rash, swelling or itching, after using this treatment, report immediately to your GP or hospital.
You may also consult our specialists at Click Pharmacy should you require any further advice.
What is the difference between Oilatum Shower Gel and Cetraben and Aqueous Cream?
All of the above treatments are uniquely designed to offer relief and tame symptoms that cause eczema on dry skin.
The three products contain light liquid paraffin as the active ingredient, but it is infused in different strengths.
Oilatum Shower gel contains 70% light liquid paraffin, Cetraben 10.5% while aqueous cream contains 6% liquid paraffin.
Cetraben is available as a moisturiser cream/lotion and hence can be left on skin while aqueous cream can be used as both a moisturiser and a wash-off cleanser. Oilatum Shower Gel should be rinsed off lightly before leaving the shower.
When shouldn't I take Oilatum Shower Gel?
Do not begin this treatment if you are allergic to any of the listed ingredients on the product or if you have greasy/oily skin. In case you exhibit an allergic reaction towards the product, stop treatment and contact your doctor immediately.
Take caution when smoking or lighting flames. Oilatum contains highly flammable ingredients, which can ignite quickly once exposed to a naked flame. Therefore, if the gel spills on your clothes or fabric, wash it immediately.
This treatment is not absorbed in the skin, and therefore the gel can be used by pregnant or breastfeeding mothers. However, in case you are breastfeeding wash the gel off carefully before feeding the baby.
What is Oilatum Shower Gel used for?
Oilatum Shower Gel is a shower formulated to be gentle to skin that suffers from conditions such as dry skin, dermatitis and eczema.
Do I need a prescription to purchase Oilatum Shower Gel?
No, you do not require a prescription to purchase Oilatum Shower Gel. However, if you are unsure whether this shower gel is right for you, you are welcome to book a free consultation with one of our medicine experts.
How should I use Oilatum Shower Gel?
After washing your hair you should ensure your skin is wet and use your palms to gently massage a generous amount of Oilatum Shower Gel all over your body. Once the shower gel has been massaged you should leave it for a few minutes before rinsing it off with lukewarm water. You should avoid using water that is too warm as it may irritate the skin.
How long does it take to notice an improvement in the condition of my skin?
You should notice an improvement in the condition of your skin after the first use, however it may require several uses depending on the severity of your skin condition.
Is Oilatum Shower Gel suitable for long term use?
Yes, Oilatum Shower Gel is suitable for long term use. For extreme skin conditions where Oilatum Shower Gel leads to significant improvements it is advised to include this shower gel in your permanent routine.
Can I use Oilatum Shower Gel if I have oily and greasy skin?
Oilatum Shower Gel is not suitable for use for oily or greasy skin. This is because the formulae is formulated to provide moisture to dry skin. Providing moisture to oily skin could result in extremely greasy skin.
Can pregnant women use Oilatum Shower Gel?
Yes, Oilatum Shower Gel is suitable to be used by pregnant women as it is not absorbed into the bloodstream.
Can breastfeeding mothers use Oilatum Shower Gel?
Yes, it is safe for breastfeeding mothers to use Oilatum Shower Gel. However, it is advised to wash the chest area before feeding your baby to ensure your baby does not come into contact with the product.
How should I store Oilatum Shower Gel?
You should store Oilatum Shower Gel in a cool dry place at room temperature, out of reach from children. The product should not be exposed to extreme temperatures or direct sunlight.
Who should not use Oilatum Shower Gel?
You should not use Oilatum Shower Gel if you are allergic to any of the active or inactive ingredients.
You should not experience any side effects from using Oilatum Shower Gel. This is because the active and inactive ingredients in this product are ingredients that do not interfere with any other part of the body as they are not absorbed into the bloodstream. If you experience any of the following side effects:
Itching
Bleeding
Irritation
Swelling of skin
Difficulty breathing
You may be experiencing an allergic reaction. In this case you should stop using Oilatum Shower Gel immediately and seek medical advice from a GP or pharmacist as soon as possible.
Always read the patient information leaflet before starting your treatment. The patient information can be found here.
Authored by Jana Abelovska
Last reviewed 20 April 2021
How to order
Order your medication in a few clicks. Our process is easy, fast and secure.
Step 1
Quick Health Check
Fill out a questionnaire so our prescriber can assess if the treatment is suitable for you.
Step 2
Select a Treatment
Choose the medication you require from the range offered by our online pharmacy.
Step 3
Next Delivery
Add delivery details and complete payment process.
What do our customers say?
Jane C
January 29, 2022
Fabulous service, quick and assertive, nice to be able to have an alternative service whilst the nhs are struggling!
Kristin W
January 2, 2022
Happy with how quick they reply to me and the
Delivery was quick as well would definitely use them again in the future.
Robert F
December 9, 2021
Glad to have you there. Efficient, professional service. The next day delivery is always delivered on time as promised.
Medical News and Blogs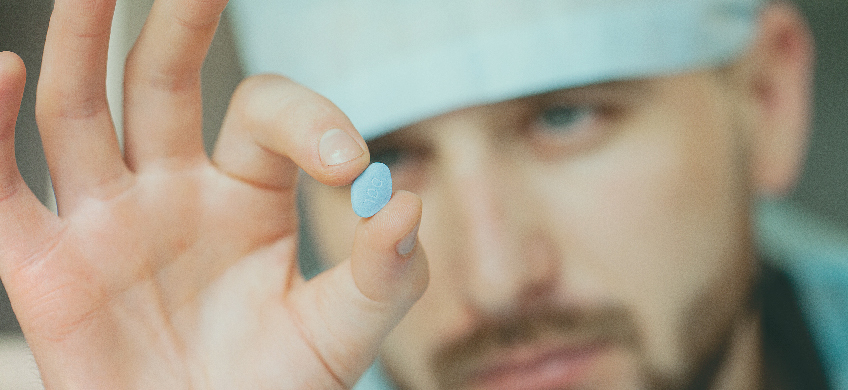 How The Little Blue Pill Revolutionized Relationships
It all began in 1998 when one of the greatest modern medical marvels was approved for sale in the world. Viagra, also affectionately called 'The Little Blue Pill', was originally meant....
Read