-15%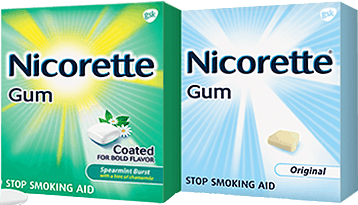 Estimated Delivery
Expected delivery date:
Tuesday, 10 May 2022
If you order within:
12h 36m 20s
*Your cart must meet the minimum requiretments for next day delivery
Fast
Delivery
Quick
Assessment
UK Registered
Pharmacy
Discreet &
Confidential
Overview
FAQ
Side Effects
Information leaflet
Reviews
What is Nicorette Gum 2mg
Nicorette Gum contains the active ingredient nicotine polacrilex. Other ingredients added in this product are chewing gum base, glycerol, sodium carbonate anhydrous, sorbitol solution, sorbitol powder, flavour for smoker 846422 and haverstroo flavour ZD49284. This product is categorized as a nicotine chewing gum, a medication belonging to the family of nicotine replacement therapies. It helps to reduce the symptoms of nicotine withdrawal by substituting some amount of the nicotine that an individual no longer obtains by smoking cigarettes.
Smoking can become a physical and psychological addiction. It's mainly because of the nicotine content in cigarettes that give an addictive but temporary "high". Trying to quit smoking can cause the body to go through physical cravings and withdrawal symptoms. This process can be complicated, but with the help of nicotine replacement therapies such as Nicorette Gum, you can be successful in breaking your smoking habit.
What dose should I choose?
Nicorette Gum is sold in 2mg and 4mg dosage strengths. You can choose from different flavours of Original, Mint, White Ice Mint, Cinnamon Surge, Fruit Chill and Spearmint Burst. Each pack of the product contains 24 pieces of gums, with each piece comprising one dose. The maximum dose for one day is 24 pieces of nicotine gum. That is, you can chew 1 part of it every 1-2 hours during the first 6 weeks of your therapy. This product is suitable for individuals who are 18 years old and above.
How effective Is Nicorette Gum?
Nicorette Gum is a useful product for eliminating smoking or nicotine addiction. Also known as nicotine gum, it is a type of chewing gum that provides nicotine to the body. This product is used in conjunction with other nicotine replacement therapy, or NRT options. In Europe and the US, nicotine gum is an over-the-counter medication. A study featured in The Journal of Family Practice cited that nicotine gum and other forms of nicotine replacement therapies (nicotine inhaler, spray, transdermal patch and lozenge) deliver about 150% to 200% of the increase in smoking cessation rates.
Can I buy Nicorette gum online?
Nicorette Gum is available online for purchase and can be bought without a prescription. You can also book an appointment with a health expert at Click Pharmacy to discuss how to best use this product. Nicorette comes in 2 dosage strengths of 2mg and 4mg. This product is available in various flavours as well. If you purchase online in bulk, it will be sent for free directly to your doorstep by Next Day Delivery.
How does Nicorette Gum work?
Nicorette Gum is a nicotine chewing gum, and it is used to help eliminate smoking addiction. This product belongs to the class of medications known as smoking cessation aids. What this nicotine chewing gum does is deliver nicotine to the body to reduce smoking withdrawal symptoms. Chewing this product also provides a substitute oral activity that decreases the craving the smoke. Nicorette gum is not suitable for individuals below 18 years old. It should be used according to the proper directions in the product label, or as instructed by your doctor.
How Long Do I Take Nicorette Gum For Before I Notice A Difference?
The treatment for using Nicorette Gum to stop smoking addiction is generally 12 weeks. A higher dosage is advised during the first 6 weeks where 1 piece of the gum is to be chewed every 1 to 2 hours. In the next 3 weeks, the dosage is reduced to chewing 1 piece every 2 to 4 hours. In the following 3 weeks the therapy is further decreased to using 1 gum every 4 to 8 hours. The maximum dosage for this product is 24 gums chewed in 1 day.
When Shouldn't I Take Nicorette Gum?
Do not begin this treatment without telling your doctor about the other prescription or non-prescription medications that you are taking, or are planning to take. These include nutritional supplements, vitamins and herbal products. Particularly inform your health specialist if you are taking asthma medications, insulin, depression medications, high blood pressure medications and other smoking cessation medications.
How should I take Nicorette Gum?
Nicorette Gum is chewing gum, and it is only eaten, not swallowed. Follow the directions for use in the product label. Ask your doctor or pharmacist if you need more explanation or information about the use of this product.
Carefully follow the directions and use as recommended. Do not take less or more of it than indicated or as instructed by your doctor.
If you tend to smoke your first cigarette of the day at more than 30 minutes after you wake up, take the 2mg dosage of the nicotine gum.
Otherwise, if you are apt to start your day smoking within 30 minutes after waking up, you should take the 4mg dosage of the product.
You can use this product regularly by chewing 1 piece of it every 1 to 2 hours during the first 6 weeks of your smoking cessation measure. After this period, chew 1 piece for every 2 to 4 hours for the following 3 weeks. Subsequently, chew 1 piece for every 4 to 8 hours for the next 3 weeks.
If you experience intense cravings, you can chew a second piece of the gum within 1 hour.
To make your therapy more effective, chew a minimum of 9 pieces of the nicotine gum every day during the first 6 weeks.
Slowly chew the gum to the point that you can feel the taste of nicotine or a mild tingling in your mouth. When this happens, stop chewing and position the gum in the middle of your gum and cheek. After about 1 minute when the tingling disappears, chew the gum again.
Do this procedure again and again for approximately 30 minutes. Don't eat or drink before and during 15 minutes of chewing the nicotine gum.
Don't be in a hurry to chew the gum. Don't chew it too fast or more than 1 piece at a time. Don't take the next piece too soon after the former. If you take your next gum continuously and too rapidly, you may experience nausea, heartburn, hiccups and other discomforting side effects.
The recommended maximum dosage of the nicotine gum for 1 day is 24 pieces. Don't take more than that.
Stop your treatment after 12 weeks. If, after this time of your therapy, you still feel the need to use the nicotine gum, talk to your doctor.
What are the side effects of Nicorette Gum?
This product may cause side effects. If you experience the following symptoms while using this nicotine gum, notify your doctor or seek medical treatment right away:
Nausea
Vomiting
Weakness
Diarrhoea
Dizziness
Rash
Breathing difficulties
Irregular, fast or pounding heartbeat
Blisters in the mouth
Other side effects may occur while on therapy with Nicorette Gum. Call your doctor immediately if you experience these, along with any untoward symptoms.
Take thorough precaution, and should serious side effects occur, you and/or your doctor can forward a report to the Food and Drug Administration's (FDA) online MedWatch Adverse Event Reporting program.
Please speak to your doctor or consult our specialists at Click Pharmacy should you require any further advice.
What is Nicorette Gum used for?
Nicorette Gum is used to help one quit smoking. It does this by providing the body with an amount of nicotine which is often obtained by smoking cigarettes.
What is the active ingredient in Nicorette Gum?
The active ingredient in Nicorette Gum is nicotine polacrilex. This ingredient combined with other ingredients is effective at helping one to quit smoking cigarettes.
Do I need a prescription to purchase Nicorette Gum?
No, you do not require a prescription to purchase Nicorette Gum. However, if you are unsure whether this product is right for you, you are welcome to book a free consultation with one of our medicine experts.
Can children use Nicorette Gum?
Nicorette Gum is only suitable for adults over the age of 18 years old.
Can I buy Nicorette Gum in different flavours?
Yes, at Click Pharmacy you are able to purchase Nicorette Gum in a number of different flavours. We offer the following flavours for you to purchase:
Original
White ice mint
Mint
Fruit chill
Cinnamon surge
Spearmint burst
How often should I use Nicorette Gum?
For the first 6 weeks of your treatment it is advised to chew 1 piece of Nicorette Gum every 1-2 hours. This will effectively relieve any addiction to smoking cigarettes.
Can I swallow Nicorette Gum?
Nicorette Gum is a chewing gum, it should not be swallowed at all.
How long should I chew Nicorette Gum for?
Generally one piece of gum should be chewed for around 30 minutes. Alternatively you can chew the gum until the flavour disappears.
What is the maximum dose of Nicorette Gum?
The maximum dose of Nicorette Gum is no more than 24 pieces in one day.
Can I eat or drink while chewing Nicorette Gum?
You should not eat or drink up to 15 minutes before or after chewing Nicorette Gum. This is to ensure the nicotine in this gum is effectively delivered to its designated destination.
How long does it take to notice a difference in my withdrawal symptoms?
Although the treatment is generally 12 weeks long, you should begin to notice an improvement in cravings from the first 6 weeks of treatment.
When should I stop using Nicorette Gum?
The length of treatment is generally around 12 weeks. If after 12 weeks you do not notice an improvement in your withdrawal symptoms, you should speak to a GP or pharmacist. These medicine specialists may be able to advise you to use an alternative treatment, or increase the length of your existing treatment.
Throughout your treatment you may experience lots of different side effects. It is important to understand that not everyone will experience the same side effects. Common side effects include the following:
nausea/feeling sick
Increased blood pressure
Insomnia
Loss of appetite
indigestion/heartburn
Hiccups
Increased heart rate
If any of these side effects worsen, or you experience difficulty in breathing, you should stop using Nicorette Gum immediately and seek medical advice from a GP or pharmacist as soon as possible.
Always read the patient information leaflet before starting your treatment. The patient information can be found here.
Authored by Jana Abelovska
Last reviewed 20 April 2021
How to order
Order your medication in a few clicks. Our process is easy, fast and secure.
Step 1
Quick Health Check
Fill out a questionnaire so our prescriber can assess if the treatment is suitable for you.
Step 2
Select a Treatment
Choose the medication you require from the range offered by our online pharmacy.
Step 3
Next Delivery
Add delivery details and complete payment process.
What do our customers say?
Jane C
January 29, 2022
Fabulous service, quick and assertive, nice to be able to have an alternative service whilst the nhs are struggling!
Kristin W
January 2, 2022
Happy with how quick they reply to me and the
Delivery was quick as well would definitely use them again in the future.
Robert F
December 9, 2021
Glad to have you there. Efficient, professional service. The next day delivery is always delivered on time as promised.
Medical News and Blogs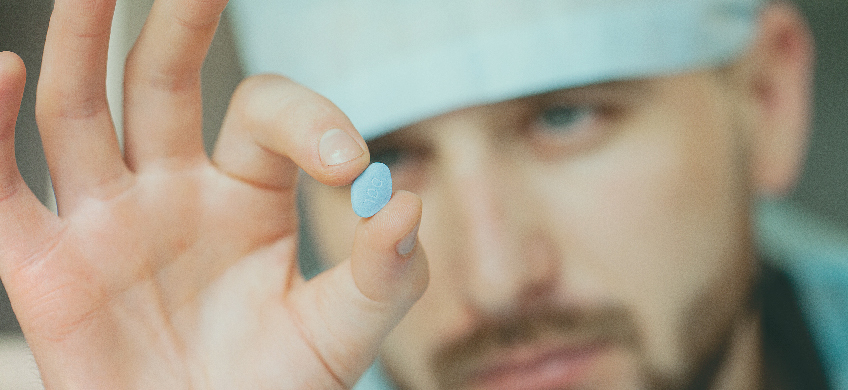 How The Little Blue Pill Revolutionized Relationships
It all began in 1998 when one of the greatest modern medical marvels was approved for sale in the world. Viagra, also affectionately called 'The Little Blue Pill', was originally meant....
Read