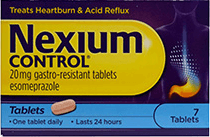 Estimated Delivery
Expected delivery date:
Tuesday, 10 May 2022
If you order within:
12h 36m 20s
*Your cart must meet the minimum requiretments for next day delivery
Fast
Delivery
Quick
Assessment
UK Registered
Pharmacy
Discreet &
Confidential
Overview
FAQ
Side Effects
Information leaflet
Reviews
What is Nexium Control Tablets
Nexium Control works well in treating heartburn effects, which is a sense of pain, burning heat, and pressure in the chest that is related to acid reflux.
How effective is Nexium Control?
Nexium Control is a great and effective medication to treat heartburn. This medication contains esomeprazole magnesium trihydrate as the main active ingredient. Esomeprazole magnesium trihydrate is a proton pump inhibitor. This means that this ingredient helps to reduce the amount of acid being produced in your stomach. Doing that allows you to reduce your heartburn effectively and even minimize the chances of experiencing it later.
A recent study involving about 130 volunteers who'd been experiencing severe heartburn shows that Nexium Control is an effective medication. In this study, experts gave these patients specific doses of different medications, including Nexium Control. After the survey, experts concluded that the patients who used Nexium Control reduced their heartburns more effectively compared to those who took different products. So, Nexium Control is the best and most effective medication that you can use for heartburn.
Can I buy Nexium Control Online?
You can buy this product online easily as many companies sell it. However, you have to be careful to ensure you only buy from qualified sellers. That way, you get high-quality medication that is worth your money.
Click Pharmacy is one of the best places to order your Nexium Control from. Here, you get next day delivery services, and even proper guidance on the best way to use your Nexium Control to receive the best benefits.
What dose should I choose?
Nexium control comes in a packet with 14 tablets, and can even be used by children. Every Nexium Control tablet contains about 20 mg of this product. Taking one tablet daily is the best dose for treating heartburn. However, if you are using Nexium Control to treat other conditions such as Gastroesophageal reflux, and Zollinger-Ellison syndrome, then you can take more tablets daily. However, consult a doctor before doing so to avoid severe side effects.
How does Nexium Control work?
Nexium Control contains the active ingredient esomeprazole magnesium trihydrate, which is a renowned proton pump inhibitor. Taking this product affects the parietal cells in your stomach responsible for secreting hydrochloric acid and intrinsic factor. So, Nexium Control allows you to reduce the amount of acid being produced by the cells that cause heartburn. Doing that helps to relieve your heartburn effectively, and without causing other side effects, thus making it a great medication.
When shouldn't I take Nexium Control?
Despite the efficacy and safety of this medication, some people should avoid using it. Do not take Nexium Control if:
You have liver problems

You are allergic to esomeprazole magnesium trihydrate, or any other Nexium Control ingredient to avoid more severe side effects

You are almost having an endoscopy to help get more effective results

Your body can't absorb some sugar types including sucrose and glucose

You're pregnant or breastfeeding to avoid the esomeprazole magnesium trihydrate from reaching the baby and causing some side effects
How should I take Nexium Control?
The best way to take Nexium Control is by swallowing them with water. However, if you have a problem swallowing the tablets, you can put them in a glass of water, stir for about a minute, then drink immediately when they start breaking up. For capsules, take them whole, or open them up, and put the contents in an empty glass, fill it with water, then drink immediately. You can also add more water in the glass, and drink to ensure no medicine is left at the bottom. Also, you can take Nexium Control with, or without food, thus making it suitable for any time.
You can also incorporate taking this medication with other simple tricks like using ginger, and not smoking. Doing that helps reduce your heartburn more effectively and even minimize the need to take more doses during the day.
How long do I take Nexium Control for before I notice a difference?
There is no exact amount of time that you can take this medication to help you treat your condition. You can feel some benefits immediately you take Nexium control, but they might not be powerful. This medication provides more significant benefits from the second or third day of use. However, you might need to take this product for a few weeks, or even months before it treats your heartburn entirely, depending on the severity. So, it would be best if you talked to your doctor before, and even when taking Nexium Control to help determine the duration of your treatment. If you don't notice any significant benefits after using this medication for a few weeks, then consult an expert to decide what you might be doing wrong, or get another solution.
What are the side effects of Nexium Control?
Most people taking Nexium control do not experience any side effects. If you get side effects, they are usually mild and disappear after using the product for some time. Some of the most common side effects include:
Stomach pain

Constipation

Diarrhoea

Headaches

Nausea or vomiting
Although rare, you might also experience joint pains, and some abnormal changes in the skin like rashes, especially in body parts that get exposed to the sun a lot, such as your nose, cheeks, and arms. You might also experience yellow skin, tiredness, and dark pee, which are mostly symptoms of liver issues. If you experience these rare side effects, then you must tell your doctor or consult with a specialist from Click Pharmacy to get immediate help.
What is the difference between Nexium Control, and other similar alternatives such as Esomeprazole?
Both Nexium Control and Esomeprazole contain as active ingredient Esomeprasole -proton pump inhibitor. Whereas Nexium can be purchased without prescription you need a precription to purchase Esomeprazole.
What are Nexium Control Tablets used for?
Nexium Control Tablets are used to treat symptoms of heartburn, acid reflux and gastro-oesophageal reflux disease. It does this by reducing the amount of acid that is made in the stomach.
Do I need a prescription to purchase Nexium Control Tablets?
Yes, you require a prescription to purchase Nexium Control Tablets. If you are unsure whether Nexium Control Tablets are right for you, you are welcome to book a free consultation with one of our medicine experts.
When should I take Nexium Control Tablets?
It is advised to take Nexium Control Tablets once a day in the morning.
What is the difference between Nexium Control Tablets and Esomeprazole Tablets?
Nexium Control Tablets and Esomeprazole Tablets are both effectively used for the same treatment containing the same active ingredients. The main difference is branding and price. Nexium Control Tablets are the branded version of Esomeprazole Tablets, making them more expensive.
Can children take Nexium Control Tablets?
Nexium Control Tablets are not generally recommended for children to use. However in some cases a GP may prescribe Nexium Control for children if it is necessary.
Who should not take Nexium Control Tablets?
You should not take Nexium Control Tablets if you:
Have problems absorbing sugars such as glucose and sucrose
Are going to have an endoscopy soon
Have any liver related problems
How should I take Nexium Control Tablets?
You should take Nexium Control Tablets first thing in the morning with a drink of water. If you are prescribed to take Nexium Control Tablets twice a day they should be taken morning and evening.
What dose of Nexium Control Tablets can I buy?
You can purchase Nexium Control Tablets in 20mg or 40mg capsules.
What if I forget to take Nexium Control Tablets?
If you forget to take Nexium Control Tablets you should take them as soon as you remember unless it is almost time for your next dose. If it is almost time for your next dose you should skip the dose you just missed and continue as normal. You should never take 2 doses at once even if you are making up for a missed dose.
Can pregnant or breastfeeding women use Nexium Control Tablets?
Nexium Control Tablets are not suitable for pregnant or breastfeeding women. You can speak to a pharmacist or GP who may advise you to use an alternative medicine such as omeprazole.
How long does it take to notice an improvement?
You should usually notice an improvement within 2-3 days of using Nexium Control Tablets. However depending on the severity of your condition it can take up to 4 weeks to notice any improvements.
Can I drink alcohol while using Nexium Control Tablets?
It is advised to avoid drinking excessive amounts of alcohol while taking Nexium Control Tablets.
While using Nexium Control Tablets you may experience a number of different side effects. Common side effects and how to overcome symptoms include:
Headaches: rest and drink plenty of water to remain hydrated.
Nausea: take Nexium Control Tablets after a well balanced meal to prevent any nausea like symptoms.
Diarrhoea: drink plenty of water to remain hydrated.
Constipation: try to avoid rich meals and stick to high fibre foods. Maintain regular exercise to stay fit.
Stomach pain: avoid foods that may cause stomach pains, such as onions, lentils and beans.
Always read the patient information leaflet before starting your treatment. The patient information can be found here.
Authored by Jana Abelovska
Last reviewed 20 April 2021
How to order
Order your medication in a few clicks. Our process is easy, fast and secure.
Step 1
Quick Health Check
Fill out a questionnaire so our prescriber can assess if the treatment is suitable for you.
Step 2
Select a Treatment
Choose the medication you require from the range offered by our online pharmacy.
Step 3
Next Delivery
Add delivery details and complete payment process.
What do our customers say?
Jane C
January 29, 2022
Fabulous service, quick and assertive, nice to be able to have an alternative service whilst the nhs are struggling!
Kristin W
January 2, 2022
Happy with how quick they reply to me and the
Delivery was quick as well would definitely use them again in the future.
Robert F
December 9, 2021
Glad to have you there. Efficient, professional service. The next day delivery is always delivered on time as promised.
Medical News and Blogs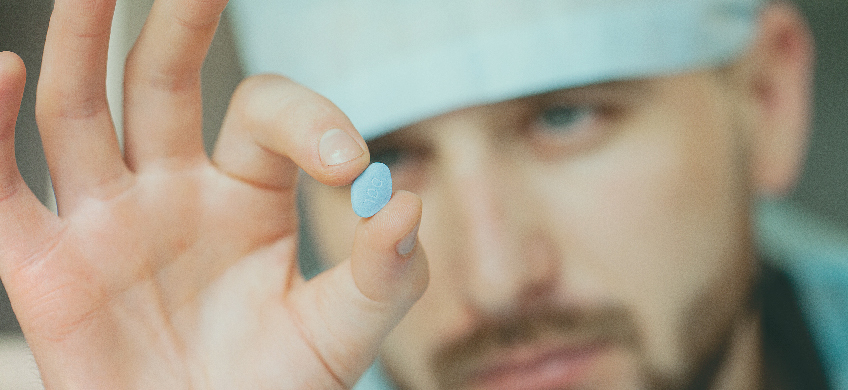 How The Little Blue Pill Revolutionized Relationships
It all began in 1998 when one of the greatest modern medical marvels was approved for sale in the world. Viagra, also affectionately called 'The Little Blue Pill', was originally meant....
Read