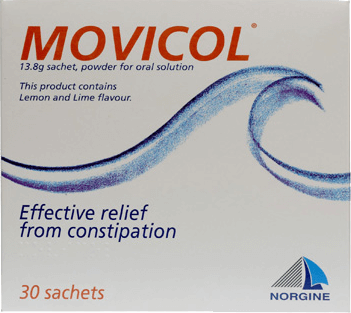 Estimated Delivery
Expected delivery date:
Tuesday, 10 May 2022
If you order within:
12h 36m 20s
*Your cart must meet the minimum requiretments for next day delivery
Fast
Delivery
Quick
Assessment
UK Registered
Pharmacy
Discreet &
Confidential
Overview
FAQ
Side Effects
Information leaflet
Reviews
What is Movicol Sachets
Movicol is a kind of medicine generally known as an osmotic laxative, which in itself, is a kind of stool softener used in the executive of constipation.
What dose should I choose?
The dose depends on how your body reacts to the treatment, however, if you are suffering from faecal impaction, take 8 sachets a day for 3 days (don't take more than 2 in 1 hour if you suffer from a heart condition). If you are suffering from relatively normal constipation, take 1- 3 according to the severity of your constipation and gradually decrease the dosage to or 2 a day (depending on if you started at 3) as symptoms improve and as the days go on. Do not give any dosage to anyone under the age of 12, if you have any doubts on what dosage you should take, consult your doctor.
How effective Is Movicol?
Movicol is a very effective way to combat constipation and has been shown to successful and well-tolerated in studies that last for over 2 years. It works incredibly well because it uses the body's water and its own processes to facilitate regular bowel movement, so in the end, Movivol and your own body synergise wonderfully and bring quick and efficient results. Also, Movicol is available for purchase without the need for a prescription, so when you feel constipated, you can get Movicol asap.
Can I buy Movicol online?
Movicol can be easily purchased online and come in packages of 30, 60, and 90 sachets and they are very affordable, especially considering what you are planning to deal with and considering that you need a prescription to buy Movicol, nothing is stopping you from buying it.
Feel free to speak to medical professionals at Click Pharmacy if you need further advice on how to use the medication or if it right for you.
How should I take Movicol?
Movicol is only for oral use and can be taken at any time with or without food. Open the sachet and pour the contents into a glass or cup. Afterwards, add about 125ml of water to the glass. Stir well but not too hard until all the powder has been dissolved, you will know it is ready because, with the result, the glass will be hazy. If you are suffering from faecal impaction and you don't suffer from a heart condition, it is recommended that you take 8 sachets and dissolved them in 1 letre of water, if you do suffer from a heart condition, distribute the 8 sachets throughout the day but do not take more than 2 sachets within 1 hour. If you suffer from "normal" constipation, take 1 to 3 sachets depending on the severity.
How does Movicol work?
The reason Movicol works the way it does is due to its active ingredients and how they synergise with the body. There's no loss of body water when using Movicol because it's mixed into the water, so it forms an "Iso-Osmotic" solution, which is less likely to dehydrate the body. Firstly it brings water to the hard, dry stool, after that it acts locally to relieve constipation. The water that was brought up contains Movicol, which then loosens and slightly bulks it up, as it bulks up, it naturally triggers colonic activity and thus, bowel movement. Also, because of the natural lubrication in Movicol, the bowel movement feels comfortable.
How long do I take Movicol?
This depends on the severity of your symptoms, but usually, the treatment lasts for about 2 weeks at most for constipation or 3 days of intense use for faecal impaction. If symptoms do not improve or even worse after the recommended duration of the treatment, you should consult a doctor. However, if after 2 weeks of use (for constipation) and the doctor still recommends Movicol, you can still take it for however long the doctor tells you to. If symptoms haven't improved or worsen when the treatment is for Faecal impaction, you should immediately consult your doctor.
What are the side effects of Movicol?
Some side effects accompany Movicol. However, not everybody will experience them, these adverse effects include abdominal pain, feeling sick or vomiting, swelling or bloating of the abdomen, abdominal rumbling and gurgling sounds due to movement in the intestines, wind (flatulence), anal discomfort, diarrhoea, headache. A disturbance in the level of electrolytes (particularly potassium) in the blood, this can lead to symptoms such as feeling weak, fatigued, breathless, very thirsty with a headache or swollen ankles. If you think any of these symptoms, you should immediately see a doctor or an emergency service.
When shouldn't I take Movicol?
Do not take Movicol if you are allergic to any of the ingredients as these could cause undesired and dangerous effects. Do not take Movicol if you have a hole in your gut (intestinal perforation). Do not give this to anyone under the age of 12 years. If you have an inflammatory bowel disease, such as ulcerative colitis, toxic megacolon or Crohn's disease, do not take this medicine. Do not take this medicine if you have a blockage in your gut (intestinal obstruction) caused by a structural or functional disorder in the gut wall.
What is the difference between Movicol, Laxido, and Fybogel?
The main difference between Movicol and Laxido is the taste, the latter comes only in an orange flavour. In contrast, the former comes in lemon, lime, chocolate or a plain flavour.
The main difference between Movicol and Fybogel is the main active ingredient of the latter is Ispagula husk, and the former's active ingredient is Macrogol 3350.
What are Movicol Sachets used to treat symptoms of?
Movicol Sachets are effectively used to provide relief from symptoms of constipation.
Do I need a prescription to purchase Movicol Sachets?
No, you do not require a prescription to purchase Movicol Sachets. If you are unsure whether Movicol Sachets are right for you, you are welcome to book a free consultation with one of our medicine experts.
Can children use Movicol Sachets?
Movicol Sachets are not suitable for children under the age of 12 years old.
Can pregnant or breastfeeding women use Movicol Sachets?
Although Movicol Sachets are generally safe to be used by pregnant or breastfeeding women, it is advised to consult with a GP, pharmacist or midwife before doing so.
Are Movicol Sachets suitable for everyone to use:
Movicol sachets ar not suitable for everyone, you should not use Movicol Sachets if you have any of the following:
Had a whole in your intestine
Ulcerative colitis
Crohn's disease
Toxic megacolon
Irregular heartbeat
Follow a low salt diet
How often should I take Movicol Sachets?
You should take Movicol sachets as follows:
Full-strength sachets: 1 sachet taken 1-3 times a day
Half-strength sachets: 1 sachet taken 2-6 times a day
How should I prepare Movicol Sachets?
You should dissolve one sachet of Movicol Sachets into 125ml of water and sit well. After all the powder has dissolved you should drink the solution.
What if I forget to take my dose of Movicol Sachets?
If you forget to take your dose of Movicol Sachets, you should skip the dose you just missed. You should never take two doses at once, even if you are making up for a missed dose.
Will using Movicol Sachets affect my contraception?
Using Movicol Sachets does not affect one's contraception. However if you experience severe diarrhoea as a side effect of using this laxative, your contraceptive pills may not work.
Can I drink alcohol while using Movicol Sachets?
Yes, it is safe to drink alcohol while taking Movicol sachets. There is no evidence to suggest that alcohol interferes with the way this drug works.
Does using Movicol Sachets for the treatment of constipation affect my ability to drive or operate machinery safely?
There is no evidence to suggest that using Movicol Sachets affect one's ability to drive or operate machinery safely.
Can I take other laxatives with Movicol Sachets to treat my constipation?
It is generally advised to stick to using one laxative for the treatment of constipation unless you are advised to do differently by a GP or pharmacist.
After using Movicol Sachets for the treatment of constipation, you are likely to experience a number of side effects. Common side effects and how to overcome them include the following:
Diarrhoea: drink plenty of liquids such as squash and water to prevent dehydration
Indigestion: take your dose of Movicol Sachets after a meal
Stomach pains and aches: eat smaller more frequent meals
Wind: avoid eating fibre high foods that may cause bloating and wind such a lentils, soups, onions and beans
Sore bottom: use a lotion, cream or ointment to soothe the irritation
Always read the patient information leaflet before starting your treatment. The patient information can be found here.
Authored by Jana Abelovska
Last reviewed 20 April 2021
How to order
Order your medication in a few clicks. Our process is easy, fast and secure.
Step 1
Quick Health Check
Fill out a questionnaire so our prescriber can assess if the treatment is suitable for you.
Step 2
Select a Treatment
Choose the medication you require from the range offered by our online pharmacy.
Step 3
Next Delivery
Add delivery details and complete payment process.
What do our customers say?
Jane C
January 29, 2022
Fabulous service, quick and assertive, nice to be able to have an alternative service whilst the nhs are struggling!
Kristin W
January 2, 2022
Happy with how quick they reply to me and the
Delivery was quick as well would definitely use them again in the future.
Robert F
December 9, 2021
Glad to have you there. Efficient, professional service. The next day delivery is always delivered on time as promised.
Medical News and Blogs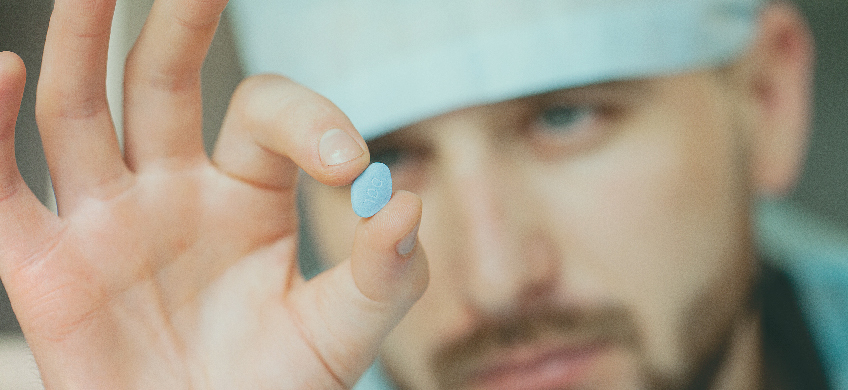 How The Little Blue Pill Revolutionized Relationships
It all began in 1998 when one of the greatest modern medical marvels was approved for sale in the world. Viagra, also affectionately called 'The Little Blue Pill', was originally meant....
Read