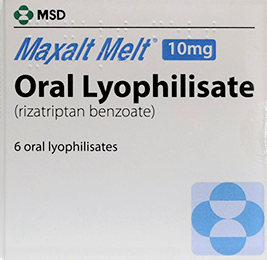 Estimated Delivery
Expected delivery date:
Tuesday, 24 May 2022
If you order within:
12h 36m 20s
*Your cart must meet the minimum requiretments for next day delivery
Fast
Delivery
Quick
Assessment
UK Registered
Pharmacy
Discreet &
Confidential
Overview
FAQ
Side Effects
Information leaflet
Reviews
Read up
What is Maxalt Melt Tablets
Maxalt Melt is a prescription medication that is used to treat migraines. It relieves the pain of a throbbing headache, which is the most common symptom of this condition. It can also help to alleviate other, less common symptoms, such as seeing flashing lights, speech problems and co-ordination difficulties. The active ingredient in this drug is called rizatriptan, which belongs to a class of medication known as triptans. These drugs help sufferers by attacking the source of the problem, rather than just treating the symptoms. Triptans are usually used when painkillers like ibuprofen and paracetamol are not effective.
What dose should I choose?
You should consult the patient information leaflet that comes with your treatment before taking this medicine. Your ideal dosage will depend on a variety of different factors, including your condition, age and how you respond to treatment. If you have any questions or concerns about your dosage, you should speak to your doctor or contact one of our healthcare advisors at Click.
Why choose Maxalt Melt?
If you suffer from migraines, you'll likely know how agonising and disabling they can be. The pain these severe headaches can cause can make it difficult to enjoy life to the fullest and may affect your ability to get on with your day-to-day activities.
Many people turn to ordinary painkillers to tackle the problem, but sometimes pills like ibuprofen and paracetamol just aren't effective enough. Unlike regular painkillers, Maxalt Melt reverses the changes in the brain that are thought to be responsible for migraines. Alongside all these benefits, Maxalt Melt can also be dissolved in the mouth allowing a quick onset of action and also caters for all types of individuals who may find swallowing tablets difficult.
How should I take Maxalt Melt?
You should take your medicine exactly as prescribed by your doctor. Normally, you will be advised to take one tablet when you begin to feel a migraine developing. If you are taking this drug in tablet form, you should swallow it with a glass of water. If you are taking it in wafer form, you can simply place it on your tongue and let it dissolve. Maxalt Melt is most effective when taken on an empty stomach. It can also be taken after a meal, although it will take longer to work.
How does Maxalt Melt work?
It is thought that migraines occur as a result of serotonin - a natural chemical messenger in the brain - causing the blood vessels in the head to widens. Maxalt Melt contracts the vessels back to their normal width, relieving the symptoms associated with migraines.
What are the side effects of Maxalt Melt?
As with most medicines, you may find that you experience side effects. These could include flushing, tingling, drowsiness and weakness. If your side effects continue or worsen, you should consult your doctor or pharmacist as soon as possible.
What are Maxalt Melt Tablets used to treat symptoms of?
Maxalt Melt Tablets are medicines used to provide relief from symptoms of migraines and cluster headaches.
Do I need a prescription to purchase Maxalt Melt Tablets?
Yes, you require a prescription to purchase Maxalt Melt Tablets. After completing a short online questionnaire on our website you will be provided with a prescription, allowing you to purchase Maxalt Melt Tablets.
When should I take Maxalt Melt Tablets?
It is usually advised to take Maxalt Melt Tablets immediately after you begin to experience symptoms of a migraine or cluster headache.
How should I take Maxalt Melt Tablets?
You should place one tablet under your tongue and wait for it to dissolve. Once it has dissolved you should swallow your saliva to ensure the drug is swallowed with the saliva.
How do Maxalt Melt Tablets treat migraines and cluster headaches?
Migraines and Cluster Headaches are caused by blood vessels widening. Maxalt Melt Tablets cause these blood vessels to return to their original size, treating symptoms of a migraine.
What is the active ingredient in Maxalt Melt Tablets?
The active ingredient in Maxalt Melt Tablets is rizatriptan benzoate. This ingredient is effective at causing blood vessels to return to their original size, resulting in symptoms improving.
Are Maxalt Melt Tablets suitable for everyone to use?
Maxalt Melt Tablets are not suitable for everyone to use, you should not use this drug if you have any of the following:
High blood pressure
Any heart related problems
Liver problems
Kidney problems
Peripheral vascular disease
Had a stroke or heart attack
Can I combine other medication with Maxalt Melt Tablets to treat my migraines?
You should not combine any other medication for the treatment of migraines with Maxalt Melt Tablets. The combination of drugs could interfere, possibly causing severe damage to the body.
Can I take Maxalt Melt Tablets on an empty stomach?
You can take Maxalt Melt Tablets with or without food, however it is recommended to take them on an empty stomach as the medicine works better this way.
Can pregnant or breastfeeding women use Maxalt Melt Tablets for the treatment of migraines and cluster headaches?
You should consult with a GP, pharmacist or midwife before using Maxalt Melt Tablets if you are pregnant, trying to get pregnant or breastfeeding.
Can children use Maxalt Melt Tablets?
Maxalt Melt Tablets are not suitable for use for children under the age of 18 years old.
How should I store Maxalt Melt Tablets?
You should store Maxalt Melt Tablets in a cool dry place, out of reach from children, at room temperature. This drug should not be exposed to extreme temperatures or direct sunlight.
After using Maxalt Melt Tablets you can experience a varied number of side effects, although not everyone experiences the same side effects. Common side effects include the following;
Headaches
Redness of face
Throat discomfort
Feeling sick (nausea)
Dry mouth
Indigestion
Abdominal cramps/pains
Unpleasant taste in mouth
These side effects should disappear over time. If any of these side effects worsen you should stop using Maxalt Melt Tablets and seek medical advice, from a GP or pharmacist, as soon as possible.
Always read the patient information leaflet before starting your treatment. The patient information can be found here.
Authored by Jana Abelovska
Last reviewed 20 April 2021
How to order
Order your medication in a few clicks. Our process is easy, fast and secure.
Step 1
Quick Health Check
Fill out a questionnaire so our prescriber can assess if the treatment is suitable for you.
Step 2
Select a Treatment
Choose the medication you require from the range offered by our online pharmacy.
Step 3
Next Delivery
Add delivery details and complete payment process.
What do our customers say?
Jane Cooper
January 29, 2022
Fabulous service, quick and assertive, nice to be able to have an alternative service whilst the nhs are struggling!
Kristin Watson
January 2, 2022
Happy with how quick they reply to me and the
Delivery was quick as well would definitely use them again in the future.
Robert Fox
December 9, 2021
Glad to have you there. Efficient, professional service. The next day delivery is always delivered on time as promised.
Medical News and Blogs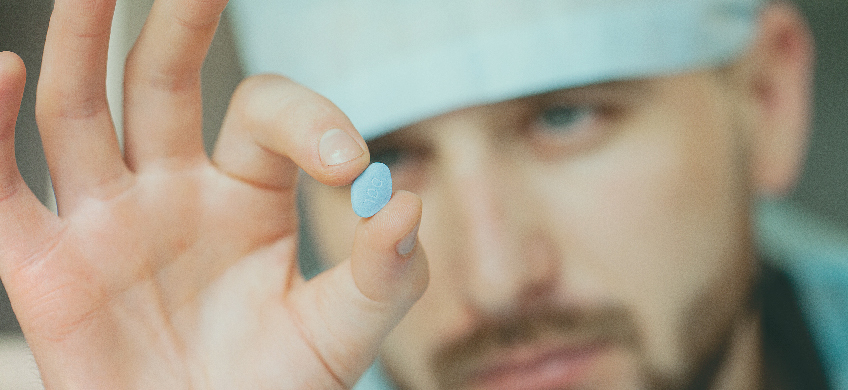 How The Little Blue Pill Revolutionized Relationships
It all began in 1998 when one of the greatest modern medical marvels was approved for sale in the world. Viagra, also affectionately called 'The Little Blue Pill', was originally meant....
Read