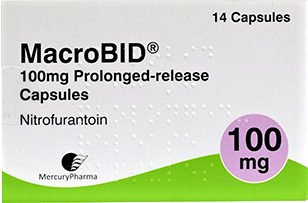 Macrobid 100mg (Nitrofurantoin)
Estimated Delivery
Expected delivery date:
Tuesday, 24 May 2022
If you order within:
12h 36m 20s
*Your cart must meet the minimum requiretments for next day delivery
Fast
Delivery
Quick
Assessment
UK Registered
Pharmacy
Discreet &
Confidential
Overview
FAQ
Side Effects
Information leaflet
Reviews
What is Macrobid 100mg (Nitrofurantoin)
Cystitis is an uncomfortable urinary tract infection which occurs when the bladder becomes infected for a number of potential reasons including:
sex or using a diaphragm
after having a catheter
wiping from back to front when using the toilet
Your chances of developing cystitis are also raised if:
you are pregnant
you have diabetes
you have weakened immunity
you are less than a year or above 75
Though it can be painful and difficult to manage, cystitis is generally not dangerous though if left untreated it could lead to a kidney infection so it is important to seek help as early as possible after it develops. There is a wide range of possible medications to ease the infection including the oral antibiotic Macrobid, part of the family of nitrofurananti bacterials which help stop the continued growth of bacteria.
What are the side effects of Macrobid?
Medicines can cause side effects in some patients and none in others. Whilst some side effects can be common with Macrobid, they tend to be mild enough not to stop a patient from taking it.
The side effects most commonly associated with Macrobid include:
nausea
stomach pains
decreased appetite
diarrhoea and/or vomiting
darkened urine (though this is not harmful)
dizziness or fatigue
If any side effects are worrying you or causing problems then contact your doctor. Seek medical help right away if you experience more severe issues including:
numbness or tingling
vomiting or itching
fever with shortness of breath and pain in the chest
a severe headache
swelling of the lips or throat
Why choose Macrobid?
Macrobid is an easy to use form of treatment which usually only requires a short term course. It demonstrates benefits within 3 days and up to 7 though it can be taken on a regular or long-term basis to control numbers of bacteria if needed. A daily tablet is taken and will begin working on destroying the bacteria causing the infection right away. It is effective, safe to use and well-tolerated by patients in studies with minimal side effects as it concentrates within the urine rather than throughout the body as a whole.
Can I buy Macrobid Online?
Macrobid is available online from Click Pharmacy and you can quickly and easily get a prescription by answering a short series of health questions. Our in-house doctors will assess your responses to ensure that this is the best form of treatment for your symptoms and if approved you can purchase your medication right away. It will be sent to your chosen address via next day delivery in discreet packaging.
How effective is Macrobid?
Macrobid's active ingredient is nitrofurantoin which was FDA approved in 1953 making it a well studied, safe, long-term option for anyone suffering from a UTI. Although newer antibiotics have come on to the market since this time, there has been an increase in resistance to them whereas there is very low resistance still to Macrobid's active ingredient despite its longevity. As such many have begun using Macrobid as the first-line therapy for cystitis once again.
What is contained in Macrobid?
The active ingredient in Macrobid is nitrofurantoin in the ratio of 25% macrocrystallinenitrofurantoin and 75% nitrofurantoin monohydrate.
The inactive ingredients are:
carbomer 934P
corn starch
compressible sugar
D&C Yellow No. 10
edible grey ink
FD&C Blue No. 1
FD&C Red No. 40
gelatin
lactose
magnesium stearate
povidone, talc
titanium dioxide.
If you have a lactose allergy or intolerance then ensure you let your doctor know before using this medication.
How should I take Macrobid?
Your doctor will be able to give you the necessary directions for how best to take your Macrobid prescription including dosage. It is usually taken twice a day and it is recommended that you take it at the same time - once in the morning and once in the evening. This will ensure the amount of the antibiotic in your body remains even and can continue working at the optimum level to destroy the infection.
Take Macrobid with food to decrease the possibility of side effects or nausea and avoid taking indigestion tablets containing magnesium as they can lower the effectiveness of the medication.
If you start to feel better within a couple of days, do continue to take the medication to completion because the infection can reoccur if you stop too soon.
How does Macrobid work?
When you take the antibiotic Macrobid the kidneys filter the medication out of the bloodstream and into the urine meaning the treatment is where it is needed most, the urinary tract. Macrobid's active ingredient damages the bacteria's cell wall, entering the cell itself and destroying its DNA. The bacteria is then unable to multiply or repair itself and in turn, the infection is destroyed and clears up.
How long can I take Macrobid for?
Macrobid is usually prescribed for 3 to 7 days though it can be used on a longer term basis when needed for patients who suffer from recurring UTIs as this helps to control the bacteria found in urine. Whilst highly effective in dealing with cystitis, taking the medication longterm needs to be reviewed regularly by your doctor to stop any side effects such as problems with the liver.
Can I take Macrobid whilst breastfeeding?
Macrobid is not usually recommended to be taken whilst breastfeeding as the nitrofurantoin is excreted into the milk and can cause adverse reactions in nursing infants under 1 month. It can also be dangerous for babies with G6PD deficiency. Your doctor will assess whether Macrobid is appropriate for you to take when breastfeeding and weigh the possible risks versus the benefits to the mother. If it is not deemed suitable, then they will discuss an alternative with you.
Other Warnings to consider
Macrobid may interact with medications containing magnesium salicylate and choline magnesium salicylate. Drugs which interfere with one another can either affect how well one of them works or even cause dangerous side effects. As such, if you take anything containing these drugs then be sure to let the doctor know before beginning the treatment.
Macrobid cannot be used for patients who have liver or kidney issues or those who are near term in their pregnancy.
What are Macrobid Capsules used for?
Macrobid Capsules are an antibiotic used to treat and prevent urinary tract infections such as kidney infections and cystitis.
Do I need a prescription to purchase Macrobid Capsules?
Yes, you require a prescription to purchase Macrobid Capsules. After completing a short online questionnaire on our website you will be provided with a prescription, allowing you to purchase Macrobid Capsules.
Can I drink alcohol while using Macrobid Capsules?
Yes, it is safe to drink alcohol while using Macrobid Capsules.
What is the difference between Macrobid Capsules and Nitrofurantoin?
While both Macrobid and Nitrofurantoin are effectively used for the treatment of urinary tract infections, the main difference is branding. Macrobid is the branded version of Nitrofurantoin.
Can pregnant women or breastfeeding mothers use Macrobid Capsules?
Yes, Macrobid Capsules are suitable for pregnant and breastfeeding women to use.
Can everyone use Macrobid Capsules?
Macrobid Capsules are not suitable for everyone, you should not use Macrobid Capsules if you have any of the following:
Anaemia
Vitamin B deficiency
Kidney disease
Diabetes
Porphyria
Glucose-6-phosphate dehydrogenase
How should I take Macrobid Capsules?
For the treatment of a urinary tract infection you should take one 100mg capsule twice a day. For severe infections it is sometimes advised to take one 100mg capsule four times a day.
For preventing a urinary tract infection you should take one 100mg capsule at night.
Can I take Macrobid Capsules on an empty stomach?
It is advised to take Macrobid Capsules after having a well balanced meal or snack. This is to prevent side effects such as nausea and an upset stomach.
How long should I take Macrobid Capsules for?
For the treatment of a urinary tract infection it is usually prescribed for 3-7 days. This may differ depending on the severity of the infection.
Can I stop taking Macrobid Capsules if I begin to feel better?
You should always complete your course of Macrobid Capsules even if you begin to feel better. This is to ensure there are no remaining strains of bacteria in cells which could reproduce and grow causing reinfection.
What should I do if I forget to take my dose of Macrobid Capsules?
If you forget to take your dose of Macrobid Capsules you should take them as soon as you remember, unless it is almost time for your next dose. If it is almost time for your next dose you skip the dose you just missed and continue as normal. You should never take two doses at once, even if you are making up for a missed dose.
Can I combine other medications with Macrobid Capsules?
There are a few medicines which you should not combine with Macrobid Capsules, they include the following:
Indigestion remedies
Medicines for gout
Cystitis remedies which can be bought over the counter
Quinolones
While using Macrobid Capsules it is expected to experience different side effects. Common side effects and how to overcome them include:
Diarrhoea: drink plenty of fluids to prevent dehydration and rest
nausea/feeling sick: take your medication after a meal
Loss of appetite: eat smaller, more frequent meals
Headaches: rest and drink lots of water to remain hydrated. You can take a painkiller such as paracetamol and ibuprofen
Feeling dizzy: rest until you feel better
Always read the patient information leaflet before starting your treatment. The patient information can be found here.
Authored by Jana Abelovska
Last reviewed 20 April 2021
How to order
Order your medication in a few clicks. Our process is easy, fast and secure.
Step 1
Quick Health Check
Fill out a questionnaire so our prescriber can assess if the treatment is suitable for you.
Step 2
Select a Treatment
Choose the medication you require from the range offered by our online pharmacy.
Step 3
Next Delivery
Add delivery details and complete payment process.
What do our customers say?
Jane Cooper
January 29, 2022
Fabulous service, quick and assertive, nice to be able to have an alternative service whilst the nhs are struggling!
Kristin Watson
January 2, 2022
Happy with how quick they reply to me and the
Delivery was quick as well would definitely use them again in the future.
Robert Fox
December 9, 2021
Glad to have you there. Efficient, professional service. The next day delivery is always delivered on time as promised.
Medical News and Blogs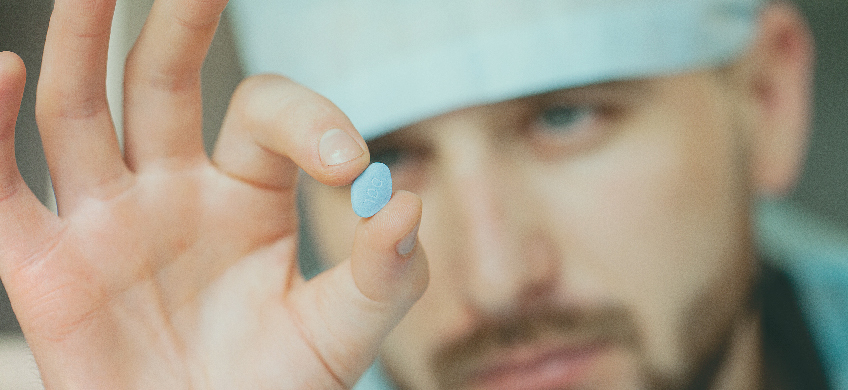 How The Little Blue Pill Revolutionized Relationships
It all began in 1998 when one of the greatest modern medical marvels was approved for sale in the world. Viagra, also affectionately called 'The Little Blue Pill', was originally meant....
Read