Estimated Delivery
Expected delivery date:
Tuesday, 24 May 2022
If you order within:
12h 36m 20s
*Your cart must meet the minimum requiretments for next day delivery
Fast
Delivery
Quick
Assessment
UK Registered
Pharmacy
Discreet &
Confidential
Overview
FAQ
Side Effects
Information leaflet
Reviews
What is Lariam Tablets
Lariam is a prescription-only, antimalarial medication used in the treatment and prevention of malaria. It contains the active ingredient mefloquine, a suppressive antibiotic which cures malaria once the infection is in the bloodstream.
Malaria can be life-threatening and is prevalent in many tropical and subtropical countries. It is a parasitic infection passed on by the bite from a mosquito with the disease, though the mosquito itself can only be infected by biting a human who already has malaria. As such, using a prevention medication before you travel is not just beneficial for your health but a positive way to help stop the spread of malaria.
Can I buy Lariam Online?
Lariam can be purchased online from Click Pharmacy after a short assessment of your requirements and current medical situation. For example, the doctor will discuss where you are travelling to and how long for, as well as asking about any other current medications you are taking. The consultation is free, confidential and performed online over Skype or email so you needn't leave home to get your prescription.
From there, you will be advised which anti-malaria treatment is right for you and it will be sent to you in the following pack sizes:
1 week (8 tablets)
2 week (9 tablets)
3 week (10 tablets)
4 week (11 tablets)
6 week (13 tablets)
5 months (24 tablets)
How effective is Lariam?
Lariam is effective at treating and preventing mild to moderate malaria. The medication is commonly used in areas where there is a hard to treat form of malaria or when other medications may not be effective.
Malaria transmission is highest in West Africa where the parasites are resistant to the drug chloroquine and yet they are sensitive to Lariam. As such Larium is often prescribed for anyone travelling to these types of high-risk area.
Due to this ineffectiveness of some forms of antimalarial tablet, it is important to discuss which treatment is right for your particular trip and the country you are travelling to.
What are the advantages of taking Lariam?
Aside from its attractive lower cost, one great advantage of choosing Lariam over other anti-malaria drugs is that it only needs to be taken once a week rather than every day. For a traveller who has a lot on their mind in the lead up to their trip, this could be a safer way to take this necessary drug as, if you miss one of the daily drugs, you may not be properly covered for your time away in a high-risk area.
It is also considered safe for pregnant women and children to take, but this should be discussed with your doctor at Click Pharmacy before deciding to go ahead with Lariam whilst pregnant.
What dose should I choose?
It is important that you take the exact dose that has been prescribed to you. For adults, this is usually one tablet each week starting 1 week before you travel to a high-risk area. If you already take other medications it is advisable to start taking Lariam 2 or 3 weeks prior to travel to ensure that the combination of drugs is tolerable. The medication should then be continued throughout your trip on the same day each week and then for a further 4 weeks upon your return home.
For more information on dosages, you can read the patient information leaflet that comes with your medication and discuss it with your GP prior to getting your prescription.
How should I take Lariam?
Take one tablet with plenty of water right after you finish your main meal of the day as the medication should not be taken on an empty stomach. If the tablet cannot be swallowed whole, it may be crushed or mixed in water, but make sure that you receive the whole dose.
If you vomit less than 30 minutes after taking the drug it may be advised that you take a secondary full dose. If vomiting occurs between 30 minutes and one hour after taking the tablet, a half dose may be recommended.
For more information on dosages in case of vomiting, you can also ask your GP or our experts at Click Pharmacy for additional guidance.
How does Lariam work?
The parasites which cause malaria are known as Plasmodium which is injected by the bite of an infected mosquito. The parasites then go onto reproduce and eventually, if left without prevention or treatment, result in the disease Malaria.
Lariam contains a drug called Mefloquine which attacks the Plasmodium within the red blood cells thus preventing them from further developing.
Although effective at fighting against the malarial parasites, the treatment does not prevent you from being bitten by a mosquito in the first place, as such it is important to use other forms of prevention such as keeping your skin covered, wearing a high percentage DEET repellent and using a mosquito net at night and over the doors and windows of your accommodation.
What are the side effects of Lariam?
Like all medications, there are possible side effects associated with Lariam. Side effects can include headaches, dizziness, aching joints, fainting, fever, sleep disturbances and loss of balance.
The active ingredient mefloquine contained within the drug has also been linked to various psychiatric effects, such as panic attacks, depression and anxiety so it is likely not to be prescribed if you have experienced any mental health disturbances prior to taking this medication.
Serious allergies are very rare but if you notice reactions such as a rash, itching and/or swelling of the face, throat or tongue, issues breathing or severe dizziness then call for help right away.
If you experience any of these side effects, contact a medical professional straight away and if you have never used the treatment before, healthcare experts will normally recommend that you undergo a trial period to see how you respond to it.
What are Lariam Tablets used for?
Lariam Tablets are used to treat and prevent symptoms of malaria.
Do I need a prescription to purchase Lariam Tablets?
Yes, you require a prescription to purchase LAriam Tablets. After completing a short online questionnaire on our website, you will be provided with a prescription. This will allow you to purchase Lariam Tablets from our website.
What is the active ingredient in Lariam Tablets?
The active ingredient in Lariam Tablets is mefloquine. This ingredient is an antibiotic used to treat infections directly from the bloodstream.
What sizes of Lariam Tablets can I purchase?
You can purchase Lariam Tablets in a number of different sizes. The size will depend on the length of your treatment. At Click Pharmacy we offer the following treatments:
1 week: 8 tablets
2 weeks: 9 tablets
3 weeks: 10 tablets
4 weeks: 11 tablets
6 weeks: 13 tablets
How often should I take Lariam Tablets?
It is advised to take Lariam Tablets once a week.
Can pregnant or breastfeeding women use Lariam Tablets?
Although Lariam Tablets are considered to be safe for pregnant and breastfeeding women, it is advised to consult with a GP, pharmacist or midwife before using them.
When should I begin to take Lariam Tablets?
This may vary depending on the area you are travelling to, however you are normally advised to begin this treatment 1 week before entering an infected area.
How should I take my dose of Lariam Tablets?
You should take your dose of Lariam Tablets after consuming a well balanced meal. Lariam Tablets should not be taken on an empty stomach.
Can I crush Lariam Tablets if I struggle to swallow?
It is safe to crush Lariam Tablets and combine with water if you struggle to swallow one whole capsule.
What should I do if I vomit after taking Lariam Tablets?
If you vomit within an hour of consuming your dose of Lariam Tablets, it is advised to take half a dose. This is to ensure your body receives a dose and works effectively against the infection.
How do Lariam Tablets prevent malaria?
The active ingredient, mefloquine, is effective at attacking the parasites in red blood cells which cause the infection. This prevents the infection from reproducing and developing.
What causes malaria?
Malaria is passed into the bloodstream by a bite from a mosquito who is a carrier of the disease. This bite causes the bloodstream to gain bacterial cells which cause an infection throughout the body.
Similar to all medicines, you are likely to experience different side effects from using Lariam Tablets. Common side effects can include the following:
Headaches
Drowsiness
Feeling dizzy
Insomnia (struggle to sleep)
Aches and pains around the body
Fainting
Temperature
The active ingredient in Lariam Tablets, mefloquine, has links to psychiatric conditions such as panic attacks and depression. If you suffer from mental health problems you are likely to experience more severe side effects. It is advised to not use this product if you suffer from mental health problems as the side effects have life threatening potential.
Always read the patient information leaflet before starting your treatment. The patient information can be found here.
Authored by Jana Abelovska
Last reviewed 20 April 2021
How to order
Order your medication in a few clicks. Our process is easy, fast and secure.
Step 1
Quick Health Check
Fill out a questionnaire so our prescriber can assess if the treatment is suitable for you.
Step 2
Select a Treatment
Choose the medication you require from the range offered by our online pharmacy.
Step 3
Next Delivery
Add delivery details and complete payment process.
What do our customers say?
Jane Cooper
January 29, 2022
Fabulous service, quick and assertive, nice to be able to have an alternative service whilst the nhs are struggling!
Kristin Watson
January 2, 2022
Happy with how quick they reply to me and the
Delivery was quick as well would definitely use them again in the future.
Robert Fox
December 9, 2021
Glad to have you there. Efficient, professional service. The next day delivery is always delivered on time as promised.
Medical News and Blogs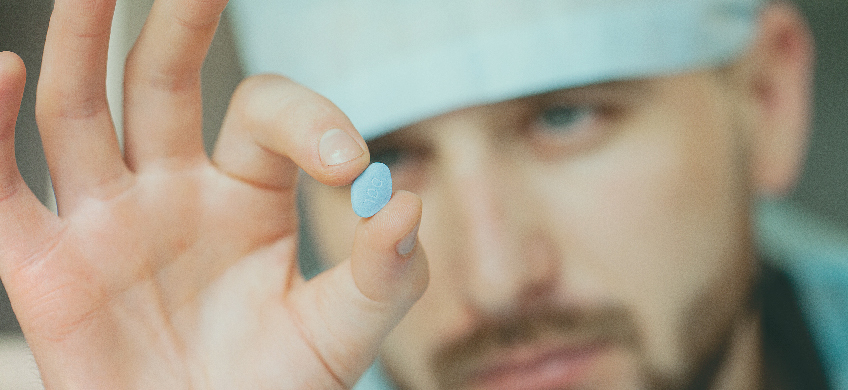 How The Little Blue Pill Revolutionized Relationships
It all began in 1998 when one of the greatest modern medical marvels was approved for sale in the world. Viagra, also affectionately called 'The Little Blue Pill', was originally meant....
Read