Estimated Delivery
Expected delivery date:
Tuesday, 10 May 2022
If you order within:
12h 36m 20s
*Your cart must meet the minimum requiretments for next day delivery
Fast
Delivery
Quick
Assessment
UK Registered
Pharmacy
Discreet &
Confidential
Overview
FAQ
Side Effects
Information leaflet
Reviews
What is Lamisil Once Cream
Lamisil Once is a cream designed to comfort treat an athlete's foot. The energetic ingredient, Terbinafine Hydrochloride, works by killing the fungus that causes the infection.
How effective is Lamisil Once Cream?
Lamisil Once Cream is an effective treatment for athlete's foot. The active ingredient - terbinafine is proven to kill the fungi that cause athlete's foot. One application normally leads to recovery within 4 weeks.
Can I buy Lamisil Once Cream online?
Lamisil Once Cream does not require a prescription although you are very welcome to book an appointment with a health expert at Click Pharmacy to discuss how best to use this product. Lamisil Once Cream can be purchased online and will be sent directly to you by Next Day Delivery. Multipacks are also available.
What dose should I choose?
Lamisil once comes in a single 4g tube. Half of the tube should be used for each foot. Even if one of the feet looks problem-free, the cream should still be applied. Not recommended for patients under 18.
How should I apply Lamisil Once Cream?
To apply Lamisil Once Cream perform the following steps:
1) Wash both feet.
2) Dry the feet carefully, do not share the towel with others to avoid the spread of infection.
3) Wash and dry your hands.
4) Remove the cap from the tube.
5) Apply to both feet – use about half the tube for each foot, as needed to cover skin. 6) Finish one foot before treating the other.
7) Apply with fingers to each foot between the toes and around the bottom of the foot.
Spread evenly onto the skin between, under, and over all toes. Then apply over the sole and sides of your foot. See the image inside the Patient Information Leaflet for further detail.
8) Do not rub or massage in.
9) Treat the other foot in the same way, even if the skin looks healthy. This is to make sure you get rid of the fungus completely - it could be on the other foot even if there are no signs of it.
10) Leave it to dry to a film for 1 to 2 minutes, before wearing your regular footwear.
11) Replace the cap on the tube and throw away any remaining product.
Do not keep or give any remaining product to other people.
Wash your hands with warm soapy water after the application.
Do not wash or splash your feet for 24 hours after applying Lamisil Once.
Gently pat dry your feet after gentle washing.
Do not apply it a second time.
How does Lamisil Once Cream work?
Athletes foot is a fungal infection that usually develops between the toes. It is most common for people whose feet are sweaty while wearing tight-fitting shoes.
Lamisil contains the active ingredient terbinafine, which is an antifungal medicine. It is formulated to stay in the skin and kill the fungus that causes an athlete's foot infection, not just inhibit its growth.
With proper use of the cream, the symptoms of athlete's foot — such as itching, burning and cracking — should improve within a few days.
How long do I need to apply Lamisil Once Cream to work before I notice a difference?
Lamisil Once will start to kill the fungus immediately. The film that is formed means the active ingredient penetrates your skin where it continues to work for several days. Your skin should start to improve within a few days, but it may take up to 4 weeks to heal completely.
If you have not noticed any signs of improvement within 1 week after applying Lamisil Once, ask your doctor or pharmacist for advice.
Do not use the product a second time for a particular athlete's foot episode if it did not work after the first application.
To help with treatment Keep the affected area clean by washing it regularly after the first 24 hours. Dry it carefully without rubbing. Although the skin may be itchy, try not to scratch it because this could cause more damage and slow the healing process or spread the infection.
Use your own towel and clothes and do not share them with other people because athlete's foot can be passed on easily. Wash your clothes and towels frequently to protect yourself from re-infection.
What are the side effects of Lamisil Once Cream?
Like all medicines, Lamisil Once can cause side effects, although not everybody gets them.
STOP using Lamisil Once and seek medical help immediately, if you have any of the following very rare allergic reactions:
• difficulty breathing or swallowing, swelling of the mouth, face, lips, tongue or throat (severe allergic reaction);
• severe itching of the skin, with a red rash or raised lumps, hives or blisters.
Uncommon: (up to 1 in 100 people): Application site reactions, which may include skin dryness, skin irritation or burning sensation, after application, are uncommon. They are usually mild, temporary and harmless.
Very rare: (up to 1 in 10,000 people): allergic reactions with rash, itching, blistering of the skin and hives.
Reporting of side effects
If you get any side effects, talk to your doctor, pharmacist or nurse. This includes any possible side effects not listed in this leaflet. You can also report side effects directly via the Yellow Card Scheme at:
www.mhra.gov.uk/yellowcard.
By reporting side effects, you can help provide more information on the safety of this medicine.
When shouldn't I apply Lamisil Once Cream?
Do not use Lamisil Once
– If you are allergic (hypersensitive) to terbinafine or any of the other ingredients of this medicine.
Take special care with Lamisil Once
– Children and adolescents under 18 are not to use this medicine since there is not enough experience.
– If you suffer from long-term fungal infection of the soles and heels of the feet with thickened and/or flaky skin do not use this medicine. Tell your doctor if you think you may have this condition, because you may need another medication.
– Only use this medicine to treat the skin of your feet. Be careful not to get it on your face, in your eyes, or on damaged skin (other than at the treatment site) where it could be irritating.
If it accidentally gets into your eyes, rinses thoroughly with running water. See your doctor if you are still in any discomfort.
– This medicine should be used with caution in patients with lesions where alcohol could be irritating. For example, after sun exposure or in case of severe skin scaling.
– For external use only. Do not swallow.
– Keep away from naked flames (contains alcohol). Using other medicines
– Do not apply other medicines or treatments to your feet (including any you have bought without a prescription) at the same time as Lamisil Once.
– Tell your doctor or pharmacist if you are taking or have recently taken any other medicines, including any you have bought without a prescription.
Pregnancy and breast-feeding
– If you are pregnant or breast-feeding, think you might be pregnant or are planning to have a baby, ask your doctor or pharmacist for advice before taking this medicine.
– Do not use Lamisil Once while breast-feeding, as terbinafine is excreted in breast milk.
Driving and using machines
– The use of Lamisil Once does not affect the ability to drive and use machines.
What is the difference between Lamisil Once Cream and Daktarin Aktiv/Daktarin Intensiv?
Daktarin Aktiv is a cream that uses miconazole nitrate to fight the fungus that causes Athlete's Foot. It must be applied every day.
Daktarin Intensiv uses ketoconazole to fight the fungus that causes Athlete's Foot. Daktarin Intensiv can also be used for Dhobie Itch. It is also applied every day.
Lamisil Once Cream works a little differently to the Daktarin Creams. The cream is applied once. The active ingredient - terbinafine - continues to work for the next month to fight the infection.
What is Lamisil Once Cream used to treat?
Lamisil Once Cream is used to treat symptoms of the common fungal infection, athlete's foot.
What is the active ingredient in Lamisil Once Cream?
The active ingredient in Lamisil Once Cream is terbinafine hydrochloride. This ingredient is effective at treating fungal infections.
Do I need a prescription to buy Lamisil Once Cream?
No, you do not require a prescription to purchase Lamisil Once Cream. If you are unsure whether Lamisil Once Cream is right for you, you are welcome to book a free consultation with one of our medicine experts.
Can children use Lamisil Once Cream?
Lamisil Once Cream is not suitable for children under the age of 18 years old.
Do I need to wash my feet before using Lamisil Once Cream?
Yes, prior to using Lamisil Once Cream it is important that you thoroughly wash and dry your feet.
How should I use Lamisil Once Cream?
After washing and drying your feet, you should apply a thin even layer of the cream covering the entire foot and between toes.
Can I wash my feet after using Lamisil Once Cream?
You should not wash your feet for up to 24 hours after using Lamisil Once Cream.
How long does it take to notice an improvement?
Time taken to notice an improvement depends on the severity of your infection. Although most people notice an improvement after the first few uses, it can take up to 4 weeks to notice an improvement.
Should I avoid sharing towels if I have an athlete's foot?
If you have any form of fungal infection, you should not share towels and clothes as this increases the risk of the infection spreading.
How does Lamisil Once Cream treat the fungal infection?
The active ingredient, terbinafine hydrochloride, is formulated to stay in the skin. It inhibits the bacterial cell preventing growth and resulting in the infection dying out.
Should I massage Lamisil Once Cream into my feet?
You should not massage or rub the cream into your feet. You should apply a thin even layer and allow it to sink in. This will ensure the fungal infection is effectively killed.
How much Lamisil Once Cream should I use on each foot?
You should use half a tube per foot. This will ensure both feet are being effectively treated.
What should I do if I have not noticed an improvement in my fungal infection?
If after 1 week of having used Lamisil Once Cream you do not notice an improvement in your fungal infection, you should seek medical advice from a GP or pharmacist.
After using Lamisil Once Cream you may experience a number of side effects. Although these side effects are often mild and disappear within 24 hours of application. Common side effects include:
Itching
Irritation
Burning like sensation
Redness
Swelling
Flaking of skin
Drying of skin
If any of these side effects worsen, it may indicate the occurrence of an allergic reaction. In this case you should stop using Lamisil Once Cream immediately, wash your feet, and seek medical advice as soon as possible.
Always read the patient information leaflet before starting your treatment. The patient information leaflet can be found here.
Authored by Jana Abelovska
Last reviewed 20 April 2021
How to order
Order your medication in a few clicks. Our process is easy, fast and secure.
Step 1
Quick Health Check
Fill out a questionnaire so our prescriber can assess if the treatment is suitable for you.
Step 2
Select a Treatment
Choose the medication you require from the range offered by our online pharmacy.
Step 3
Next Delivery
Add delivery details and complete payment process.
What do our customers say?
Jane C
January 29, 2022
Fabulous service, quick and assertive, nice to be able to have an alternative service whilst the nhs are struggling!
Kristin W
January 2, 2022
Happy with how quick they reply to me and the
Delivery was quick as well would definitely use them again in the future.
Robert F
December 9, 2021
Glad to have you there. Efficient, professional service. The next day delivery is always delivered on time as promised.
Medical News and Blogs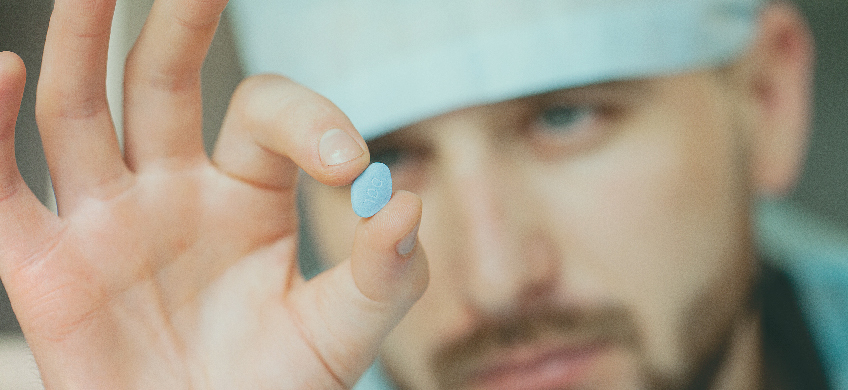 How The Little Blue Pill Revolutionized Relationships
It all began in 1998 when one of the greatest modern medical marvels was approved for sale in the world. Viagra, also affectionately called 'The Little Blue Pill', was originally meant....
Read