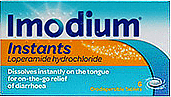 Estimated Delivery
Expected delivery date:
Tuesday, 10 May 2022
If you order within:
12h 36m 20s
*Your cart must meet the minimum requiretments for next day delivery
Fast
Delivery
Quick
Assessment
UK Registered
Pharmacy
Discreet &
Confidential
Overview
FAQ
Side Effects
Information leaflet
Reviews
What is Imodium Instants
Imodium Instants is a drug that can reduce free bowel actions, stomach bug, Irritable Bowel Syndrome, meals, allergy symptoms, meals poisoning, uncomfortable side effects to sure medicines, amongst different factors. Imodium Instants is drugs that feast diarrhoea effectively.
What dose should I choose?
Imodium Instants tablets come in a packet of about 6-12 tablets depending on the amount you order. This medication is suitable for adults and kids above 12 years of age. You should take two tablets daily to treat your diarrhoea, but you can add another one if your condition is severe. However, make sure not to take more than five tablets within 24 hours since doing that can cause serious side effects, or even worsen your diarrhoea.
If you forget to take one dose of this medication, do not administer a double dose as that can cause some side effects. Instead, take a normal dosage after you experience your next loose bowel movement.
How effective is Imodium Instants?
Imodium Instants contains loperamide as the active ingredient, which is famous for treating diarrhoea. Taking Imodium Instants helps to slow down bowel movements, thus enabling your body to absorb more fluids. Doing that makes it easy to thicken your bowels, hence reducing diarrhoea effectively. So, using this medication allows you to treat your condition fast and, without causing side effects while enabling you to recover the water, your body lost.
Also, several recent studies have been done to help back up the efficacy and safety of using Imodium Instants to treat diarrhoea. All these studies involved about 100 volunteers who had mild to severe diarrhoea. Experts gave them different doses of Imodium Instants depending on the severity of their conditions. After about a week, researchers noticed that using Imodium Instants helped these patients treat their diarrhoea effectively compared to other medications in the market today. Experts also noted that Imodium Instants is safer to use as it does not cause severe side effects when used correctly, thus making it a more preferred medication for diarrhoea.
Can I buy Imodium Instants online?
Many companies are selling this product online nowadays, thus making it easily accessible. However, ensure you research first before purchasing. That way, you can get the best seller who'll provide quality Imodium Instants that will treat your condition effectively.
This medication does not require any prescription. However, you can always consult our experts at Click Pharmacy before using this medication. Doing so will help you determine the best dosage, and the right way to use it to avoid major side effects.
How should I take Imodium Instants?
The best way to take Imodium Instants is by placing the tablet under your tongue and waiting for it to dissolve. Avoid swallowing these tablets when you put them in your mouth as that minimizes their efficacy. You can also combine using Imodium Instants, and other tricks like taking a lot of fluids and changing your diet. Doing that helps get rid of the things that were causing your diarrhoea hence making it easier to treat it. Also, always read the instructions that come with your Imodium Instants. Doing that helps to understand how it works, and all the do's and don'ts hence allowing you to use it more accurately.
How does Imodium Instants work?
You can use Imodium Instants to treat two diarrhoea types: Short term, and Irritable Bowel Syndrome (IBS) diarrhoea. This product contains the active ingredient loperamide. Loperamide interacts with your body positively, allowing it to slow down bowel movements quickly. Doing that helps to thicken your bowel movements hence enabling you to treat your diarrhoea effectively. By slowing down the bowel movements, using this product also allows your body to retain more water, thus leaving you healthier, making it easier to treat your diarrhoea.
How long do I take Imodium Instants for before I notice a difference?
You can't be sure of the amount of time that this medication will take to provide the desired results. Most people start experiencing some benefits after taking the first, or second dose of Imodium Instants. However, the active ingredient in this product works differently in individuals. So, you'll feel some significant benefits after about two days, or even within a week. More benefits are usually observed with continued use. Make sure you don't use more Imodium Instants if you feel like this medication is taking too long to provide results. Instead, talk to your doctor to help determine whether there's anything you are doing wrong, or get another alternative.
What are the side effects of Imodium Instants?
Imodium Instants is usually safe to use and does not cause side effects compared to other alternatives. However, it does not work the same in every person, thus making the results vary. Some of the most common side effects that you might experience after using Imodium Instants are:
Feeling dizzy

Headaches

Wind

Constipation

Feeling sick

Nausea

Vomiting
In sporadic cases, you might also experience some severe side effects such as:
Feeling less alert, or passing out

Moving in a clumsy, and uncoordinated way
When shouldn't I take Imodium Instants?
You should not take Imodium Instants if you are under 12 years old as the effects are not known. Also, avoid using this product if:
You are currently taking other antibiotics that are causing your severe diarrhoea

You have a flare-up caused by an inflammatory bowel condition such as ulcerative colitis

Your stomach looks swollen, or you're constipated
When pregnant or breastfeeding, it is advisable that you first consult a professional to help determine the possible risks, and whether you are fit to use Imodium Instants in your condition. However, it would be best if you did not use Imodium Instants when pregnant or breastfeeding to avoid any possible side effects.
What is the difference between Imodium Instants, and other similar products like Dioralyte Blackcurrant, and J Collis Browne's Mixture?
You can use any of these renowned products to treat your diarrhoea, as they all have unique ingredients that help them to be effective. However, Imodium Instants is better compared to these two other alternatives. Why? Imodium Instants contains loperamide as its active ingredient, which is known to help treat diarrhoea fast, and more effectively. Also, this ingredient does not cause severe side effects compared to these other products, thus making it more reliable, and safer to use.
What are Imodium Instants used to treat symptoms of?
Imodium Instants are used to treat symptoms of IBS, stomach bug, food poisoning and urgent bowel movements.
Do I need a prescription to purchase Imodium Instants?
No, you do not require a prescription to purchase Imodium Instants. However if you are unsure whether this product is right for you, you are welcome to book a free consultation with one of our medicine experts.
What is the active ingredient in Imodium Instants?
The active ingredient in Imodium Instants is loperamide. This ingredient is commonly used in medication for the treatment of diarrhoea.
How do Imodium Instants treat bowel problems such as diarrhoea?
The active ingredient, loperamide, slows down bowel movements allowing the body to absorb more fluids. This results in your bowel becoming thicker, treating symptoms of diarrhoea.
Can children use Imodium Instants for the treatment of diarrhoea?
Imodium Instants are not suitable to be used by children younger than 12 years old.
How many tablets of Imodium Instants should I take in a day?
It is advised to take one tablet of Imodium Instants twice a day. If your condition is severe it is safe to take one tablet three times a day, you should not exceed this amount.
How should I take Imodium Instants?
You should place one tablet under the tongue and wait for it to dissolve. You should then proceed to swallow any left over fluid.
Can I swallow Imodium Instants?
It is advised to refrain from swallowing Imodium Instants and instead allow them to dissolve. This is to ensure one experiences maximum efficiency from the medication.
How long does it take to notice an improvement in my bowel condition?
Generally most people notice an improvement in their bowel condition after the first use, however this may depend on the severity of your case. In some cases it has taken up to a week to notice significant improvements.
Can pregnant or breastfeeding women use Imodium Instants?
If you are pregnant or breastfeeding, it is advised to consult with a GP, pharmacist or midwife before using this product.
Who should not use Imodium Instants?
Although Imodium Instants are highly effective, they are not suitable for everyone. You should not use Imodium Instants if you suffer from any of the following:
Constipation
A swollen stomach
Taking antibiotics which are causing diarrhoea
Have a flare-up caused by an inflammatory bowel condition
Does using Imodium Instants affect anyone's ability to drive or operate machinery safely?
There is no evidence to suggest that using Imodium Instants affects the ability to pursue activities such as driving and operating machinery.
Can I drink alcohol while using Imodium Instants?
It is advised to refrain from drinking heavy amounts of alcohol while using Imodium Instants. This is because alcohol has the potential to worsen symptoms of diarrhoea and other bowel conditions.
Although using Imodium Instants does not normally cause any side effects, there is a possibility that you experience a number of different side effects. Common side effects include the following:
Wind
Constipation
Feeling dizzy
nausea/feeling sick
Vomiting
Headaches
If any of these side effects worsen, you should stop using Imodium Instants immediately and seek medical advice.
Always read the patient information leaflet before starting your treatment. The patient information can be found here.
Authored by Jana Abelovska
Last reviewed 20 April 2021
How to order
Order your medication in a few clicks. Our process is easy, fast and secure.
Step 1
Quick Health Check
Fill out a questionnaire so our prescriber can assess if the treatment is suitable for you.
Step 2
Select a Treatment
Choose the medication you require from the range offered by our online pharmacy.
Step 3
Next Delivery
Add delivery details and complete payment process.
What do our customers say?
Jane C
January 29, 2022
Fabulous service, quick and assertive, nice to be able to have an alternative service whilst the nhs are struggling!
Kristin W
January 2, 2022
Happy with how quick they reply to me and the
Delivery was quick as well would definitely use them again in the future.
Robert F
December 9, 2021
Glad to have you there. Efficient, professional service. The next day delivery is always delivered on time as promised.
Medical News and Blogs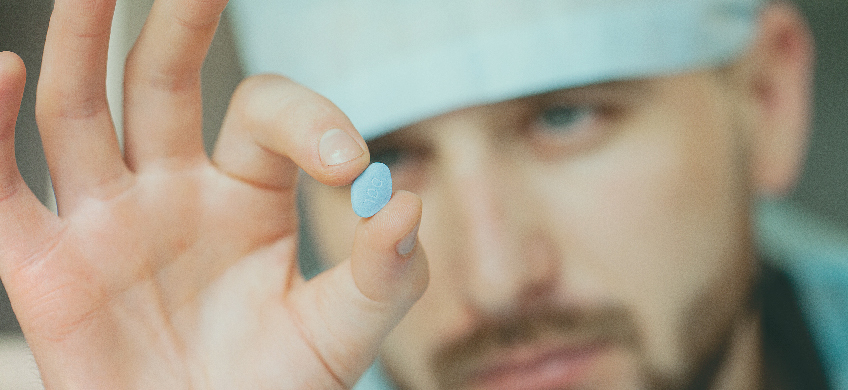 How The Little Blue Pill Revolutionized Relationships
It all began in 1998 when one of the greatest modern medical marvels was approved for sale in the world. Viagra, also affectionately called 'The Little Blue Pill', was originally meant....
Read