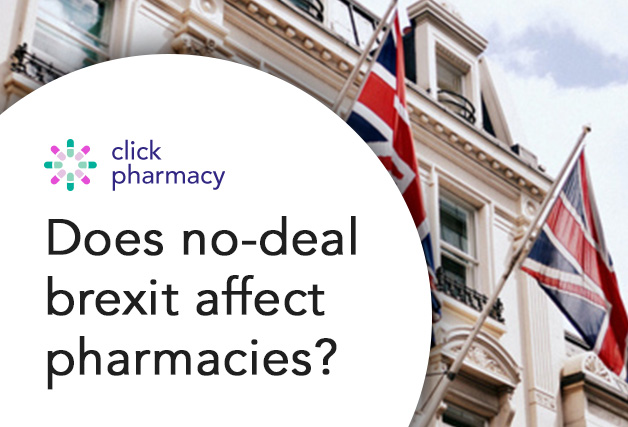 A no-deal Brexit is a term given to the situation that would come about when the UK leaves the European Union on the 29th of March, 2019. This situation would mean that there would be no agreements already in place that would lay out the future relationship of the UK and the EU. Unless politicians can agree on what course of action to take, the no-deal Brexit seems like a highly likely scenario and is one that seems to trouble everyone in the UK.
While this political and economic climate will impact almost every single job and every industry, it is important to note that one of the most significant impacts will be on the medicine and healthcare industries, especially online pharmacies like ours. With trade, imports, and exports being limited and subject to new pending regulations that have yet to be made, pharmacies and medical healthcare organisations and institutes run the risk of compromising on their services or running short on supplies.
Plan B for pharmacies
While the government is trying to ensure that the supply of medication and healthcare services remains uninterrupted, there is a chance that this situation will have a significant impact on online pharmacies across the UK. The contingency plan is for pharmaceutical suppliers to have at least six weeks' worth of addition supply stockpiled apart from their regular business stock based on their average sales.
Many citizens, in fear of this no-deal Brexit, have started stockpiling medication as well to ensure that they can continue to follow their prescriptions in case the no-deal Brexit impacts medication imports.
Exports
While imports are most definitely an issue, a more significant problem could be UK-based pharmacies and pharmaceutical companies that rely on exporting medication to the EU. Delays in delivery and price changes amid the new deal could mean that these pharmacies face a considerable loss or incur a much larger cost on exports.
A free trade agreement, if negotiated and agreed upon before the 29th of March, could help these pharmacies plan their business and arrange their plans accordingly. Until then, pharmacies are preparing for the worst and hoping that politicians can reach a decision quickly. Britain aims to make no change in the way medication is imported or exported, even after Brexit, which can prove to be great for pharmacies and online pharmacies that ship across the UK and to the EU as well.
How does this impact Online Pharmacies?
Online Pharmacies are impacted in much the same way as regular pharmacies but have a bit of a difference regarding the fact that online pharmacies often serve specific niches such as reproductive health, medication for children, or medication based on illness categories. The import and export limitations may impact online pharmacies a bit differently because of the large number of medicines being ordered and the stockpiling needed for the particular disease, age group, or niche that pharmacy caters to. Most online pharmacies do not stock all kinds of OTC or prescription drugs, and that may prove to be a good thing if the no-deal Brexit situation comes into play.
While we understand that delivery time delays and other issues such as changes in delivery fees and customs will impact the business, we also feel that prescription medication being given a priority by the government will significantly help companies to stay afloat and will allow them to help UK citizens by providing the best healthcare possible. It puts us at ease that such issues have been, and continue to be, reviewed and that in the event of a no-deal scenario, the priority will be on prescription medicines reaching and leaving the UK, meaning that our customers will remain serviced by us throughout this time.
Despite being happy about the prioritisation of the government, we feel that businesses such as Online Pharmacies are now in the hands of Brexit and the government's policies regarding Brexit. With Chief Pharmacists not being allowed to contact suppliers directly, it seems to be a little more difficult to rely solely on the contingency plans made by the government and not to take matters into their own hands.
The most that Online Pharmacies can do at this point is to continue to service their customers in the best way possible, and to stop upon the medication that they provide their customers with, to ensure that residents of UK do not face issues with getting access to their medicine and their healthcare needs.