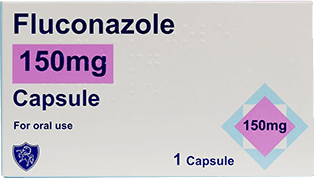 Estimated Delivery
Expected delivery date:
Tuesday, 10 May 2022
If you order within:
12h 36m 20s
*Your cart must meet the minimum requiretments for next day delivery
Fast
Delivery
Quick
Assessment
UK Registered
Pharmacy
Discreet &
Confidential
Overview
FAQ
Side Effects
Information leaflet
Reviews
What is Fluconazole
The common infection known as thrush is caused by an overgrowth of Candida Albicans, a substance similar to yeast which is found in the vagina. It can develop when the conditions within the vagina alter in some way; for example during pregnancy, after taking antibiotics or when suffering from diabetes. It can also develop if you over-wash the area with soap. Although not a sexually transmitted infection, thrush can also be spread from unprotected sex. If left untreated, thrush is more likely to keep returning so it is wise to take medication such fluconazole to help your body recover.
Other Warnings to consider
On rare occasions, some people may develop serious side effects to medication. If you experience any of the following, or any other major issues, seek help right away:
jaundice
a severe rash, dizziness or stomach pain
an abnormal heartbeat
fainting
allergic reactions which present as swelling of the face or throat, breathing difficulties or a fever which will not go down.
Some medications, including herbal supplements and vitamins, can interact with fluconazole. Ensure you discuss any other drugs you take before beginning this treatment to make sure that one medicine will not interfere with the other causing it to be less effective or dangerous. Drugs such as warfarin, medications for diabetes as well as phenytoin and theophylline amongst others can all cause dangerous side effects when mixed with fluconazole
Can I buy fluconazole Online?
Fluconazole can be purchased online via Click Pharmacy after completing a simple health assessment. Your answers help our pharmacist to determine whether this is the right medication to treat yoursymptoms.
If you are approved for fluconazole you can buy your treatment which will then be sent to your chosen address via next day delivery in discreet packaging.
How effective is fluconazole?
Fluconazole was found to be exceptionally effective at treating thrush. 97% of study patients were cured and/or improved after 5 days or within 16, and the Candida overgrowth was also removed in 93% of the study group.
Why choose fluconazole?
Taken as a single dose tablet, fluconazole is a quick and easy way to treat your thrush without the need for messy pessaries and creams. It works well at removing the infection and is found in studies to be well tolerated in patients, resulting in mild or no side effects. As such, it has become the most commonly prescribed medication for thrush worldwide after its 20+ years on the market.
What is contained in fluconazole?
The active ingredient is fluconazole.
The inactive ingredients include:
microcrystalline cellulose
dibasic calcium phosphate anhydrous
povidone, croscarmellosesodium
FD&C Red No. 40 aluminium lake dye
magnesium stearate.
How should I take fluconazole?
You should always take your medication as directed by your doctor or by following the leaflet inside the pack. You will be prescribed the appropriate strength of fluconazole which you can then have at any time of the day. You do not need to eat before taking it but do swallow it with water.
How does fluconazole work?
The purpose of fluconazole is to stop the fungi from being able to replicate and reproduce. It does this by blocking its ability to produce a substance it requires to survive called ergosterol. Fluconazole causes holes to appear in the fungi's cell membrane causing it to leak and eventually destroy the cells. In turn the infection is destroyed and the body's own immunity can begin to clear the rest of the infection.
How long can I take fluconazole for?
For thrush, fluconazole is taken as a single dose tablet though if your infection is very severe you may potentially require a follow-up dose. If your initial dose does not completely clear up your infection then you can book an appointment with your Click Pharmacy doctor any time.
Can I take fluconazole whilst breastfeeding?
It has been found in studies that taking fluconazole whilst breastfeeding is safe as the amount secreted into the breastmilk is lower than the dosage normally given to babies. In one study, only 7 of the 96 women taking part experienced mild side effects in their breastfed babies which included red cheeks and an upset stomach.
Fluconazole is often prescribed to breastfeeding mothers for breast candidiasis though you can discuss any concerns or questions you may have about this with your doctor before beginning treatment.
What are the side effects of fluconazole?
Medications can affect the body in different ways and though one person may experience one or more side effects from using a treatment, someone else may have no issues at all. Most of the side effects are experienced mildly and should clear up on their own within a couple of days. If you are still suffering from side effects after a week, book an appointment with your Click Pharmacy doctor or GP.
The most common, mild side effects include:
nausea and vomiting
diarrhoea
headaches
stomach pain
If you have lowered or suppressed immunity then you may be inclined to develop a severe rash after taking fluconazole. Seek medical help or contact your doctor right away if this occurs.
What are Fluconazole Tablets used for?
Fluconazole Tablets are an antifungal medicine, used to treat symptoms of thrush such as vaginal thrush.
What is the difference between Fluconazole Tablets and Canesten oral Capsules?
While they are effectively both used for the same treatment, the main difference is price and branding. Canesten is the branded version of Fluconazole, making it more expensive than Canesten.
Can children take Fluconazole Tablets?
Fluconazole tablets are suitable for most children and babies to use.
Who should not use Fluconazole Tablets?
You should not use Fluconazole Tablets if you:
Have any heart disease
Have a problem with your kidney or liver
Have abnormal levels of potassium, calcium or magnesium
Have a rare inherited blood disorder
How many times a day should I take Fluconazole Tablets?
You should take Fluconazole Tablets once a day, everyday.
Can I stop taking Fluconazole Tablets if I feel better?
You should always complete your course of Fluconazole Tablets, even if you feel better.
What if I forget to take my dose of Fluconazole Tablets?
If you forget to take your dose of Fluconazole Tablets, you should take them as soon as you remember unless it is almost time for your next dose. If it is almost time for your next dose then you should skip the dose you just missed. You should never take 2 doses at once, even if you are making up for a missed dose.
Can pregnant or breastfeeding women take Fluconazole Tablets?
Fluconazole Tablets are not recommended for anyone who is pregnant, trying to get pregnant or breastfeeding. This is because some studies suggest that Fluconazole Tablets may cause harm to the baby.
What if I am pregnant and develop a thrush?
If you are pregnant and notice development of a thrush, then you should consult a GP, pharmacist or midwife who will be able to prescribe an alternative medicine.
Can I mix other medications with Fluconazole Tablets?
Although most medicines are safe to combine with Fluconazole Tablets, you should consult with a GP or pharmacist if you take any of these medications:
Amiodarone
Carbamazepine
Ergotamine
Erythromycin
Losartan
Pimozide
Reboxetine
Statins
Warfarin
How long does Fluconazole Tablets take to treat fungal infections?
Fluconazole Tablets usually take 7 days to improve symptoms.
Can I drink alcohol while using Fluconazole Tablets?
Yes, it is safe to drink alcohol while using Fluconazole Tablets.
Will taking Fluconazole Tablets affect my contraception?
Although Fluconazole Tablets do not directly affect one's contraception, if you experience vomiting after taking these tablets this may affect your contraception.
After using Fluconazole Tablets you are likely to experience a number of side effects. These side effects are often mild and disappear within a few days. Common side effects and how to overcome them include:
Headaches: you should drink plenty of water to ensure you are hydrated.
Stomach pain: you should rest well and eat simple well balanced meals
Diarrhoea: you should drink plenty of liquids to prevent dehydration.
Nausea: you should avoid eating lots of rich spicy meals and stick to healthy meals that contain lots of fruits and vegetables.
Rash: speak to a pharmacist who may advise you to take an antihistamine
If any of these side effects worsen, then you should stop using Fluconazole Tablets immediately and seek medical advice as soon as possible.
Always read the patient information leaflet before starting your treatment. The patient information can be found here.
Authored by Jana Abelovska
Last reviewed 20 April 2021
How to order
Order your medication in a few clicks. Our process is easy, fast and secure.
Step 1
Quick Health Check
Fill out a questionnaire so our prescriber can assess if the treatment is suitable for you.
Step 2
Select a Treatment
Choose the medication you require from the range offered by our online pharmacy.
Step 3
Next Delivery
Add delivery details and complete payment process.
What do our customers say?
Jane C
January 29, 2022
Fabulous service, quick and assertive, nice to be able to have an alternative service whilst the nhs are struggling!
Kristin W
January 2, 2022
Happy with how quick they reply to me and the
Delivery was quick as well would definitely use them again in the future.
Robert F
December 9, 2021
Glad to have you there. Efficient, professional service. The next day delivery is always delivered on time as promised.
Medical News and Blogs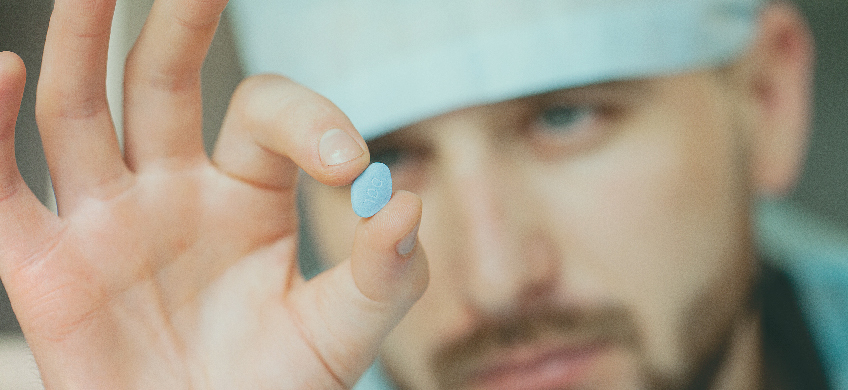 How The Little Blue Pill Revolutionized Relationships
It all began in 1998 when one of the greatest modern medical marvels was approved for sale in the world. Viagra, also affectionately called 'The Little Blue Pill', was originally meant....
Read