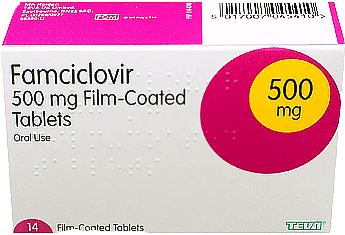 Estimated Delivery
Expected delivery date:
Tuesday, 24 May 2022
If you order within:
12h 36m 20s
*Your cart must meet the minimum requiretments for next day delivery
Fast
Delivery
Quick
Assessment
UK Registered
Pharmacy
Discreet &
Confidential
Overview
FAQ
Side Effects
Information leaflet
Reviews
Read up
What is Famciclovir Tablets
Medications known as antivirals such as famciclovir will help to ease the uncomfortable and often embarrassing nature of a genital herpes outbreak, whilst also reducing the severity and length of it as well. Such treatments work on groups of similar conditions as in the case of oral and genital herpes, as well as shingles, and they can help to stop the virus being so active within the body thus potentially reducing the number of episodes a patient may experience.
What is contained in Famciclovir?
Each tablet has the required dose of the active ingredient famciclovir along with the following inactive ingredients:
hydroxypropyl cellulose
hydroxypropyl methylcellulose
lactose
magnesium stearate
polyethene glycols
sodium starch glycolate
titanium dioxide.
Please let the doctor know if you are lactose intolerant.
How does Famciclovir work?
Famciclovir falls into a family of drugs known as nucleotides which are agents used against a number of viral infections including hepatitis B and C as well as HIV and herpes. They are antimetabolites which incorporate into the DNA of a virus and terminate its growth pattern thus suppressing it and slowing down the regularity or severity of outbreaks and in some cases stopping them altogether.
How long can I take Famciclovir for?
When being used to lower the severity of an outbreak, famciclovir is usually taken twice a day for one day with the course beginning as early as possible after the first signs of an outbreak which may include a tingle or itchy sensation on the affected area. If possible it is best to take the first tablet within 6 hours of this initial symptom.
In patients suffering from 6 or more outbreaks a year and therefore being prescribed a suppressive dose, famciclovir is generally taken twice a day for up to a year, though this would be discussed with your GP or Click Pharmacy doctor.
Why choose Famciclovir?
The class of drug which famciclovir is found in stops the spread of herpes in the body by preventing the virus from replicating its own DNA which it needs to do to spread and in turn cause a flare-up. Famcicolvir has a longer duration of action which means that it can be taken less often and still keep the required, effective level of the active drug in the system.
Another reason famciclovir is a good choice for many people is that it is the generic version of the original branded version. This means it has the same bioequivalence; containing the same active substance (famciclovir) in the same dosage, with the same administration route - in this case, oral - but for a lower cost.
How should I take Famciclovir?
It is important to read the patient information leaflet before taking any medication and always follow the advice of your doctor. If you have any questions or concerns before beginning the treatment then the doctors at Click Pharmacy are at hand to speak to you online at any time. You will be advised as to how many tablets to take each day and for how long depending on your situation and medical condition.
Famciclovir can be taken with or without food and works best when taken evenly throughout the day as this ensures the level of the drug remains constant in your system.
If you find that you experience any issues from taking this medication then contact your GP or Click Pharmacy doctor immediately for advice.
Can I buy Famciclovir online?
Famciclovir, the treatment for genital herpes, can be easily bought online at Click Pharmacy once you have tested positive for the infection. There is a quick questionnaire to complete so our doctors can assess the suitability of this treatment and produce a prescription, after which you can make your purchase. You may prefer to book an online appointment with one of Click Pharmacy's online doctors who can also offer advice and supply you with a prescription directly. Your order will be sent to your chosen address in discreet packaging the next working day if ordered before 3 pm.
How effective is Famciclovir?
In studies, Famciclovir has been seen to be especially effective in the prevention of future outbreaks when taken daily as a suppressive treatment. It is also regularly prescribed episodically for the treatment of a viral flare-up as it helps to decrease the length of an outbreak and stop a patient from developing any new sores during the particular episode it is taken for.
As with any medication, it is most effective when the level of the active drug is kept constant; as such it is sensible to take the tablets evenly throughout the day to keep it even.
What are the side effects of Famciclovir?
As with any medication, famciclovir can cause side effects though usually only mildly, the most common of which is a headache. Other common side effects include nausea or sickness, pain in the abdomen, diarrhoea or bloating and dizziness.
Rare but serious side effects which require immediate medical attention can include:
kidney problems such as minimal urination and swelling of the lower limbs along with shortness of breath
allergic reaction symptoms including difficulty breathing, swelling of the face, tongue or throat, hives and a rash.
blistering of the skin
jaundice
confusion
drowsiness
hallucinations
It is crucial you let your doctor know about any other medications you are currently taking, including complementary varieties and vitamins, as well as any allergies you may suffer from to ensure this drug is safe for you to take and to limit any possible side effects as much as possible.
What are Famciclovir Tablets used for?
Famciclovir Tablets are used to treat viral infections such as gential herpes.
Do I need a prescription to purchase Famciclovir Tablets?
Yes, you require a prescription to purchase Famciclovir Tablets. After completing a short online questionnaire, on our website, you will be provided with a prescription. This will allow you to purchase Famciclovir Tablets.
What is the active ingredient in Famciclovir Tablets?
The active ingredient in Famciclovir Tablets is famciclovir. This ingredient is effective at preventing the viral infection from replicating and growing within the body.
How do Famciclovir Tablets treat gential herpes?
Famciclovir Tablets come from a group of nucleotides. They allow for growth of a virus to be terminated, preventing the virus from spreading.
How should I take Famciclovir Tablets?
You should swallow one whole capsule with a drink of water. The capsule should not be crushed or chewed.
Can pregnant or breastfeeding women use Famciclovir Tablets?
It is advised that pregnant or breastfeeding women do not use Famciclovir Tablets. This is because there is not enough research to suggest that Famciclovir is safe to use.
Will using Famciclovir Tablets affect my fertility in any way?
There is no evidence to suggest that Famciclovir Tablets affect the fertility of a male or female in any way.
Can I drive or operate machinery while using Famciclovir Tablets?
Although taking Famciclovir Tablets does not generally affect anyone's ability to drive or operate machinery safely, it is advised to refrain from driving or operating machinery if you feel dizzy. Dizziness is a common side effect from this drug, in this case driving and operating machinery should be avoided.
Can I take Famciclovir Tablets on an empty stomach?
Famciclovir Tablets can be taken with or without food. If you experience nausea after using Famciclovir Tablets you should take them after a well balanced meal. This decreases the chances of one feeling sick.
Who should not take Famciclovir Tablets?
You should not take Famciclovir Tablets if you:
Have an allergy to any of the ingredients
Have problems with the way your liver functions
Are trying to get pregnant
How often should I take Famciclovir Tablets?
You should take Famciclovir Tablets 1-3 times a day. This will vary depending on your prescription and the severity of your case.
How long should I take Famciclovir Tablets for?
You should complete your course of Famciclovir Tablets. If you feel better you should continue to take your tablets to ensure any strains of the virus are killed in your body. This decreases the chances of re-infection.
Side Effects
You may experience a number of side effects from using Famciclovir Tablets. These side effects are often mild and disappear after a few uses as your body gets used to the drug. Common side effects and how to overcome symptoms include:
Headache: drink plenty of fluids to ensure you are hydrated ad rest
Feeling sick (nausea): you should take your medication after a healthy and well balanced meal. You should refrain from eating rich spicy foods.
Feeling dizzy: you should rest, stay hydrated and avoid driving or operating machinery.
If any of these side effects worsen you should stop taking Famciclovir Tablets and seek medical advice as soon as possible.
Always read the patient information leaflet before starting your treatment. Patient information can be found here.
Authored by Jana Abelovska
Last reviewed 20 April 2021
How to order
Order your medication in a few clicks. Our process is easy, fast and secure.
Step 1
Quick Health Check
Fill out a questionnaire so our prescriber can assess if the treatment is suitable for you.
Step 2
Select a Treatment
Choose the medication you require from the range offered by our online pharmacy.
Step 3
Next Delivery
Add delivery details and complete payment process.
What do our customers say?
Jane Cooper
January 29, 2022
Fabulous service, quick and assertive, nice to be able to have an alternative service whilst the nhs are struggling!
Kristin Watson
January 2, 2022
Happy with how quick they reply to me and the
Delivery was quick as well would definitely use them again in the future.
Robert Fox
December 9, 2021
Glad to have you there. Efficient, professional service. The next day delivery is always delivered on time as promised.
Medical News and Blogs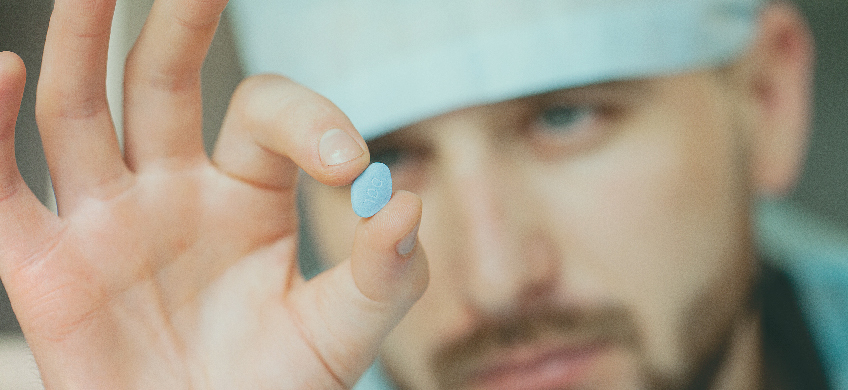 How The Little Blue Pill Revolutionized Relationships
It all began in 1998 when one of the greatest modern medical marvels was approved for sale in the world. Viagra, also affectionately called 'The Little Blue Pill', was originally meant....
Read