Estimated Delivery
Expected delivery date:
Tuesday, 24 May 2022
If you order within:
12h 36m 20s
*Your cart must meet the minimum requiretments for next day delivery
Fast
Delivery
Quick
Assessment
UK Registered
Pharmacy
Discreet &
Confidential
Overview
FAQ
Side Effects
Information leaflet
Reviews
What is Epiduo Gel
There is a misinformed belief that it is best to leave acne alone and let it run its course. The top experts on this skin infection know that this is not the best course of action though, because without treatment scarring and dark spots can develop on the skin as the acne clears.
Although most people associate acne with hormonal teenagers, it can develop at any stage in life with later onset acne developing in a person's thirties, forties or even fifties and beyond. It can be a highly distressing ailment to live with and it can knock a person's self-esteem dramatically. In fact, aside from decreasing the risk of scarring, one of the best reasons for going ahead with a treatment such as Epiduo is that it can help to boost a patient's self confidence as the gel works deep down within the skin helping to stop acne from developing.
How does Epiduo work
The topical retinoid in the gel, adapalene, normalises the development of the skin cells whilst preventing the pores from blocking and promoting the renewal of skin cells.
Benzoyl peroxide is an antibacterial which kills the bacteria on the skin which case outbreaks. Alongside this it softens the outermost layer of skin resulting in a peeling effect helping to renew skin cells. Together they reduce inflammation and decrease the development of new spots, as well as help to stop scarring.
Why choose Epiduo?
Epiduo is an easy to use prescriptive medication which needs only to be used once a day. This is a huge benefit to anyone who wants something simple to use yet powerful. It not only clears inflammation, but it also helps to prevent outbreaks from recurring. It can also be used in patients as young as 9.
It is ideal for anyone looking for a product which can sit neatly into a normal daily skin care routine and as it does not contain an antibiotic then if necessary you can take it alongside secondary oral medication though this should be discussed with your doctor before going ahead.
Another benefit to choosing Epiduo is that you can use the cream under your make up without an issue making sure to choose an oil free and non-comedogenic product.
How effective is Epiduo?
Epiduo gel is a treatment for patients of nine years of age and onwards and contains the highest concentrate of the retinoid adapalene which decreases inflammation of the skin. Aside from its ability to help reduce flare ups, it's specially selected mix of active ingredients is also designed to help the skin to renew itself and ease scarring.
The two active ingredients found in Epiduo have been proven to work more effectively together than separately so you not only get better results than you would if using one or the other alone, you also have the convenience of only needing to use one product to get the benefit.
Can I buy Epiduo
Epiduo is a powerful, topical treatment for acne vulgaris which requires a prescription before a patient can purchase it. You are able to get Epiduo without seeing your GP by filling in a medical health questionnaire after which a doctor from Click Pharmacy will assess your answers. They will confirm that this is the most appropriate form of treatment for your acne issues and once you have received your prescription you can purchase your medication online. It will be posted out to you by next day delivery where available.
If Epiduo is not found to be the best treatment, you can have a free and confidential online appointment to discuss other options.
What is contained in Epiduo?
Every 1 gram dose of Epiduo gel contains 1mg of adapalene which assists the skin with its renewal process and unclogs pores and 25mg of benzoyl peroxide which, as an antibacterial, kills spot causing bacteria.
The product's inactive ingredients include:
disodium edetate
copolymer of acrylamide and sodium acryloyldimethyltaurate
poloxamer 124
purified water
docusate sodium
glycerol Isohexadecane
polysorbate 80
propylene glycol (E1520)
sorbitan oleate
How should I take Epiduo?
Epiduo is for topical use to be used once daily. Patients must apply the gel as a thin film over the areas of the face where acne vulgaris is present. It is recommended you use a pea sized amount for each area e.g chin, each cheek and forehead making sure to avoid the eyes and lips. It can also be used on the chest and back.
It is best to use the product at the same time every day but it does not matter whether you choose morning or night, ensuring you properly cleanse the skin and allowing the skin to completely dry before application. The most important thing to remember when using Epiduo is to use it as directed by your doctor and to bear in mind that using more will not speed up the healing process.
How long can I take Epiduo for?
As long as you stick to the recommended usage of a pea sized amount of gel per affected area then a single prescription should last up to around 3 months. Your GP or Click Pharmacy doctor will be able to recommend how long to use Epiduo for and your results will be reviewed after the first round of use. If you have noticed a considerable difference from Epiduo and your doctor agrees, then you can order repeat prescriptions from Click Pharmacy as required.
What are the side effects of Epiduo?
There can be a few potential side effects with Epiduo due to the two active ingredients, adapalene and benzoyl peroxide.
The most common side effects include:
erythema (reddening) of the skin
a burning or stinging sensation
peeling
warm skin
In some cases, your body will naturally adjust to the products as the skin becomes used to it over time and as such side effects such as redness may ease and will not require medical attention.
With more severe reactions such as swelling and itching of the face, tongue or throat, severe dizziness or trouble breathing it is vital you seek immediate medical attention.
Other Warnings to consider
Many medications can interact with one another including those bought over the counter. As such it is crucial you discuss all other medications or drugs you are using prior to using Epiduo in case they prevent it from working effectively or causing a negative reaction.
It is not recommended to use Epiduo when pregnant and it is not known if the product can be excreted into breastmilk; it has been found to be excreted into the breast milk of animals during studies though. If this could be an issue for you then speak to your GP or Click Pharmacy doctor about your concerns and to discuss other possible acne treatments.
The product benzoyl peroxide contained in Epiduo acts like a bleach on fabric and as such it is wise to ensure you wash your hands well after use and be careful when getting dressed or with bedding after application.
Avoid spending too long in sunlight or UV light and wear sunblock or UV protective clothing over any other affected areas such as the back. This is due to the fact that Epiduo can cause skin sensitivity to sunlight.
What is Epiduo Gel used to treat?
Epiduo Gel works as an antiseptic, treating acne. Being an antiseptic allows it to reduce the number of germs on the surface of the skin, clearing up any acne.
What is the active ingredient in Epiduo Gel?
The active ingredient in Epiduo Gel is benzoyl peroxide. This ingredient is effective at killing bacteria on the surface of the skin.
Do I need a prescription to buy Epiduo Gel?
Yes, you require a prescription to purchase Epiduo Gel. After completing a short online questionnaire on our website, you will be provided with a prescription allowing you to purchase Epiduo Gel.
How long does Epiduo Gel take to work?
Epiduo Gel normally takes around 4 weeks to begin improving ons skin. Howeer this may differ depending on the severity of one's acne.
Can children use Epiduo Gel?
Epiduo is not suitable for children under the age of 12 years old.
How should I use Epiduo Gel?
Before using Epiduo Gel you should cleanse your skin with a mild cleanser and pat it dry. After your skin is thoroughly dry you should apply a thin and even layer of Epiduo Gel around infected areas. You should repeat this process no more than twice a day.
How often should I use Epiduo Gel?
It is advised to use Epiduo Gel once or twice a day. It should not be used more than twice a day.
Does using Epiduo Gel affect my exposure to sunlight?
After using Epiduo Gel you should try to avoid exposure to sunlight. You should always wear sunscreen with an spf of at least 30.
Can I use artificial tans while using Epiduo Gel?
You should not use artificial tans or tanning beds while using Epiduo Gel. Doing so may result in severe skin problems.
What if I use too much Epiduo Gel?
You should refrain from using more Epiduo Gel than needed as it may irritate your skin. If you accidentally apply too much you should wash off any excess using lukewarm water.
Can pregnant or breastfeeding women use Epiduo Gel?
EpiduoGel is usually safe to use for pregnant and breastfeeding women. However you should consult with a GP, pharmacist, or midwife before doing so.
Can I use other acne products while using Epiduo Gel?
You should refrain from using other skincare products other than a mild cleaner and moisturiser while using Epiduo Gel.
Can I drink alcohol while using Epiduo Gel?
Yes, it is generally safe to drink alcohol while using Epiduo Gel.
Does using Epiduo Gel affect my contraception?
There is no evidence to suggest that using Epiduo Gel affects any type of contraception.
Does using Epiduo Gel affect my fertility?
There is no evidence to suggest that using Epiduo Gel affects fertility in any way.
After using Epiduo Gel you may experience a number of side effects. Most of these side effects are positive signs that indicate Epiduo Gel is treating your acne. Common side effects and how to overcome symptoms include:
Dry skin: regularly apply an oil free lip balm or moisturiser and drink lots of water to ensure skin does not lack hydration.
Peeling skin: stop using Epiduo Gel for a few days until irritation goes away.
Burning like sensation: try using Epiduo Gel less frequently, for example only once a day rather than twice.
Always read the patient information leaflet before starting your treatment. The patient information can be found here.
Authored by Jana Abelovska
Last reviewed 20 April 2021
How to order
Order your medication in a few clicks. Our process is easy, fast and secure.
Step 1
Quick Health Check
Fill out a questionnaire so our prescriber can assess if the treatment is suitable for you.
Step 2
Select a Treatment
Choose the medication you require from the range offered by our online pharmacy.
Step 3
Next Delivery
Add delivery details and complete payment process.
What do our customers say?
Jane Cooper
January 29, 2022
Fabulous service, quick and assertive, nice to be able to have an alternative service whilst the nhs are struggling!
Kristin Watson
January 2, 2022
Happy with how quick they reply to me and the
Delivery was quick as well would definitely use them again in the future.
Robert Fox
December 9, 2021
Glad to have you there. Efficient, professional service. The next day delivery is always delivered on time as promised.
Medical News and Blogs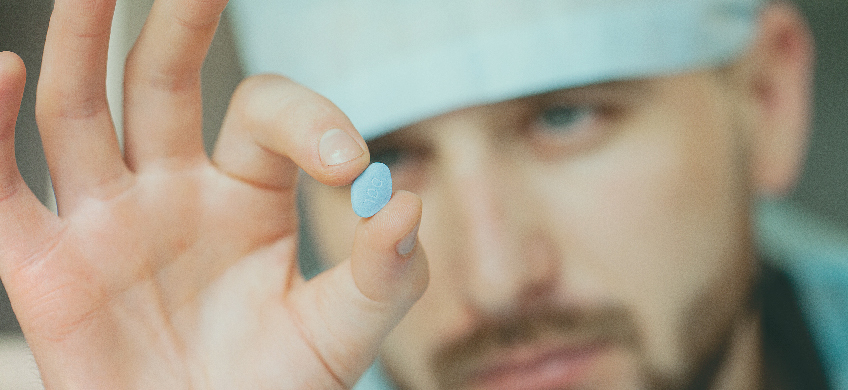 How The Little Blue Pill Revolutionized Relationships
It all began in 1998 when one of the greatest modern medical marvels was approved for sale in the world. Viagra, also affectionately called 'The Little Blue Pill', was originally meant....
Read